I think I started the Christmas pjs search too late this year because all the good stuff was already snatched up! After hours of shopping, I could not find anything I liked for my boys.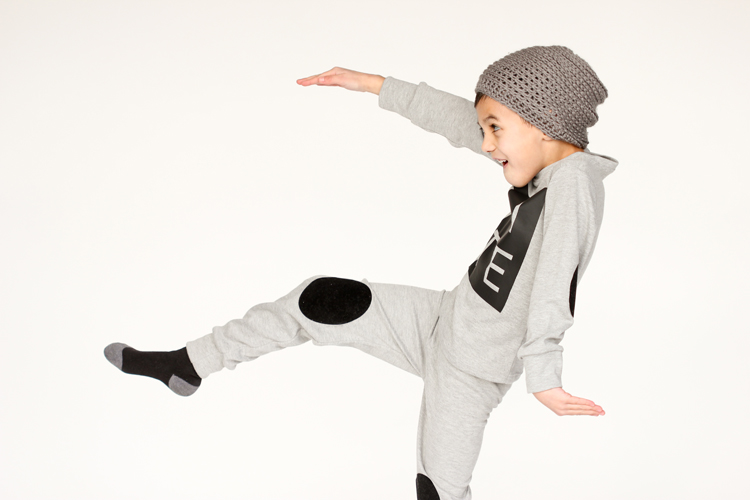 Natalie is totally covered and then some. Seriously, girls have all the fun and all the options. Amirite!?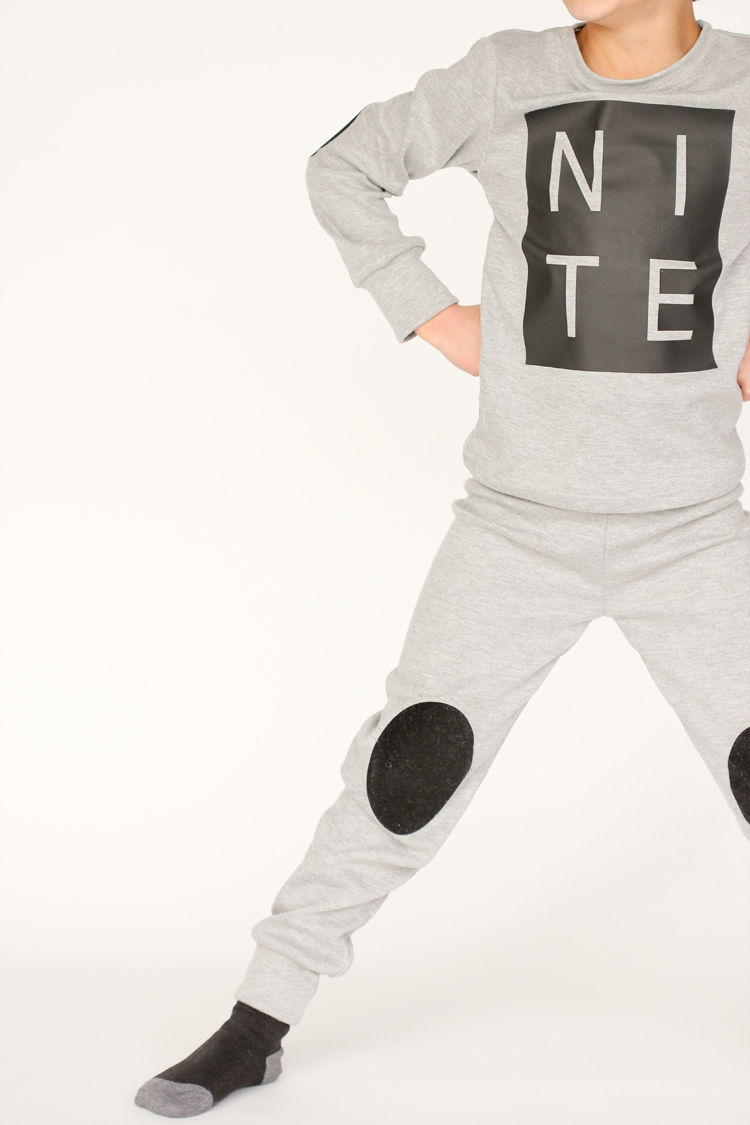 So, what's a seamstress to do but to make her own!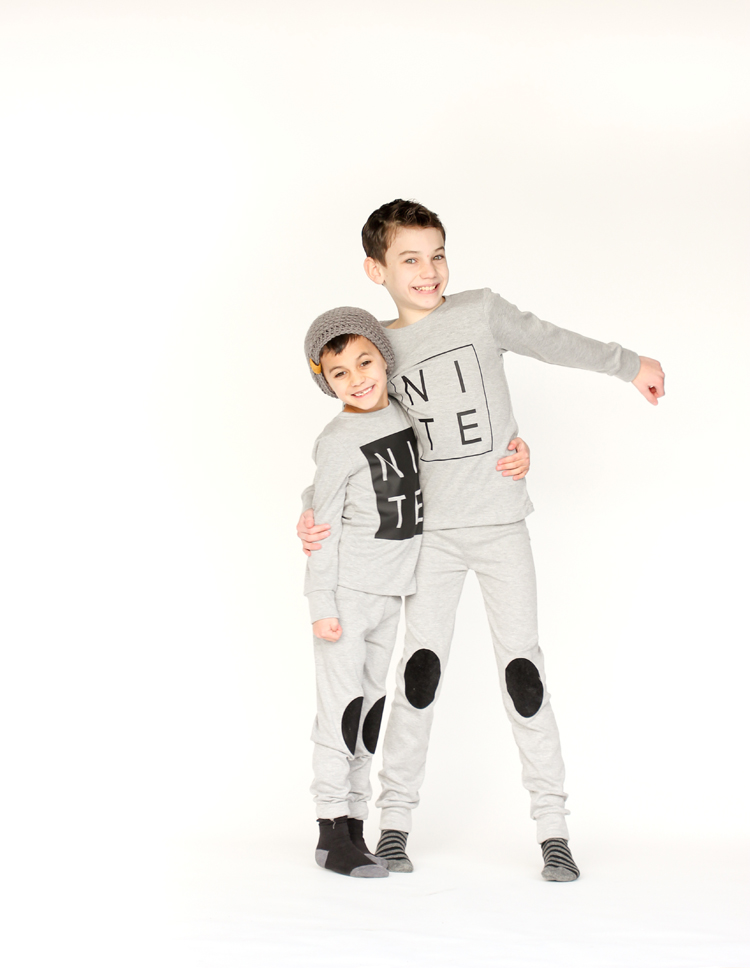 I whipped up some plain gray pajamas using Peekaboo Pattern Shop's Alex and Anna Winter PJ's. Any pattern from Amy's shop is a sure fire winner for my kids. Her patterns just fit my slender kids so well!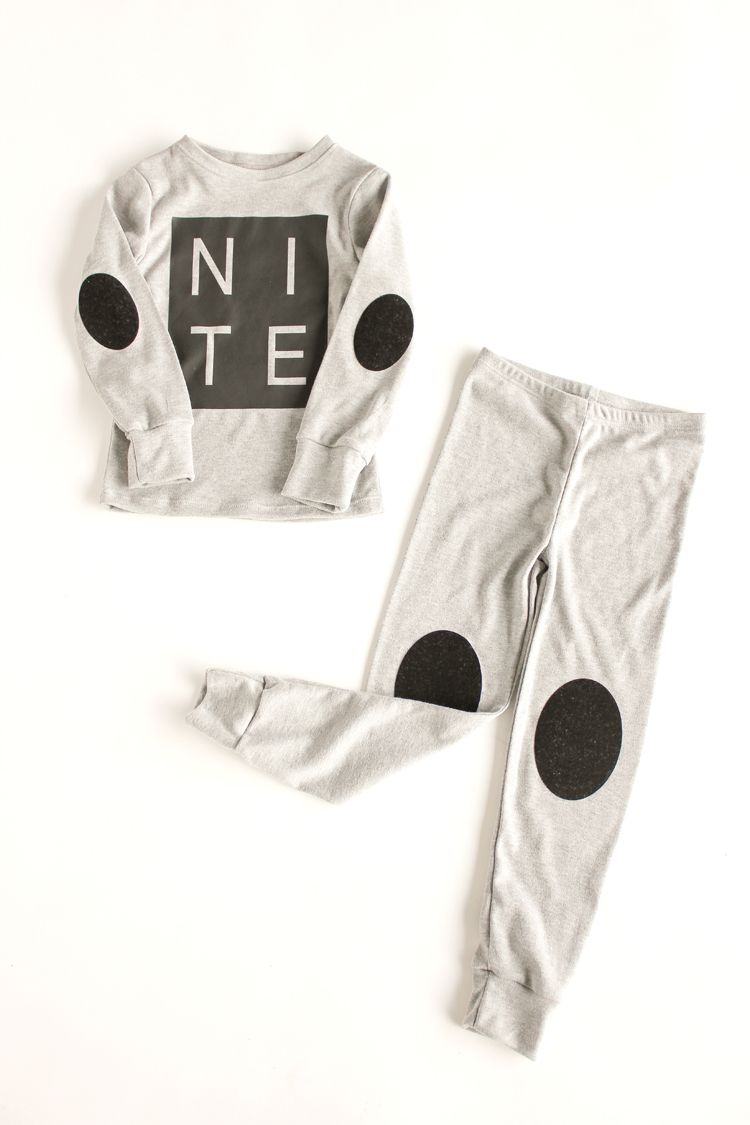 I still have to size down and then add length to fit their measurements according to the pattern, but the fit is always spot on.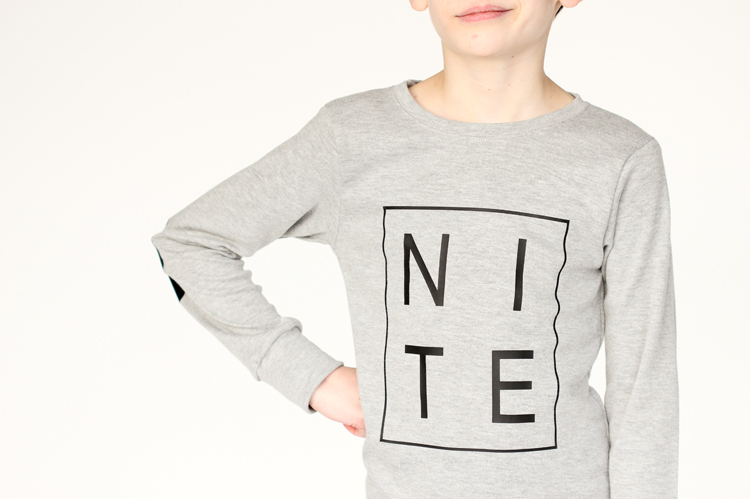 I was in such a good Christmas mood when I made these, that I whipped out my double needle to stabilize the neckline and for hemming. I hate threading double needles, so that's noteworthy. 🙂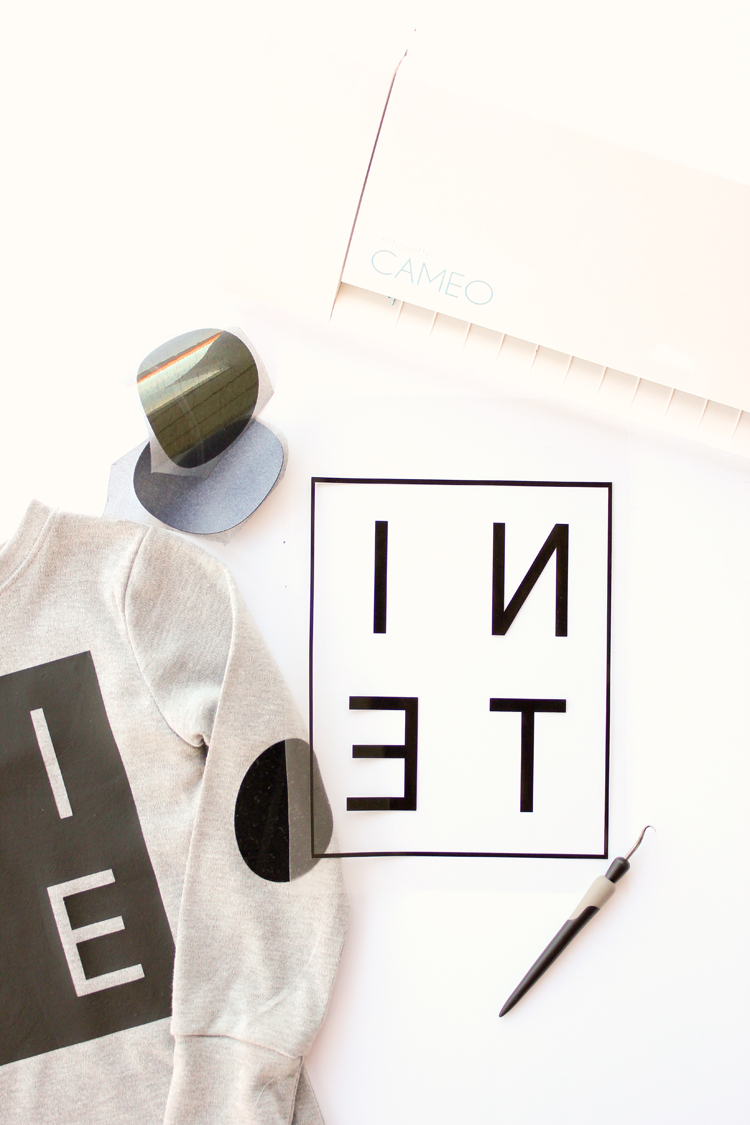 Then I added some simple, modern details with heat transfer vinyl and my Silhouette Cameo. Easy peasy.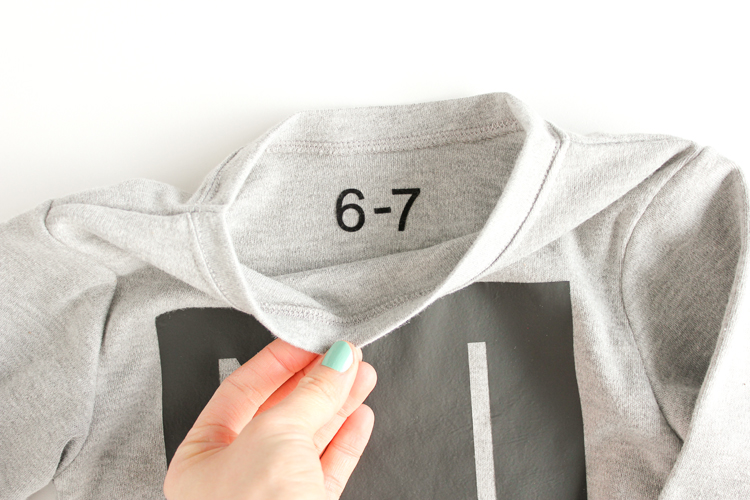 Oh yes, and I added some tagless sizing to the inside. The first number is the size pattern I used for the width,and the second is the size I used for the length/height.
I am still new to the Silhouette game, so this was my first time cutting vinyl with my Cameo. Wowza! I can see why people love cutting vinyl so much. It is SO much simpler, faster, and easier than cutting paper.
I used pretty basic designs, which helped weeding to go by lightning fast, but even so…it's wicked fun!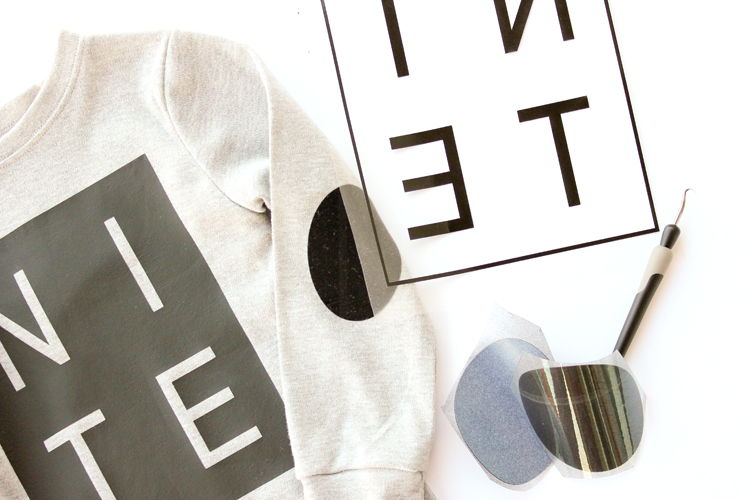 I created all the designs using Silhouette's own design software, Silhouette Studio. It functions similar to Adobe Illustrator but it's simpler and easier to use. It was a cinch to move everything around so I could economize my vinyl as much as possible.
For the knee patches I used flocked vinyl and it was sturdy enough to run through the Cameo on it's own.
I used a regular matte finish heat transfer vinyl for the designs on the shirts, and that needed the support of a mat. The blade never cut through the plastic backing, but it fed through the rollers better with it adhered to the cutting mat first.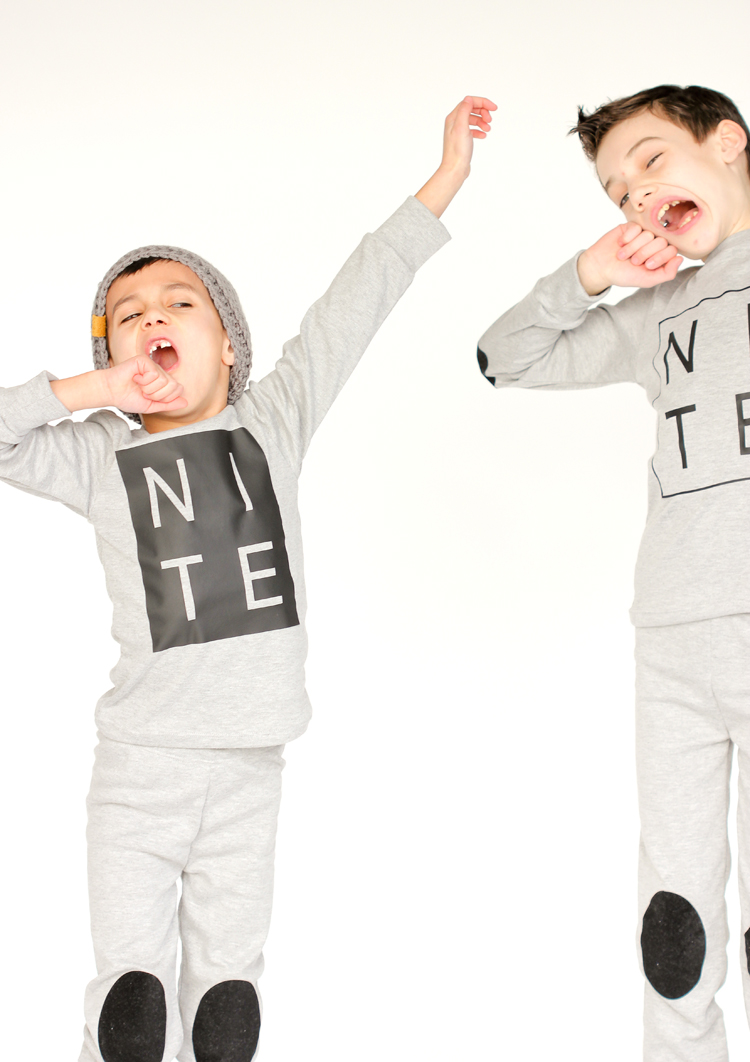 The boys seem to like their new pajamas.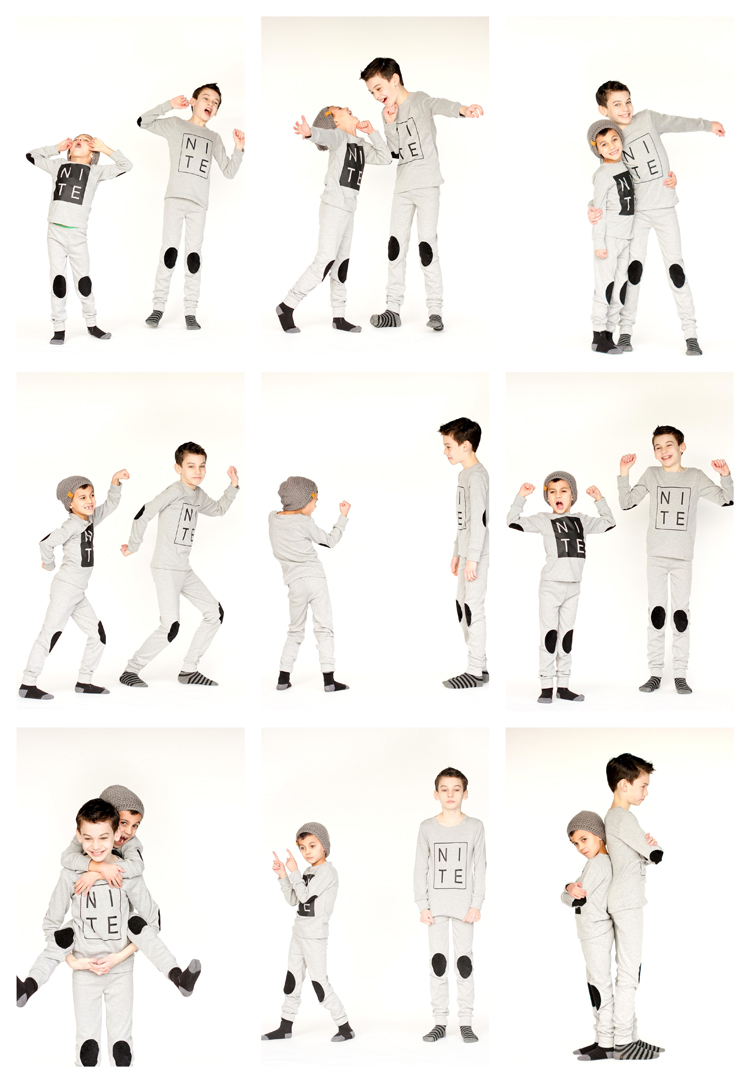 They're generally easy to please though. I think they would have been happy to wear their hole-y, worn sets from last year. Ha! So, these are really for me and my desire for them not to look like hobos in all the Christmas morning pictures.
Right!? New pajamas are not just for being cozy, but because moms would rather not have your ratty old pj's (or worse, just your skivvies) be immortalized in Christmas morning pics! #therealtruth 😉
The boys told me they like the elbow and knee patches best, which I have to admit is my favorite element too.
I've used vinyl as knee patches before I had a Silhouette actually. Natalie still wears her kitty knee leggings on the reg…so much so that they have started to crack a bit at the ears. Considering they have been washed and dried on hot probably a bajillion and one times, the vinyl has held up remarkably well.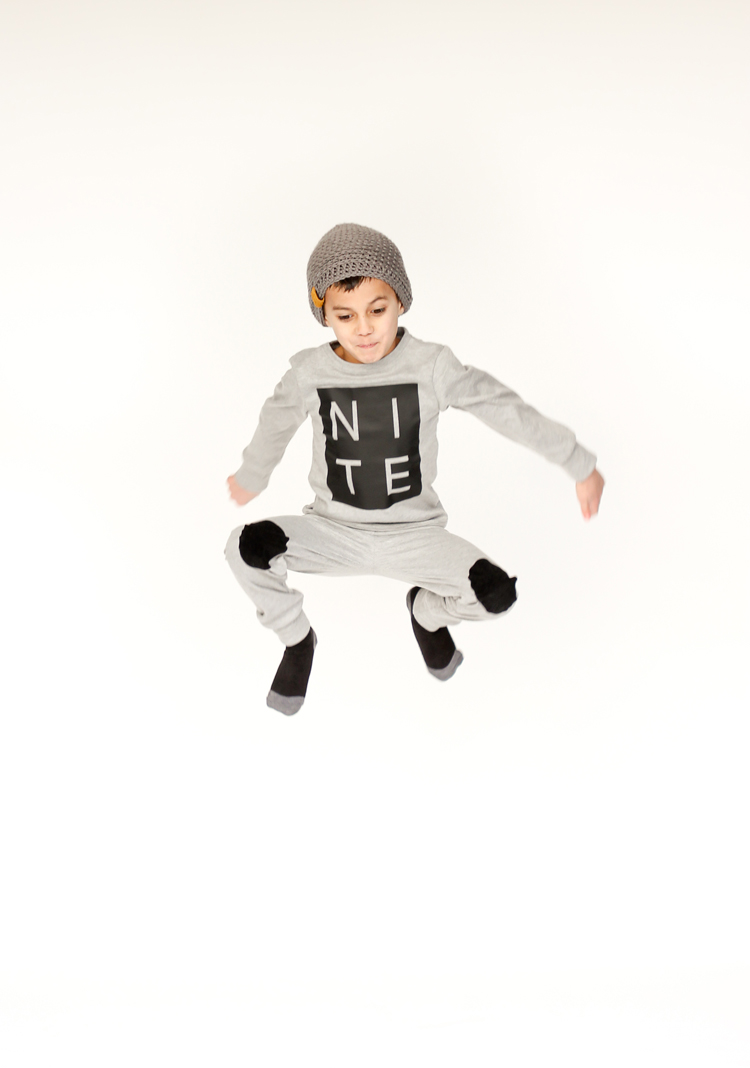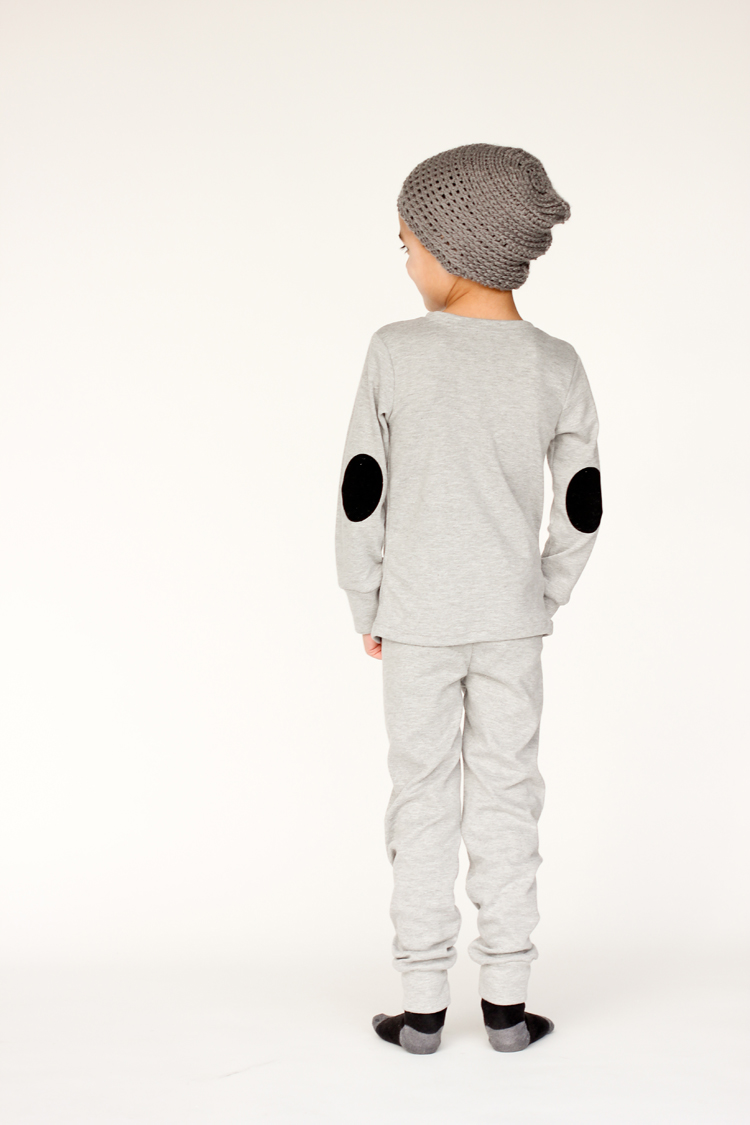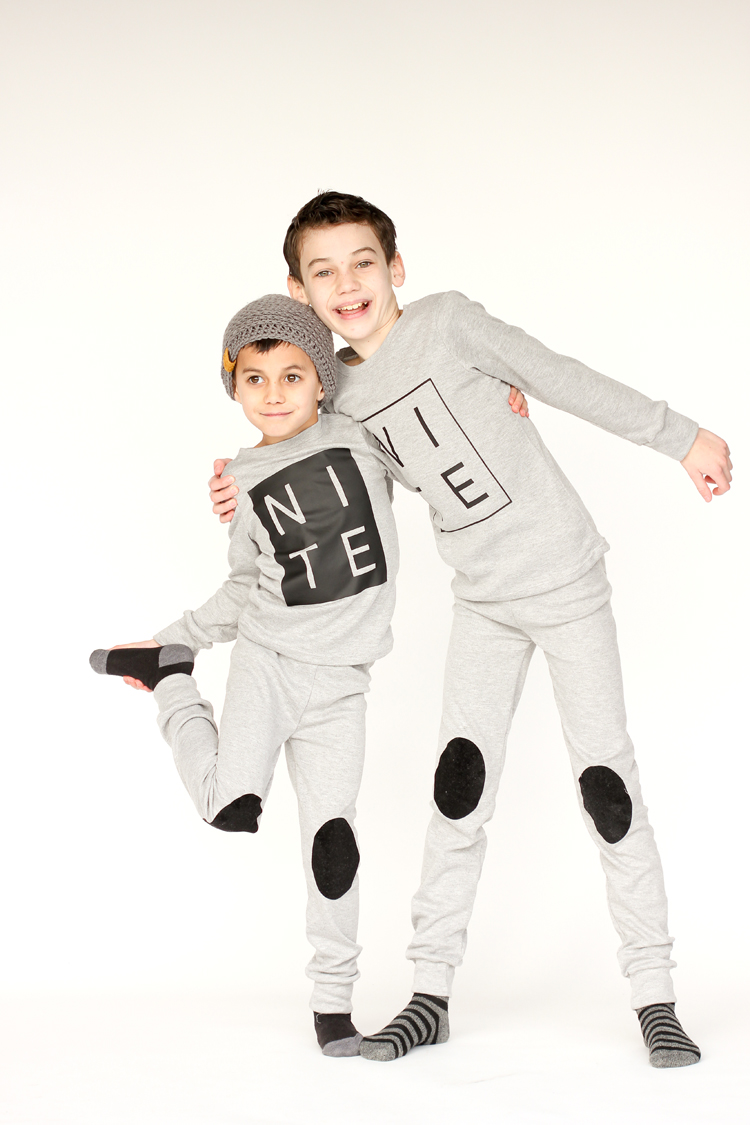 It's been a while since I've made the boys something, so they were dishing out extra ham for me for this photoshoot.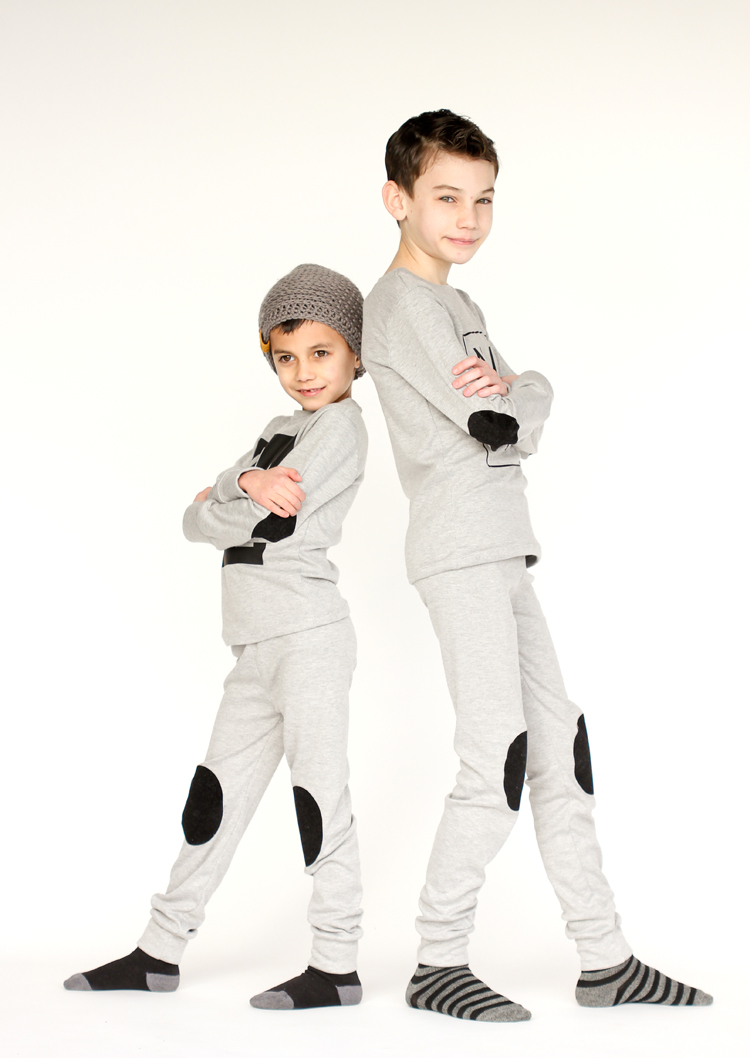 This nineties, hang tough pose is my favorite. Ha!!!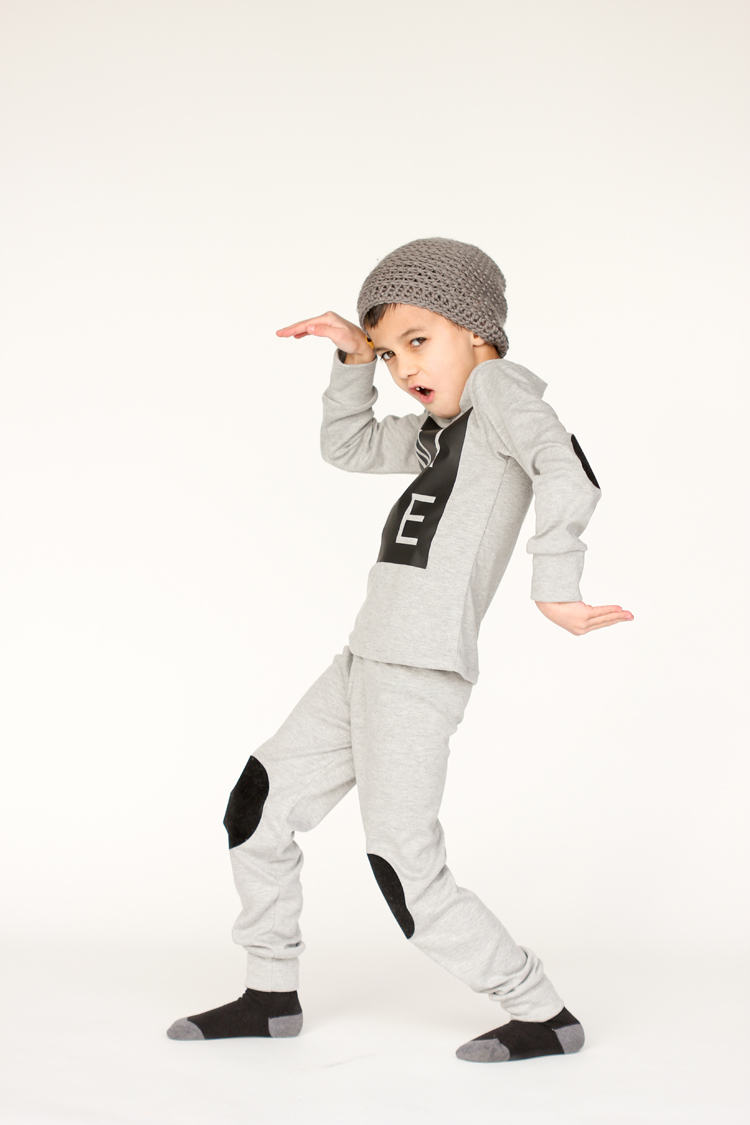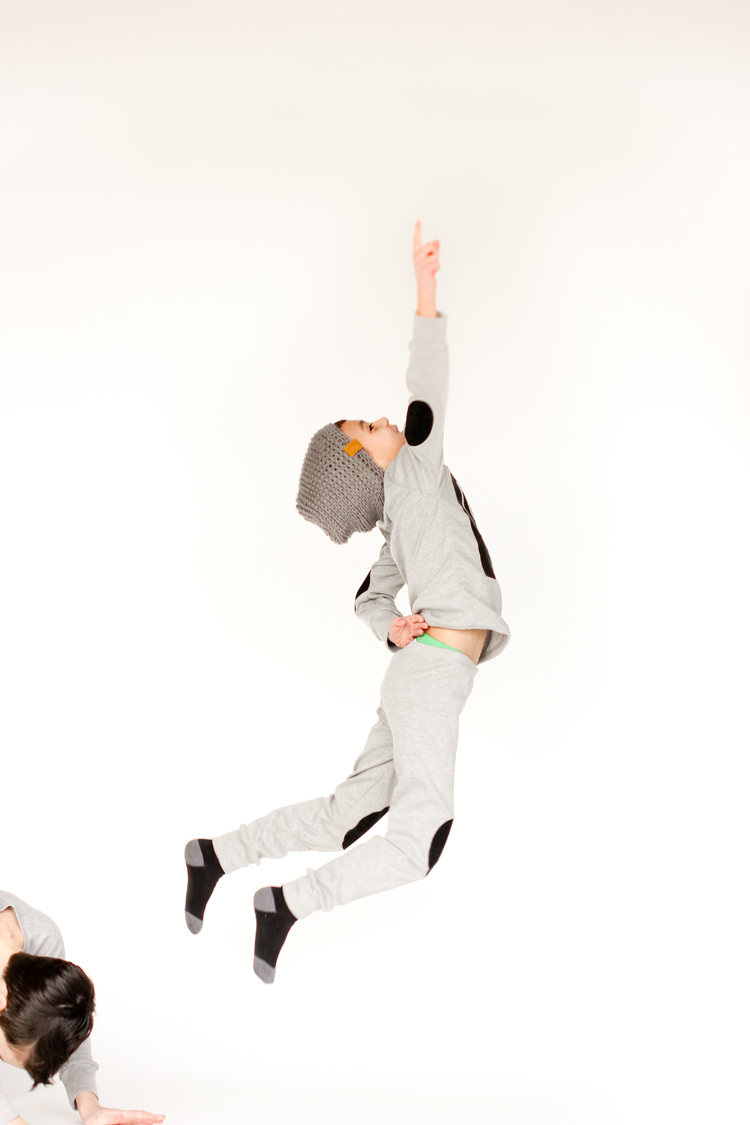 I honestly had NO clue what to put on the front of their pajamas. I was going to leave the shirts blank, but they really seemed like they needed something. So, I went with the simplified spelling of night. It's graphic, bold…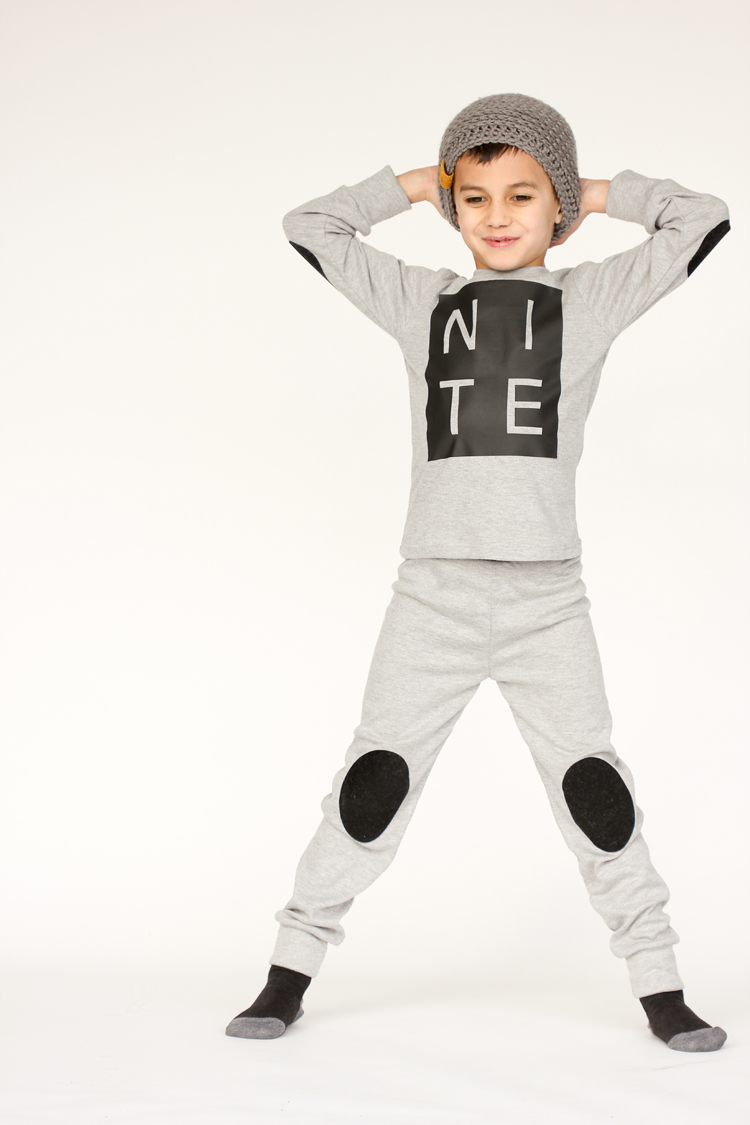 Plus, when they stand together…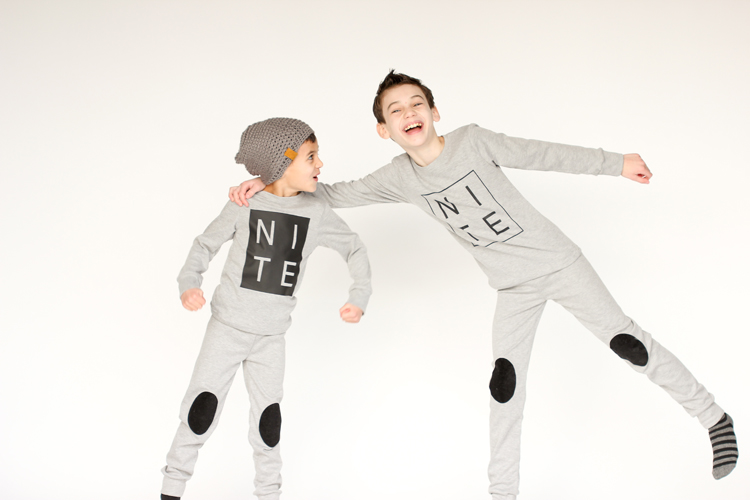 Nite, nite!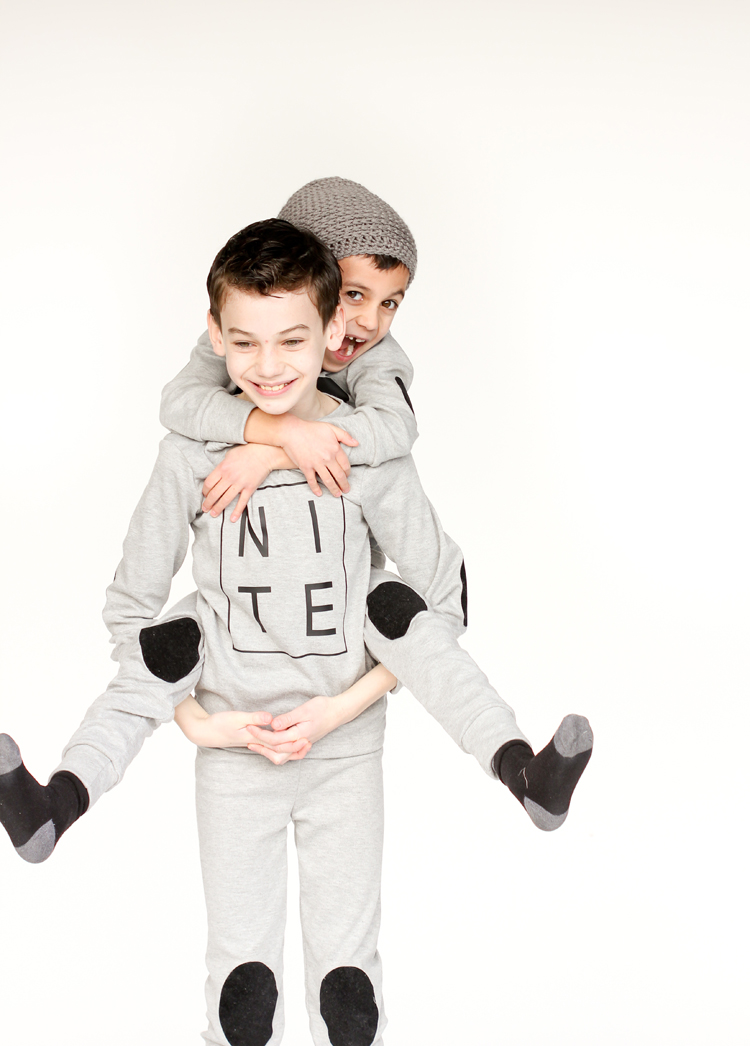 Sources: Gray knit fabric – Jo-Ann || flocked and matte black vinyl – Expressions Vinyl || Reid's beanie – Emerson pattern
Disclaimer: This post is sponsored by Silhouette. All ideas, opinions, and content are genuinely my own! 🙂