My three year old may be petite, but she is not exactly dainty.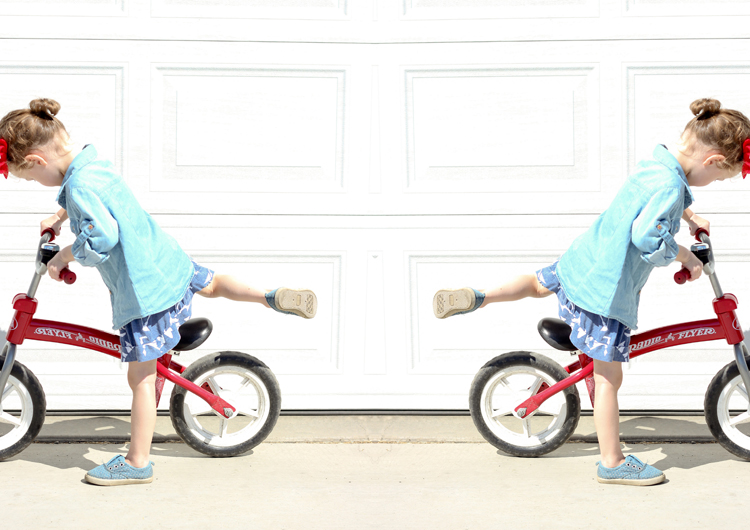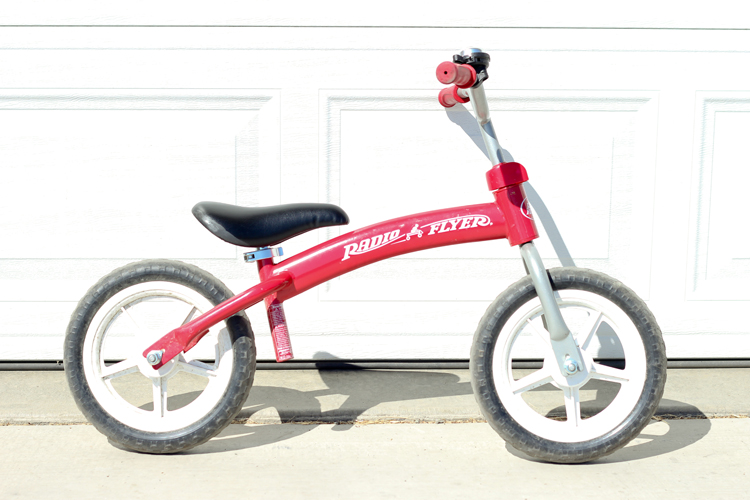 With two older brothers, she is a rough and tumble chick who plays hard, and it shows. She loves zipping around on her strider bike and tossing her bike to the side whenever she wants to jump off to the next thing. I love that about her…her bike seat though…not so much.
I hopped on google, as any 21st century mom would do, to see if I could fix her seat. Unfortunately for me, all I could find were tutorials on how to recover the whole seat. Knowing she was probably going to turn around and trash it some more, I was looking more along the lines of…something really easy. 😉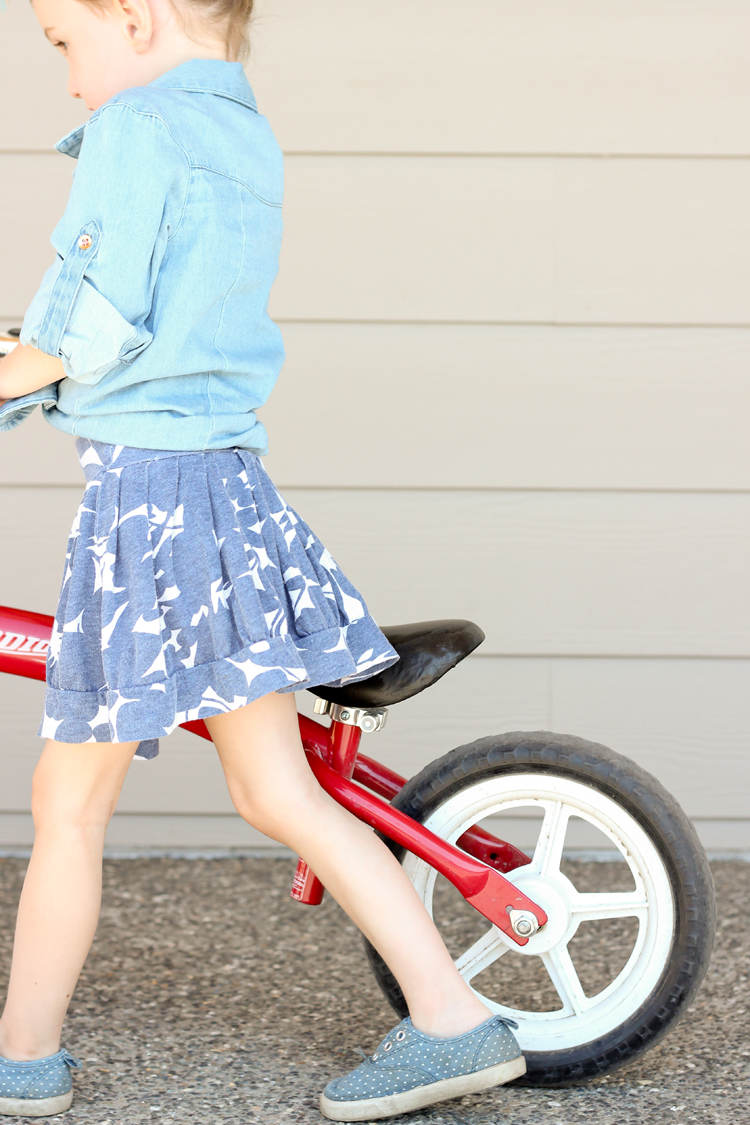 …Something that looks pretty good, is sturdy, is inexpensive, but won't become this super time intensive project. I kind of just wanted to keep it nice and neat, so it doesn't keep tearing and unraveling.
I remembered trying out some Sugru a couple of years ago, when they sent me a sample to play with. It's some pretty amazing stuff. It's basically a mold-able, flexible glue that turns to rubber when it dries. You can read more about it on their website.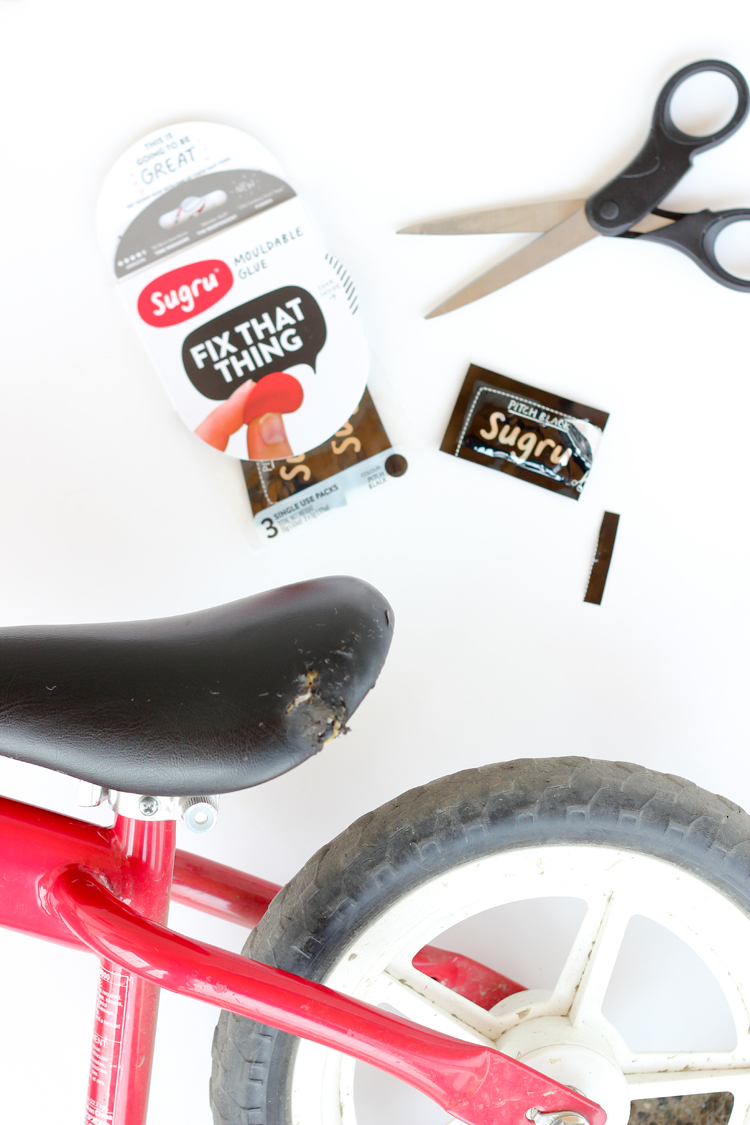 I asked them if they would be willing to let me try it out on my daughter's bike, so they sent me a 3-pack of black, to match her seat.
I followed the really simple instructions, rolled it up, and then basically smoothed it on over the rips and tears. It was a lot like working with play dough. So easy!
Some of the areas were really torn up and kind of flimsy, so even though it covered it up sturdy enough, those areas ended up a little bumpier looking than others.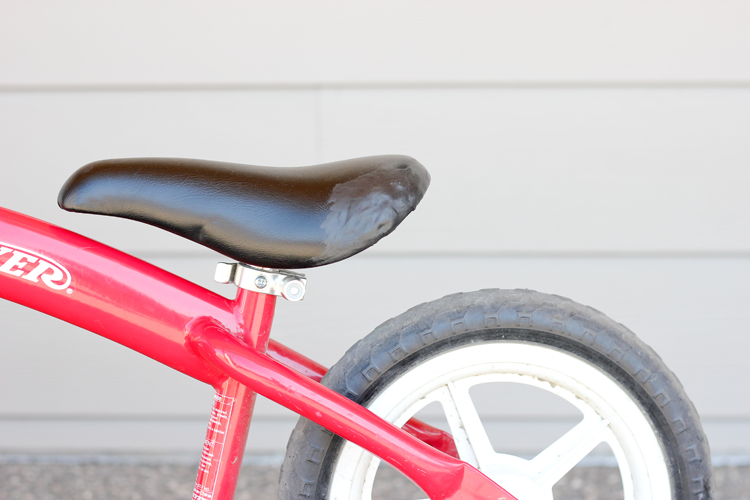 Overall though, it came out looking and working pretty great. She has already put it through the ringer some more, and it has really held up, even better than before.
It took me about five minutes of actual working time, and then 24 hours to cure. So, super simple and essentially pretty fast!
A three pack of Sugru is about $12. It only took me half of one small pack to complete this project, so I still have a lot more Sugru for other repairs and projects…not surprisingly for more bike seats (my sons' bikes this time) and some rain boots.
You can get Sugru on their website, but I've also seen it on Amazon, and I heard that Target and Lowe's have started carrying it. Yay!
Disclaimer: Sugru provided me with the Sugru to complete this project, but I approached them about featuring their product. I know first hand that it's really handy stuff and wanted to share that with you! 🙂