***This post is sponsored by HP. All content and opinions are my own!***
If you missed the buzz about the HP Sprout earlier this year, it's basically this really freaking awesome high powered, all in one desktop computer, with a fully-integrated 3D scanner.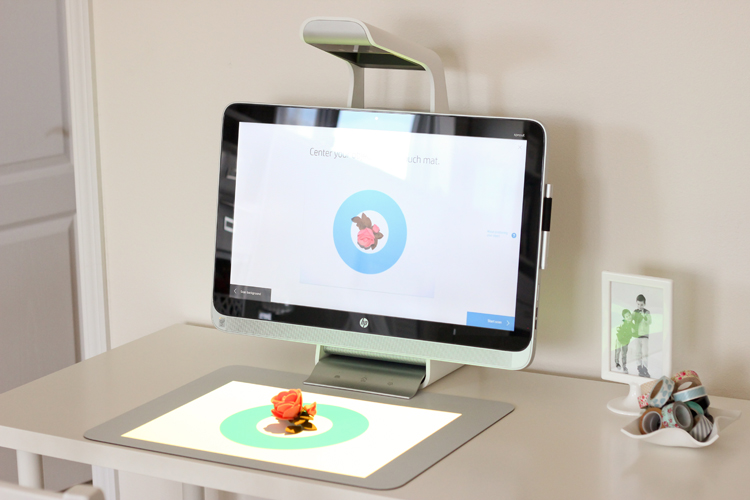 It has a touch screen and touch mat, so you don't even need a mouse and keyboard. If you're like me though, and you still want something plastic to clack away on, it still comes with a wireless keyboard and mouse.
And it's really pretty. 🙂 Which gets major brownie points from me.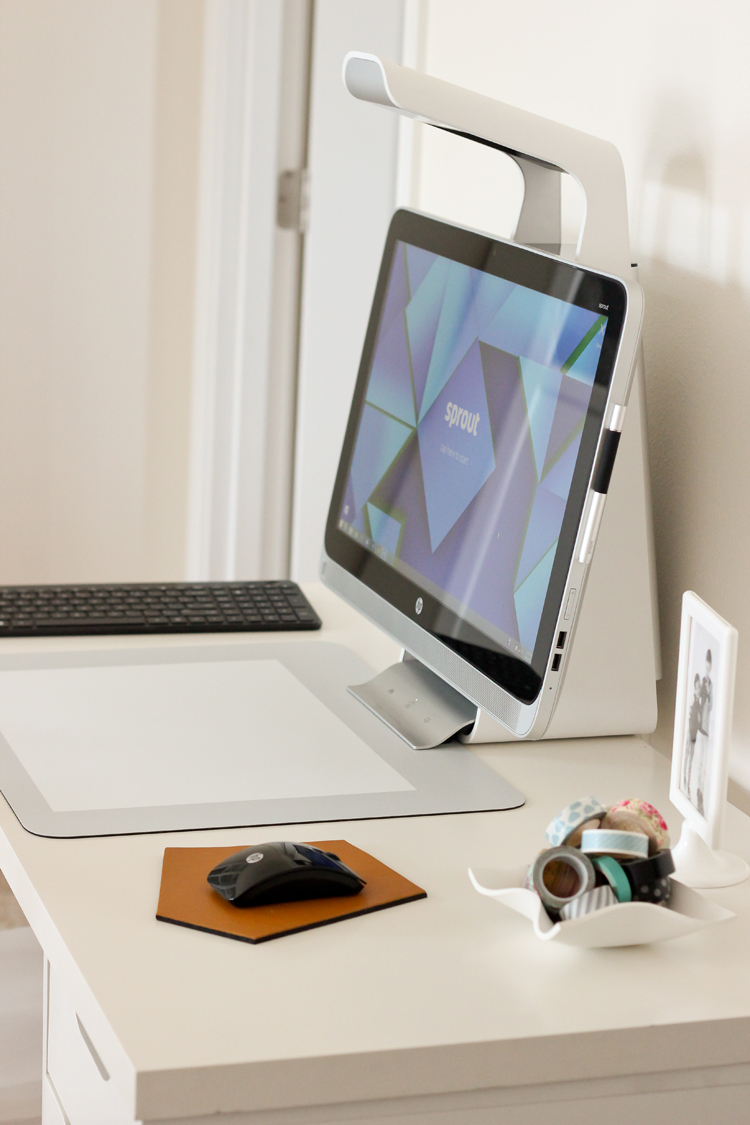 MY SPROUT
A few months back, I shared a couple projects I made using my HP Sprout: this crochet hook case made from photo realistic crochet texture and this Easter grass wrapping paper.
It's also come in handy as a blogger, for other tutorials I've made, such as this gathered tutu tutorial, this four step leather tote, and simple leather diaper clutch tutorial. It took just a few minutes to scan the tulle or leather I was using with the built in scanner, save it as a jpeg and then pop the file into Illustrator and go from there.
There are actually other great Illustrator-like tools on the Sprout that allow you to skip the Illustrator learning curve and make similar diagrams, but my comfort zone is already in Illustrator so I default to that. Overall though, it's been such a great tool for streamlining some of my blogging processes.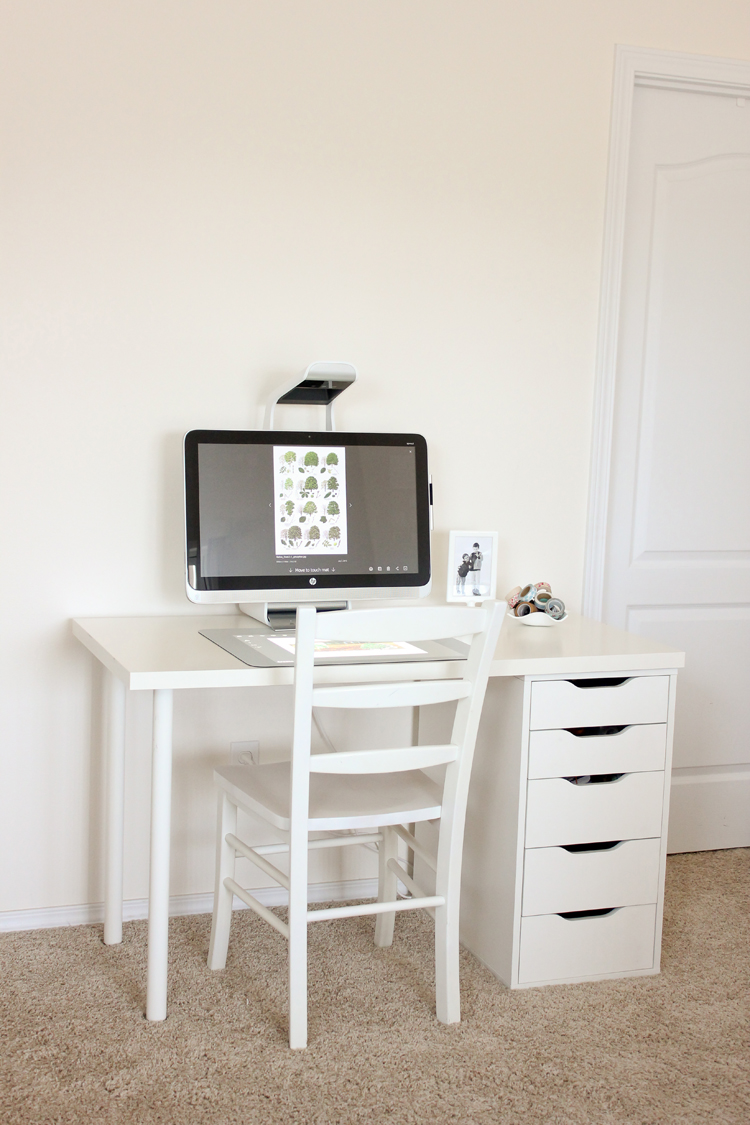 My husband, who is not Adobe literate, has loved using it as a sort of landscape planner for our new house. He took a photo of the front of our house and has been cutting out pictures of trees and shrubs and making little photo realistic blue prints for landscaping ideas. It's been great at helping us better visualize our yard's potential.
Plus, it's so intuitive and easy to use, that he hardly needed any helping learning how to use it.
While we've been ultra impressed with the Sprout's 2D capabilities, we got it early on, when the 3D side of things was still in beta. When HP invited me out to their Sprout Truck Tour stop at the Vlogger Fair in Seattle, I was super excited to see in all it's 3D glory.
SPROUT TRUCK STOP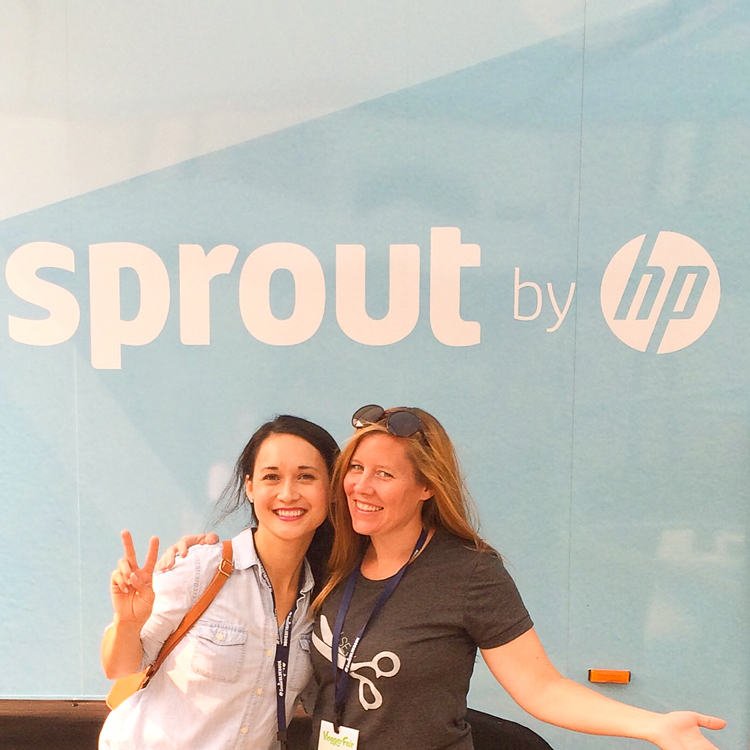 I met my friend Andrea there, from Andrea's notebook. Isn't she so cute in her "I Sew" tee?
The super nice HP team gave Andrea an introduction to all the Sprout's 2D capabilities, which was actually a nice review for me, because there are new apps in the Sprout store I didn't know about. The origami app…what?! Oh and all Sprout apps are free, if you are wondering. So nice!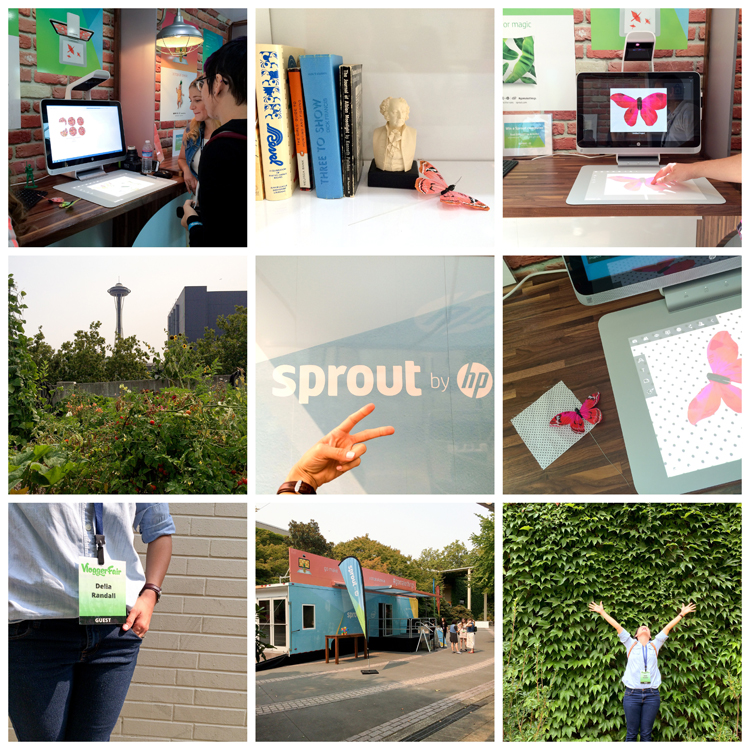 SPROUT: 3D Desktop, Scanner, Design, all in one
Then they showed us the 3D stage and printer, and I was like, whoa!
You can scan an object, manipulate it in a 3D model app (if you want), and then print it on a 3D Dremel printer. Mind. blown. It's like thought to screen to reality, just like that.
Now, how this translates into practical terms for the masses is still being fleshed out. I am sure, when enough creative minds catch up to this technology, we are going to see great things stem from it.
I asked about what this could do for online shops, like Etsy. You don't have to print the 3D image out, after all. You can save the image, rotate it, and play with it just on screen, which would be an interesting element to incorporate into shops and blogs like mine. The answer, is that it is saved into lots of little .jpeg files or one large .obj file. That's not quite as straightforward and easily usable as we'd like…yet. I'm excited to see where this technology goes, as more developers start working with it.
I mean, just a few months ago, the full 3D scan wasn't working and now it is. It's only a matter of time, and probably not a lot of it.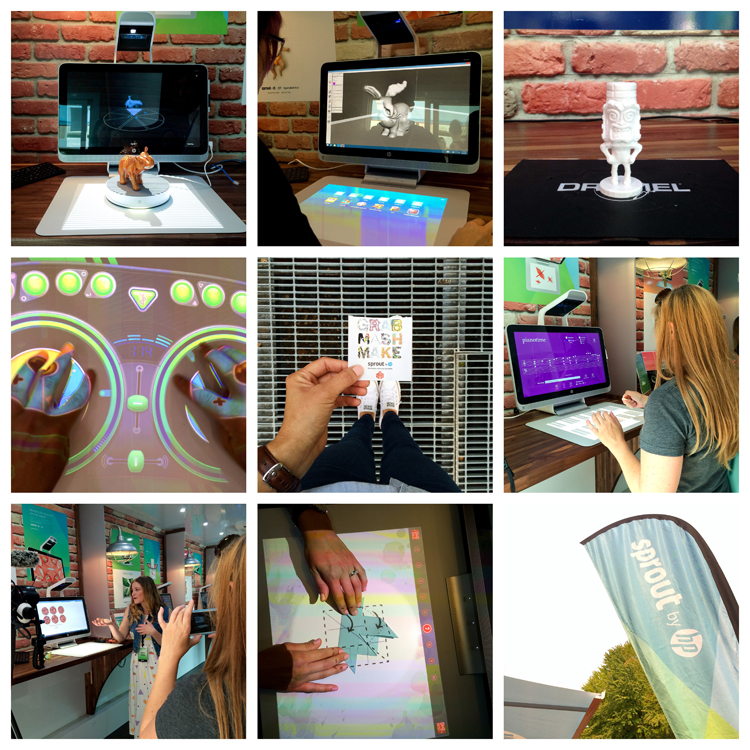 Aside from the 3D stuff, there are DJ apps for kids and adults alike. You heard me…DJ, as in you get to scratch some records and mix a beat like Pauly D, kind of DJ. 🙂 Less funky, but equally exciting are some coloring and drawing apps, piano apps that allow you to compose and record music, and a new video app, still coming down the pipeline, that allows you to record yourself making something on the mat, while simultaneously recording yourself talking at the front facing camera in real time. I'm not a vlogger, but that might make me want to try giving it a go.
Oh, and we got to see the adorable Joanna from Jojotastic share her thoughts on the Sprout, as well as her super cute sprinkles garland download she created using her Sprout.
SPROUT TROUBLESHOOTING TIPS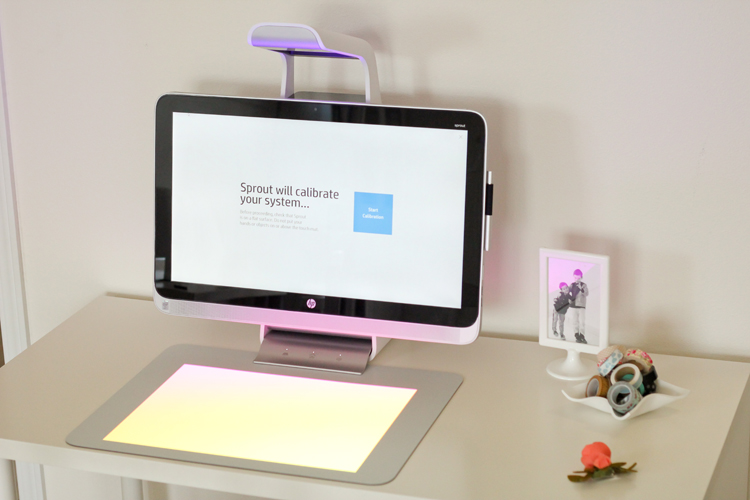 I also asked the Sprout team other trouble shooting questions, that I just can't google yet, because the Sprout is SO new and there are literally no other computers out there like it right now.
My main question was about what to do when my Sprout is running slow. They gave me a few answers, which I'll share here, in case your Sprout is doing the same!
Answer 1: Check to make sure two Sprout apps aren't running simultaneously. (This one works really well! Turns out, I've been impatiently tapping and running multiple apps at the same time without realizing it. Oops.)
Answer 2: Calibrate your machine. Click the top right icon on the touch mat, select settings, and calibrate. (This was also super great advice. I had not done this ONCE since setting it up. Haaaa.)
Answer 3: Hard start it, or save your work and restore it to factory settings. (This might have more to do with something you downloaded, which could happen to any computer.)
I'll add one more of my own…
Answer 4: Disconnect the mat and/or restart it. Because the Sprout is so new, there are new updates ALL the time. Sometimes, restarting it will allow those updates to refresh and install.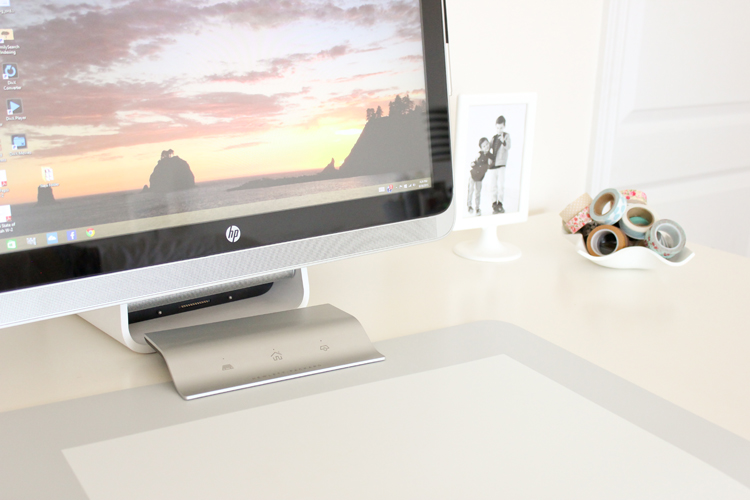 When I got home from the Sprout Truck Stop, I checked out the new apps I learned about and downloaded a few of them. The origami app was at the top of my list!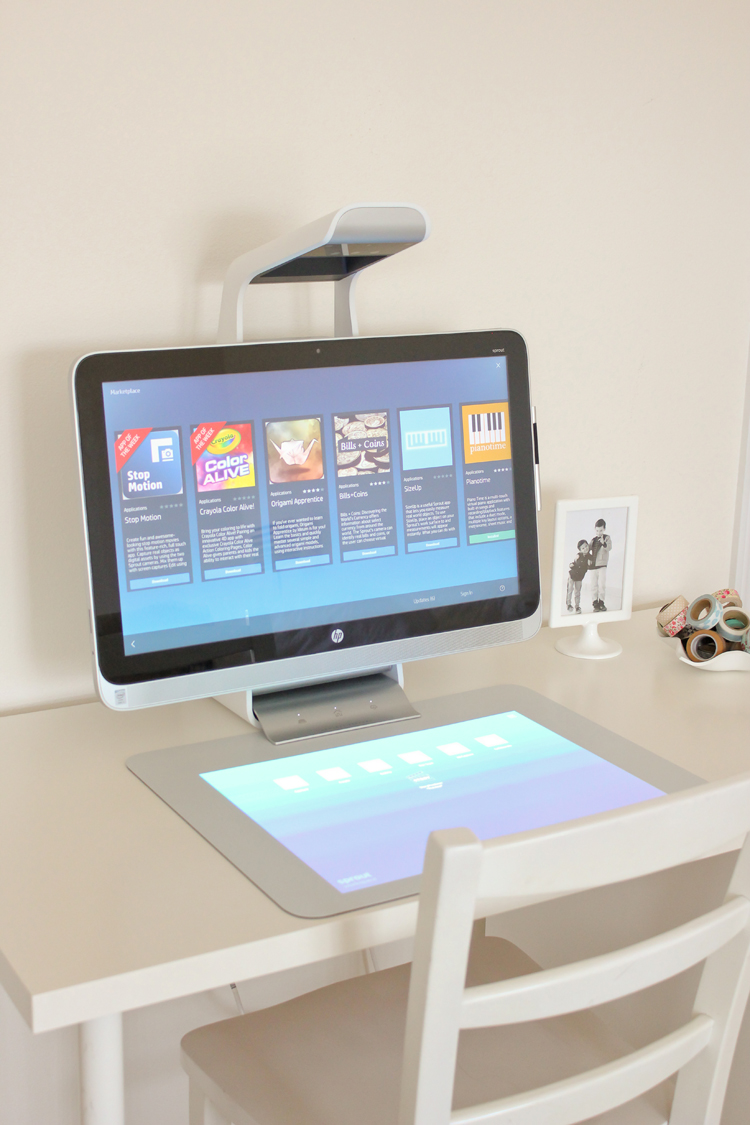 Then I played around with the 3D capture feature. It's no where near as awesome as the the 3D scanner stage that allows for the full 3D scan,  and basically just teased me into wanting to buy the scanner stage. 😉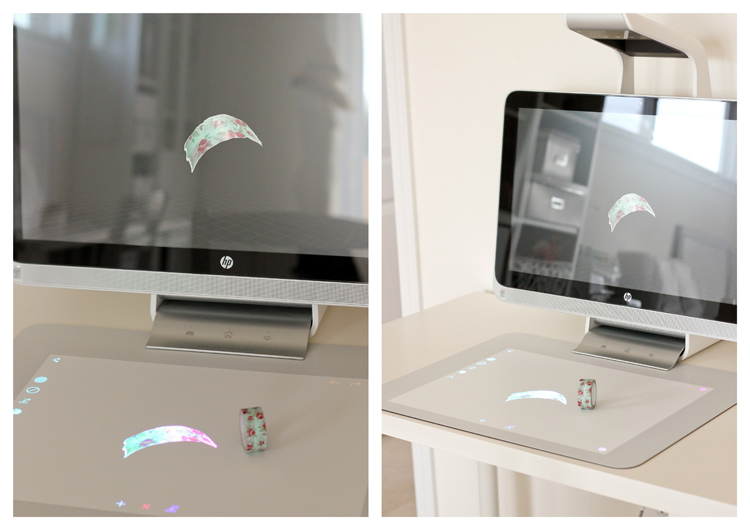 If you want to see more of what the Sprout is capable of, check out their Creator Gallery. It's chock full of really cool things other makers have created using the Sprout.
Or if you'd rather try out the Sprout yourself, you can learn where to buy one on their site, or visit a  Sprout Truck near you! Sprout trucks are touring all over both east and west Coasts. Check out the tour schedule on their Facebook page to see if there is a Sprout Truck Tour Stop coming your way.
*Note: As of right now, you'll only see east coast tour dates, but the west coast team assured me that they'd be touring until the end of the year, so I'm sure they'll be updating their page with more tour dates soon.
Disclaimer: This post is sponsored by HP. All content is genuinely and enthusiastically my own. I strive to work with quality brands which I can sincerely endorse. Thank you for supporting the brands that support this site.