If you told me three years ago, that I would be posting a frilly, froofy pink tutu tutorial, I would have laughed at you. I'm more of a girly girl with a hard edge. Even as a little girl, I would proudly tell you my favorite color was "turquoise!…not pink and purple like all the other girls." ha… 😉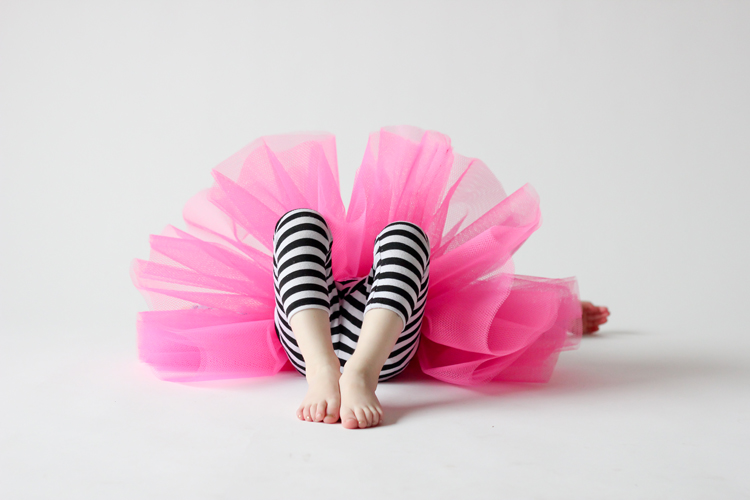 My daughter Natalie, however is ALL about the pink. Pink, pink and more piiiiiink!
After I made her a black tutu for my Taylor Swift inspired post, she asked, no begged, for a pink one. How could I say no to this face?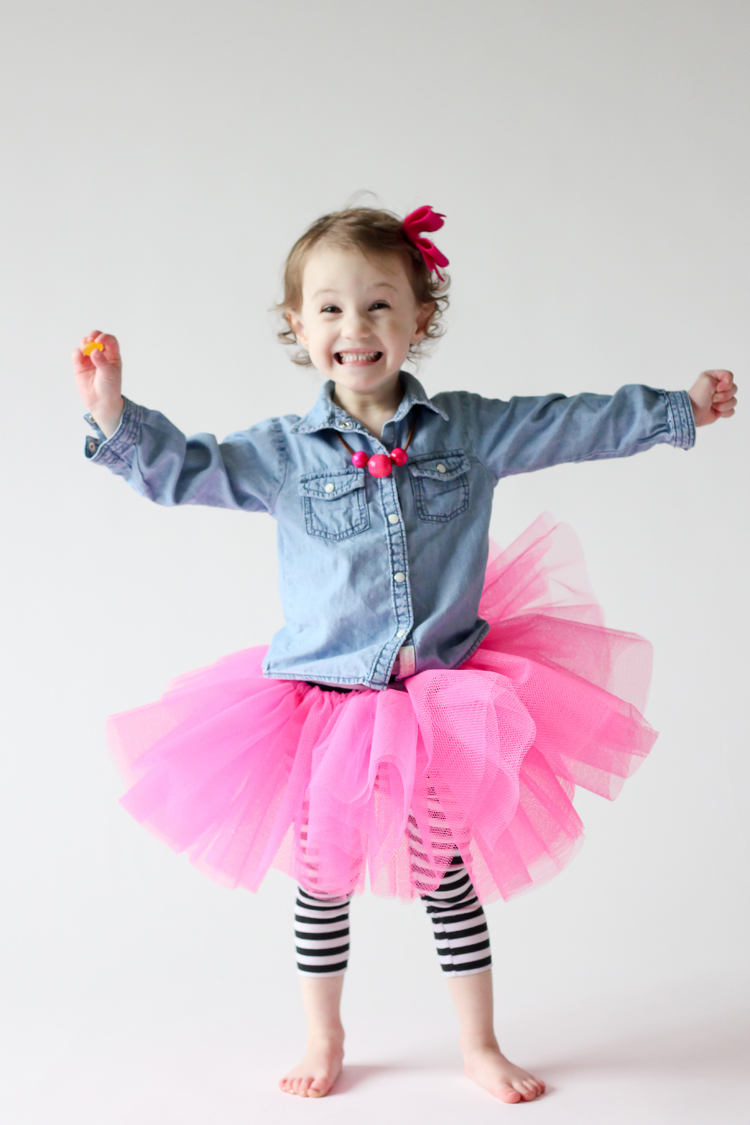 So, this tutorial is for her…and any other pink tutu fanatics out there.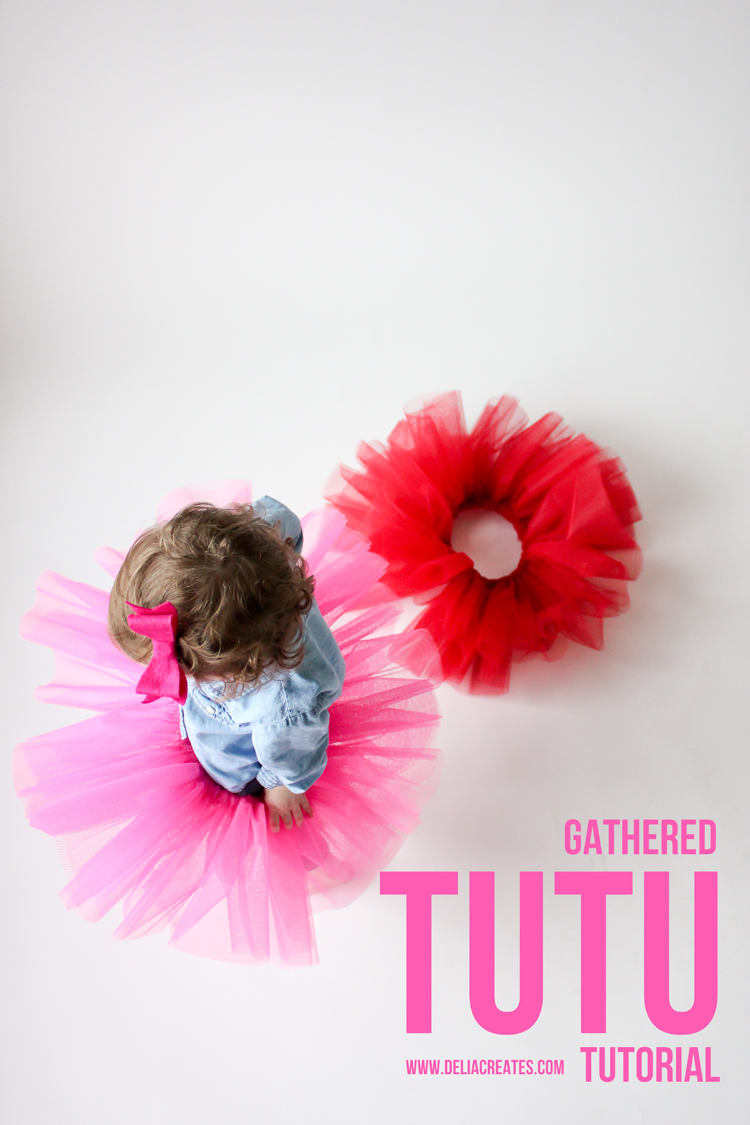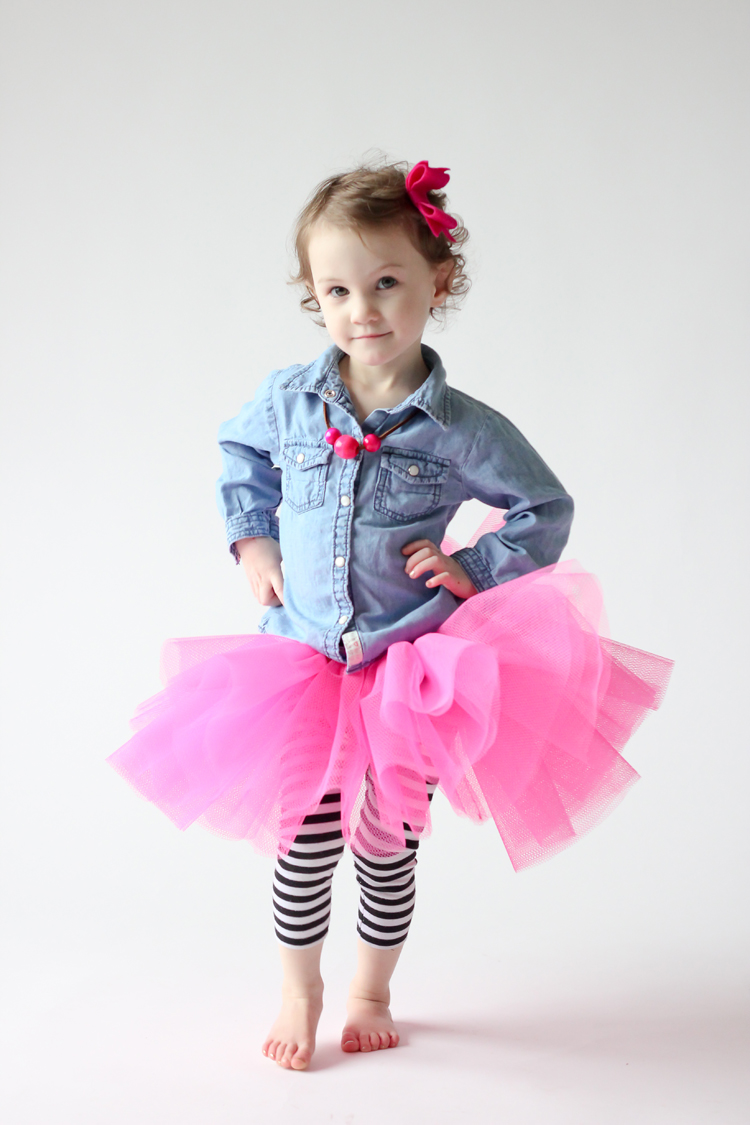 And because I just can't help myself, after I fulfilled her pinkalicious tutu request, I made a red one and a tan one as well.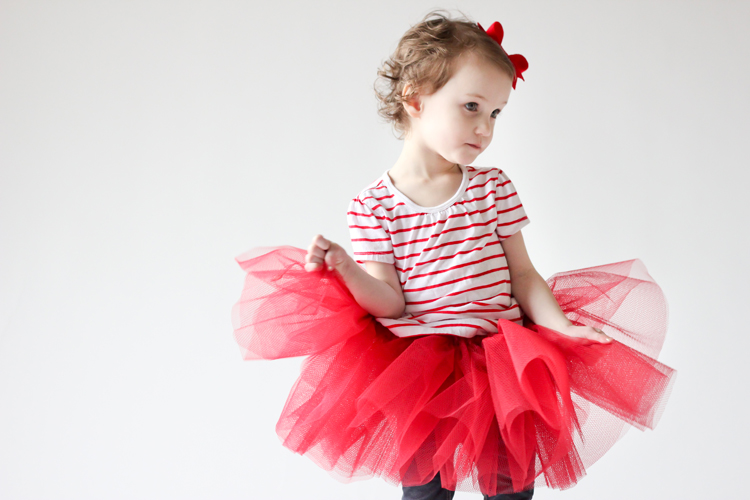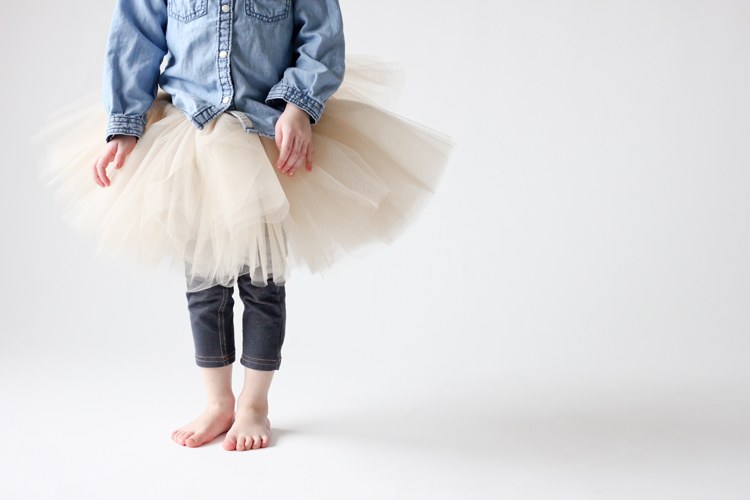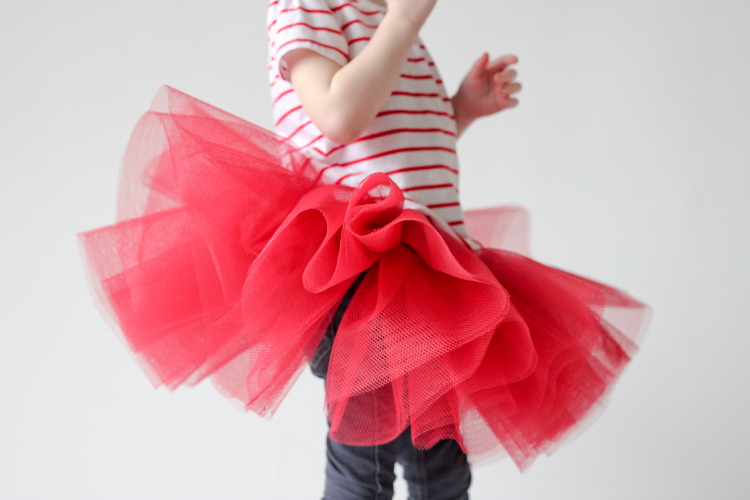 This girl has yet to meet a tutu she doesn't like, so I think even the red and tan will see some wear.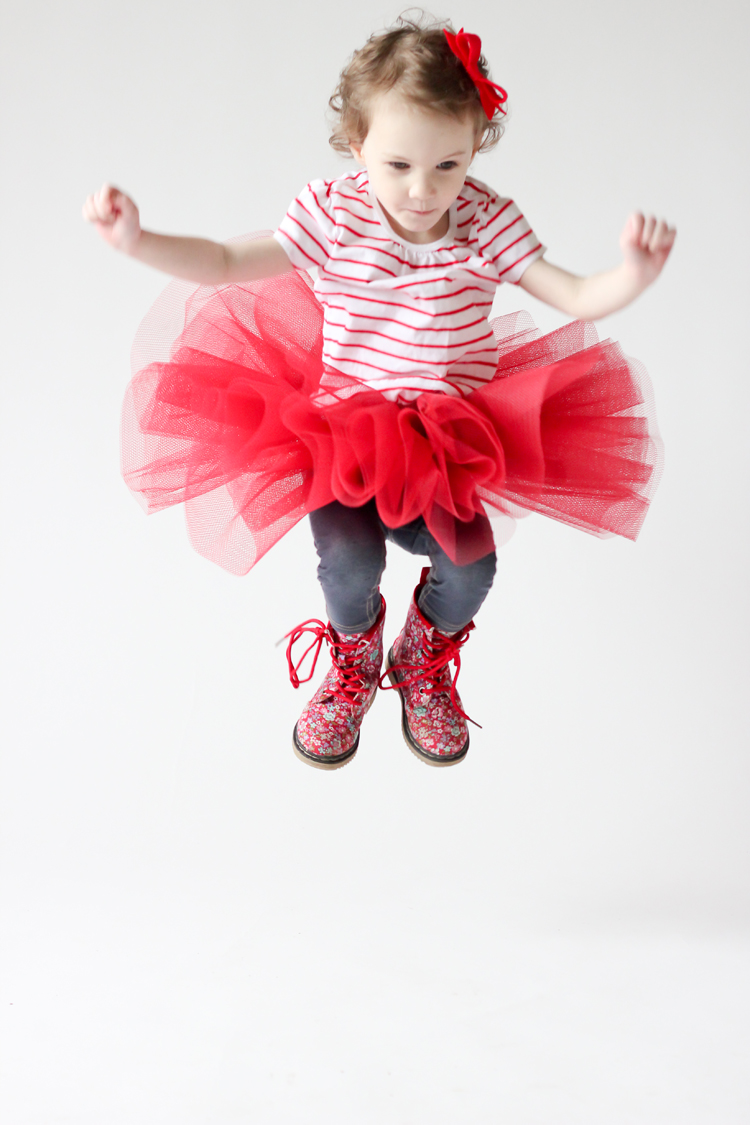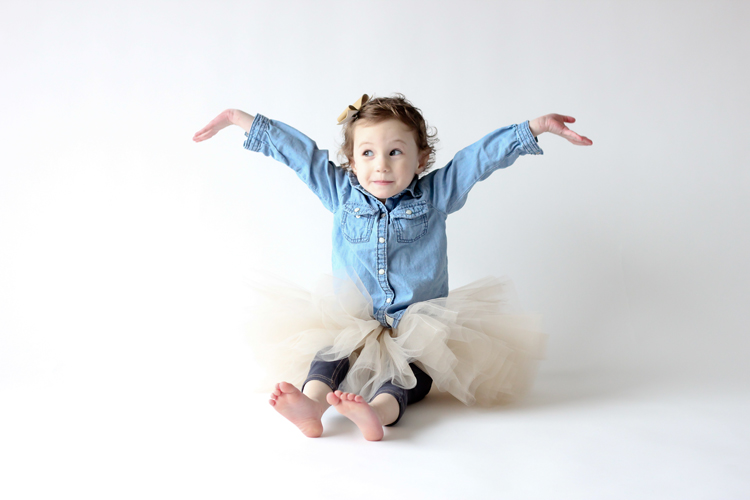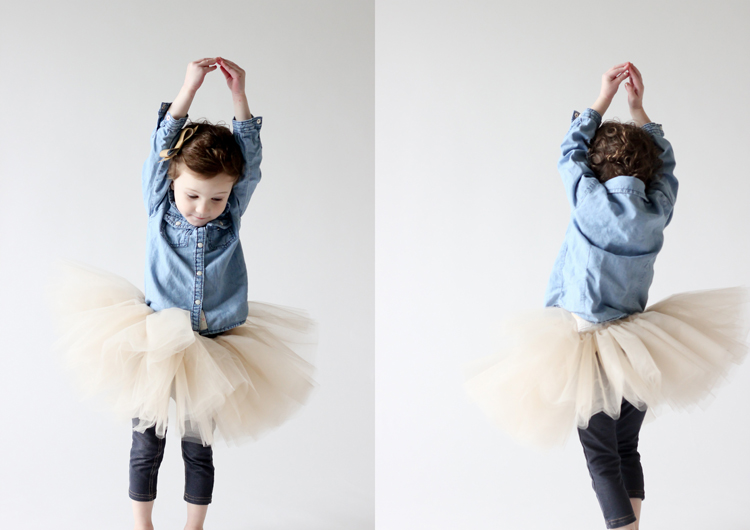 One of the best things about these tutus, is that they are SO easy and simple to make.
Let's get to it!
MATERIALS
3 yards mesh tulle*  matching thread 3/4″- 1″ elastic (enough to fit around the recipients waist)** 2 large safety pins scissors     Notes:   -**Matching elastic is best, but basic white elastic works fine too. The tulle gathers enough to disguise most of the elastic in the casing. -*Mesh tulle is a firmer, scratchier, and thicker material than regular tulle. Liz and Elizabeth from
Simple Simon & Co.
 told me about it when I was searching for a more durable tulle fabric. It's much sturdier and easier to sew than traditional tulle, and it fluffs out really well. It's not soft enough to use as a straight up skirt, unless you sewing a lining, but for a dress up tutu, it works great! I found a few different weights, and colors in the tulle section at Jo-Ann.  – You don't have to use mesh tulle. The tan tutu in this post if made from traditional tulle. It just doesn't flounce out as dramatically and it is almost twice as hard to sew. Keeping all the layers from sticking to each other and making sure everything wasn't twisting was much trickier. Trickier, but definitely not impossible. – Three yards makes a pretty full tutu. For a less full tutu, you can try less yardage.  – This tutu should fit most small children, from ages 2-6.  The length of the tutu skirt is about 8 inches. For larger/ taller kids you can increase the yardage to 4-5 yards and cut it in half instead of thirds (see the tutorial below for reference). This will create a skirt length of about 13 inches, but you can trim it down as desired.  
TUTORIAL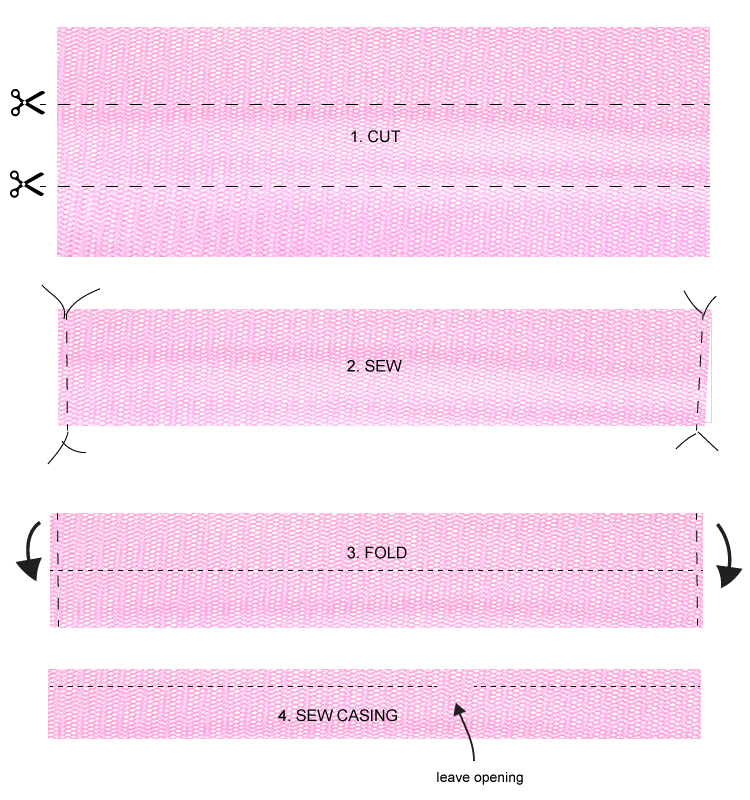 1. Find a big open space where you can lay your tulle out completely flat. Cut your tulle into thirds, or 18″ wide strips.  2. Sew each 18″ x 3 yard strip together, short end to short end, creating one huge loop of tulle fabric. 3. Fold that loop of tulle fabric in half, lengthwise. 4. An inch from the folded edge, sew a 1 inch casing all the way around. Leave a 3 inch opening unsewn, for the elastic.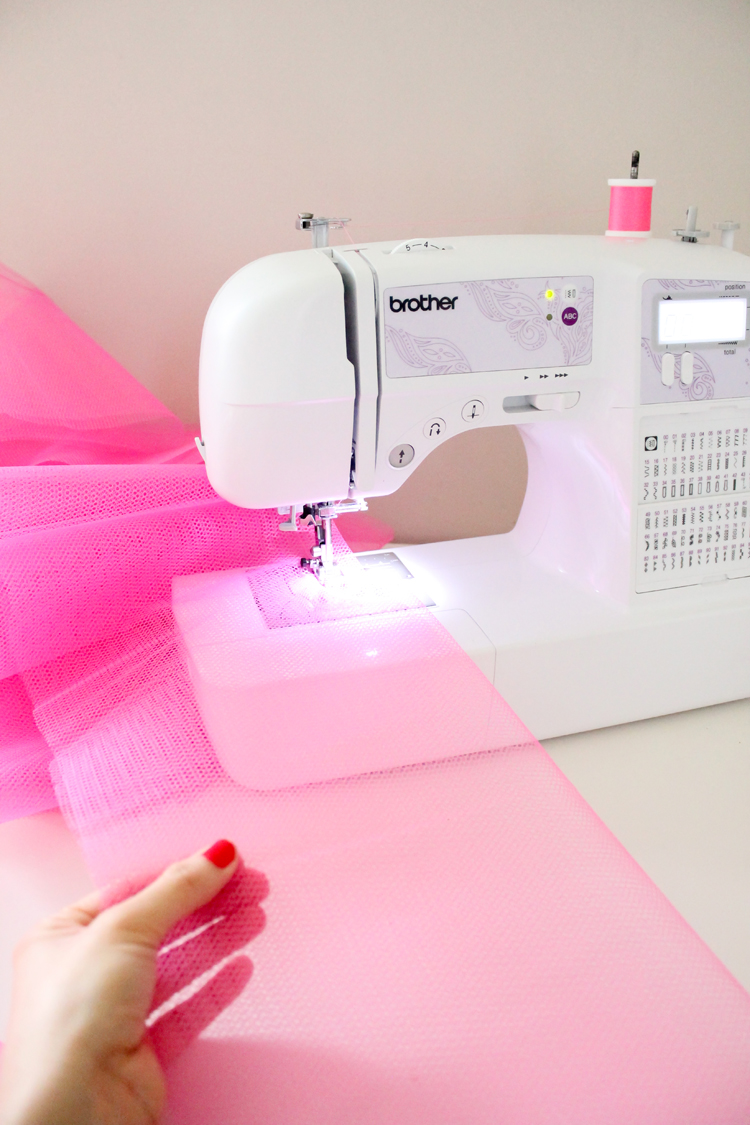 Don't worry about pinning all the tulle in place (it's a reaaaaally long loop of tulle!). Just make sure you are keeping everything folded evenly as you sew. It also helps to mark 1 inch from the needle on your machine with some washi tape or a grease pencil, so you can be sure your casing stays nice and even as well.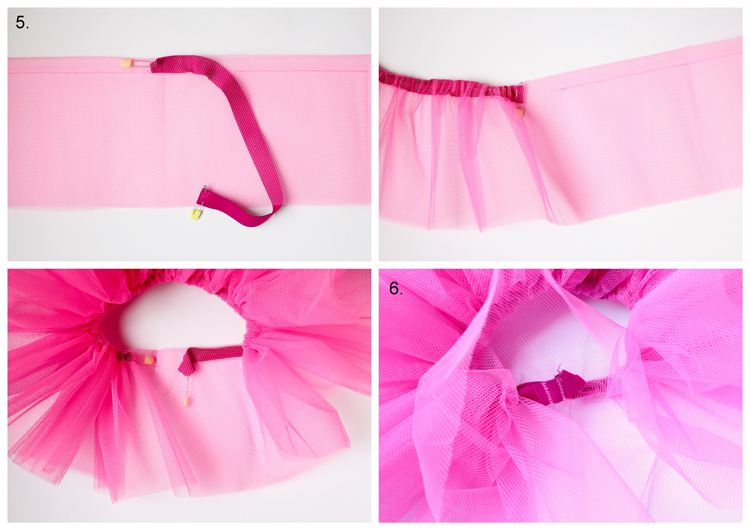 5. Cut a piece of elastic 1 inch longer than your recipient's waist. Pin large safety pins to each end of the elastic (I like to use cloth diaper pins),  with one pin perpendicular to the length of the elastic.  Thread the elastic ALL the way through the really long casing. The perpendicular safety pin should prevent the elastic from slipping all the way through and it should help the tutu gather.   6. When the elastic comes full circle, remove the pins, overlap the ends 1 inch, and sew them together with at least two lines of zig zag stitching.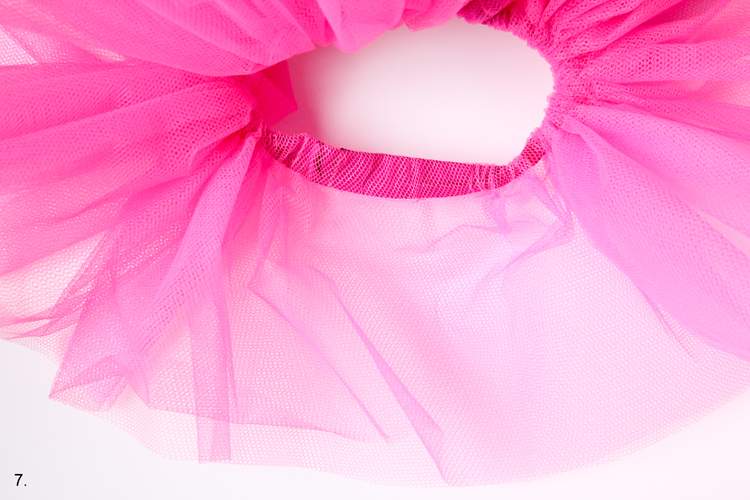 7. Keeping this section of tulle, flat, finish sewing the casing closed.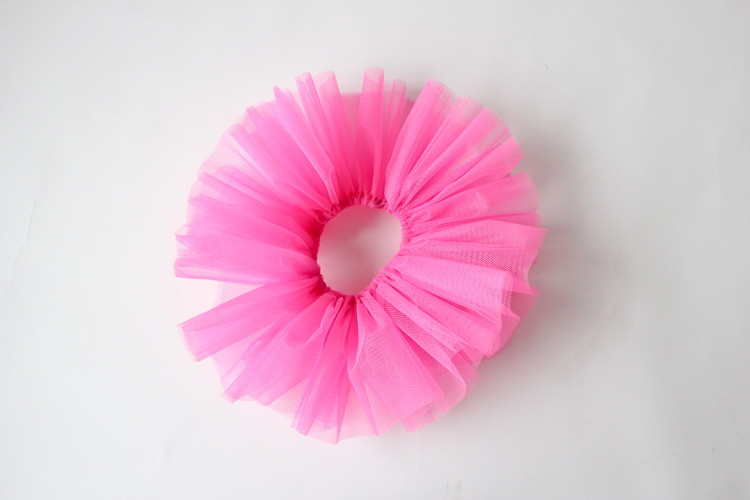 Distribute the gathers around the length of the elastic evenly and you're done!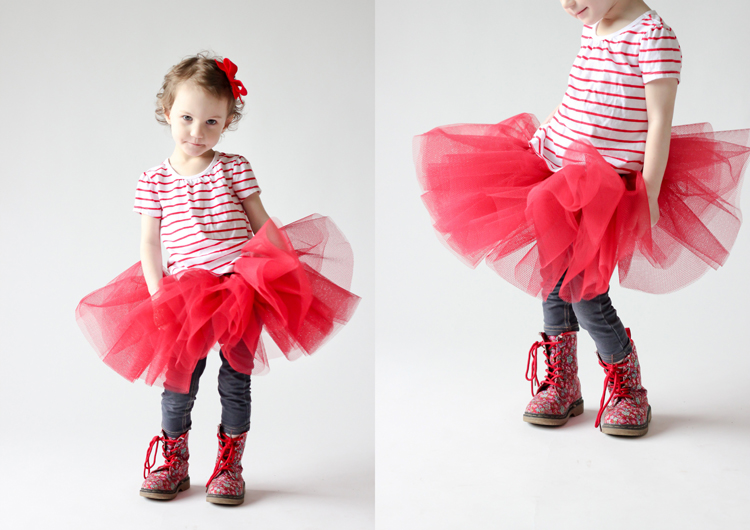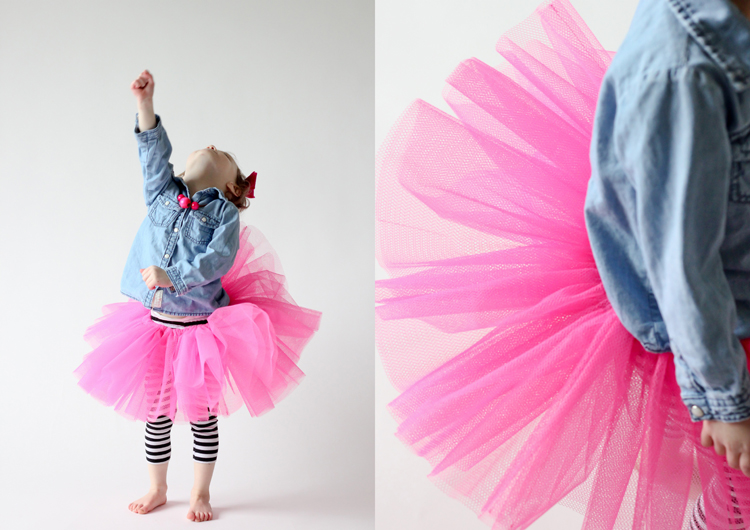 Super simple right? There is no hemming, or finishing seams (unless you want to), and it's almost like sewing a ginormous scrunchie.
Scrunchies! Remember those? Scrunchies and cork screw shoe laces. Oh yeah. 😉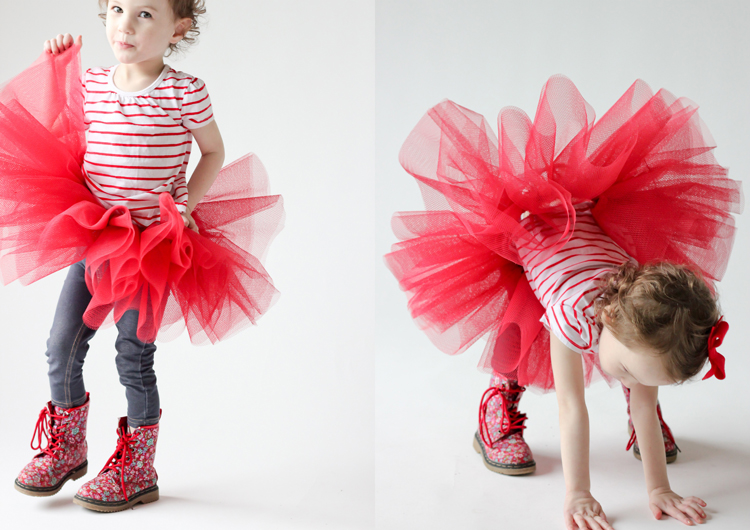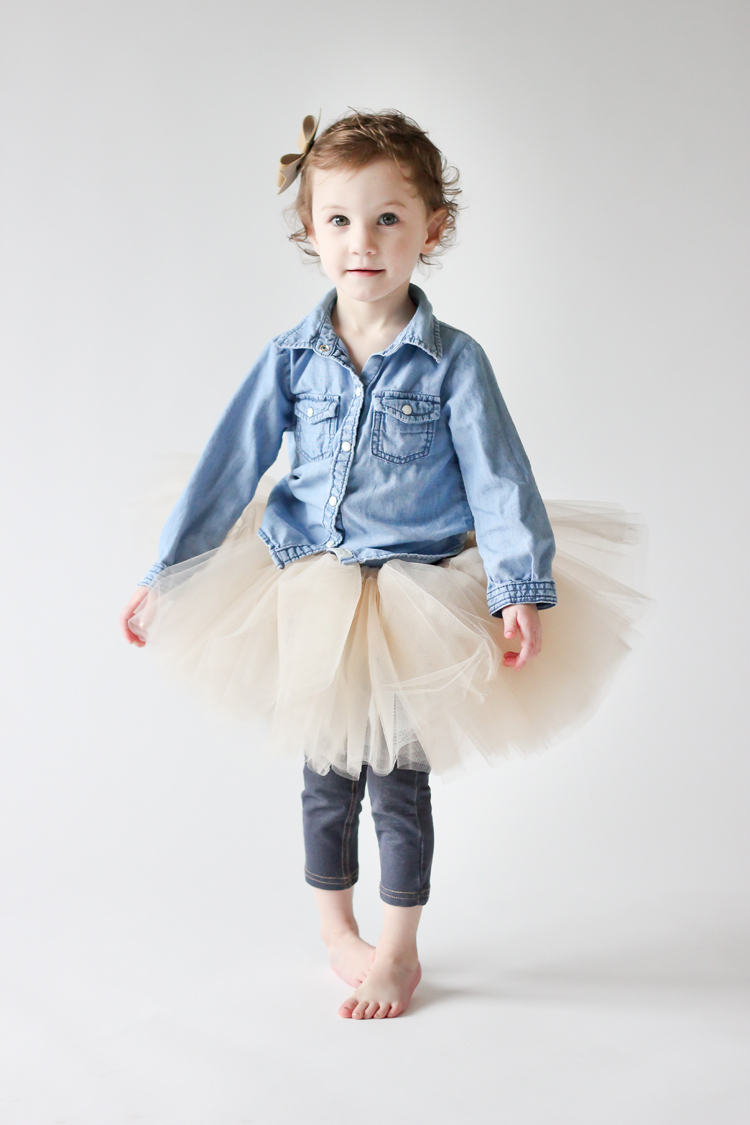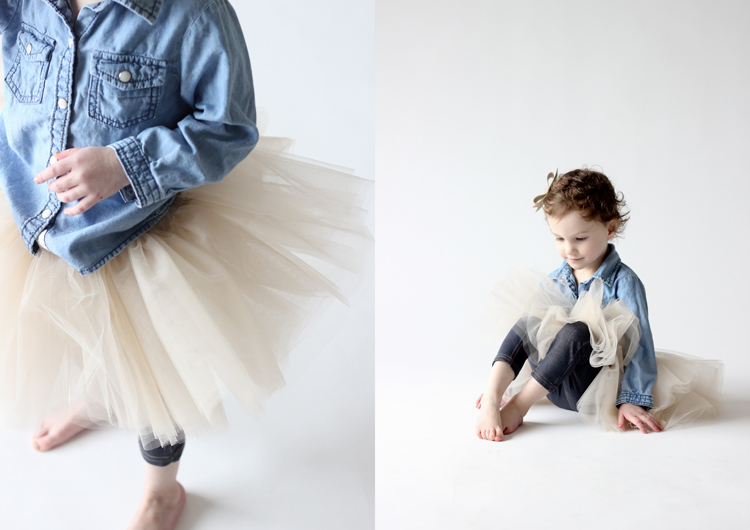 Sources: Mesh tulle and regular tulle from Jo-Ann || Felt bows made from O+S free bow pattern || Toddler bead necklaces made from this tutorial || Red floral boots from Zulily || Denim shirt from Carter's || Jeggings from Walmart || Striped leggings made from Go To Leggings sewing pattern || Red Striped shirt from Old Navy