Today, I'm shaking it off with the Sew In Tune Series hosted by Boy, Oh Boy, Oh Boy Crafts and Melly Sews.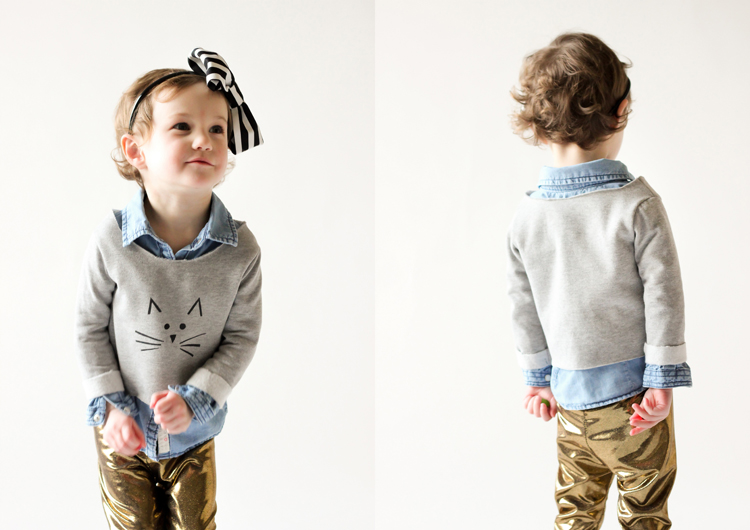 I wanted to sew something just for fun this time.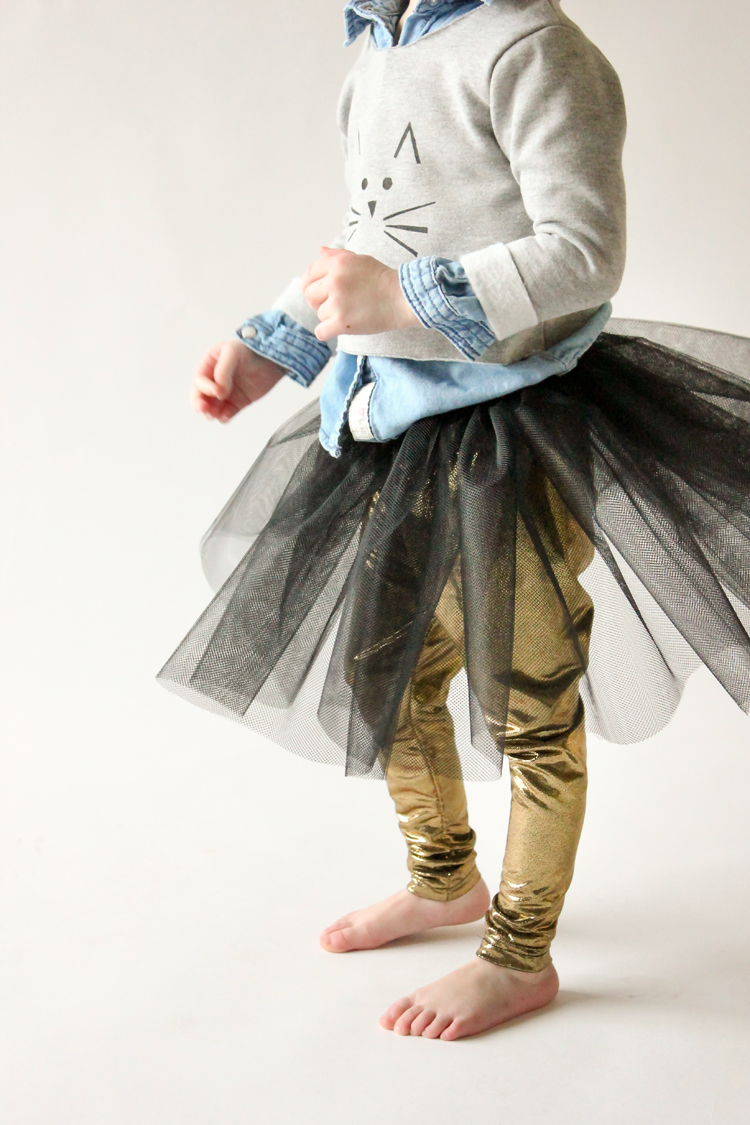 An outfit inspired by Taylor's Swift's "Shake It Off" music video was just the ticket!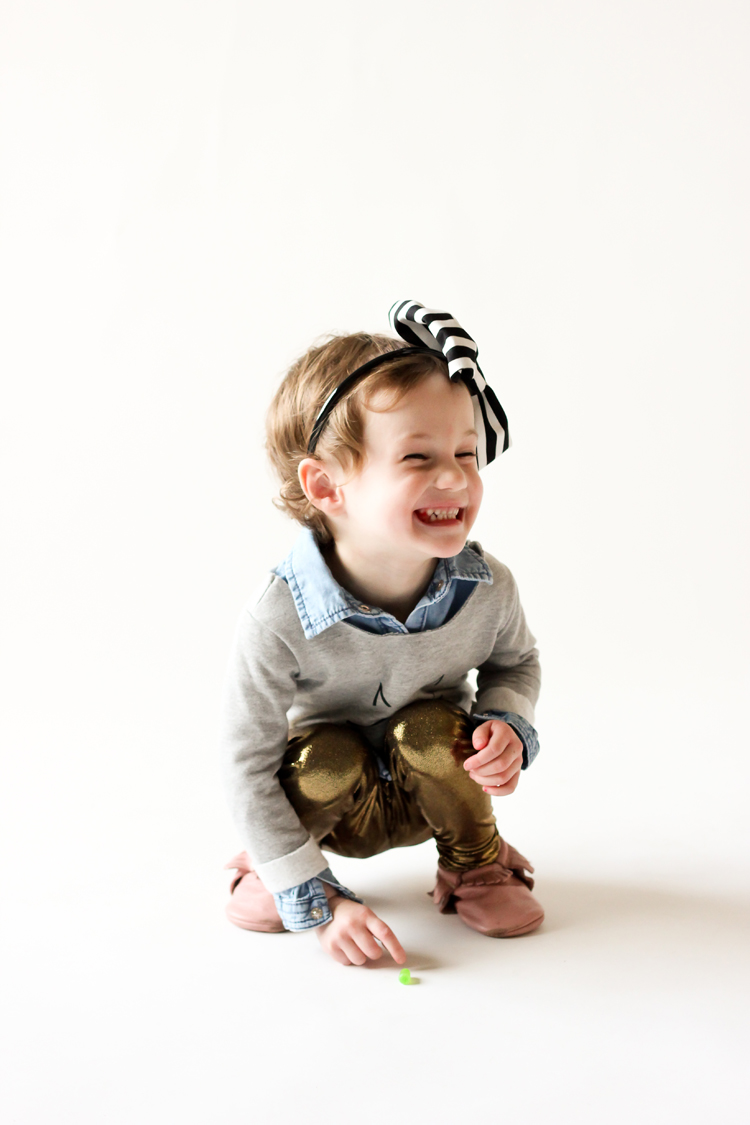 Nothing fancy, or complicated. Simple sewing with a Taylor Swift flair.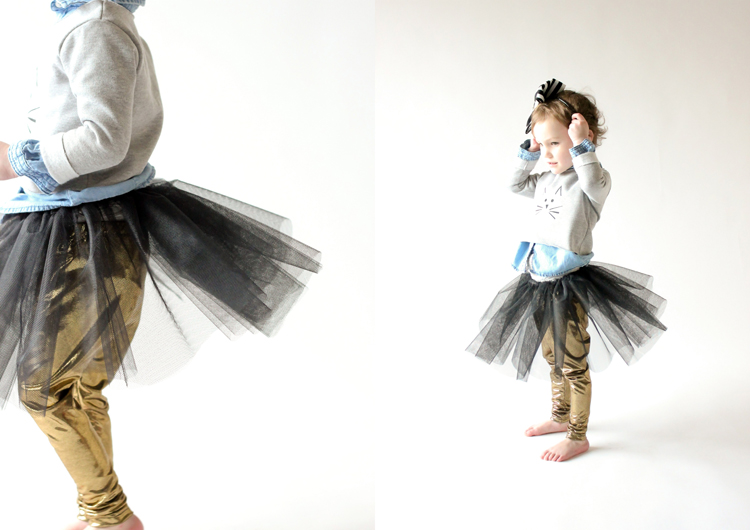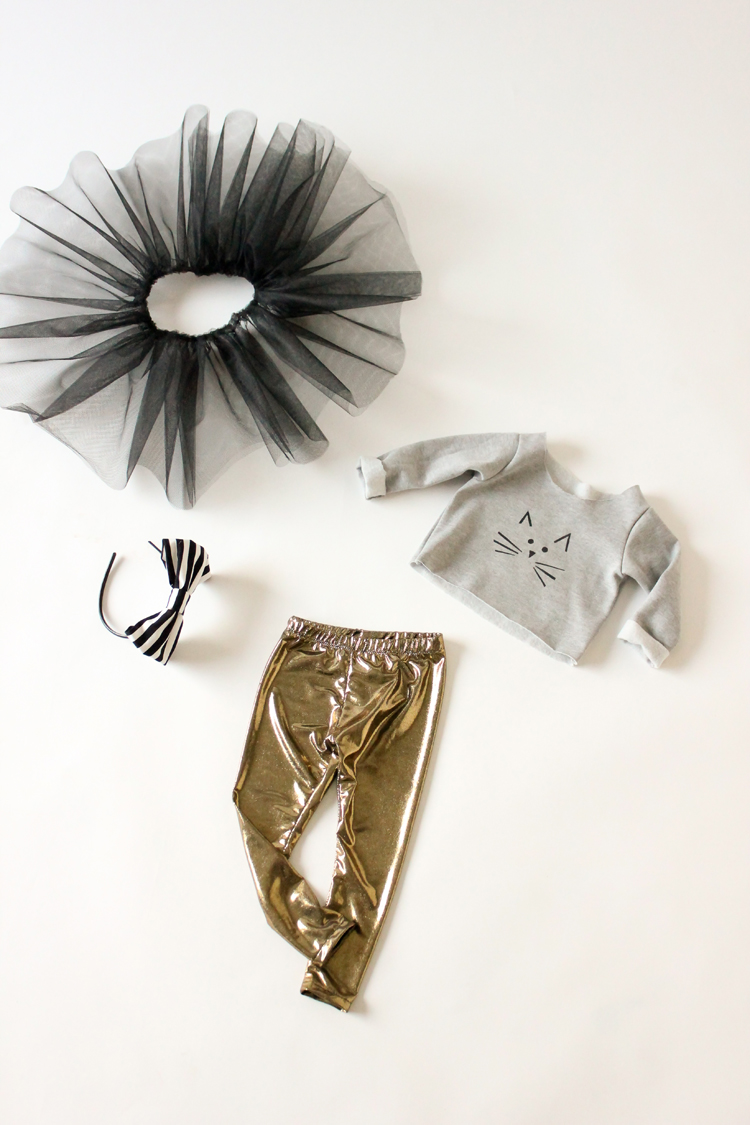 I meshed bits and pieces from some of the outfits she wears in her video.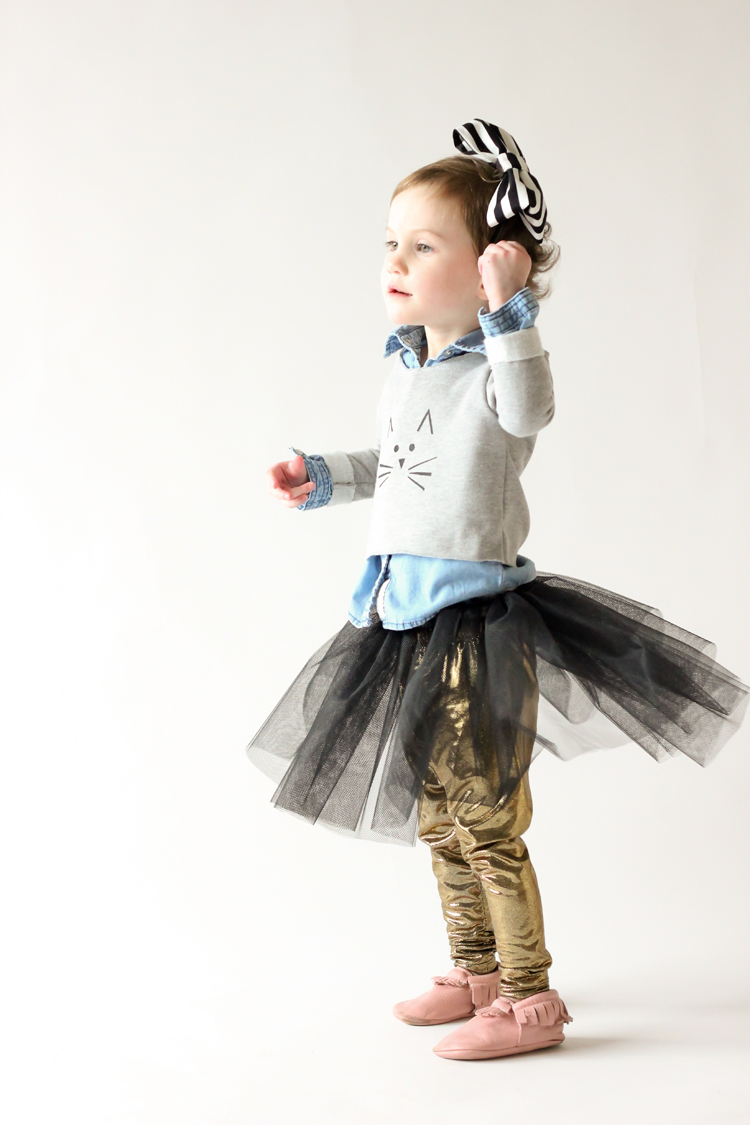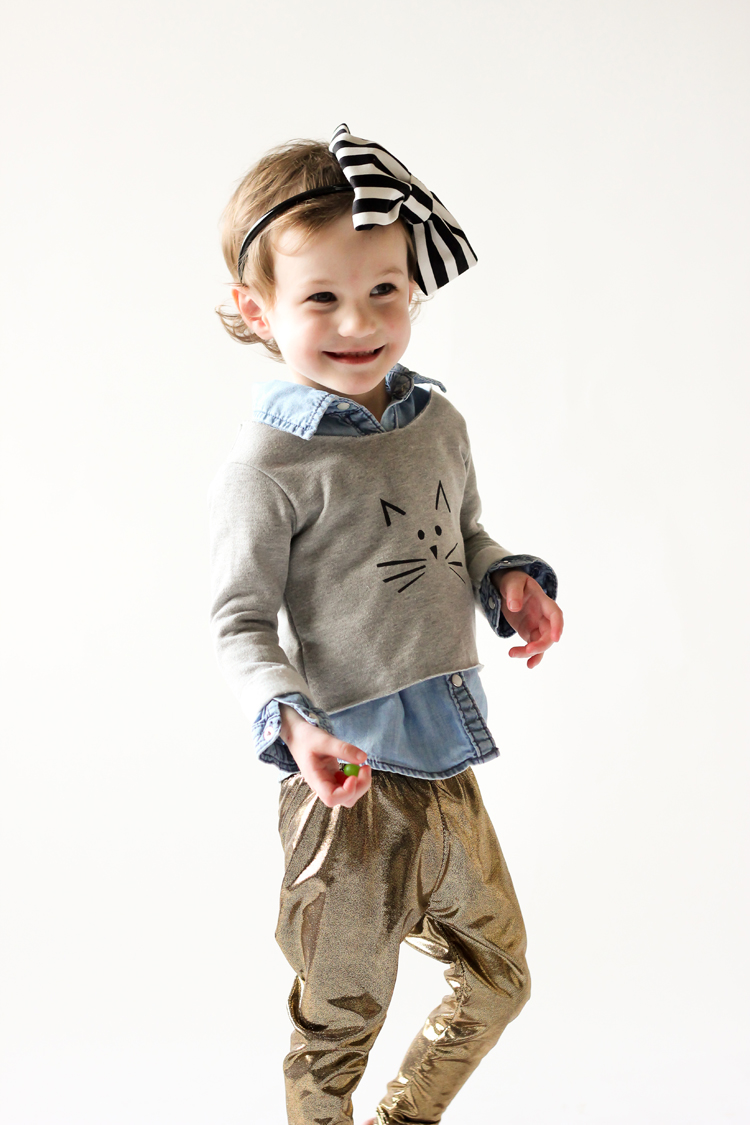 Put it all together and you get an outfit that is Nat approved. Really…I had to hide the clothes from her until I was ready for pictures. She was begging to wear everything, even before I was done sewing! ha!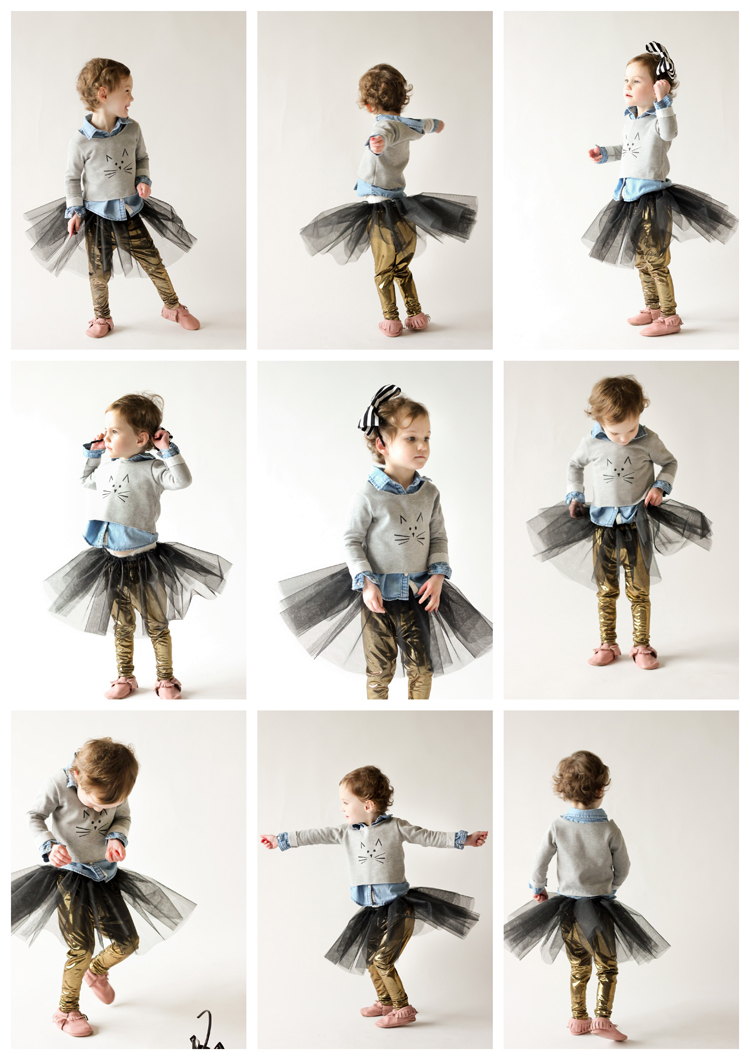 Tutus, kitty sweaters, sparkly/shiny pants, stripes…can you blame her?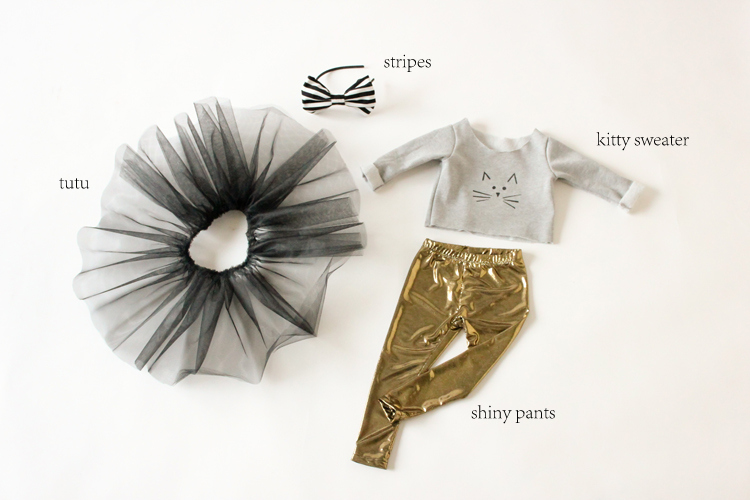 I liked the cut off, deconstructed look of Taylor's kitty sweater in the opening ballet rehearsal scene, so I sewed up Made By Rae's Flashback Skinny Tee in sweatshirt fleece fabric. There is pretty much no give in the fabric, so I went up a size. It ended up being still a bit tight. I wish I had gone up two sizes, as it just barely fits her. She'll probably grow out of it in a month, but it comes together so fast, that if she begs for another, I know I can whip up a larger size really quick. The paper pattern is super quick to assemble too! Just four pages to tape.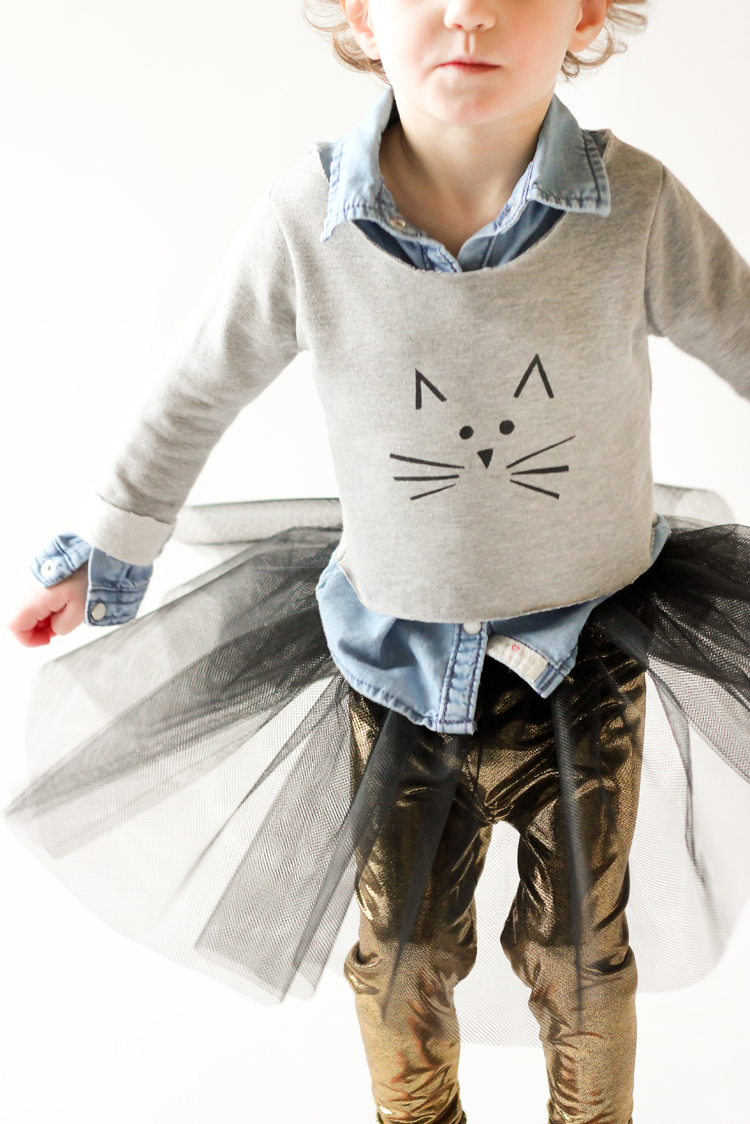 I didn't mess with ribbing at all. I just sewed the T-shirt and sleeves all together, rolled the sleeves up and tacked them in place, and then widened the neck hole a bit. I cropped the bottom of the sweater to be like Taylor's and then painted a kitty face on the front with some freehand freezer paper cuts and fabric paint.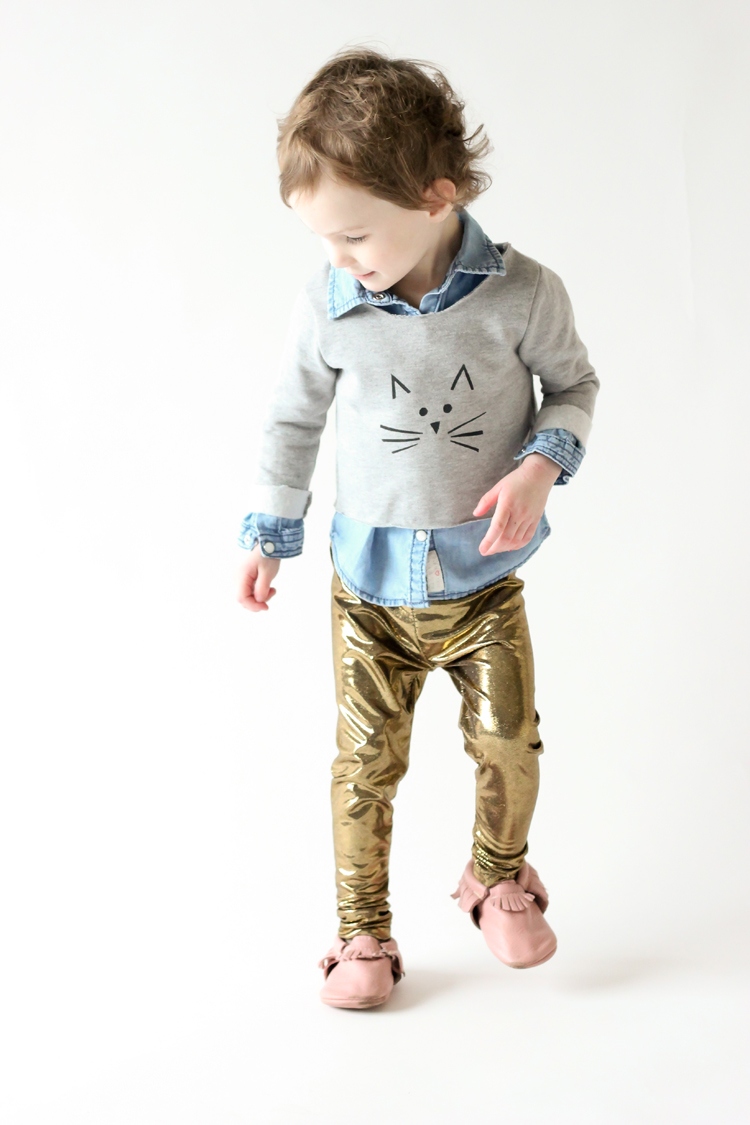 For her pants, I grabbed some shiny dance knit fabric from Jo-Ann and used the Go To Patterns leggings pattern to whip her up some new leggings.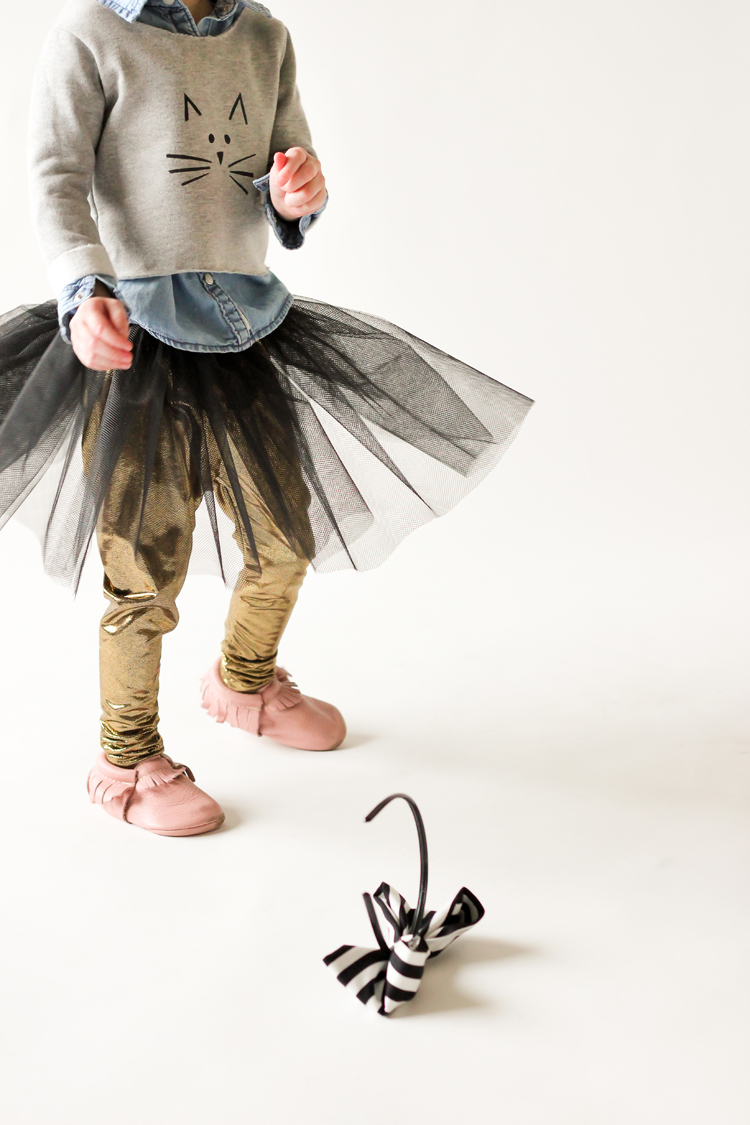 Then I made a black and white striped bow headband to be similar to Taylor's trucker cap from the video. The bow was a little too heavy, because I used a canvas-y fabric, so when she danced she kept shaking IT off…as in the head band. ha ha.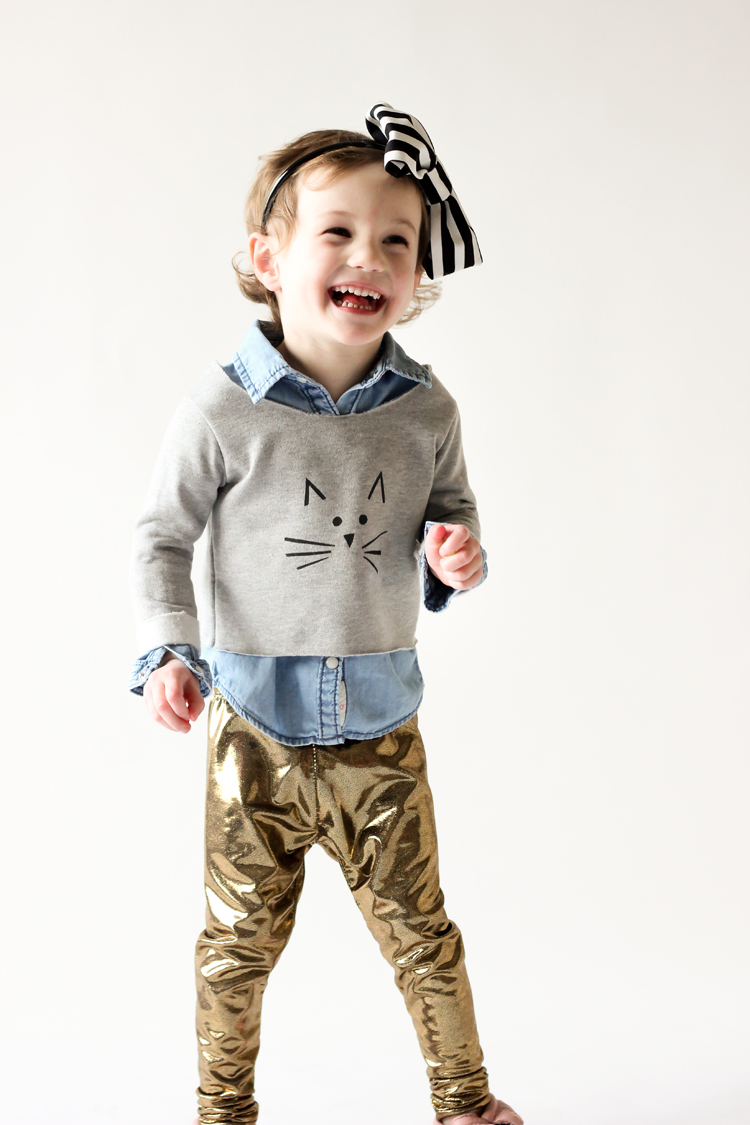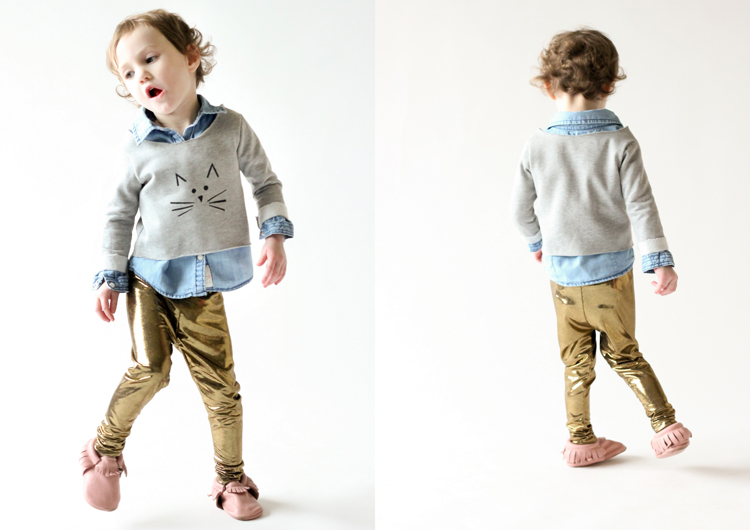 To top everything off, I whipped up a simple tutu for her. I sewed it a little differently, than past tutus/tulle skirts and  I used a mesh tulle from Jo-Ann. It's stronger, thicker, stiffer, and less delicate that normal tulle. It was perfect for making the tutu flounce outward.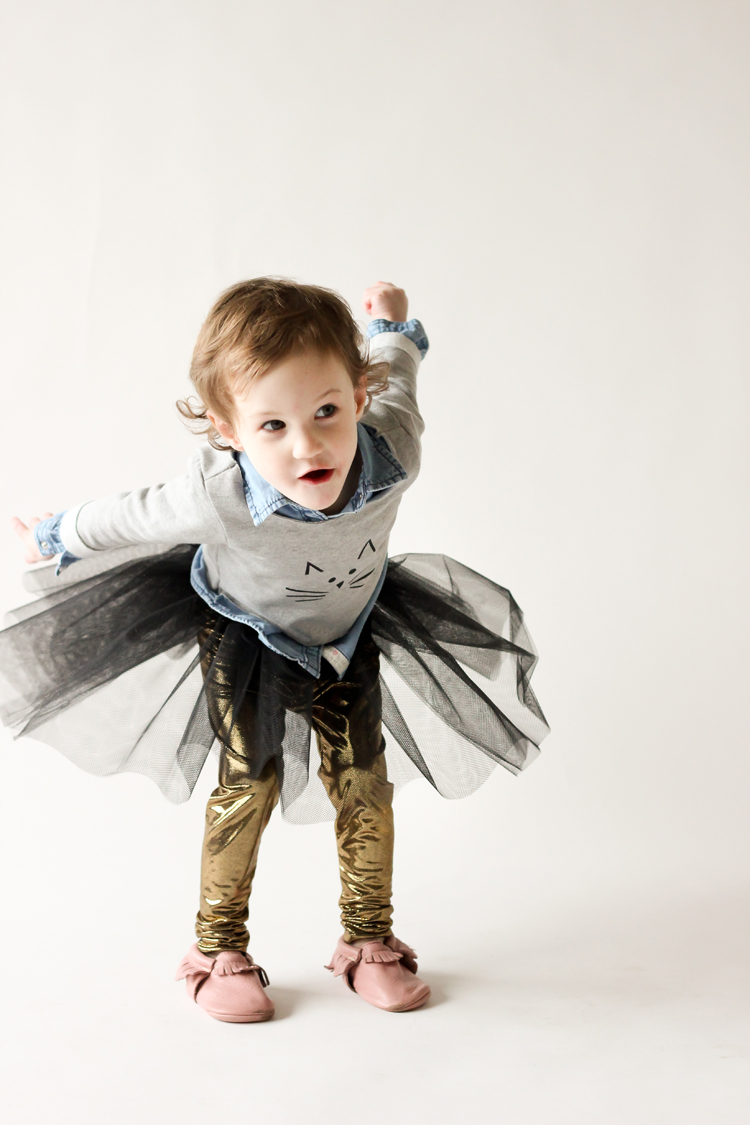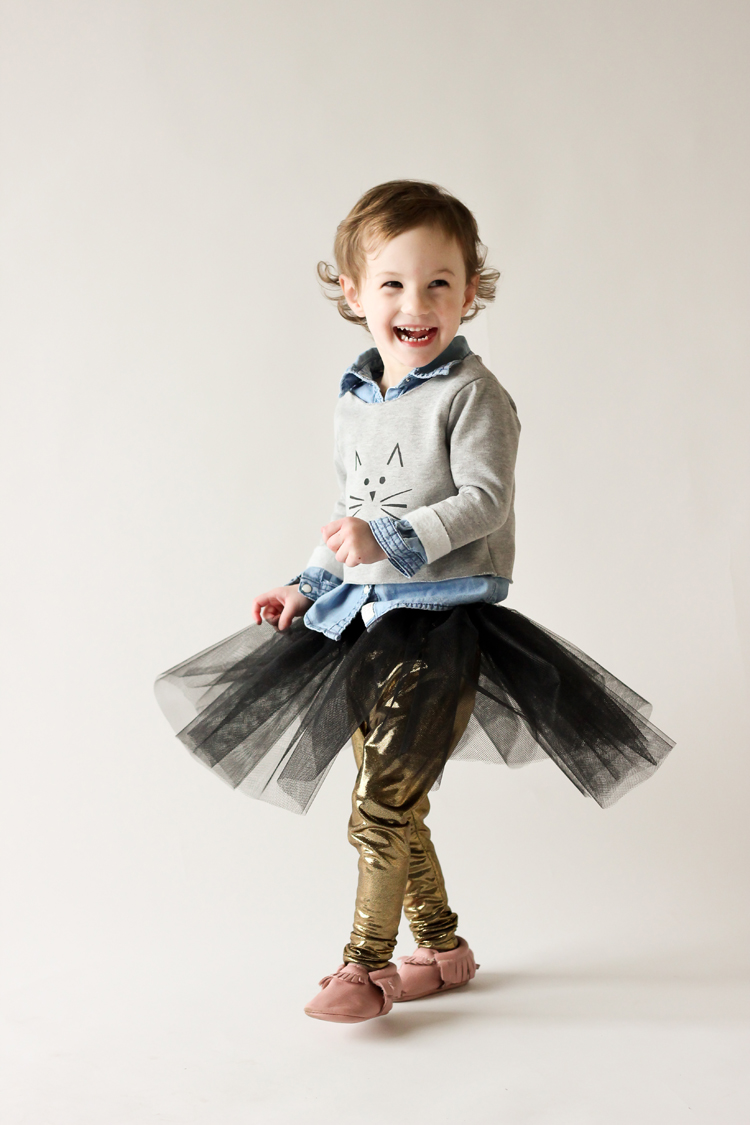 Natalie loves her tutu so much, she has worn it daily since I made it for her!  I am going to make her more and am thinking of doing a quick tutorial later this week.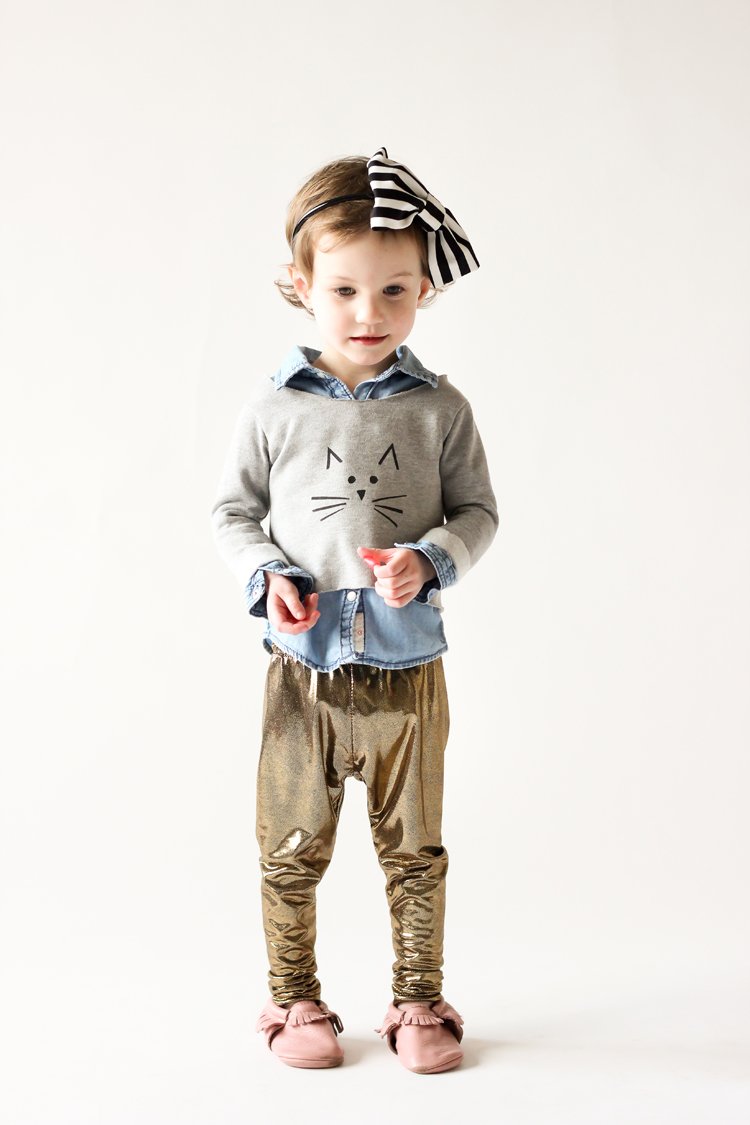 That pretty much wraps up her T. Swift look!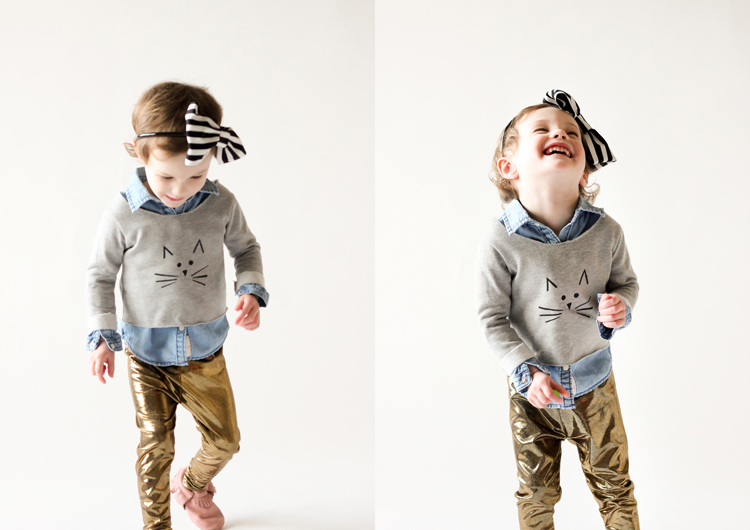 If you want to see the other song inspired sewn looks from the series (say that five times fast) it runs daily for another week or so HERE!
Have a shake-a-licious day! 😉
Sources: Denim shirt from Carter's || Moccasins from Freshly Picked || Sweater shirt fleece, dance wear (shiny) knit fabric), and mesh tulle fabric from Jo-Ann || Black and white striped fabric from IKEA