Today I'm teaming up with The Leather Hide Store for a fun tutorial and giveaway!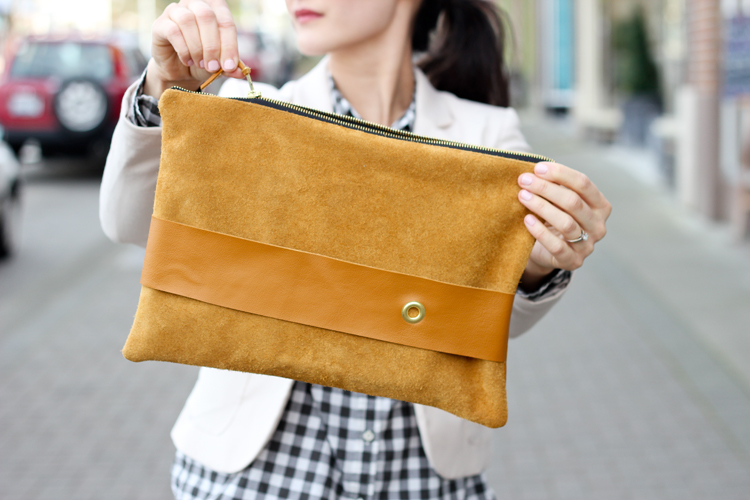 First, I'm going to show you how to sew a DIY Leather Strap Clutch…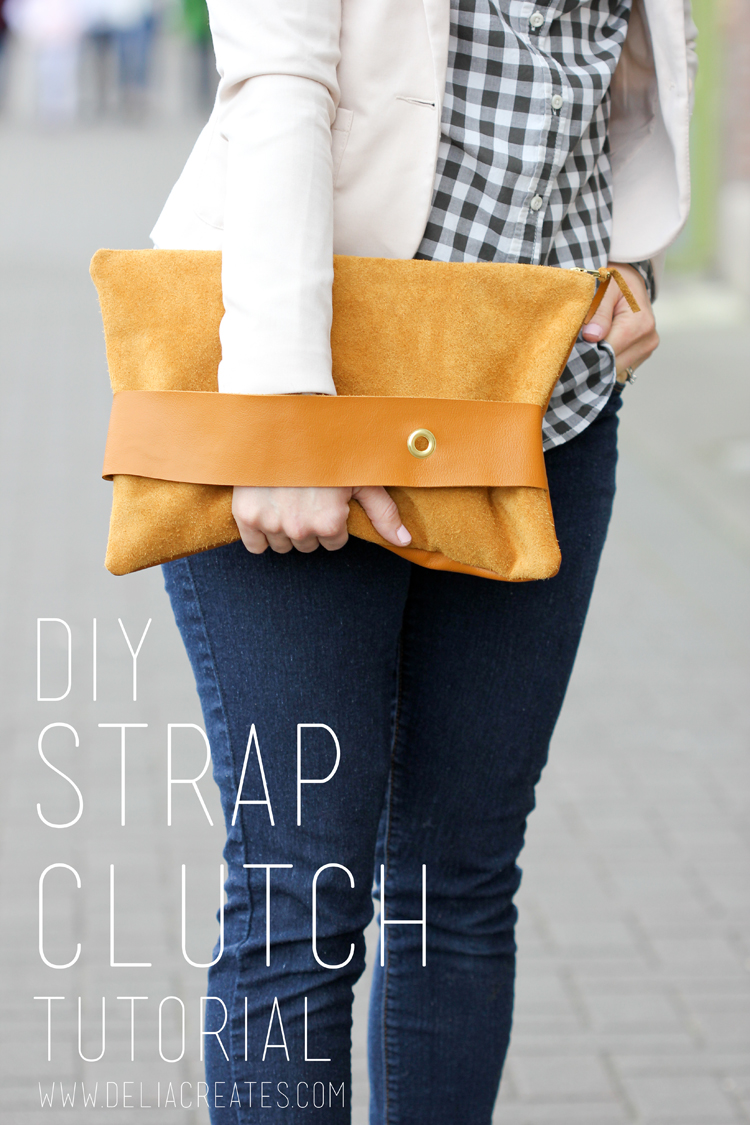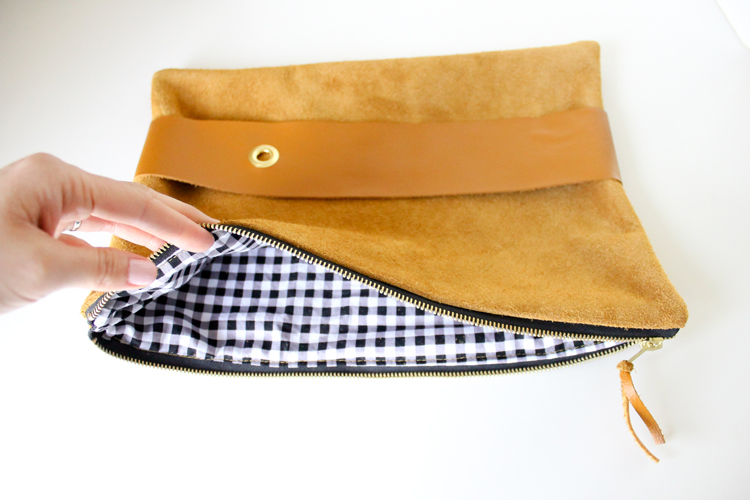 and then I'm going to give one away!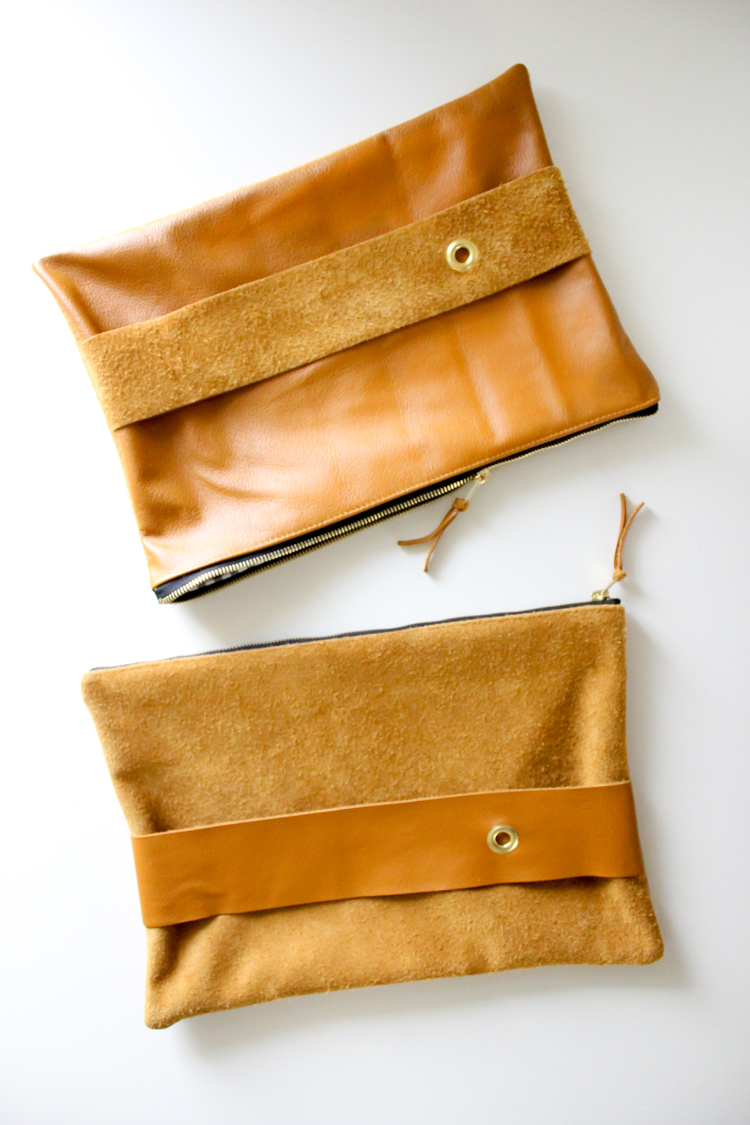 One for me and one for you. 🙂
Cause sharing, is caring.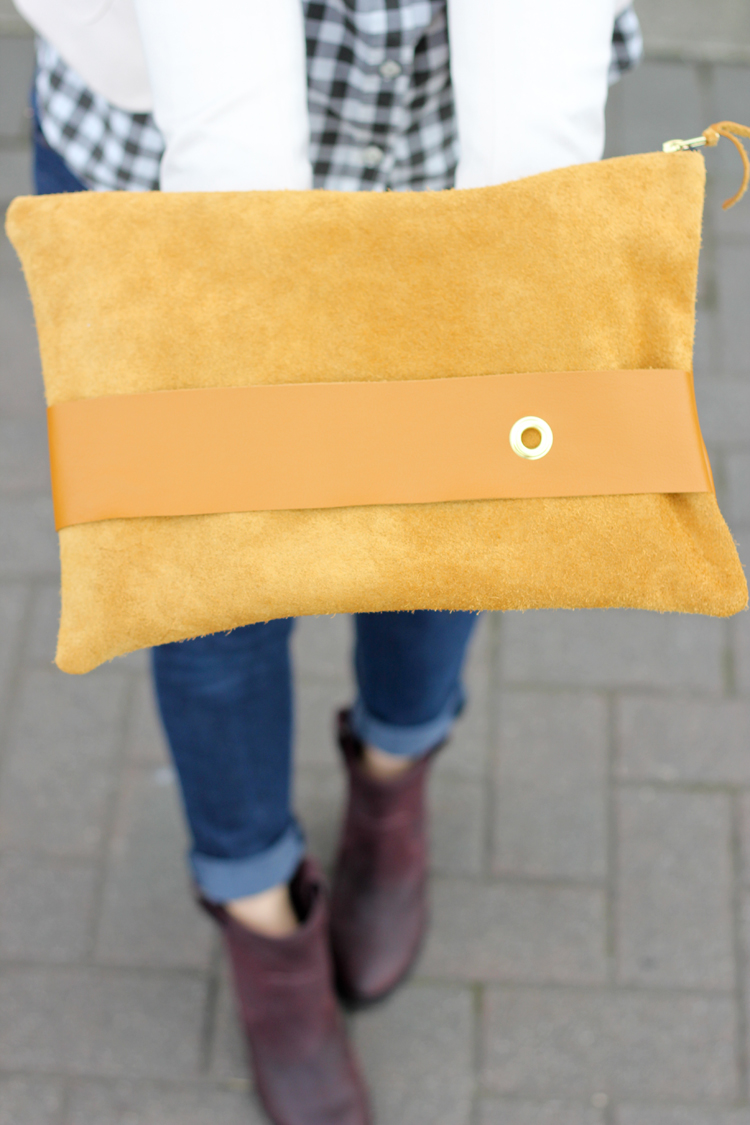 Let's get the tutorial first and then I'll post the giveaway at the end.
Capisce?
You got it dude.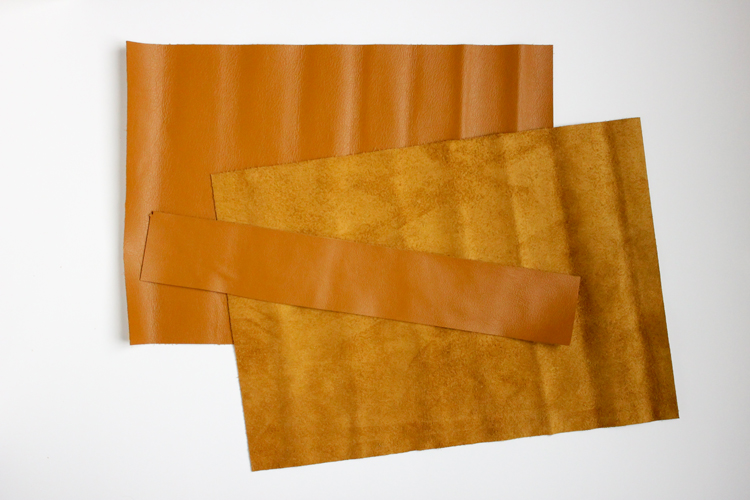 MATERIALS
2 pieces of leather 15″ x 10.5″ 2 pieces of liner fabric (cotton, felt…almost any kind) 15″ x 10.5″ 1 piece of leather 14.25″x 2.5″ 1 metal zipper – 14″ Leather needle Matching or contrasting thread Rotary cutter and/or sharp sewing scissors Basic sewing supplies Clover clips or small binder clips Optional: Zipper foot, Eyelet/grommet tool, and one large metal eyelet set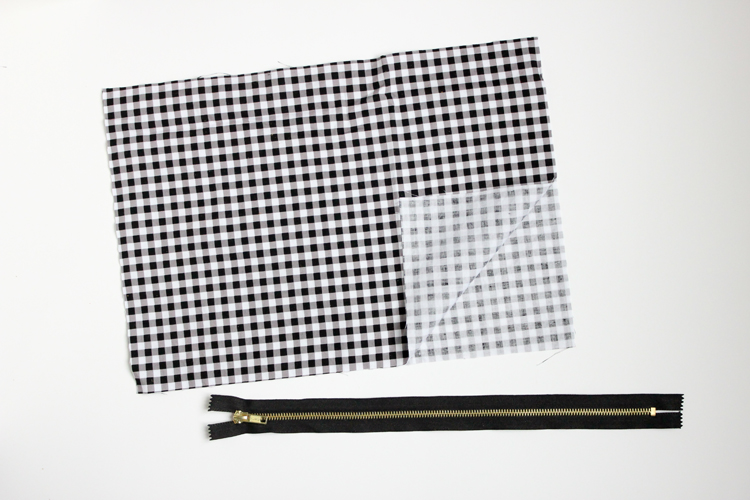 NOTES
– I used an upholstery weight leather that has some body to it. You don't want to use a leather that is too thick, unless you have a super, heavy duty machine that can handle it. I used this freaking deeelicious
Harvest Gold hide
, if you want to
check it out
.  – The strap piece is smaller than the main bag, so that it won't droop and so that will pull taut a little bit when you use it. – A leather needle is absolutely necessary for this project. You will be going through several layers of leather at a time. A leather needle will make the process much easier.  – The grommet tool and metal eyelet is for decorating the strap only. Feel free to use a different embellishment or keep it sleek and minimal. – You may use a zipper foot to get closer to the zipper teeth without having to wrestle with the zipper pull. I personally find it tricky to sew evenly with a zipper foot and leather, so I use my standard foot. 

TUTORIAL
1|| Sew your zip pouch like any standard zip pouch. Sandwich the zipper in between a layer of leather and lining, right sides facing, along one of the longest sides. Make sure the right side of the zipper teeth (or zipper pull side) are facing the right side of the leather. Secure with clover clips or small binder clips. I do not recommend using pins as they leave permanent holes in the leather and are hard to manage with leather. Sew with a 3/8″ seam allowance.   2|| Flip the lining and outer leather pieces right sides out. Press the seam in place with your fingers and top stitch along the folded leather edge. It helps to lengthen your stitch to 4 mm or even 4.5 mm to get a nice pretty top stitch.    3||  Repeat with the other side of the zipper, with the remaining leather and lining pieces. If your leather looks good from both sides, you may consider flipping the leather to the wrong or fuzzy side for some contrast, as I did.    4|| Clip the strap in place on top of one of the leather pieces.  Optional: Embellish the strap with an eyelet or a tag if desired.    5|| Bring together leather outer pieces and lining pieces together, right sides together. Unzip the zipper about half way. Pin and clip all the way around, leaving a 3 inch opening on the lining side. Double check to make sure the strap is evenly and securely clipped in place.    6|| Sew around with a 1/2″ seam allowance. Take care to make sure the zipper matches up evenly on both sides. If you get stuck at the zipper portions, sew slowly and hand crank the needle through if need be.    7|| Clip corners and trim some of the leather at the zipper ends to reduce bulk. Be careful not to clip through any stitches or to get too close to seams.    8|| Turn your bag right side out through the 3 inch opening. Take care to push corners out and smooth out the zipper. Inspect the seams to make sure they match up. Turn it wrong side out again and fix any inconsistencies, if needed, before proceeding to the next step.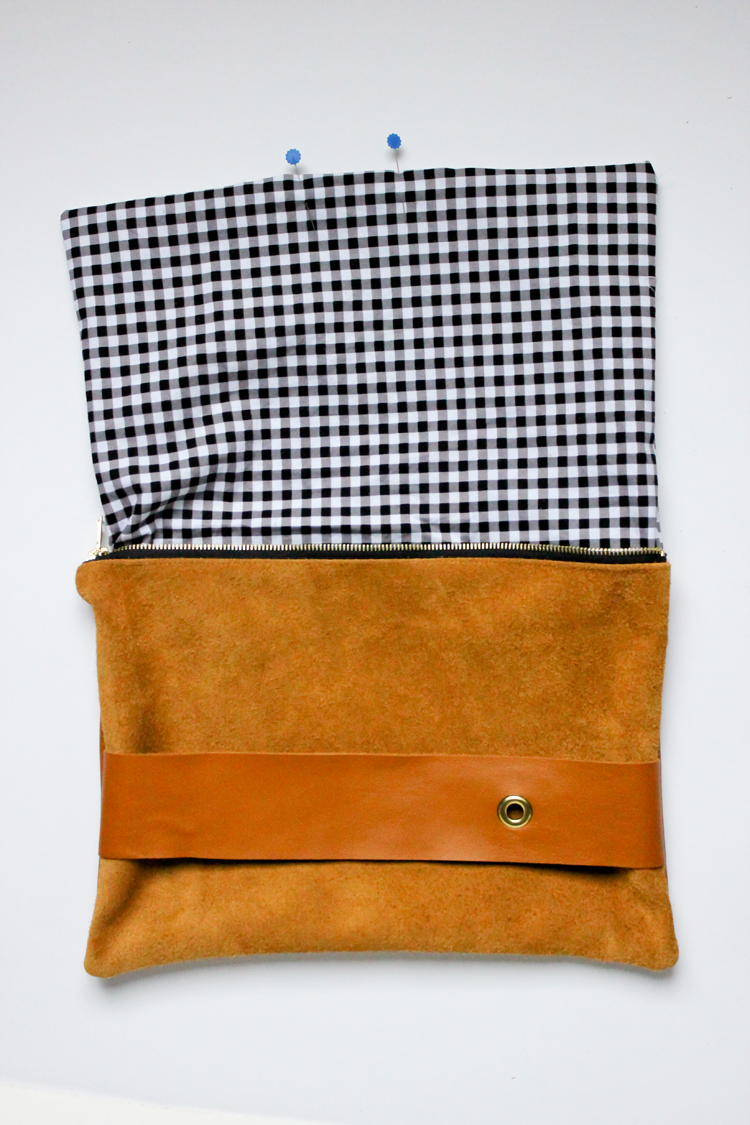 9|| Fold the 3″ opening inward so that the folded edges match with sewn seams at the sides. Pin and sew along the entire bottom edge. Optionally, you may prefer to hand stitch the opening closed with a blind ladder stitch.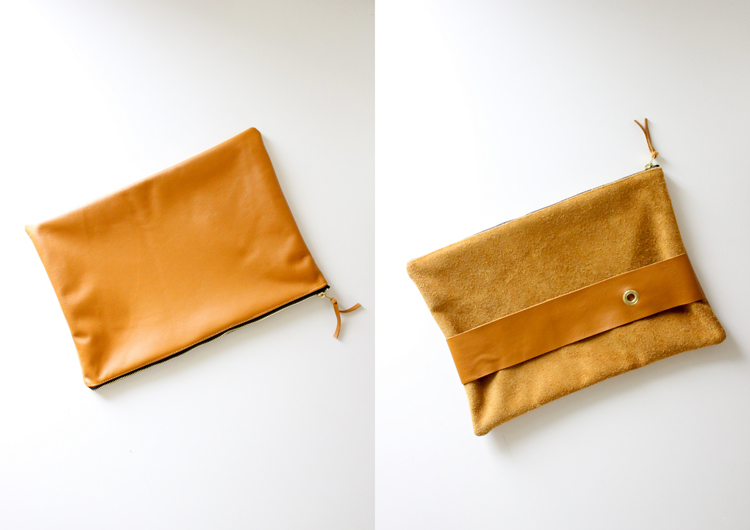 All done!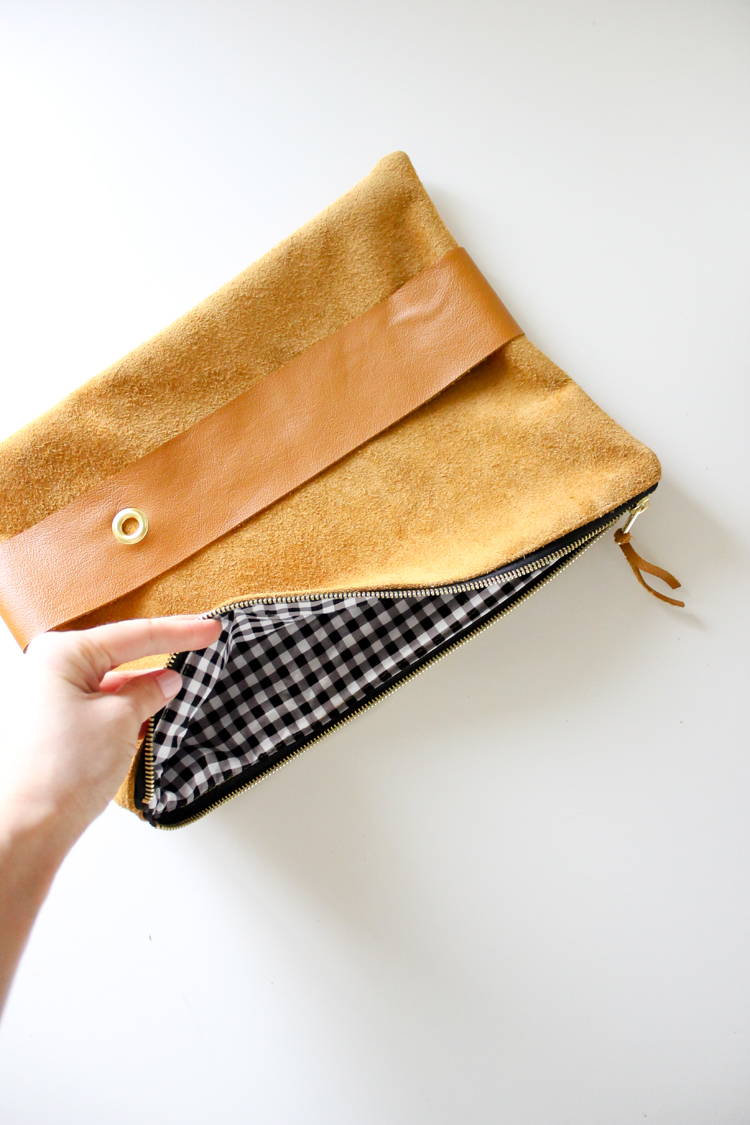 If your strap piece turned out on the wrong side, simply flip it to the next side by tucking the bag through the strap like you would when you are balling a pair of socks. That's the only way I can think of explaining it. ha. Just remember that the strap can flip to either side since it's sandwiched between the two leather layers.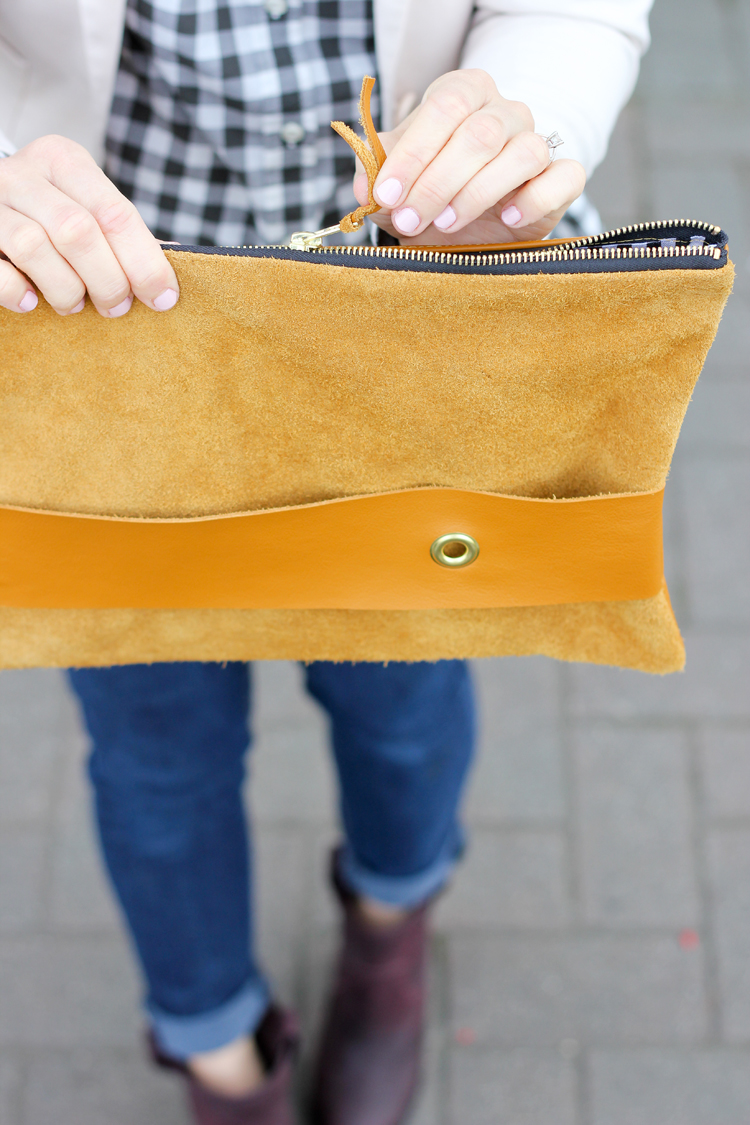 If you have a small scrap of leather, you can knot it to the zipper pull, as an extra design element.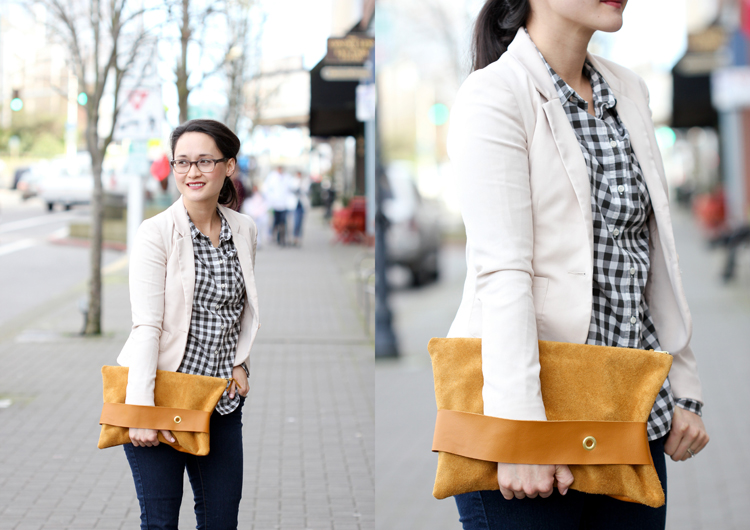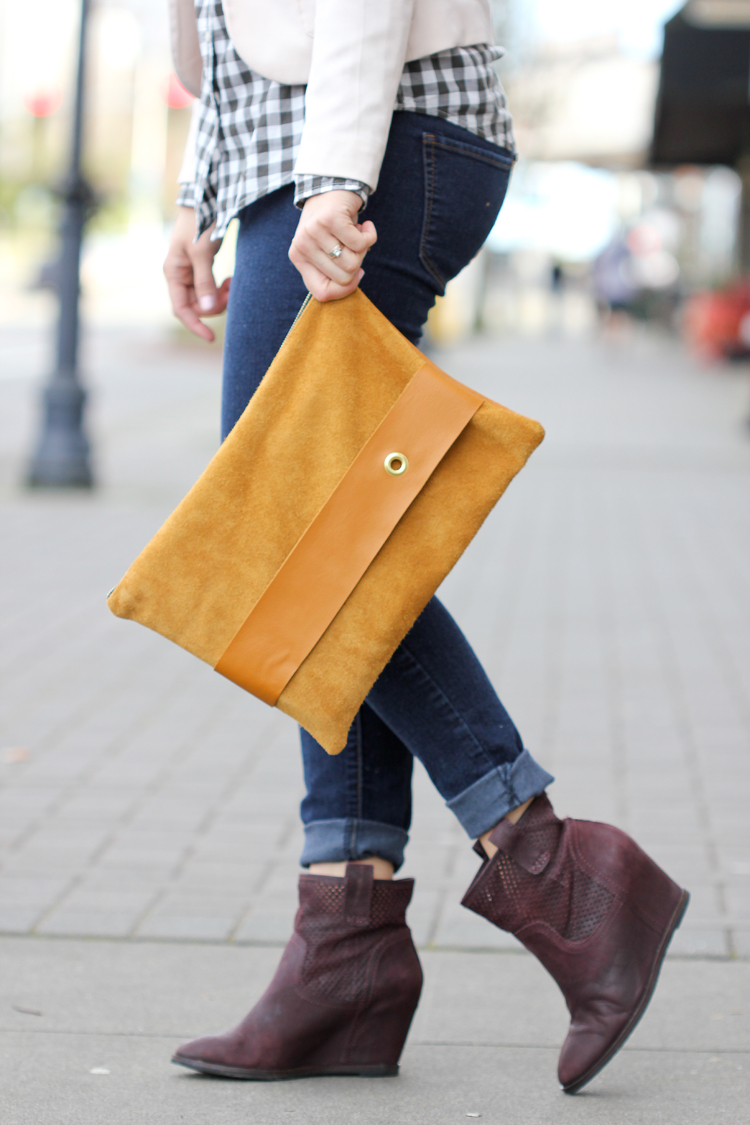 Now….Ready to win a clutch for YOU!?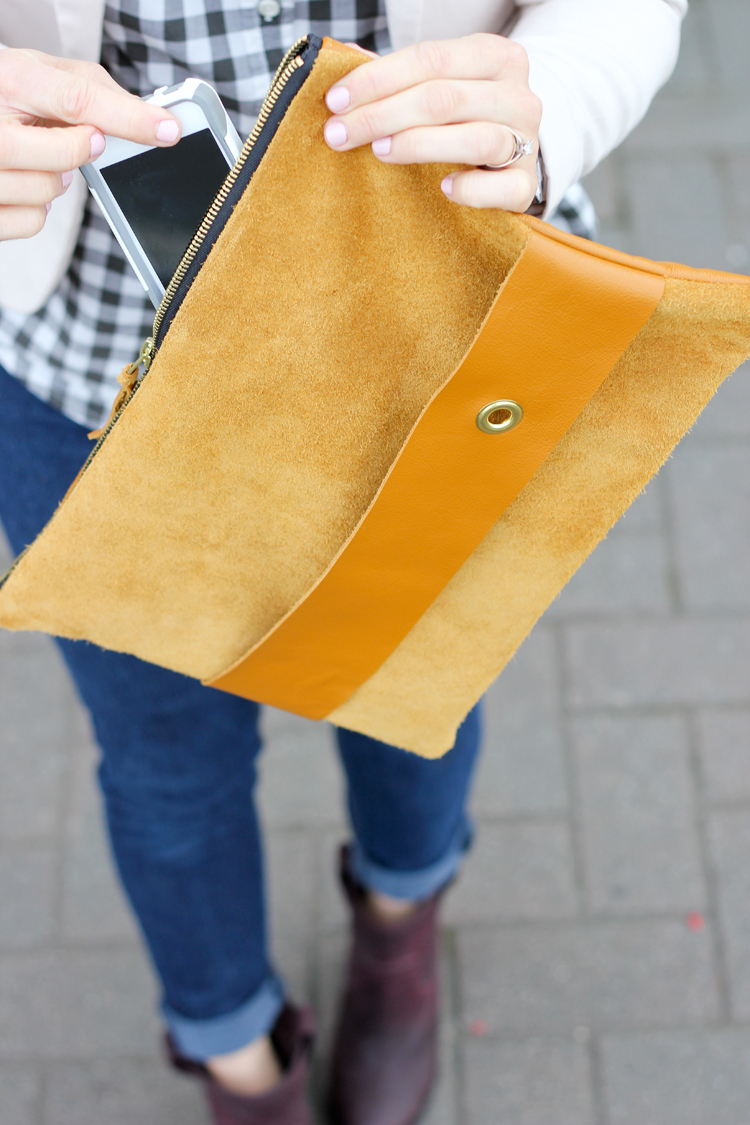 Let's rock and roll…
It's open to U.S. residents only (my apologies to the international folks).
Psst…I'll be tossing a few extra goodies inside as well. 😉
Simply enter in the Rafflecopter widget below. Goooood luck!
Oh, oh! And if you want to purchase a hide of leather, The Leather Hide Store is having a sale which ends TODAY (Tuesday)! Enter "heart15" at checkout and get 15% OFF! That is huge! The hides can get expensive…like $100 plus, so that 15% knocks off a good chunk. I know, I know that price tag sounds well….pricey, but it is a really great investment. I have a hide from more than a year ago that I am still not finished with and I have made aaaaa lot of projects with it already. I hoard the scraps because even they are super useful…for tags, for small elbow patches, for handles, for scarves, for accessories, for jewelry…I've never regretted having a hide of leather on hand! If you are seeing this post late, and you missed the sale, follow their facebook page for more sales and such.
Disclaimer: This post is sponsored by The Leather Hide Store, but all opinions are genuinely and enthusiastically my own!