This summer, my kids and I decided to go on a quest for our favorite food allergy friendly ice cream. My daughter is severely allergic to many foods, including dairy, peanuts, and tree nuts (except for almonds), so we stuck with ice creams that are both dairy and nut free (but not coconut free).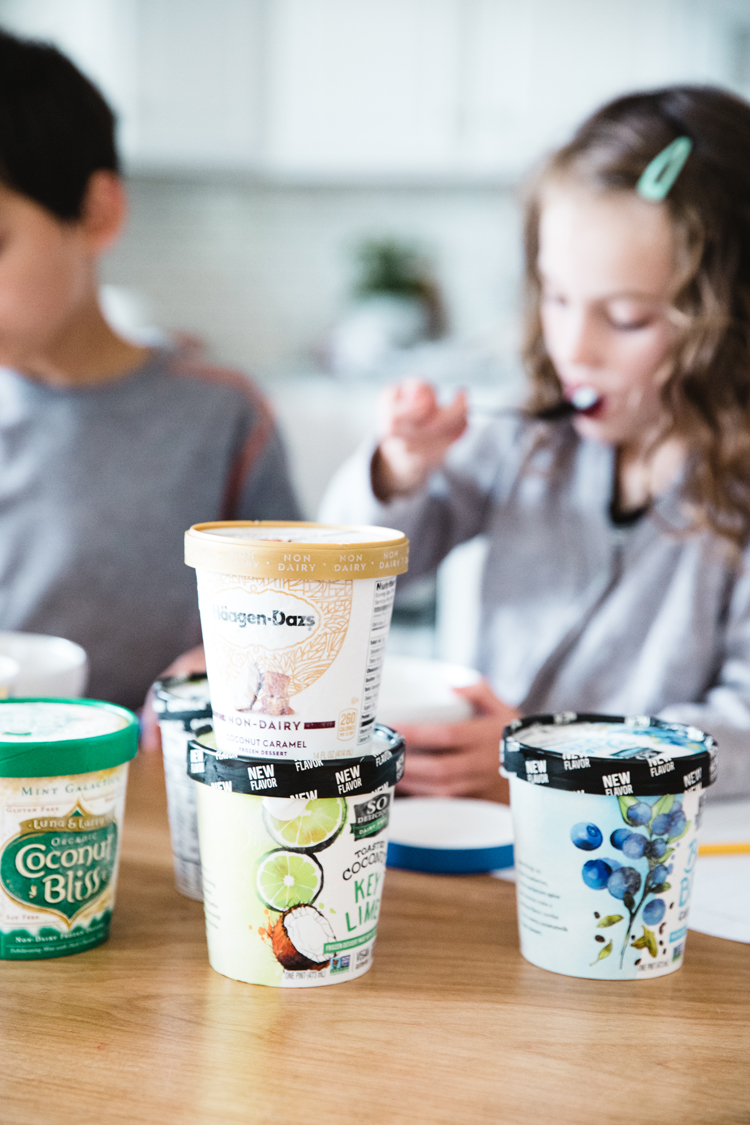 Selection
We tested ten different kinds of ice cream of varying flavors and brands. We didn't want to get too scientific with our ice cream test because I didn't want to get stuck with a freezer full of vanilla. Ha! So, we just gathered flavors that looked interesting or ones that we hadn't yet tried. I have included notes about other flavors and brands that we've tried in the past as well, to help round out our reviews.
Here are the contenders:

SoDelicious easily dominates the dairy free/nut free ice cream market and has several different kinds of ice cream, so I included a sampling of those varieties. I also scored a great deal on some of the specialty flavors for $1.99 a pint, so I figured why not? I think it paid off because they ended up being quite different from each other.
Criteria
We evaluated the ice cream on sweetness (sometimes this was a bad thing!), creaminess, how easy it was to scoop, overall taste (how much did we want another bite?), and after taste.
We are by no means professional taste testers. 😉 These are just the opinions of two adults and 14, 10, and 7 year old kids…for what that's worth. I've included our notes to help give our ratings some perspective.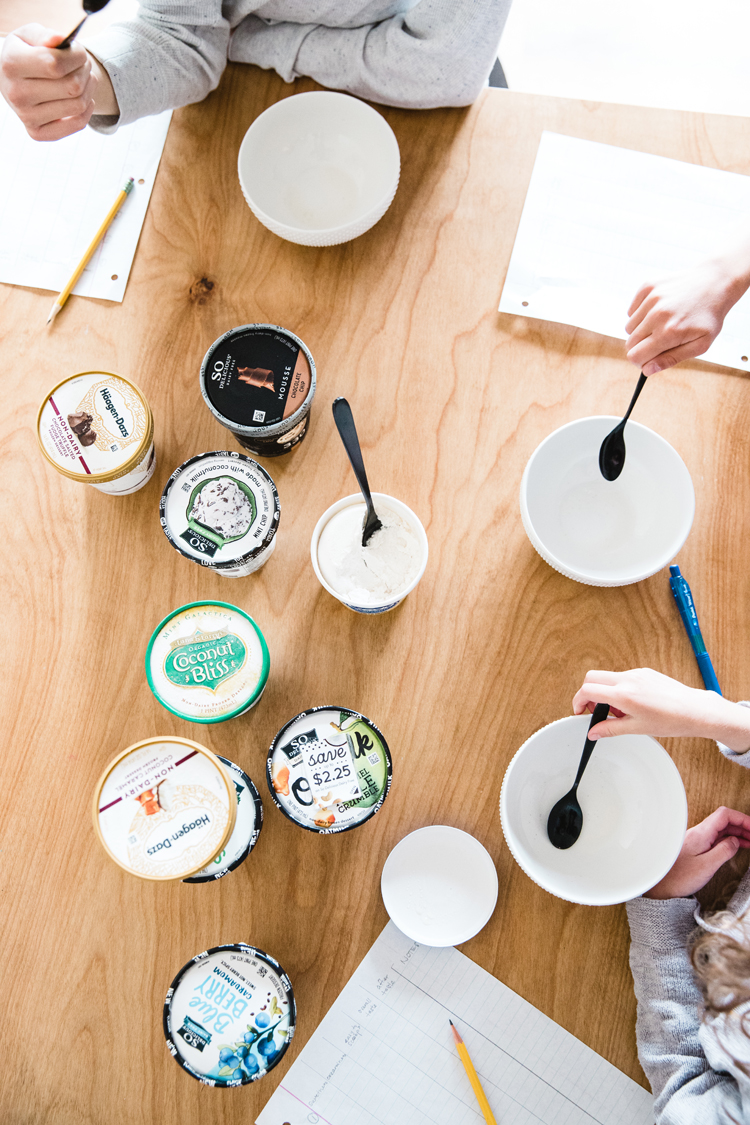 Results
I made an infographic style chart of what we found. The ice creams are listed under each category from most or best (top) to least or worst (bottom of the list).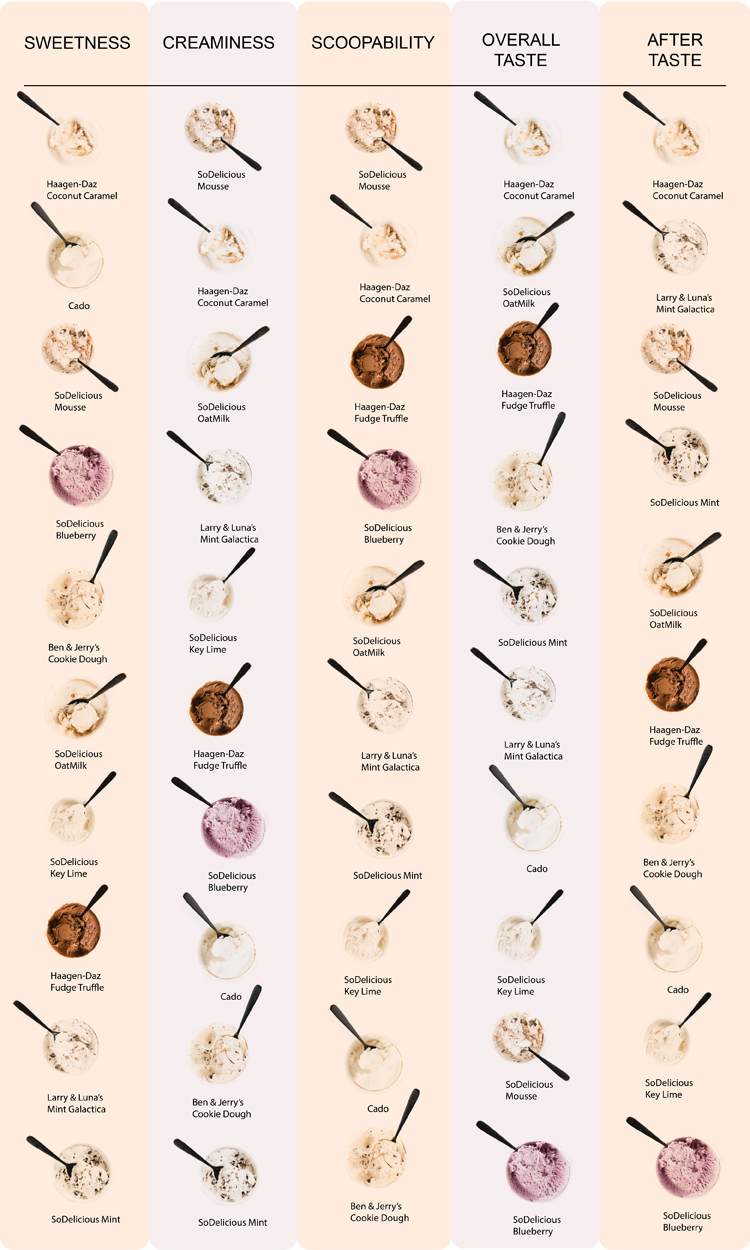 As you can see, the clear winner was Haagen-Daz Coconut Caramel! It tasted the most like dairy based ice cream and it was a hit with everyone who tried it. Some of us vastly disagreed on certain flavors and brands, but this was one we could all agree upon.
Let's break it all down by ice cream.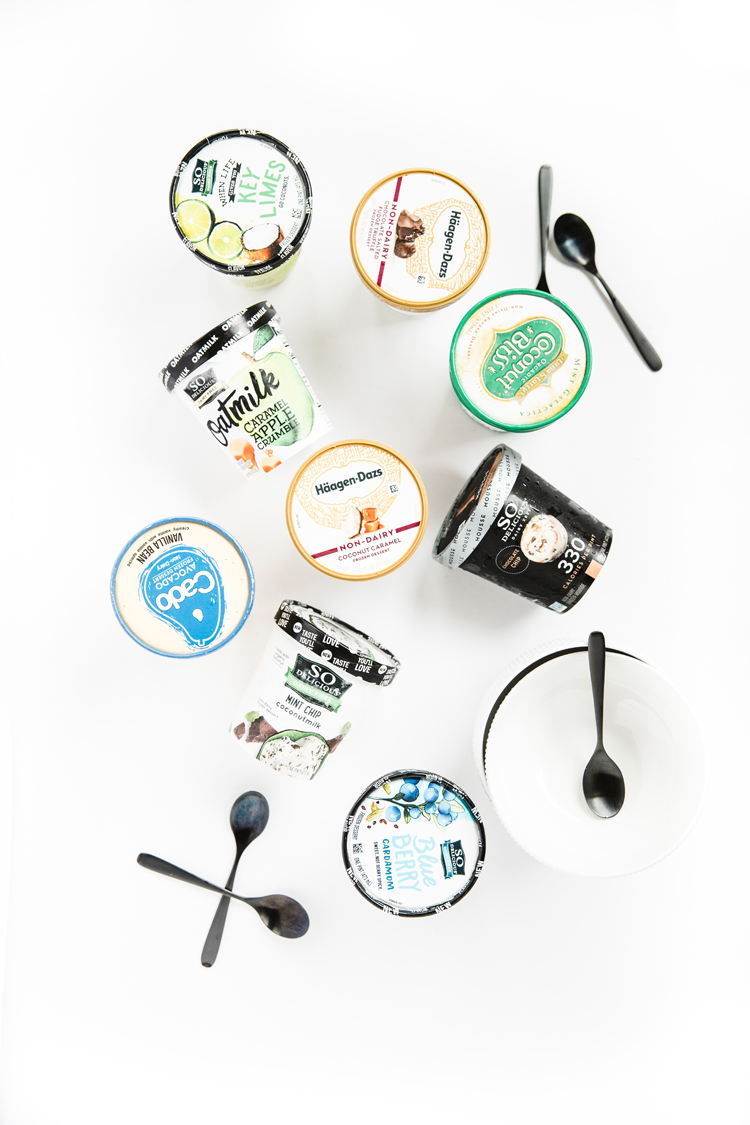 Notes:
Each ice cream is linked to their respective ingredient list.
I have added in general pricing with dollar symbols by each type. Most dairy free ice cream is about $4-5 per pint in my area, which I have indicated with one $. I added more $$ for more expensive types. (I did not include any sale pricing)
Disclaimer: Because they are not made with dairy, they are technically called "frozen non-dairy desserts" or something like that. To me it's essentially ice cream, so I'm calling it that.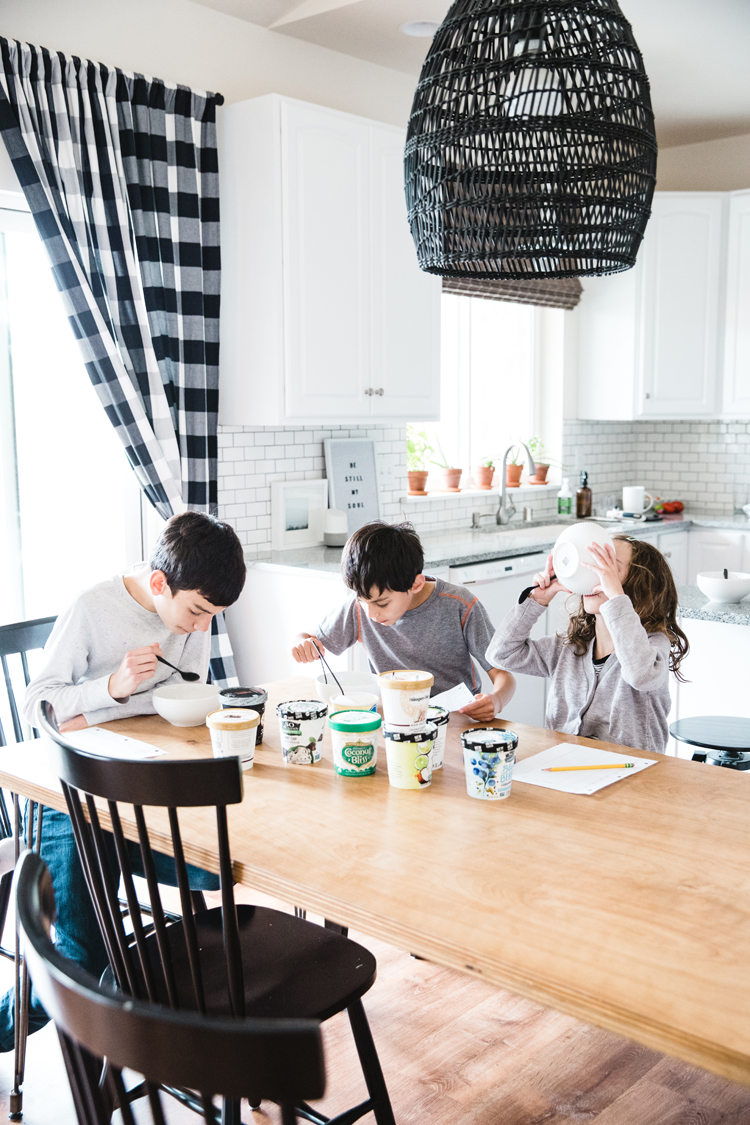 Other mentions:
We did not test soy milk ice cream, which is the most affordable dairy free ice cream, because it most often just comes in 1-2 flavors, and I liken the taste of it to cheap kids' birthday party ice cream. You know those big cheap tubs of ice cream that parents buy because kids have less discerning palates? It tastes like that.
We excluded cashew milk-based ice creams because of my daughter's nut allergies, but I personally love love them. I would say that I like them better than dairy based ice creams! If you can have cashews, I highly recommend going that route!
Talenti sorbets are very yummy dairy free desserts too! I didn't include them in this test because I think sorbets belong in their own category.
If you have a favorite dairy free ice cream, I would love to hear about it! Please comment or let me know what you think on instagram. I'm @deliacreates over there.