Project Run and Play, the kids clothes sewing competition, is now offering a fabric line! And I am so excited to be apart of it.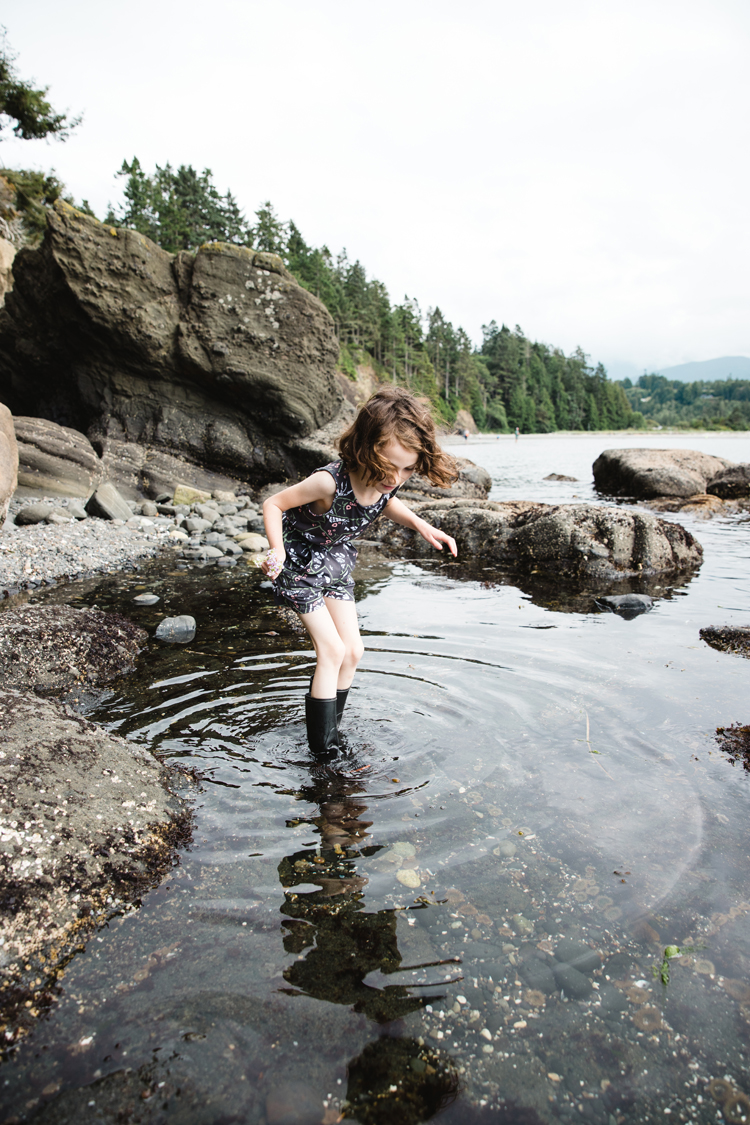 I was able to be one of the designers for their new sewing pattern line, Project Farmer's Market (woot!) and loved the experience of working with such an incredible group of hardworking women. So much so that when Audrey approached me about their new fabric collaboration I knew I had to say yes!
I have had a dream to design fabric for a long time, but never had the hutzpah to try. Being able to collaborate and be apart of a network of supportive women was the key to making it happen. Thank you Audrey, Lisa, Lindsay, and Toya!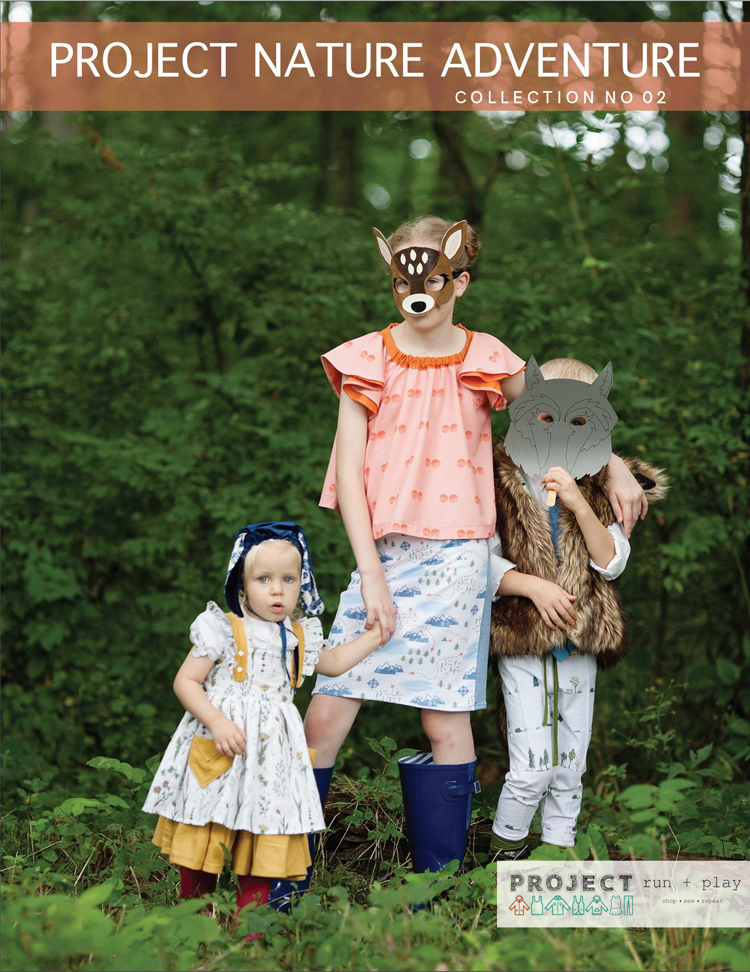 You can see all our designs in our look book HERE. We've also included nature themed cut files, project ideas for kids, past PR&P looks, coloring pages…so much adventure themed fun for you and your kids!
Or if you want to pre-order our fabric, you can do that HERE until August 19, 2019.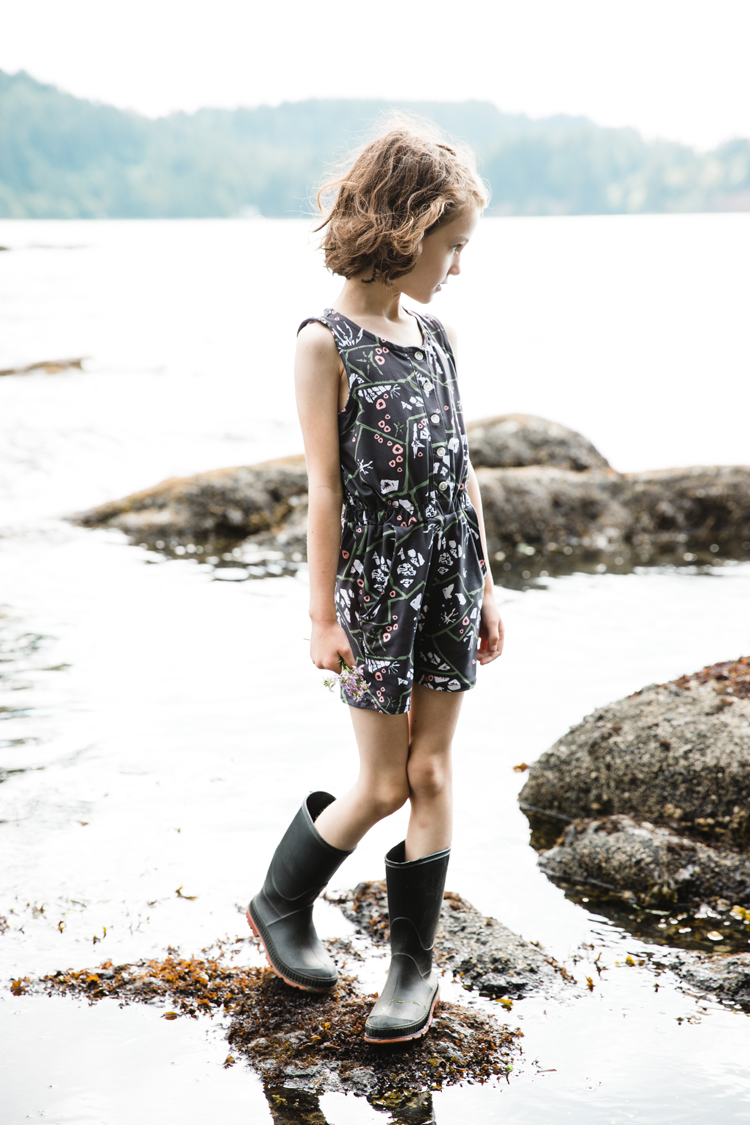 I'm going to share more of the details for each of my designs as well as our group collaborative design in a series of posts, but today I want to focus on the print that means the most to me: Tide Pools.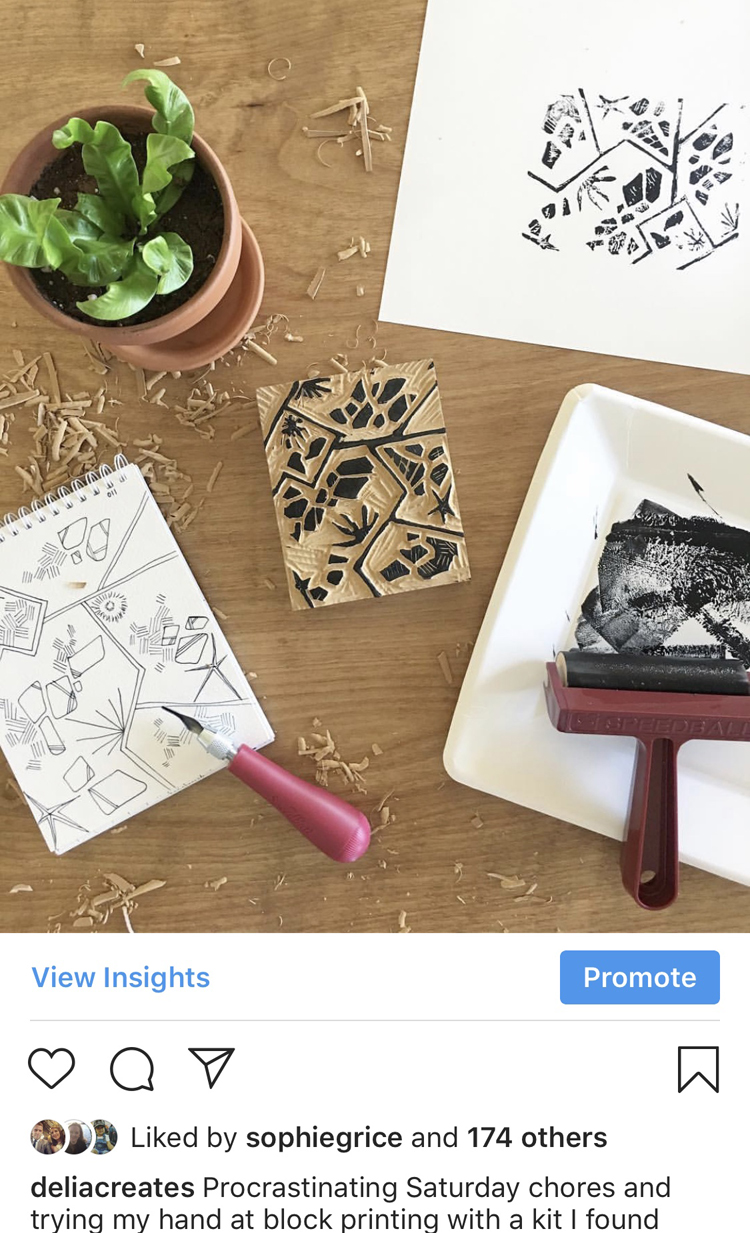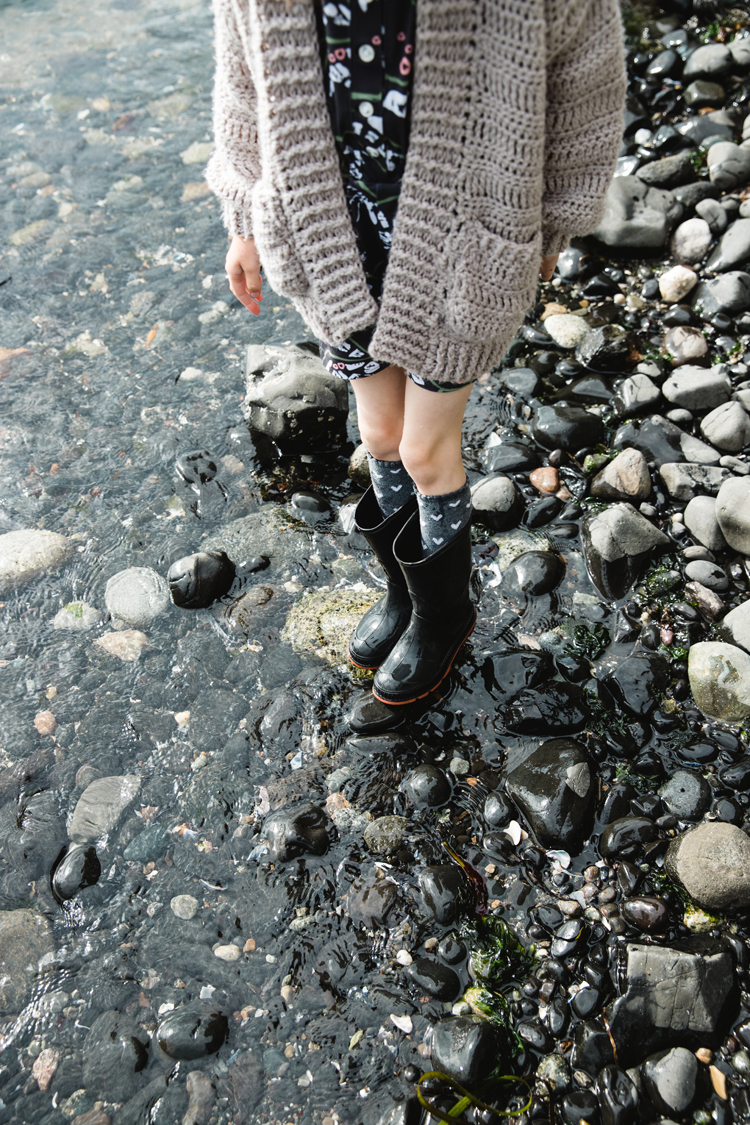 A couple of years ago, I started one of those 100 day projects. You know, when you commit to do something everyday for 100 days? Well I chose to doodle fabric designs with no plans to actually turn anything into fabric, and only made it to about day 30…Which is still a pretty big deal for me because I have a short attention span. Ha! I decided to turn one of those designs into my first attempt at a block print. It was a geometric rendering of the beloved tide pools near our new home in Washington (that I would love to turn into its own fabric one day too!). I simplified the design so I could manage carving it and then I let the finished print sit framed in our bedroom for two years, until I got that email from Audrey.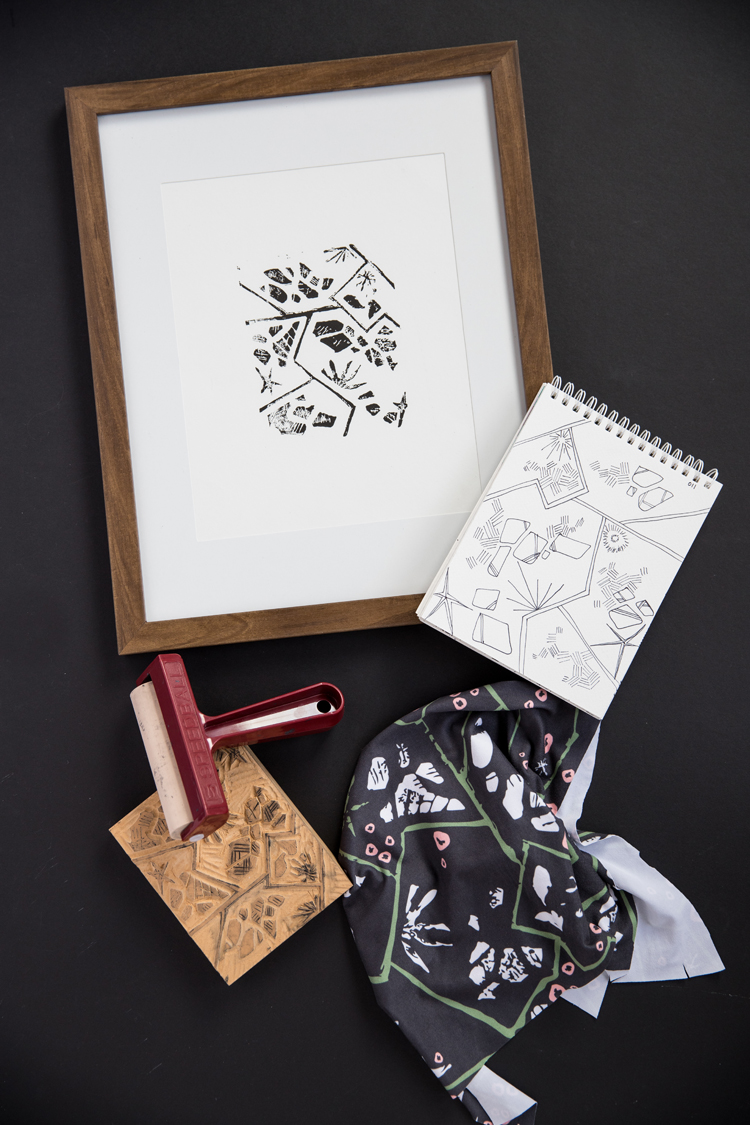 When we decided on a nature theme, I dusted off the print and decided it was time to finally turn it into fabric! I slipped it out of its frame, scanned it, digitally changed the colors and added some details in Adobe Illustrator, sent it off to Raspberry Creek Fabrics to be printed and voila…fabric.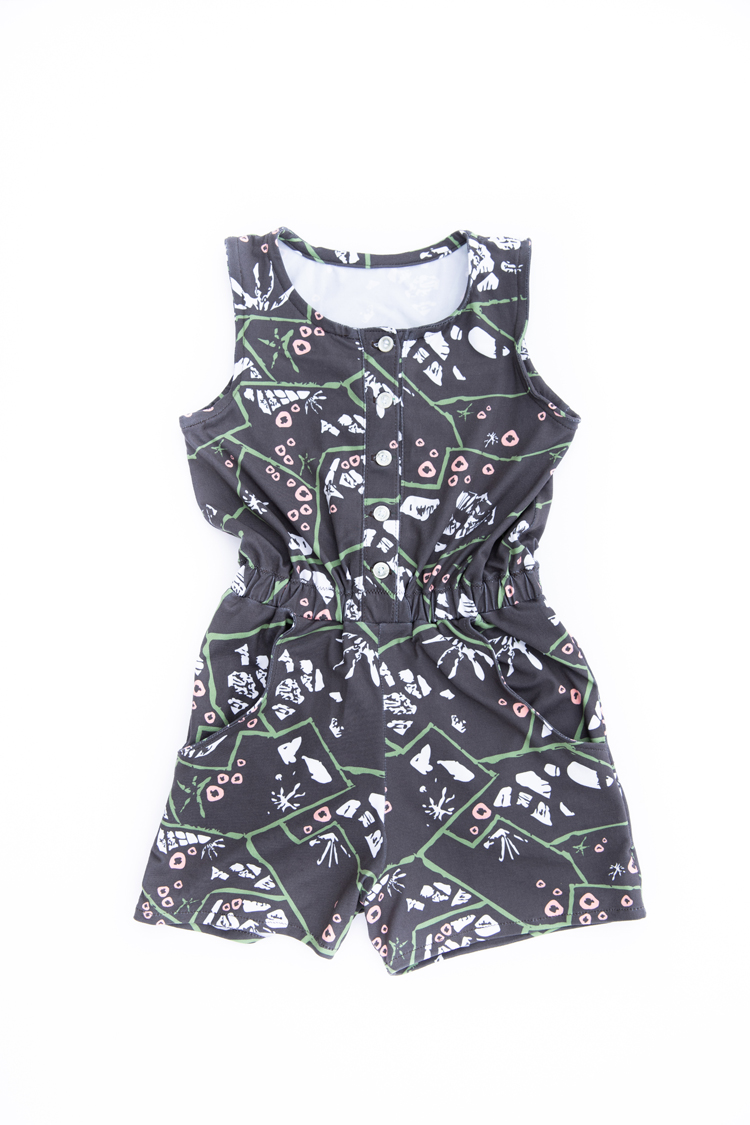 It feels surreal.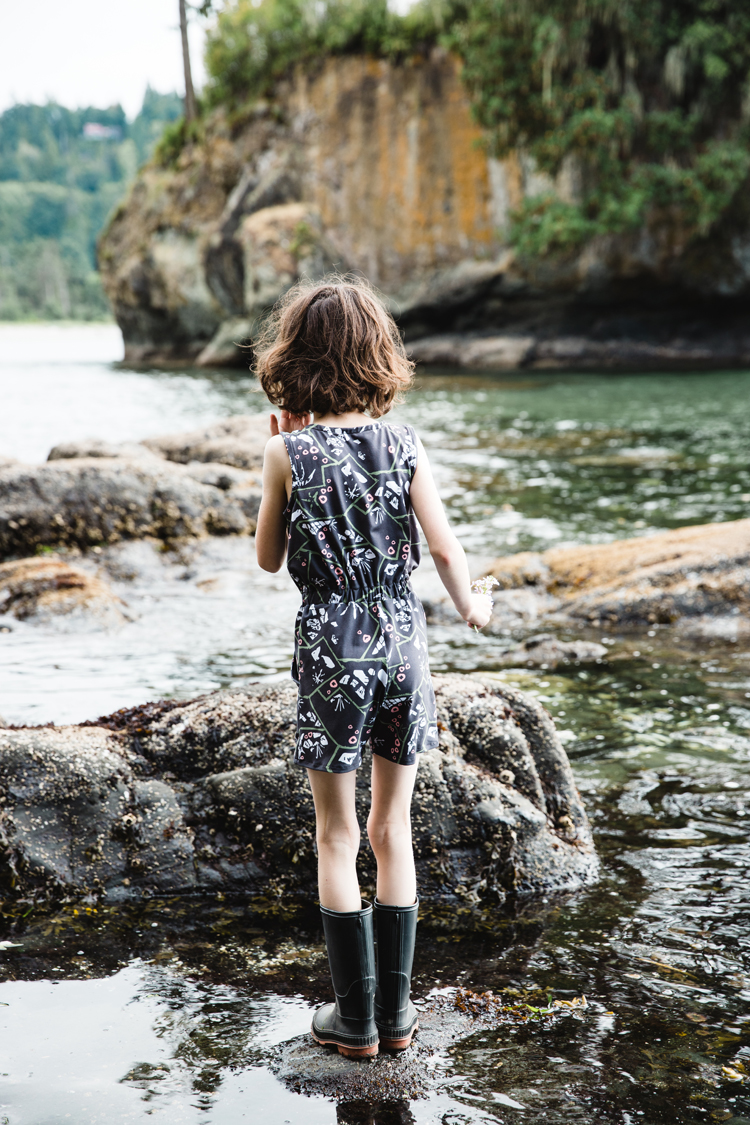 What was even more surreal, was returning to take pictures of the finished fabric at the tide pools that started it all. It was truly one of those special full circle moments.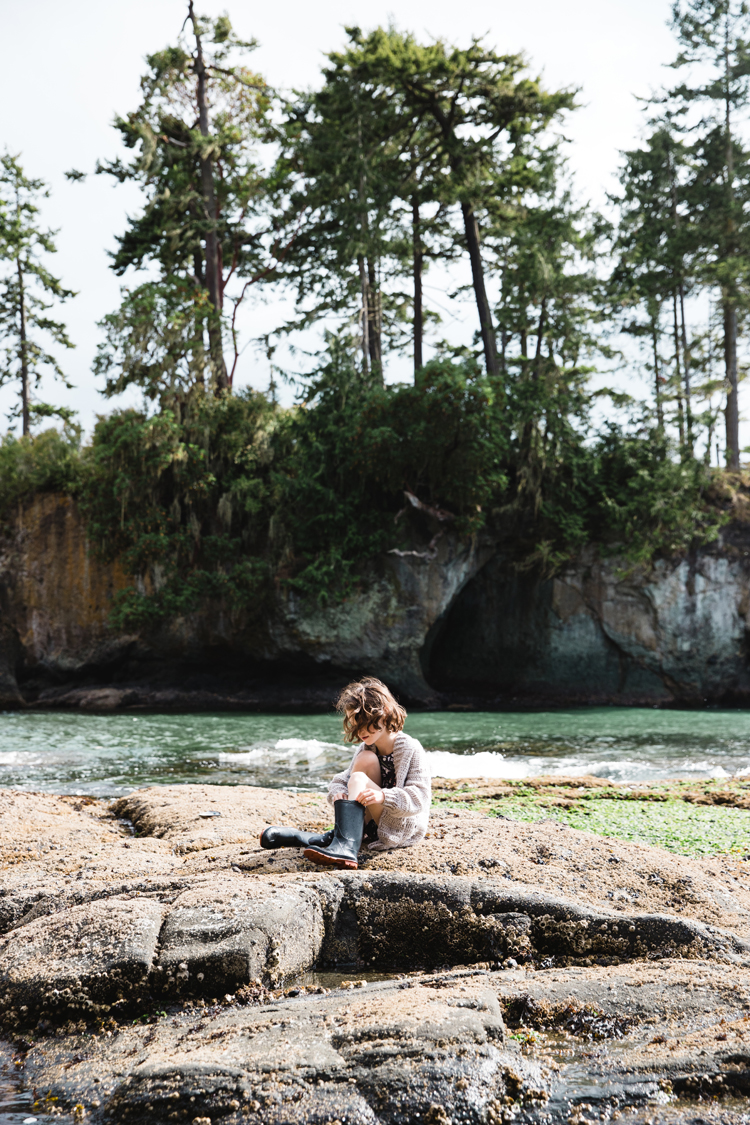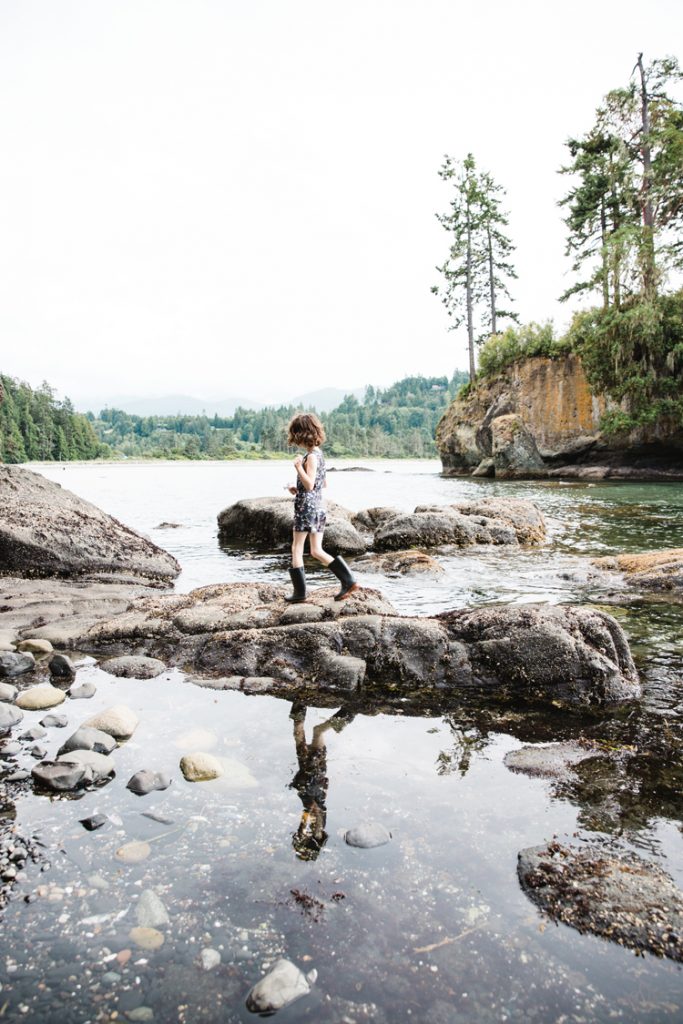 The fabric is a large scale print that from a distance almost gives the appearance of a floral. Even though the print is large, it works for small garments for kids or for adult sized ones. I'm hoping to sew something for myself as well! It comes in this high quality, mid-weight double brushed polyester knit. It is buttery soft, has some drape, resists pilling and fading, and is fairly easy to sew for a knit.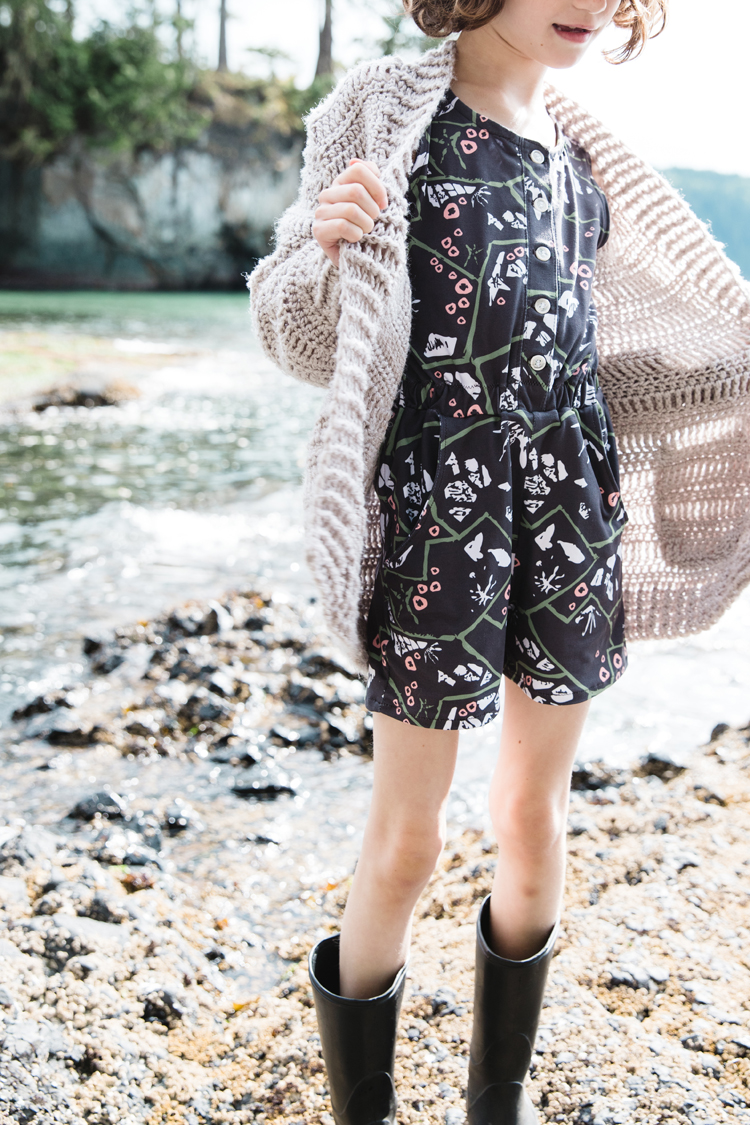 I decided to sew it up into a Seed Suit from Sew Pony, which is actually a pattern from the first Project Run and Play pattern collection. It's one of my favorites! Natalie measures at a 4T, but is average/tallish for her age (she's 7), so I cut it to a size 4T with added length. None of my little kids have ever fit normal size ranges, so I love that I can tailor clothes to fit them just right.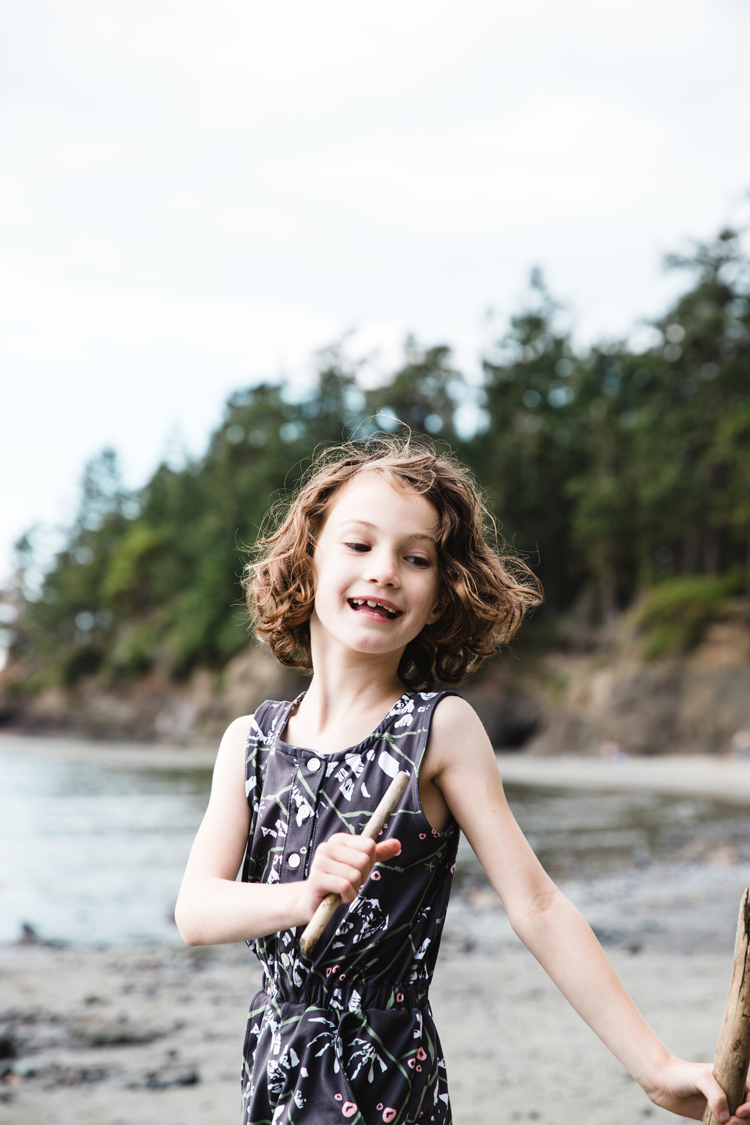 Having this Tide Pool print be my first fabric design feels so right, as it was at the tide pools that I first fell in love with the area when we first moved to the Pacific Northwest. It's almost like a love letter to this place that now feels like home.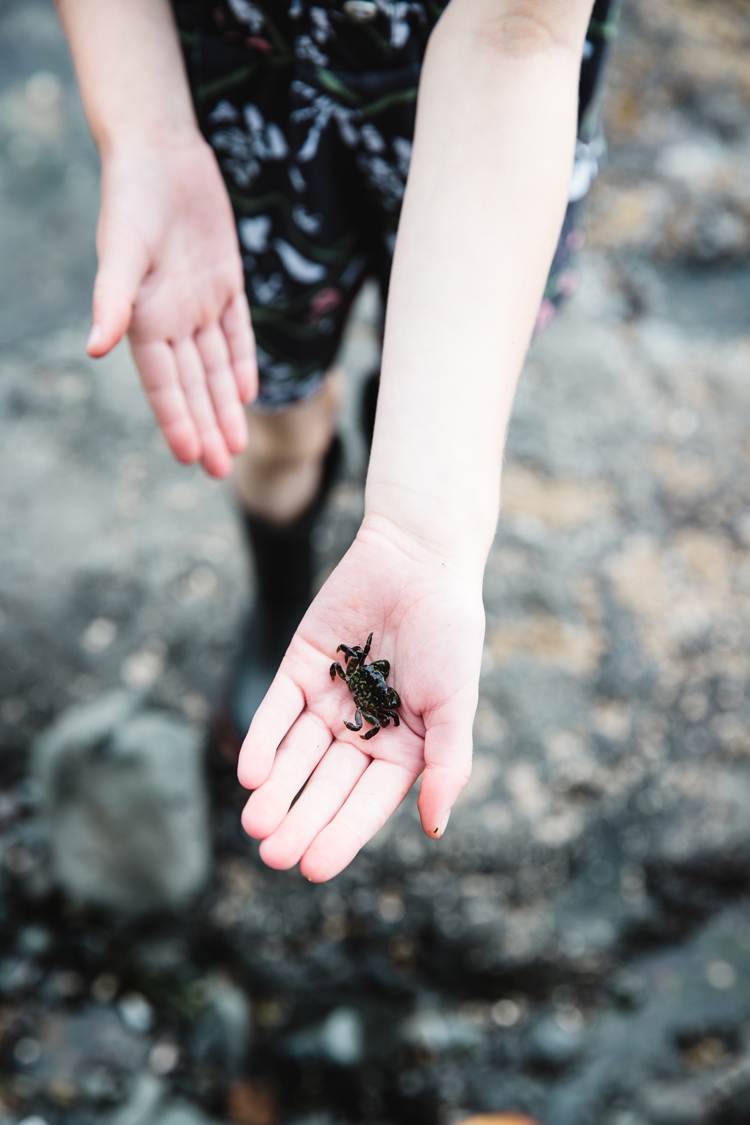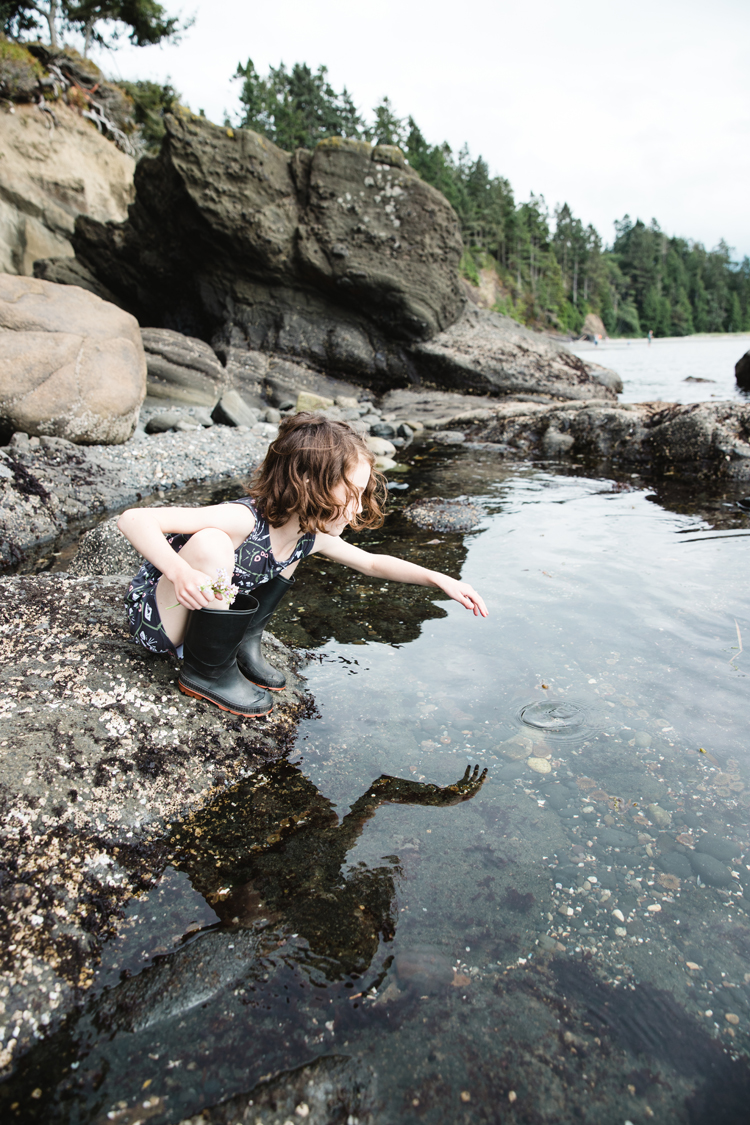 We usually come to this beach when the tide is lower so we can see more animals, but these high tide pictures ended up producing some cool reflections that almost give her a Peter Pan look… just perfect for our adventure theme!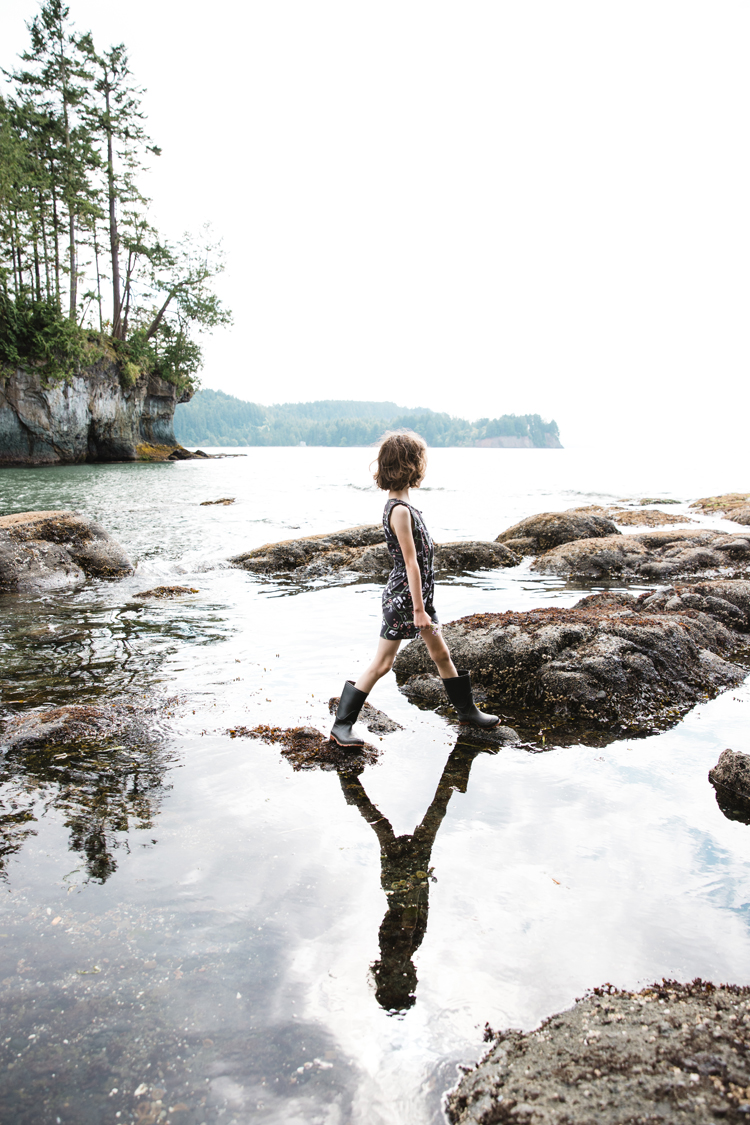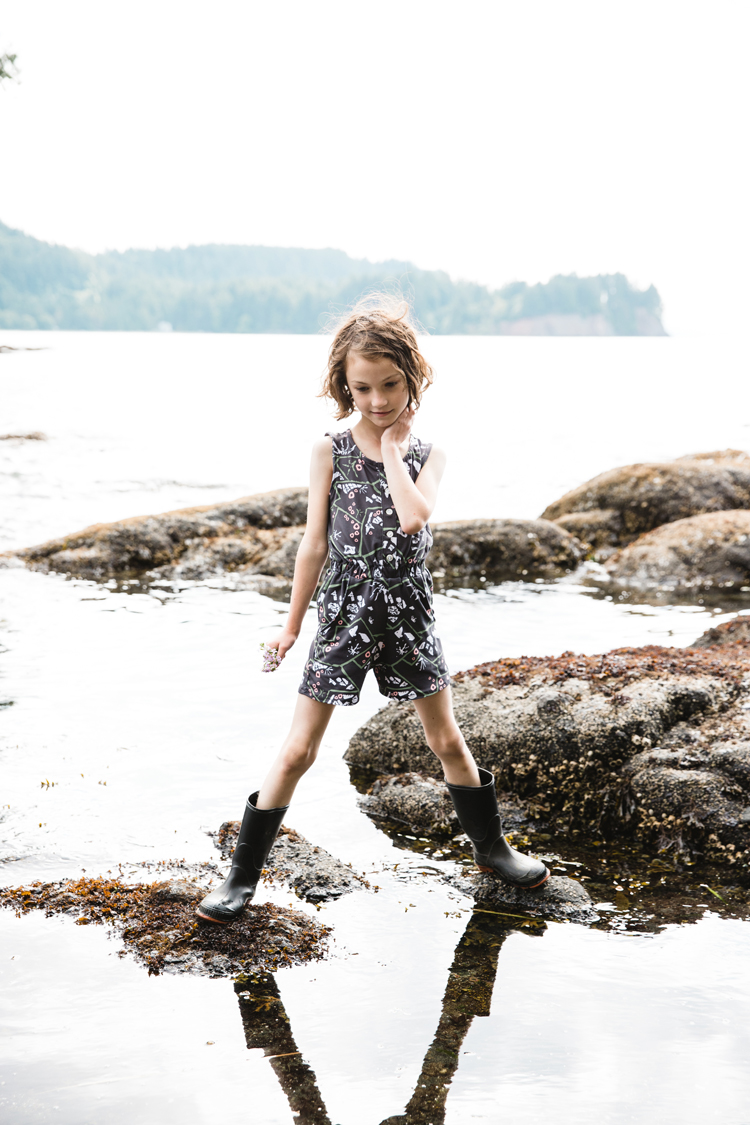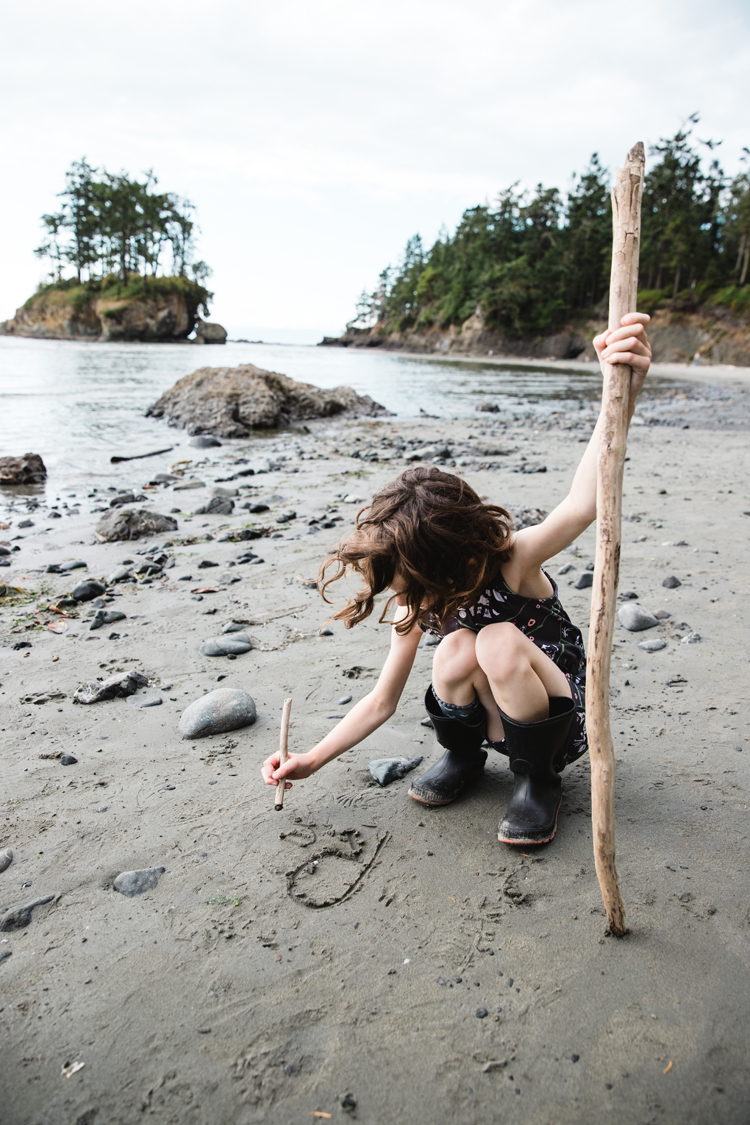 Since we live in a pretty temperate climate, I brought along her oversized crochet cardigan just in case the wind picked up and it got chilly. I have a free beginner friendly crochet pattern for that HERE.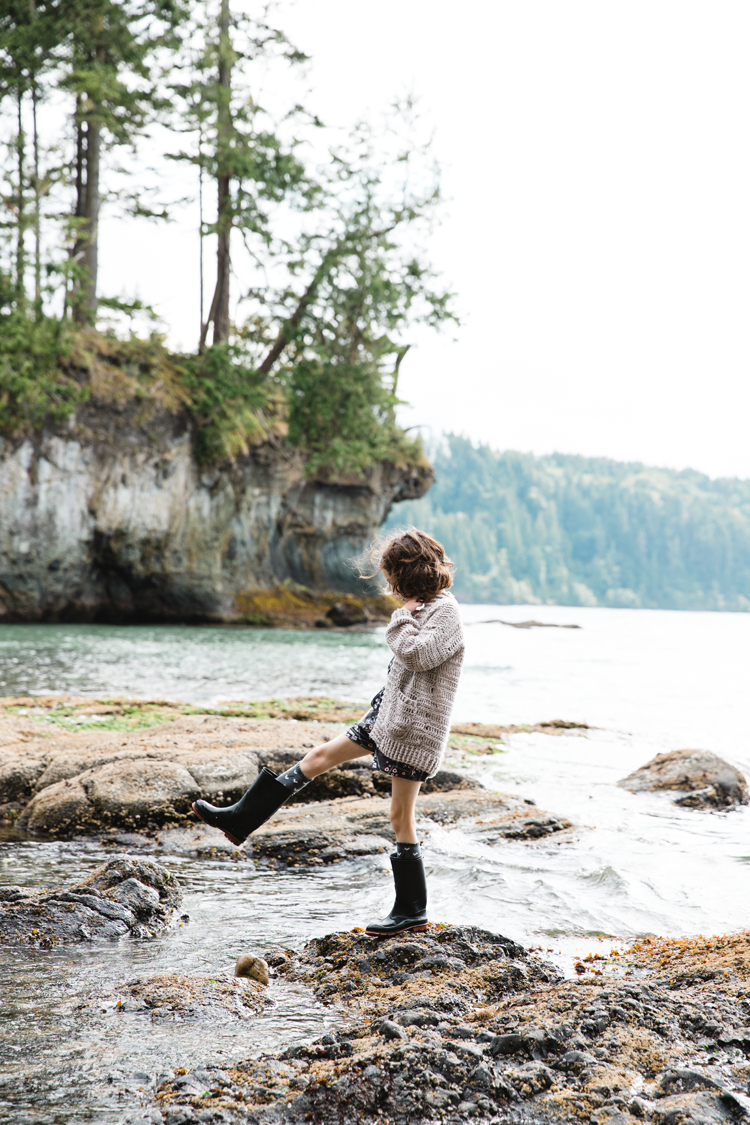 Next post, I'll be sharing my second pattern design: Binoculars! Until then, be sure to check out our look book HERE. If you see something you like, you have until August 19, 2019 to pre-order it at a $1 discount. Availability after pre-orders will be limited, so if you like it, don't wait!