As per my usual MO, I get excited about a new season, source fabric and patterns (sometimes I even get it cut out) and then I put it off and sew it at the END of said season so I can only wear it for a few weeks before the weather turns again. Whyyyy? I don't know why I do this to myself…but here are two Meadowood blouses and a pair of Rose pants that I will be warming up with cardigans and sweaters so I can wear them for as long as possible. 😉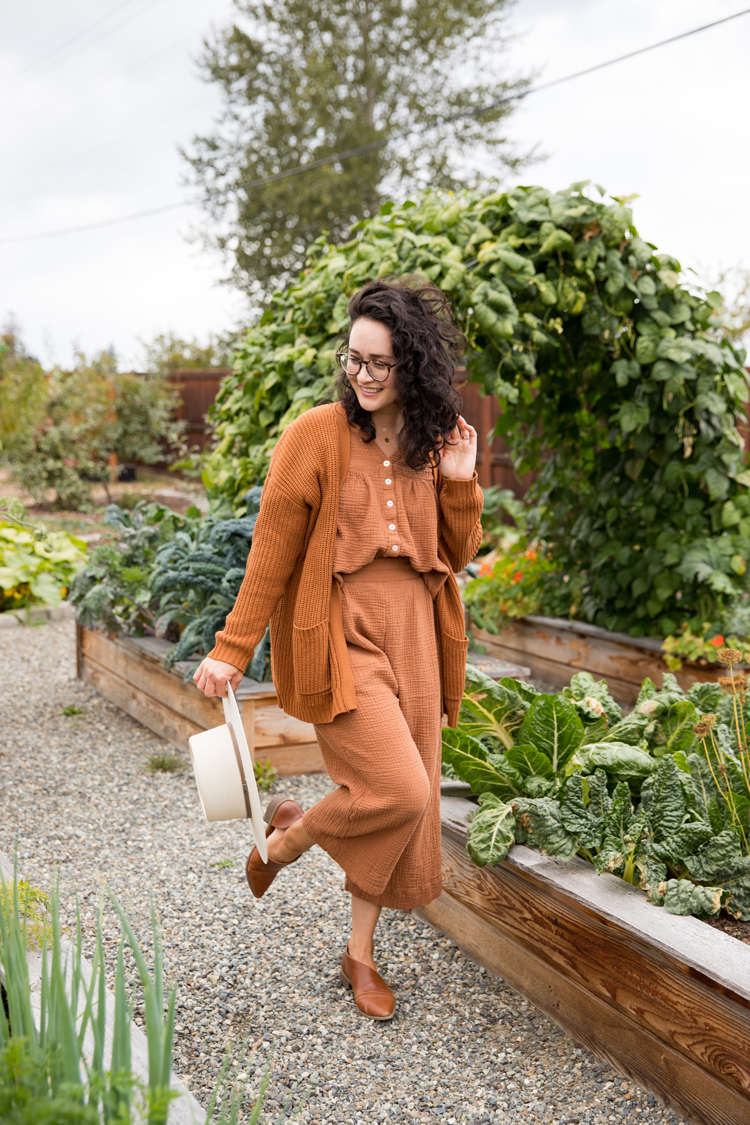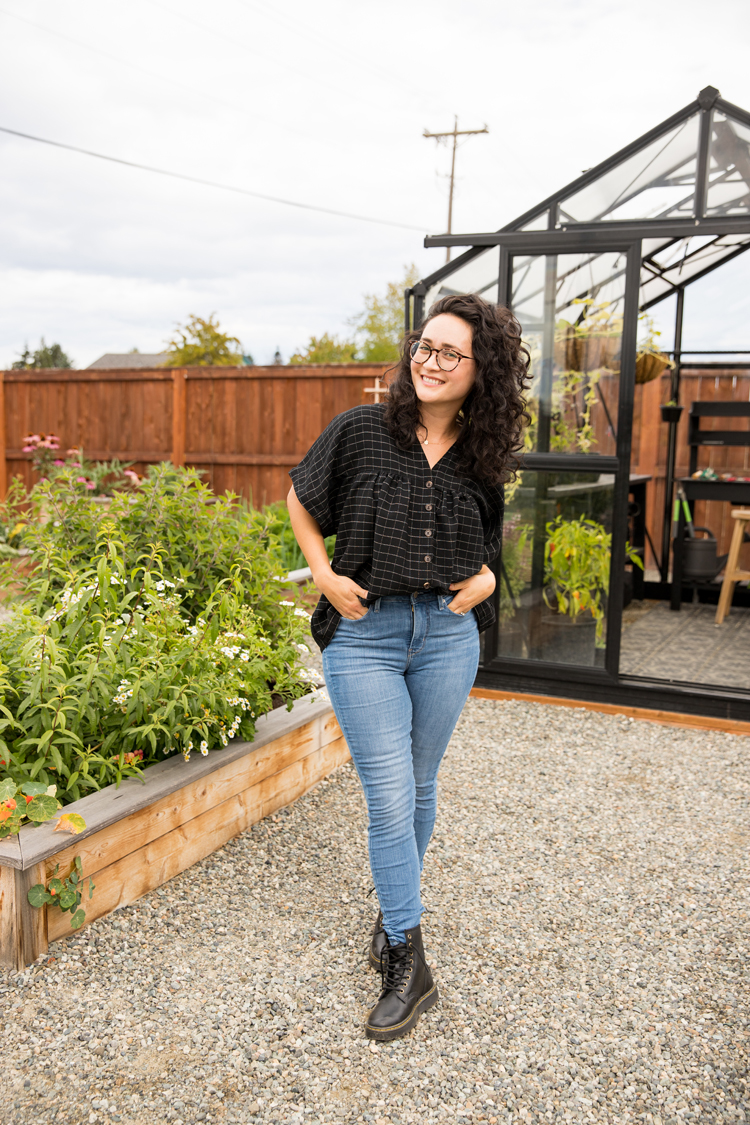 Meadowood Blouses
I did (uncharacteristically) make a Meadowood blouse from Straight Stitch Designs early in the summer and loved it so much that I planned for two more:
One in a slinky rayon blend (?) that I bought from an @erinalwayssews stash sale. I really love this sewing pattern in this kind of fabric. The drape is perfectly suited to its design and shape. The fabric feels less summery (so yay, more season appropriate!), but I can still see myself wearing this in warm weather because the design so loose and airy.
For my second Meadowood, I used Cotton Double Gauze in cinnamon from StyleMaker. It is a dream to wear, but not necessarily a dream to sew. I thought that it wouldn't be too difficult, considering I've sewn blankets with it. Well, I was wrong. It's TOTALLY different when it comes to garment sewing.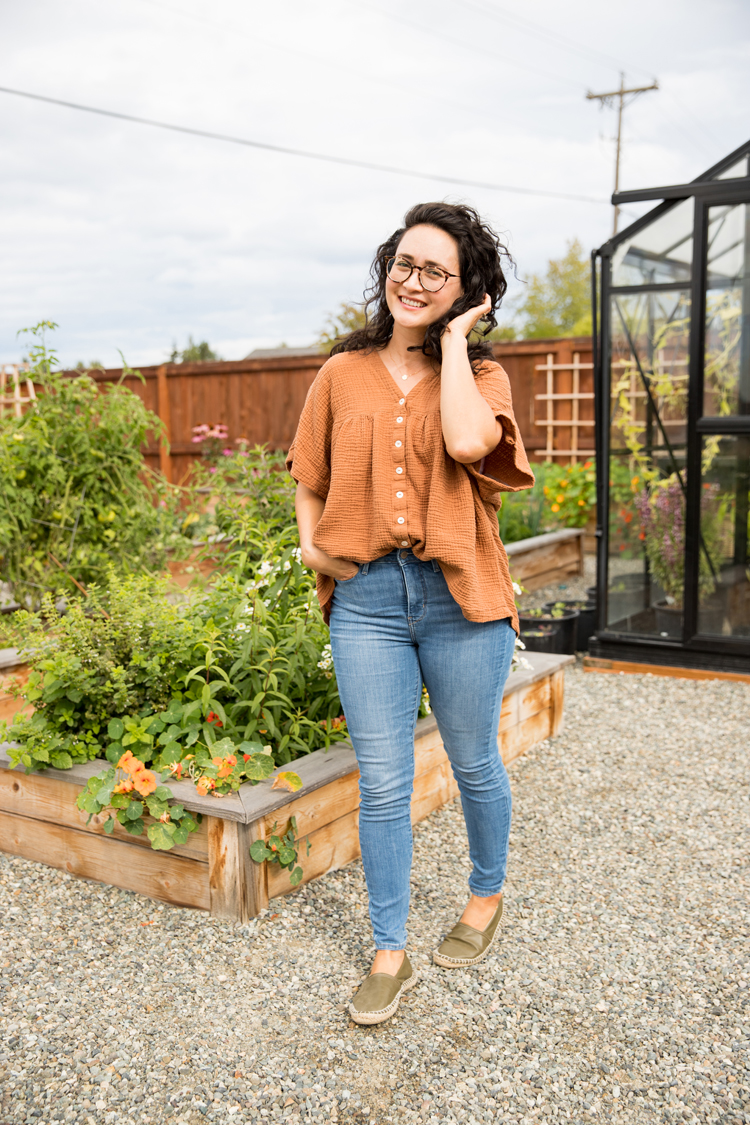 Because the crinkles shrink and stretch with washing and wearing, what I did was cut it out washed, dried, and crinkled, and then saw it "grow" as I sewed it and pressed it. I washed it and dried it again thinking that would fix my problem. It did somewhat, but I still had to take over an inch in at the shoulder seams, and the fix was temporary.
It looked fine for these pictures and about half of my day…and then it started to grow again! Especially at the neckline. Yikes! SO….I'm currently seam ripping the whole thing so I can re-make it. Because I splurged a little for $15/yard fabric, I want to wear this thing a lot and I know I won't if I don't get the fit right.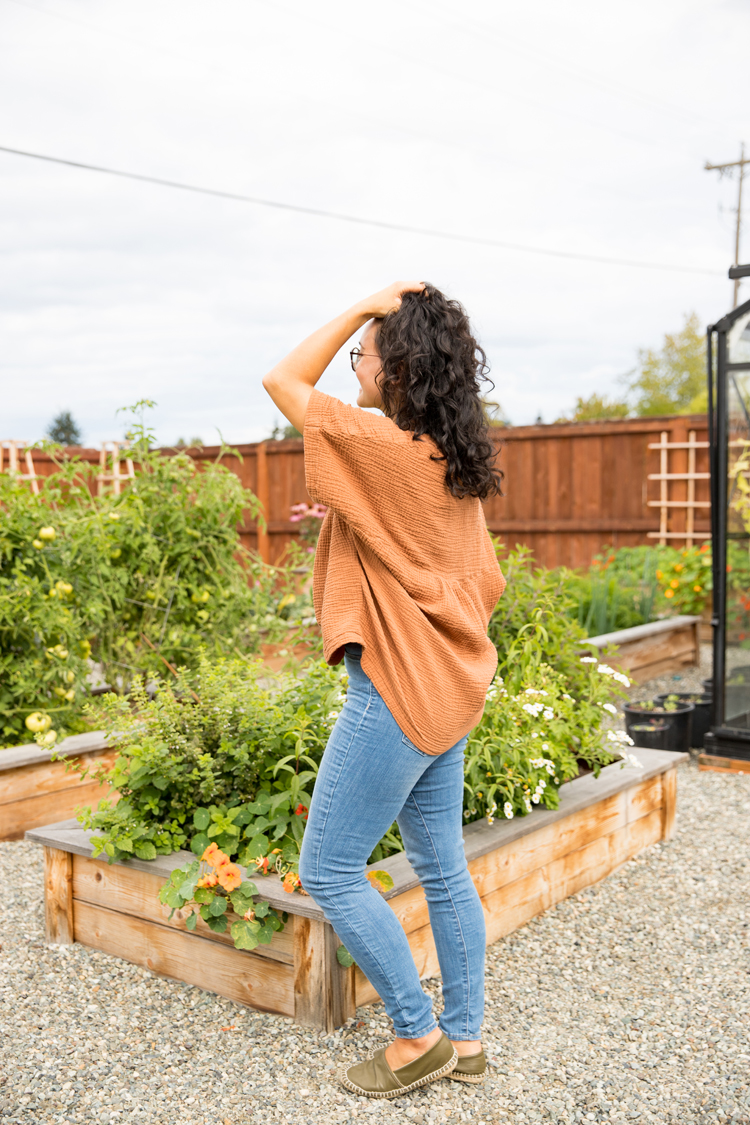 The plan is to iron everything flat, re-cut the pieces and sew them while pressed and flat. I know it will shrink up when it gets washed and dried, but because it already wears so loose, I don't think that will be a problem. Then it will relax to its intended fit as the day wears on. Fingers crossed. I'll add an update when I'm done.
Rose Pants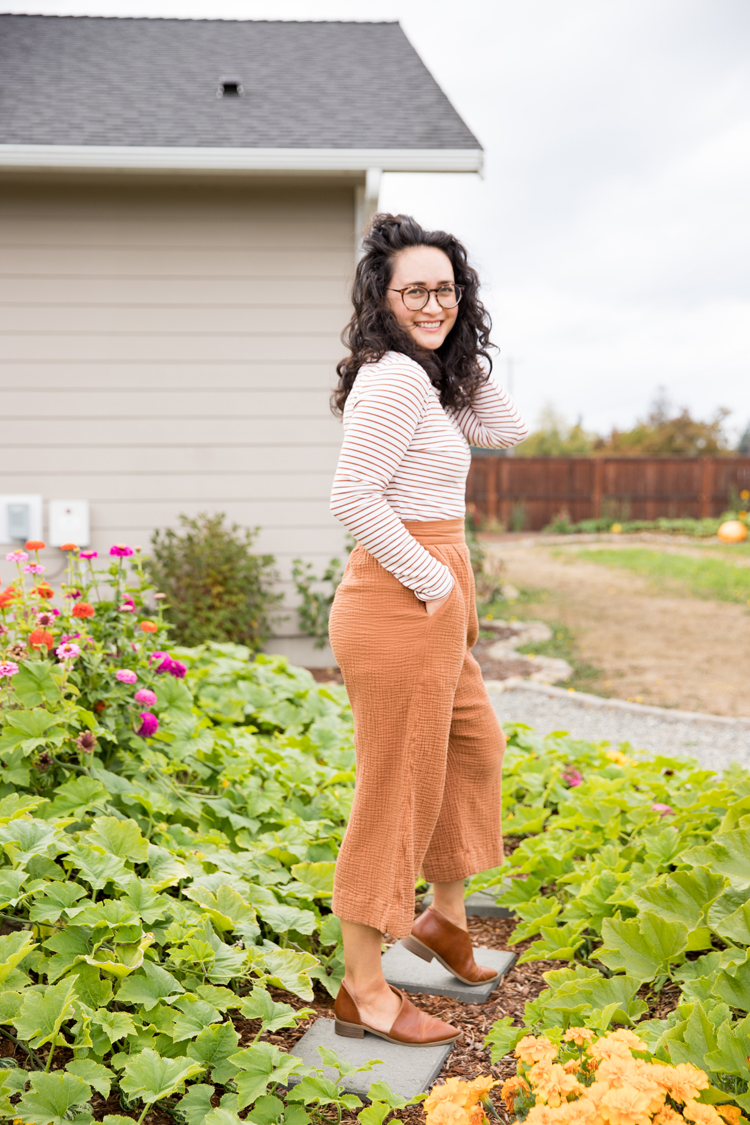 I used the Cotton Double Gauze for the Rose Sewing pattern by Made By Rae as well, but I didn't run into the same problem as I did with the blouse. I didn't press the fabric before I cut it, but I had to press the waistband when I applied the interfacing. When the waistband pieces pressed larger than the interfacing, I simply cut them down to fit the interfacing. I'm convinced that first step saved these pants.
The pant legs do "grow" a little but it just adds to the wide leg look, and the waistband stays consistent because of the interfacing.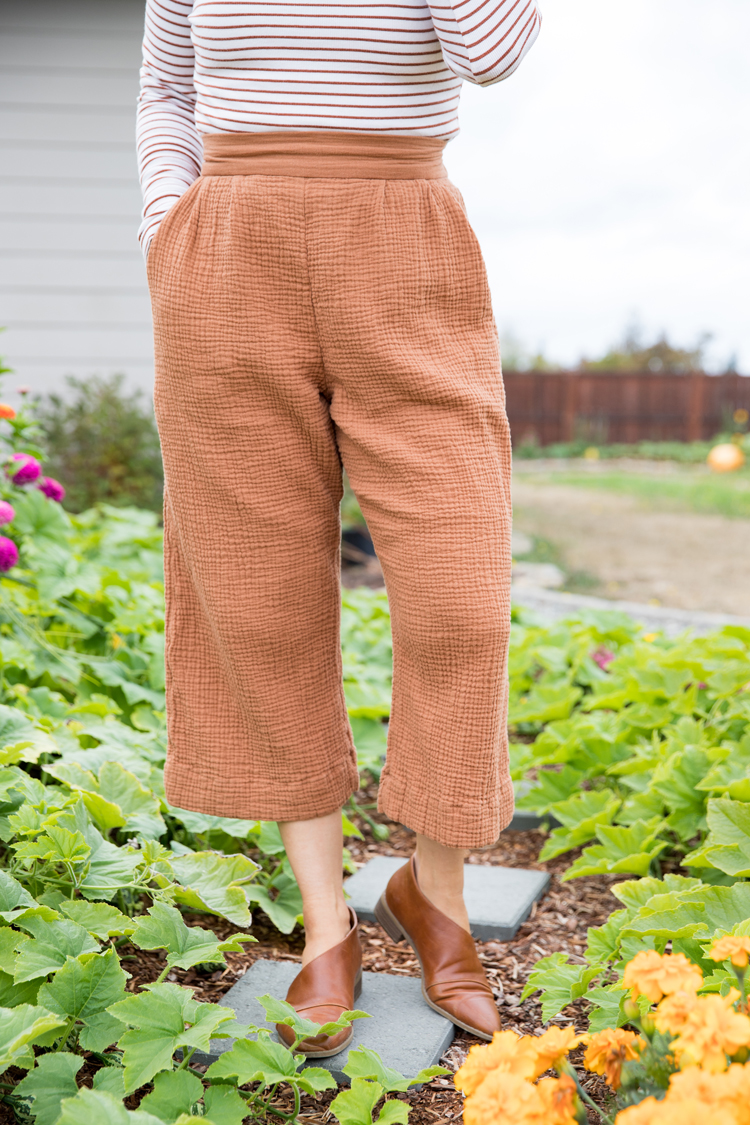 The fit of the Rose pants is just perfect, which is not surprising since it's a Made by Rae pattern. I even got stopped at the store asking where I bought my pants, so I know I'm not the only fan! 😉
The pleat placement, the high waist, and the shape (especially around the hips and booty)…it all just works and it feels comfortable. I like the double elastic back waistband for the aesthetics as much as the fit. I'm short and have short legs, so I did have to cut off more of the leg and put in a wide hem.
How about this face? Haha…of course the picture that shows the best angle of the pants is the one in which I am talking.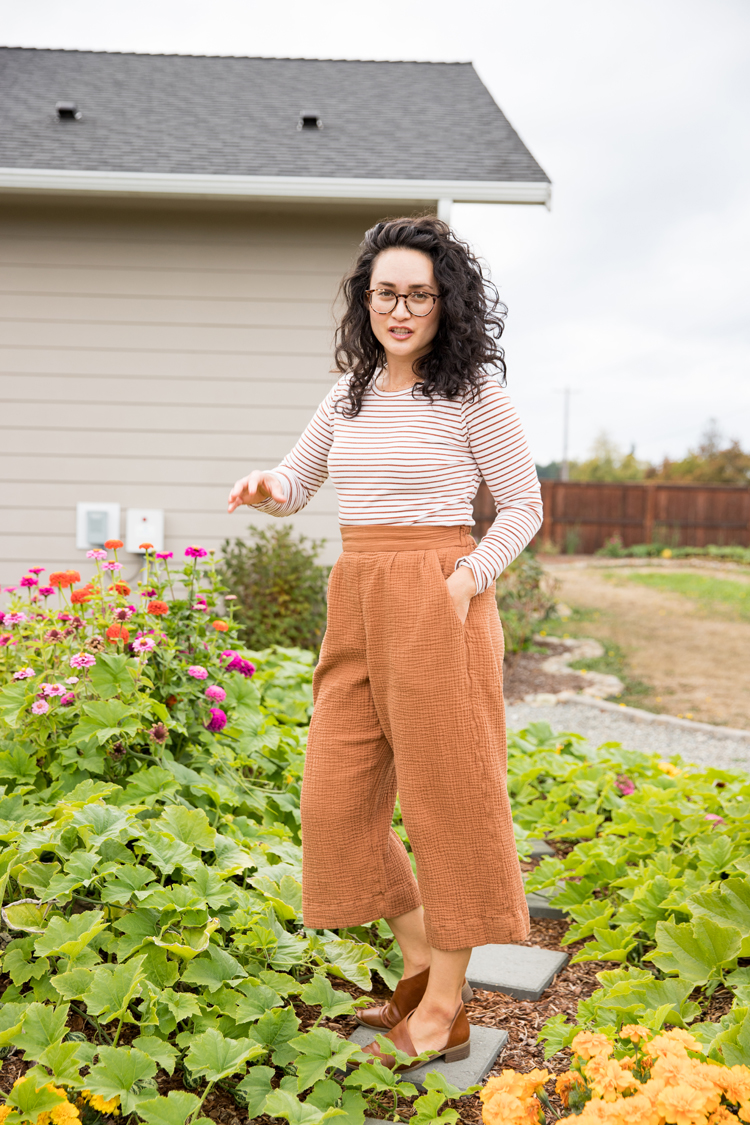 I originally made these Rose pants to make a matching set with one of the Meadowood blouses, but I'm liking them so much, I want to make more….probably in a drapey, rayon like my other Meadowood.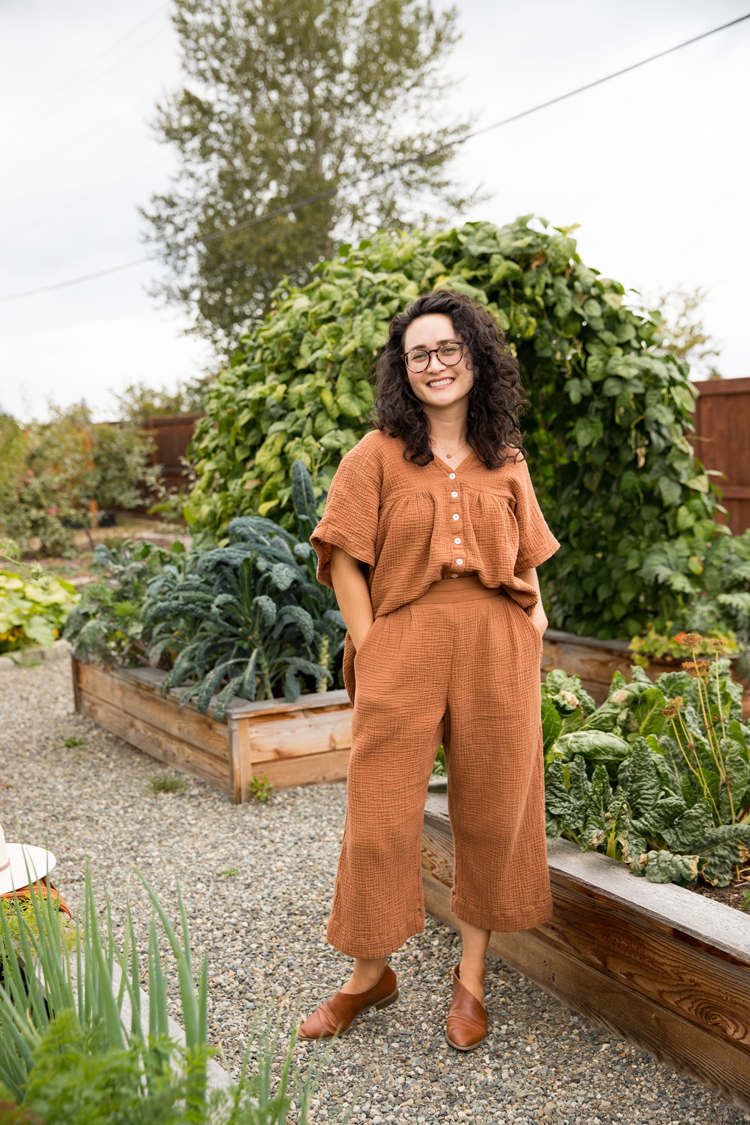 Isn't the set fun though? They feel like *not so* secret pajamas. 😉 Ha!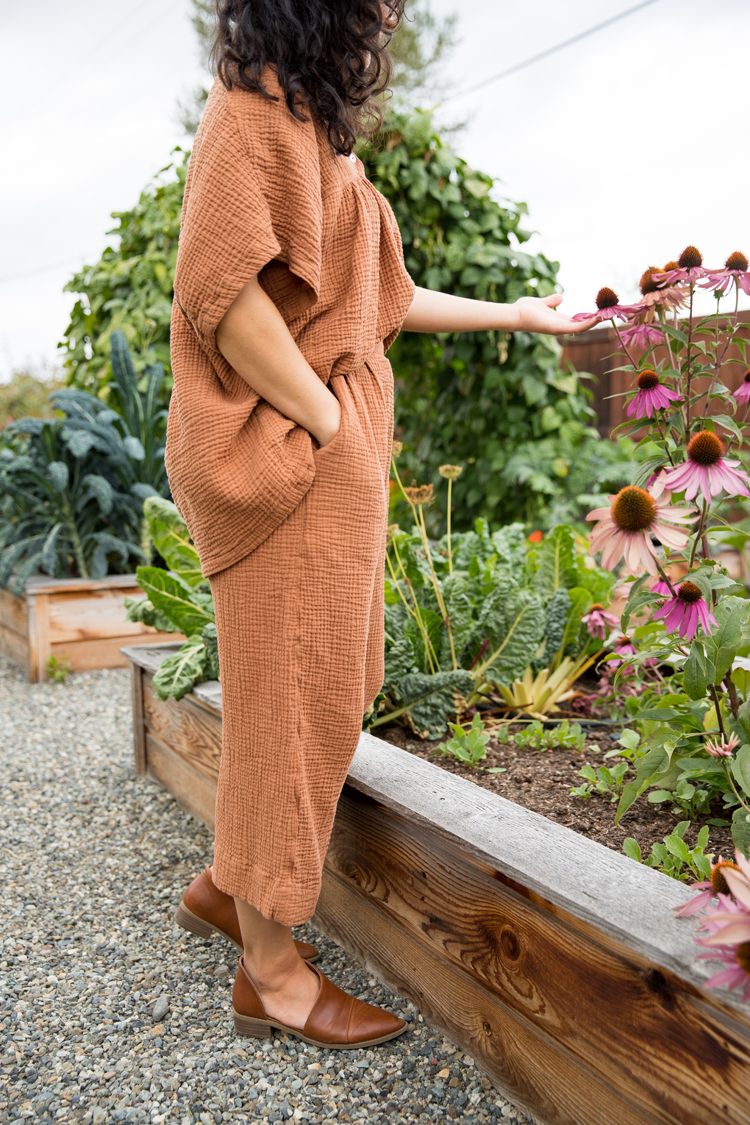 I added a cardigan in the same color….which also matches my purse (not pictured), several pairs of my shoes, and is a close match for this leisurewear set I made at the end of spring. I say my favorite color is green, but maybe I should revise that because this cinnamon/cognac/tannish brown certainly makes an appearance in a lot of the things I wear and make!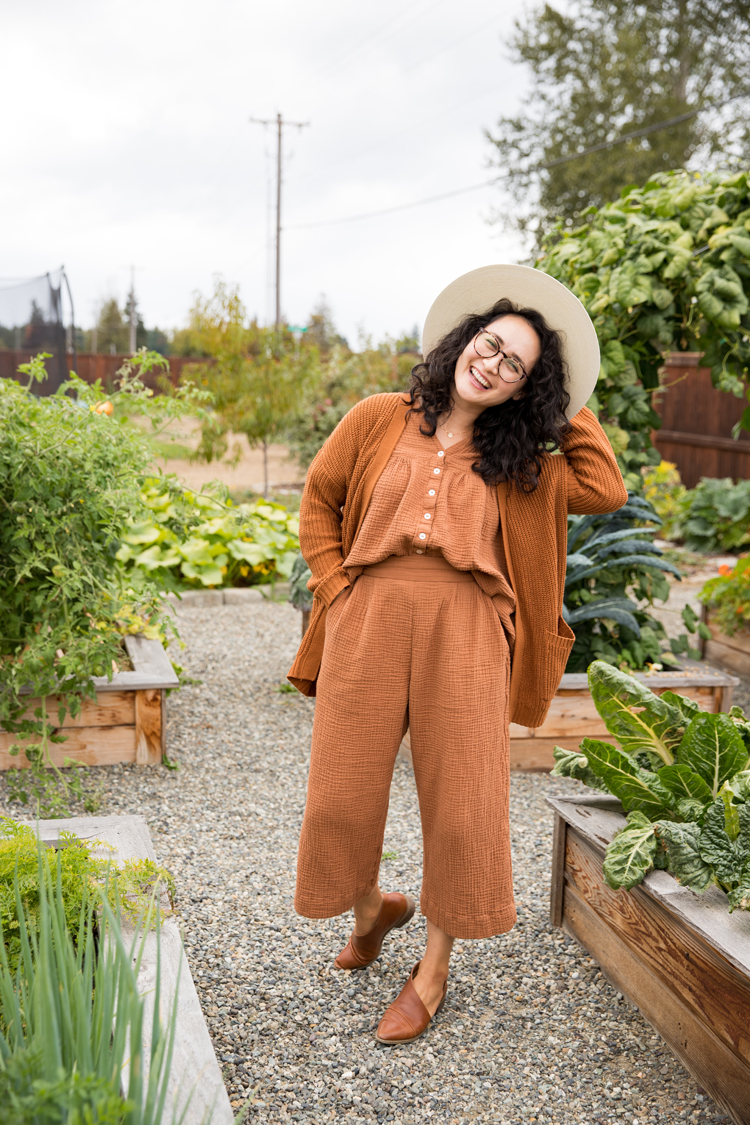 Black too…. How much you want to bet my next pair of Rose pants will be mostly black? 😉