This post is a two-fer, a Cherry Pancake Syrup recipe AND a Vegan Cherry Banana Pancake recipe!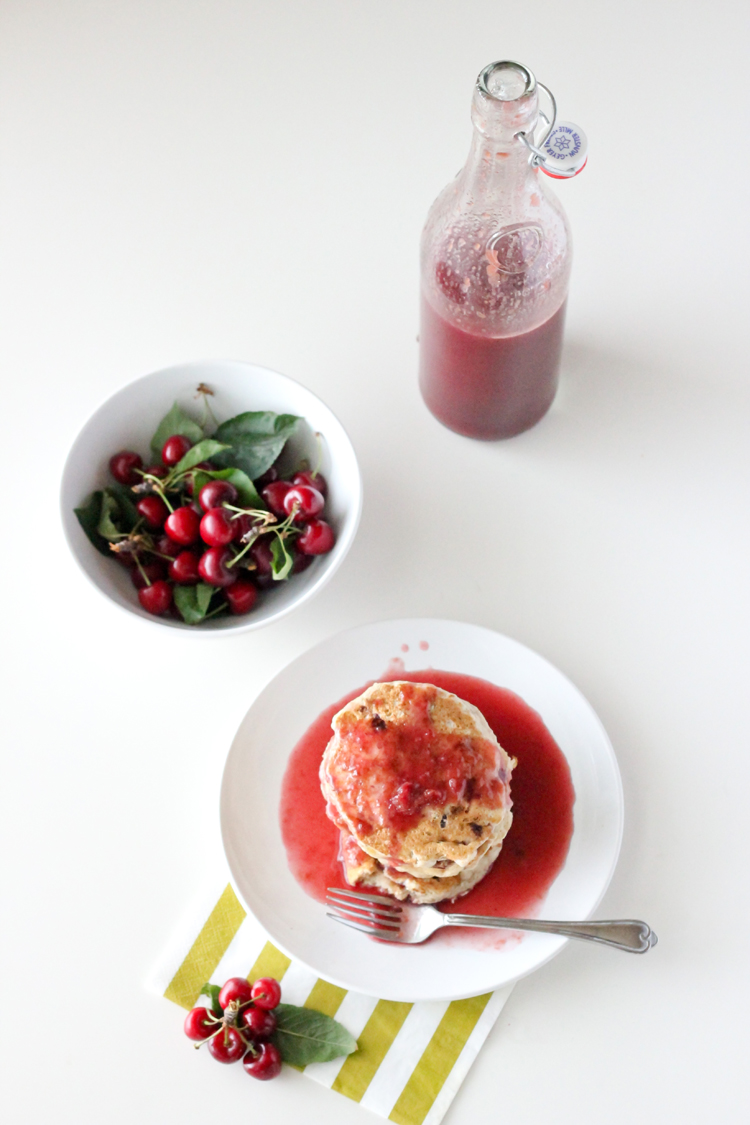 Double yum!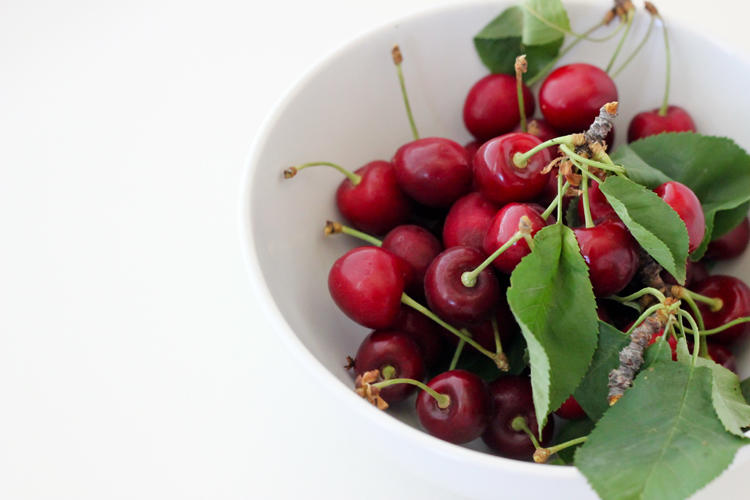 It is also the last in my little series of ode to summer cherry recipe posts. You can see the other cherry recipes here, here, and here.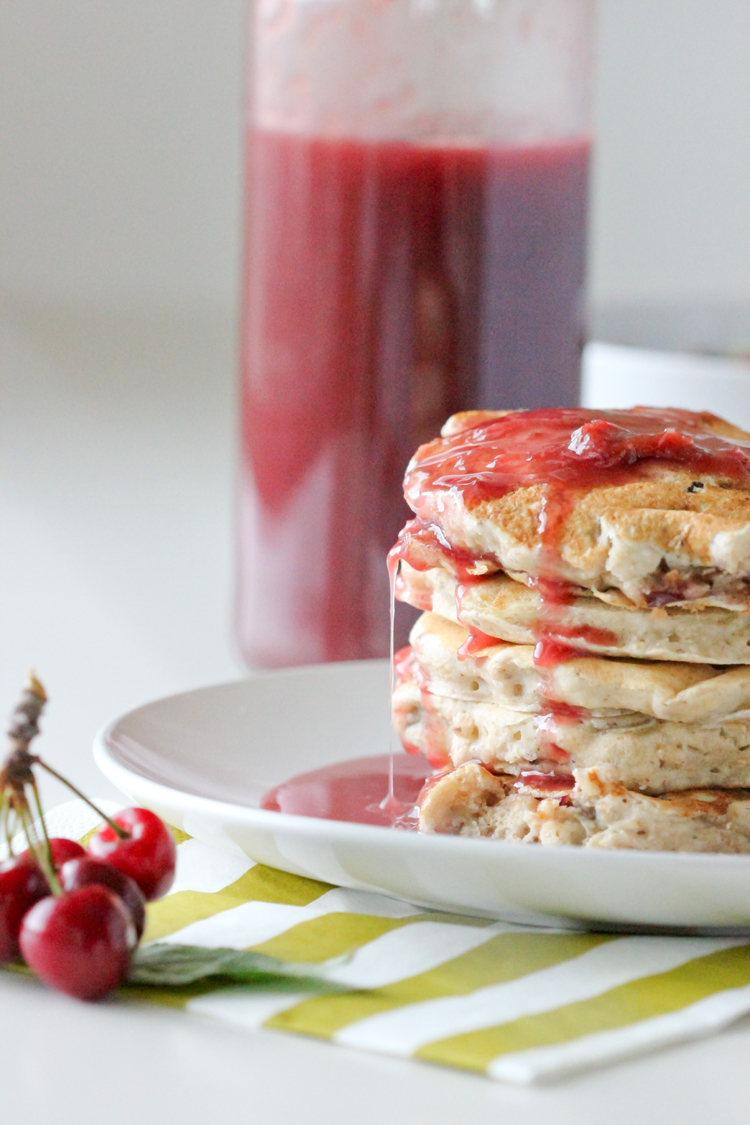 In all of those recipes, I combined cherries and limes – so good. You will see a lime floating around in some of these pictures as well, but the twist of lime is purely optional.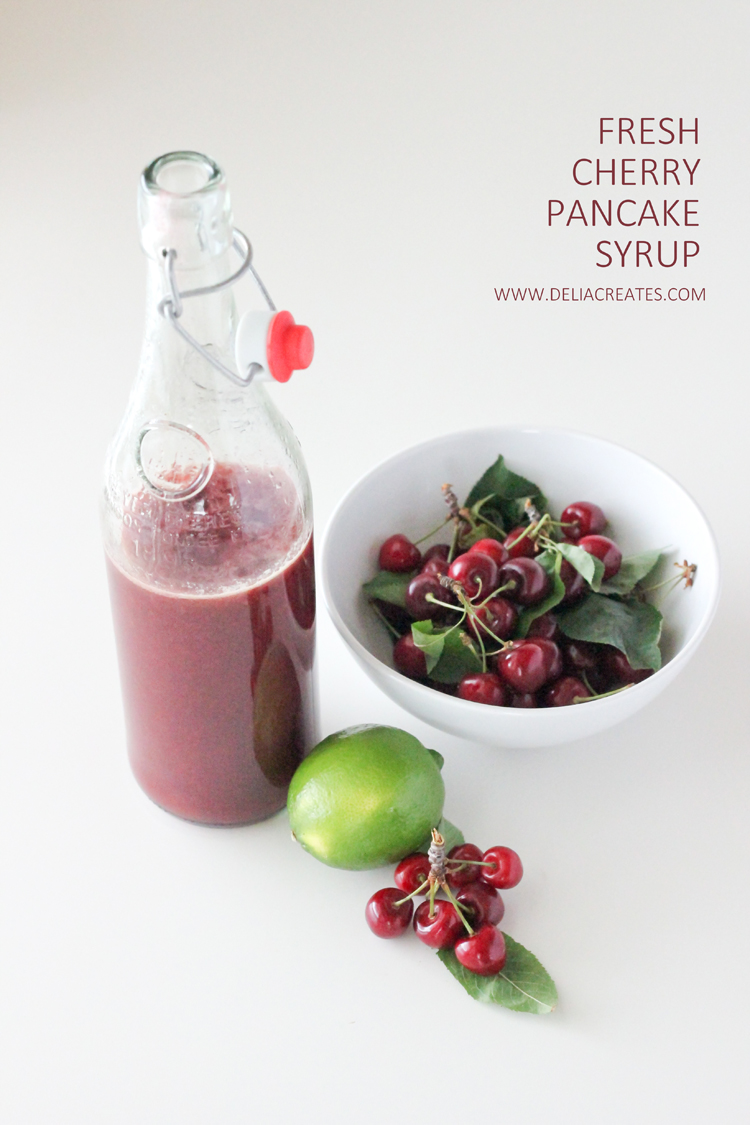 Let's begin with the Cherry Syrup, shall we?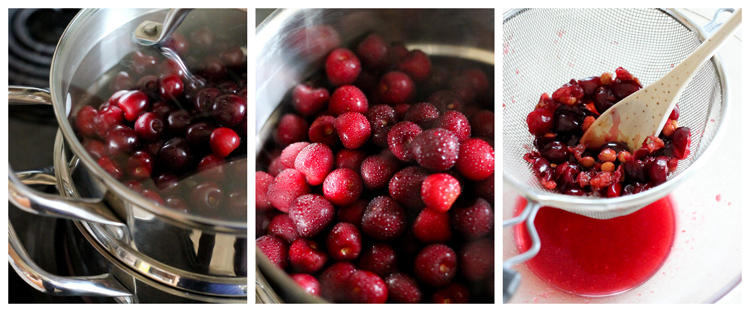 CHERRY PANCAKE SYRUP
Makes just over a cup of syrup.
1 1/2 lbs. sweet Bing cherries 3/4 cup sugar or sweetener 1 tsp. cinnamon pinch of nutmeg optional: twist of lime, juice from half a large lime 1/2 tsp. salt 2 TBSP cornstarch 1 cup cold water  
1. Wash, steam, and juice your cherries in the same manner as THIS recipe.
2. Combine cherry juice, sugar, cinnamon, nutmeg, and salt in a medium sauce pan until simmering.
3. Whisk together cornstarch and water in a separate bowl to create a slurry.
4. Add slurry to cherry mixture and whisk until well combined. Add lime juice if using.
5. Heat and stir occasionally for about 5 minutes until mixture starts to thicken.
Syrup keeps in an airtight container in the fridge for about 7-10 days.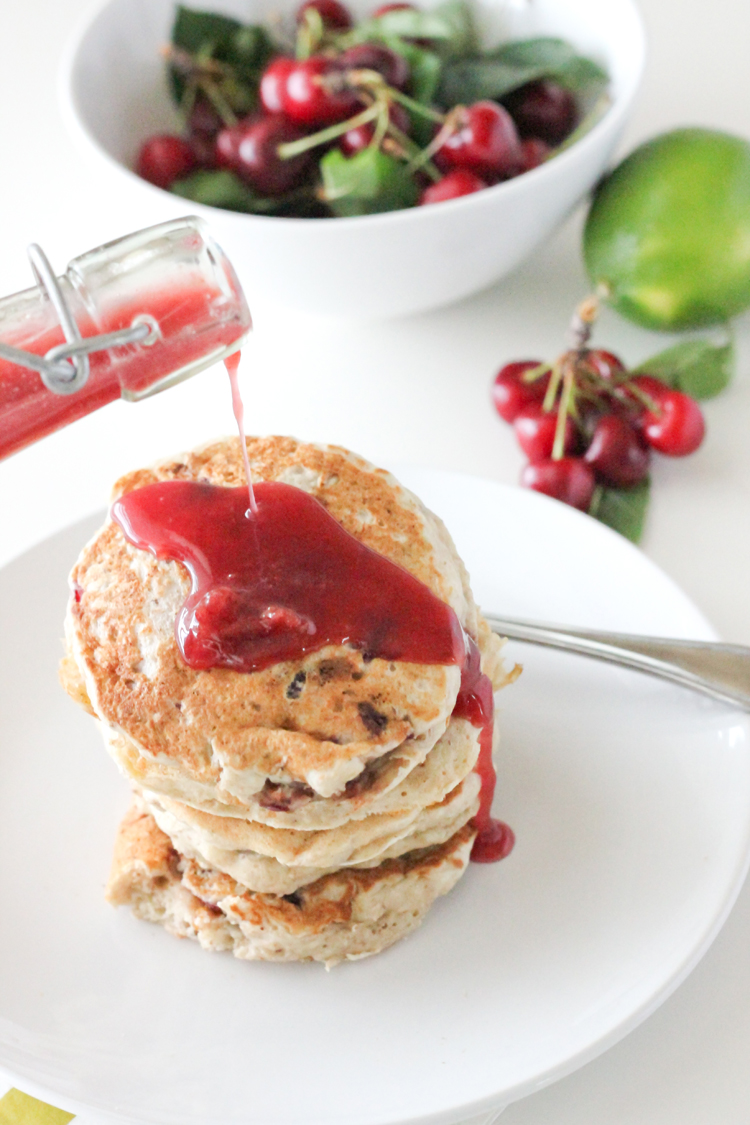 The bottle I am using is a recycled fancy soda I bought from Sprouts over the holidays. I think they are seasonal? I plan to snatch up a bunch more this Christmas!
Now for the pancakes.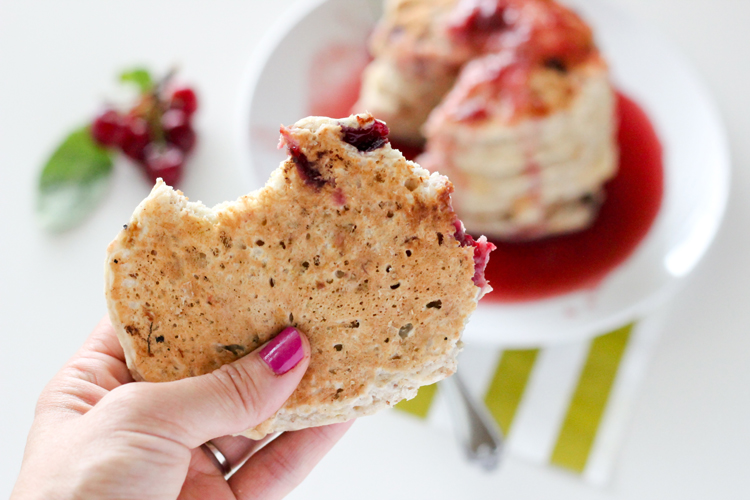 If you have been a long time reader, you know of my obsession with pancakes. I honestly don't eat them all the time, but I love to experiment with them, because they are so easy to experiment with… as evidenced by my several versions of different kinds of pancakes. 🙂
Okay…enough ode to the pancake.
My friend told me I should try subbing eggs with bananas (since my daughter is allergic) and I'm so glad I did. It's easier and, in my opinion, yummier!
VEGAN CHERRY BANANA PANCAKES
Makes about a dozen 4-5 inch pancakes.
2 med. ripe bananas (the riper the better) 2/3 cup unbleached white flour 2/3 cup whole wheat flour (you can adjust the flour varieties and ratios as you please) 1 TBSP. flax seed (can also be used as an egg substitute, but is being used for it's healthy fats in this recipe) 1 1/2 tsp. baking powder 1/2 tsp. salt 1-2 TBSP. sugar or sweetener of choice (adjust to taste) 1 2/3+ cup non-dairy milk (we use Silk brand coconut milk) 2/3 cup sweet bing cherries (1/2 cup pitted) Oil for the pan – we use coconut oil  
1. Mix dry ingredients together until well combined. Add mashed bananas. Add milk and stir until moistened. Add more milk if batter seems too thick (some flours are drier than others).
2. Wash and pit cherries. After pitting you should have about 1/2 cup of cherries. Give them a rough chop and incorporate them gently into the batter. If your cherries are particularly juicy you may want to consider being more conservative with your milk.
3. Then cook your pancakes as per usual. Heat a greased non-stick pan on medium heat until hot. Cook 4-5 inch pancakes (about 1/3 c. batter) until bubbles form on the top and the sides begin to look cooked. Flip and cook until browned on the other side.
Refrigerate leftovers within two hours.
Enjoy…every bite! 😉