One of the best perks about having a blog is that it's become a great online record of all the things I've made for my kids; and it's reminded me to take more photos of them.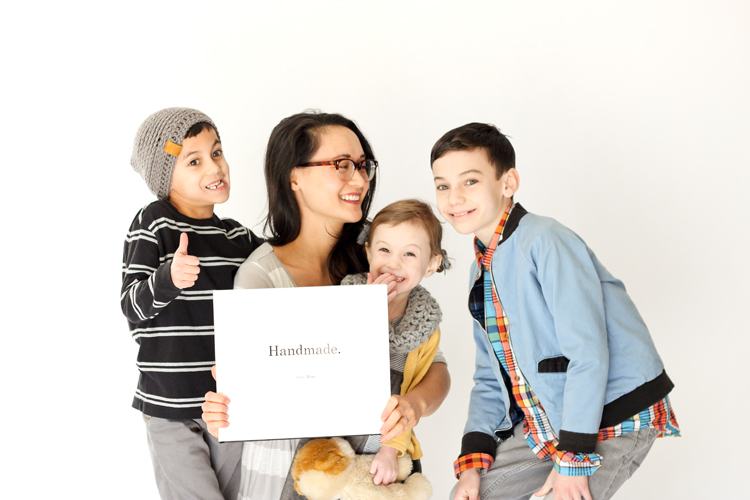 While it feels good knowing I have an digital record of their handmade childhood, nothing beats having those photos in print. Amirite!?
I teamed up with Blurb to create a collection of all those memories, so I could have them all in one place… in print, in a beautiful hardcover book.
It is probably the most favorite thing I've made this year. Hands down!
As a mama and a maker, it feels incredibly gratifying to have all that love documented in such a pretty way. It's a book I know I will treasure for always.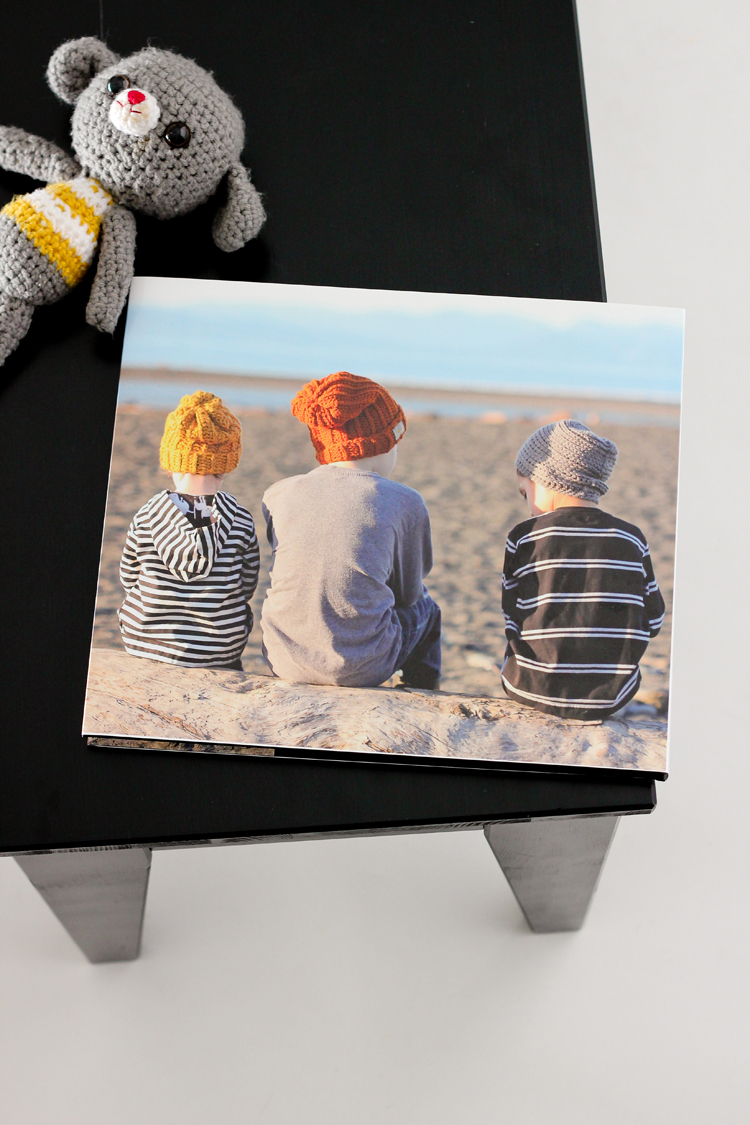 To make my book, I selected my favorite projects from the last five years, when my blogging and handmade journey began, and just uploaded the pictures right into the Blurb's BookWright program.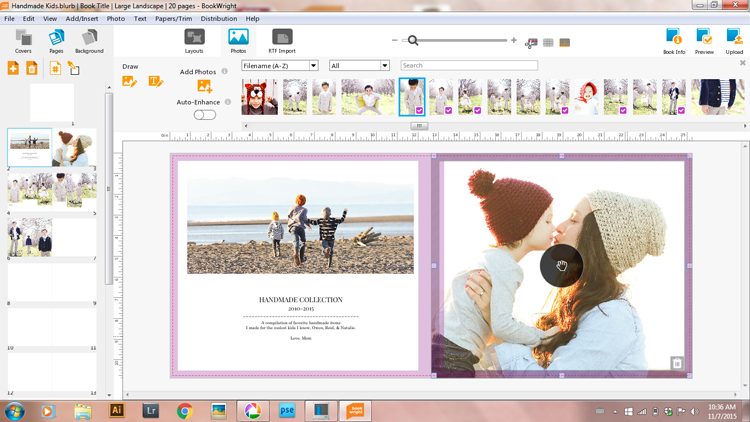 I ended up including about 80% of my projects…it was so hard to narrow it down! Luckily adding pages to the basic template was a breeze. Even though my book ended up kind of ginormous, it only took me about one late night to put it all together. It was super simple!
I didn't get fancy, or overly organized with the layout. I wanted each page to be a bit of a surprise, so I let the timeline jump around.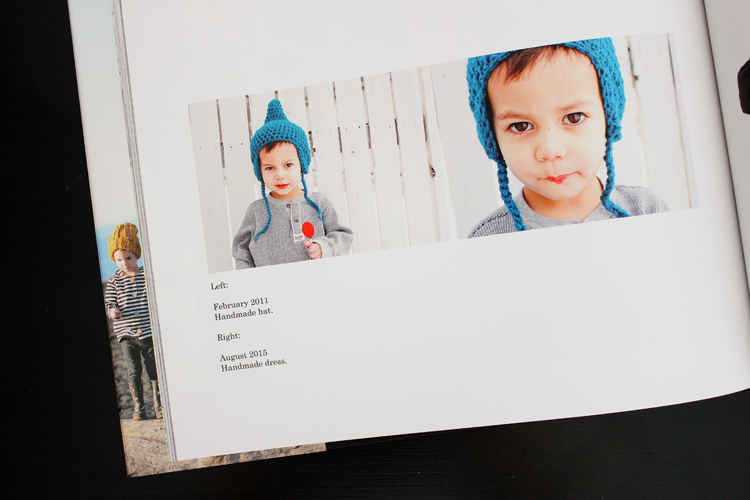 I only grouped things together by season, and then let the years mix together. So, on one page you have pictures of  a sweet toddler-sized Reid, and on the next page you see him jumping around on the playground.
And yet it all still feels cohesive because of the seasonal themes that tie them together.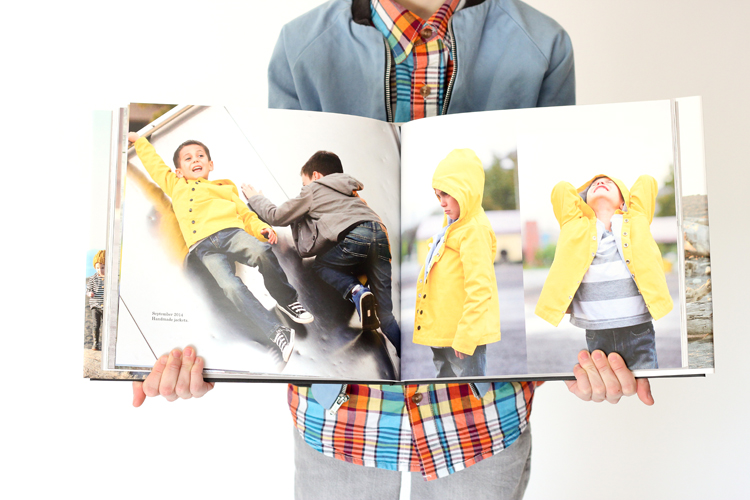 I chose the 9 x 13 inch book with the dust jacket cover option, so it's a black linen hard bound book underneath…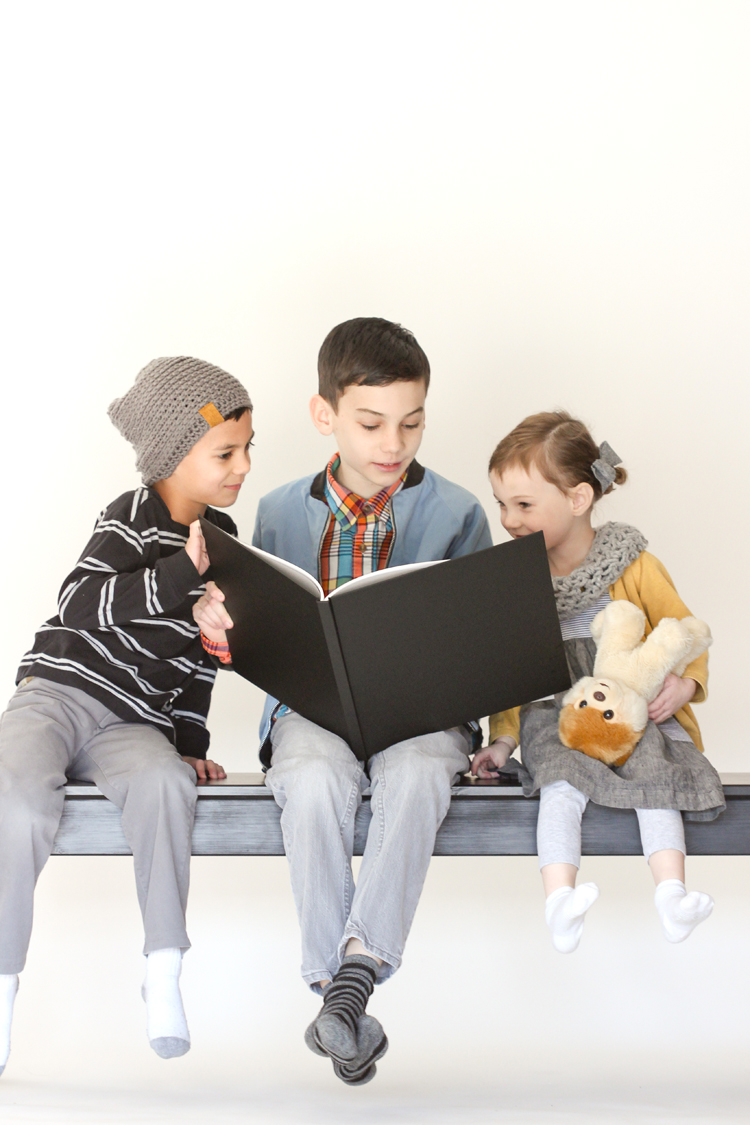 …With a pretty, glossy, dust jacket that I slide back on when the kids are done looking through it. 😉 😉
I love that the dust jacket offers little nooks and crannies to add more photos and surprises. I left the front completely white, except for some text, but I included some pictures on the flaps and the back, as well as a little dedication on the inside front flap.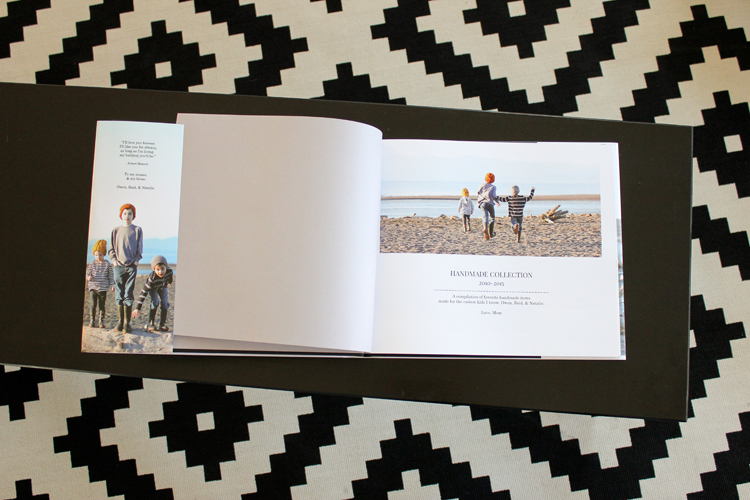 Owen is my oldest, and has been on this handmade journey with me the longest. He is kind of growing out of the "I think it's cool that my mom made this for me" stage, so the photos of him are especially sentimental to me.
Thankfully, he is not totally too cool for school yet. He still wears this blue jacket all. the. time, even though I tell him it's too small…and then he disagrees, and I sigh in defeat because I secretly love that he still wears it. It's a bit we repeat almost every week.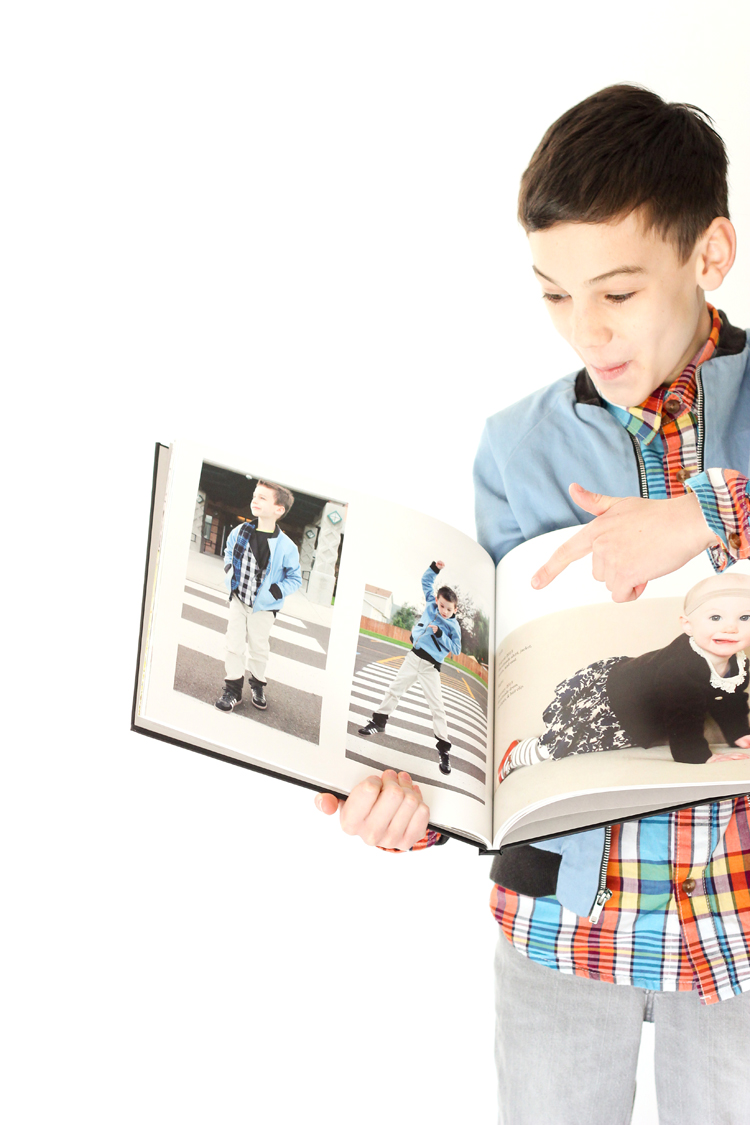 And this hat has become Natalie's favorite hat now, but I made him put it on for this picture and he was a good sport about it. Ha! I've got to milk this while I still can!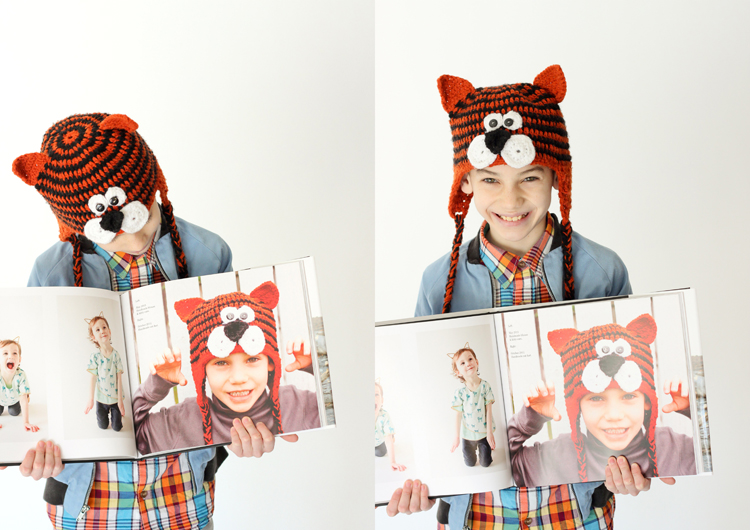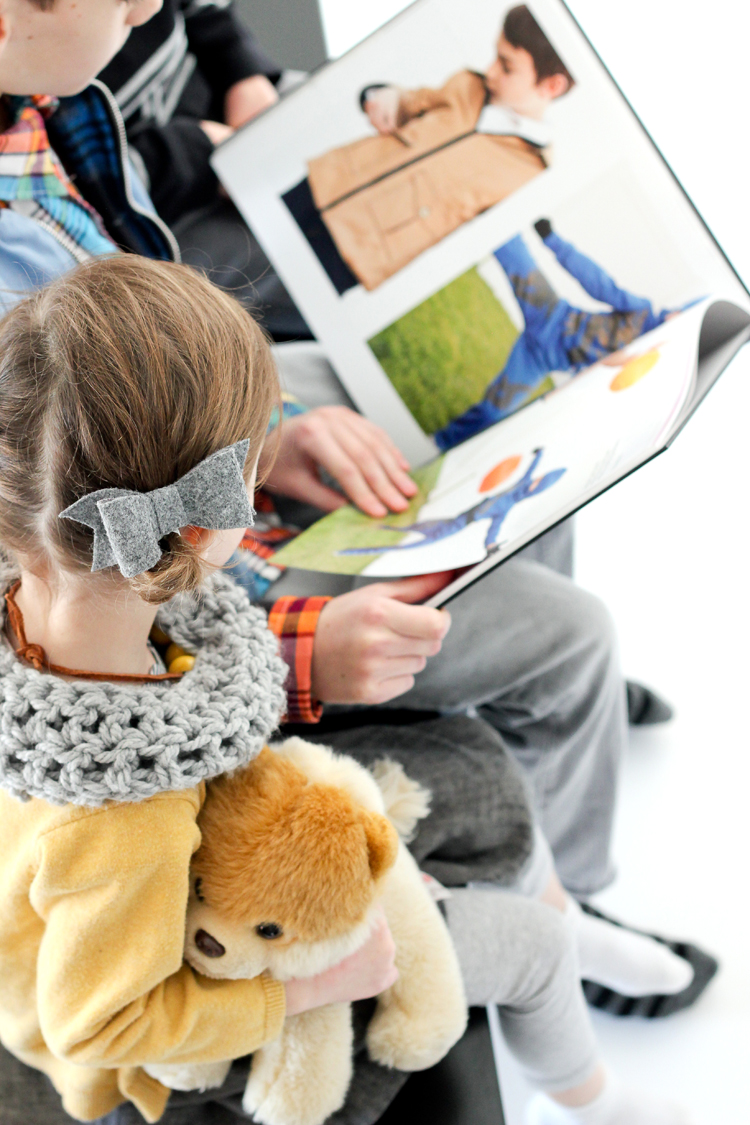 Overall, I am super pleased with the book. I used all the standard options and the paper quality and print quality is excellent. Everything looks professional and well made. There was one hiccup after I sent my completed book off to be printed, but Blurb customer service was on top of it and took care of it for me with minimal effort on my part (and it didn't seem like they knew I was doing a review or anything). I couldn't be more pleased with the whole experience!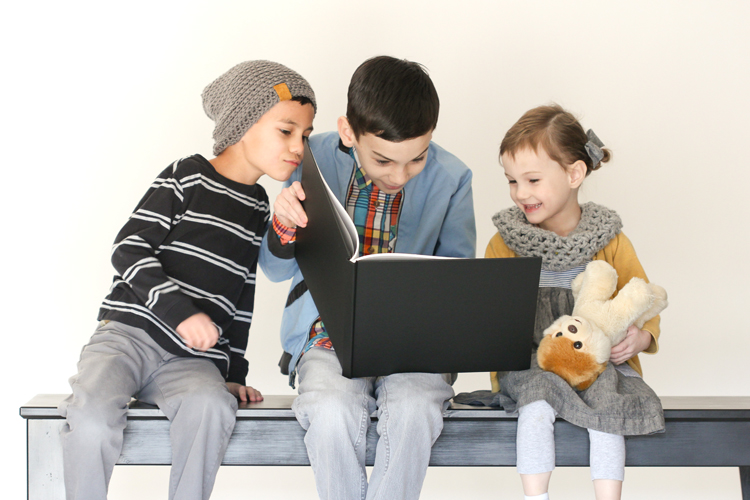 The holidays are such a crazy, busy time, but I am so glad I carved out a night to make this book. It feels so good to have a visual keepsake reminder of why I do what I do, and it's the gift that keeps on giving every time we sit down to flip through and reminisce.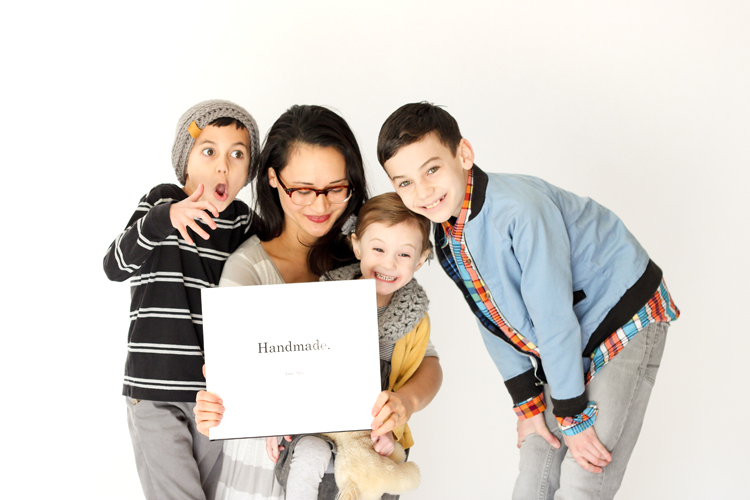 Disclaimer: This post was sponsored by Blurb. Although all my sponsored content is carefully curated and sincerely crafted, it is not often that I get to do something this personally meaningful, with a such a great brand. It was a pleasure creating this book and post. I hope you feel inspired by it. Thank you for supporting the brands who support this site. 
If you're curious, here are the links to all the handmade items my kids are wearing in this post:
Reid's hat, Reid's pants (when they were Owen's), Natalie's dress, Nat's scarf, Nat's necklace, and Owen's jacket (and my dress).