Today, I'm sharing another crocheted cowl scarf…except it's toddler sized.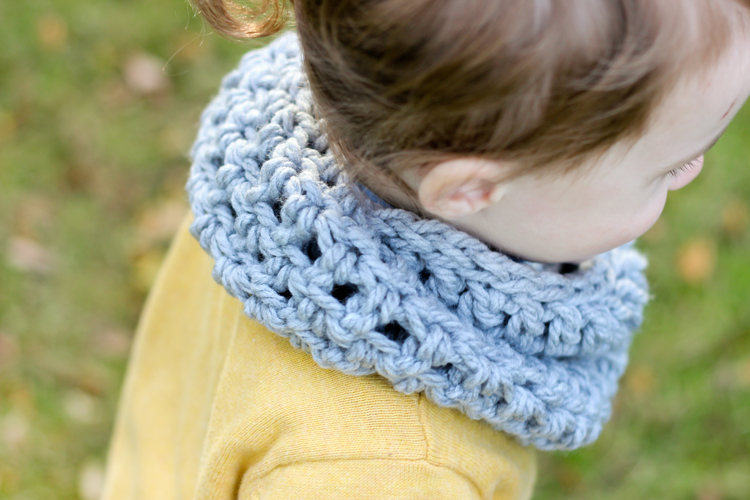 Eeep! Cute right?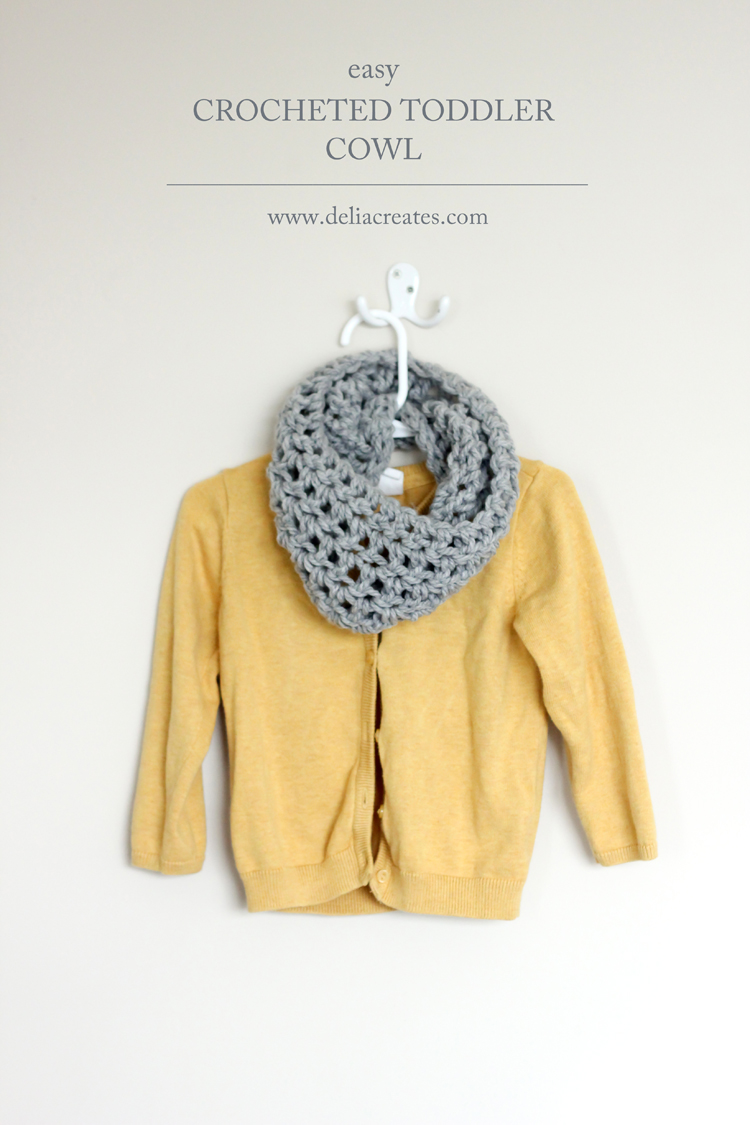 Everything is cuter toddler sized.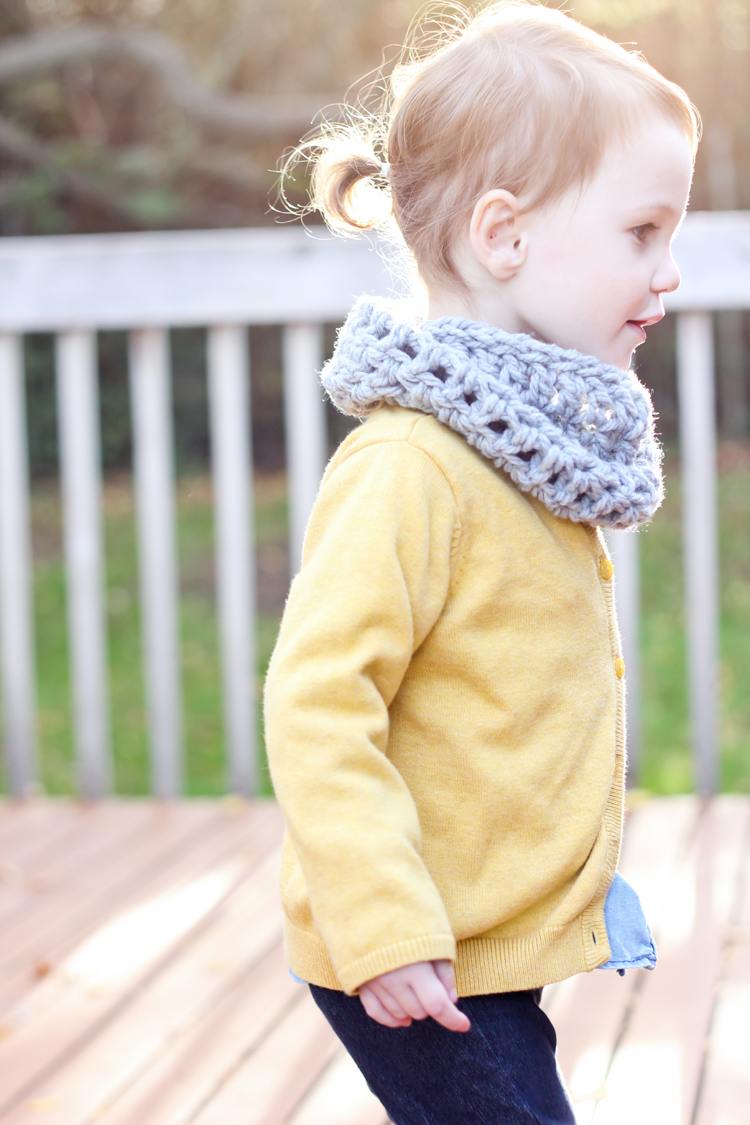 Today's project was actually not really planned. I have been working on planning out Natalie's holiday dress (stay tuned for a 5&10 Designs sale coming up!) and was playing around with accessories to go with it. I decided to make a test cowl scarf, and take a few tutorial pics just in case and I am SO glad I did! It turned out super cute and Natalie loves it.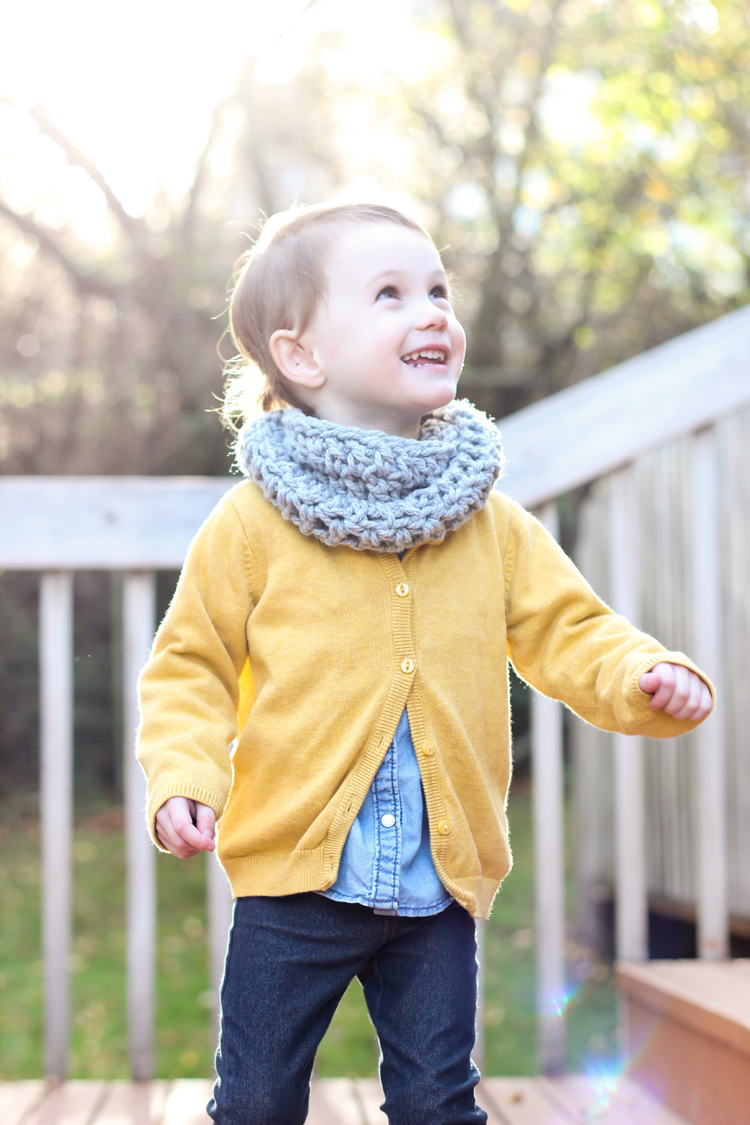 Like really loves it.
I was honestly worried that she would hate it and not keep it on, but she has even begged to wear it to bed a couple of times. When she saw it, glee leaked from her eyes and she asked, "Is it for Natty?"
You betcha girl. 🙂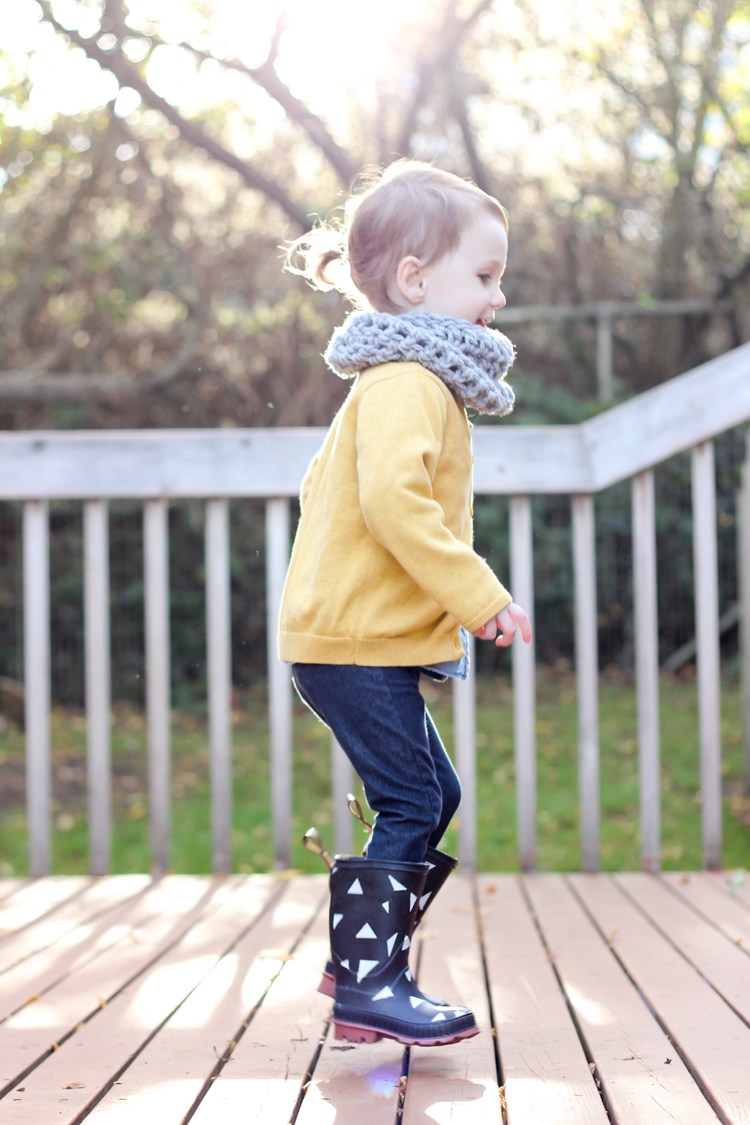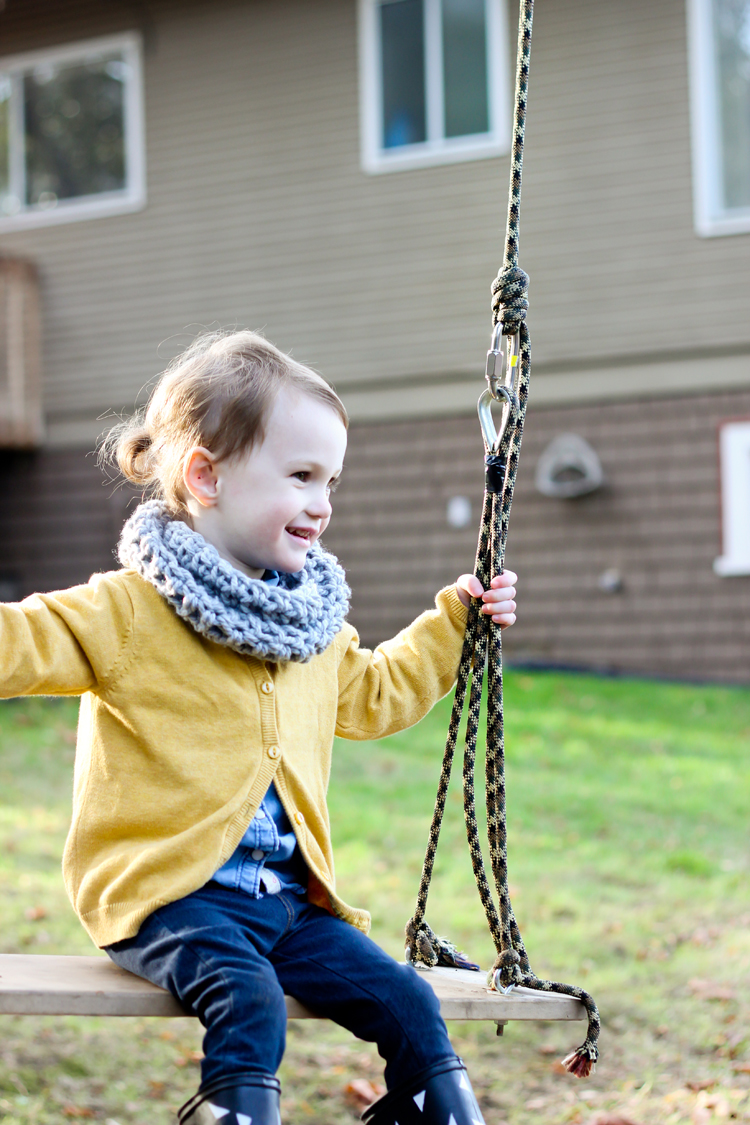 The great thing about this pattern, is it is SUPER speedy. Like, whip it out in 15 minutes or less kind of speedy. If you are a true beginner…maybe an hour. Really…so fast!
MATERIALS
super bulky yarn (size 6) – you only need maybe 30-40 yards? or 30-40 grams P hook/ 11.5 mm yarn needle  
ABBREVIATIONS
dc = double crochet
GAUGE
4 x 4 inch square = 6 dc x 4 rows
SIZING
Fits ages 18-3. Add chain stitches if needed for larger heads. Please use discretion as the scarf could potentially become a strangulation hazard.
PATTERN
Chain 28.
Foundation Row: Join last chain and first chain with a slip stitch.
Row 1: Chain 2. Dc in first chain. Dc around, crocheting the tail into the first row as you go. Slip stitch to top of chain 2. (28 stitches including chain 2)
Row 2 – 5: Repeat Row 1.
Row 6: Slip stitch around. (Keep it somewhat loose, so the shape of the cowl doesn't change).
Tie off yarn. Cut from skein, leaving an 8 inch tail. Weave tail in with a yarn needle.
Easy, peasy.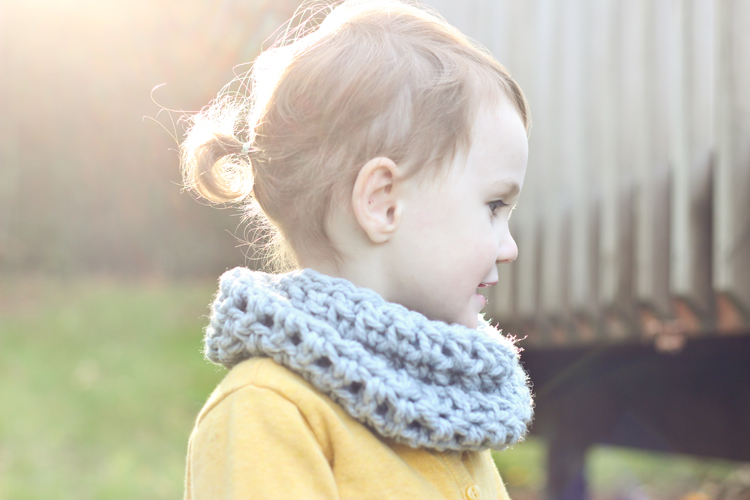 If you need more basic instruction, I offer some stitch tutorial links and a more explanatory tutorial/pattern for adult scarves HERE and HERE.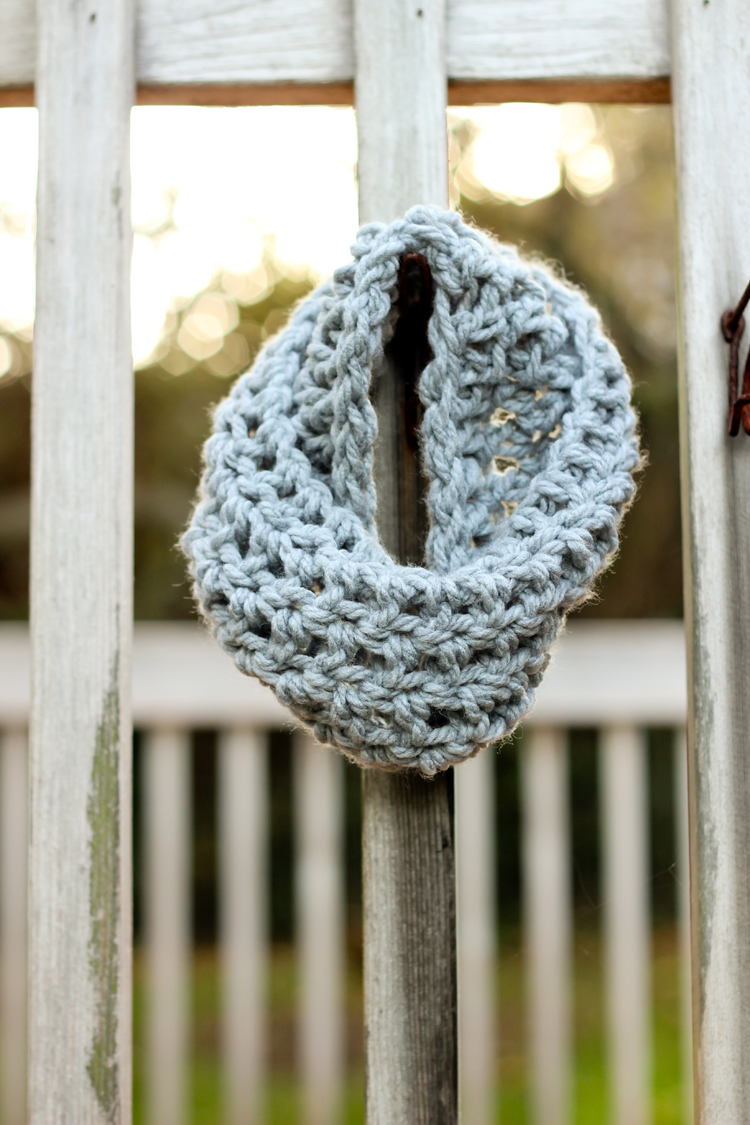 You can mix up this pattern and use a thinner worsted weight yarn to get a meshier, looser look. Just be sure to maintain the gauge or add stitches and rows if needed. I'm thinking of trying that out for Nat's holiday dress. I have a feeling I may end up crocheting several scarves in different colors!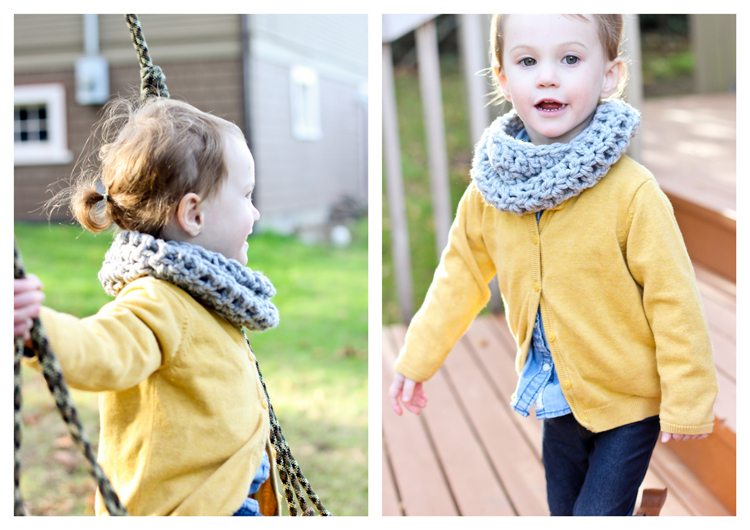 And…I'm thinking that won't be a problem. Contrary to what my husband thinks, a girl can never have too many scarves…and shoes…and bags. Amirite?  😉 Especially when they are handmade.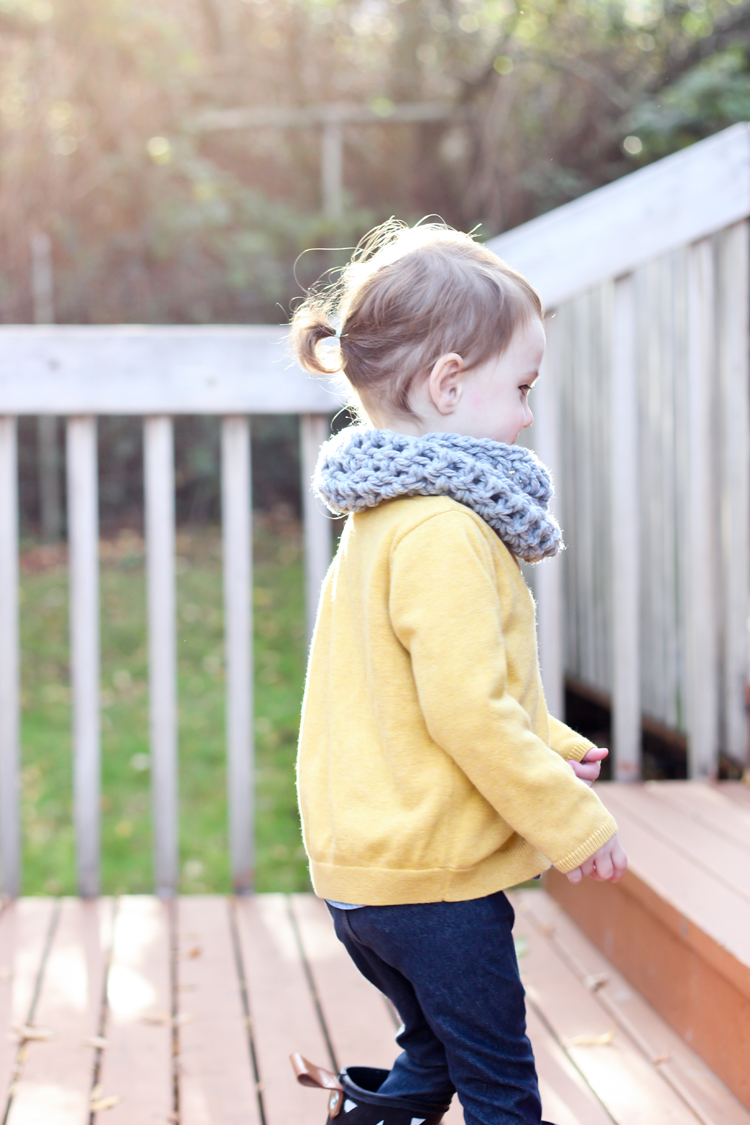 For more crochet projects and patterns, check out my crochet gallery HERE.
Sources: Yarn – Bernat Softee Chunky in Grey Heather // jeggings – Walmart // denim shirt – Carter's// yellow cardigan – H&M // boots – upcoming DIY.