As newbies to the Pacific Northwest, we quickly learned that rain boots are a necessity.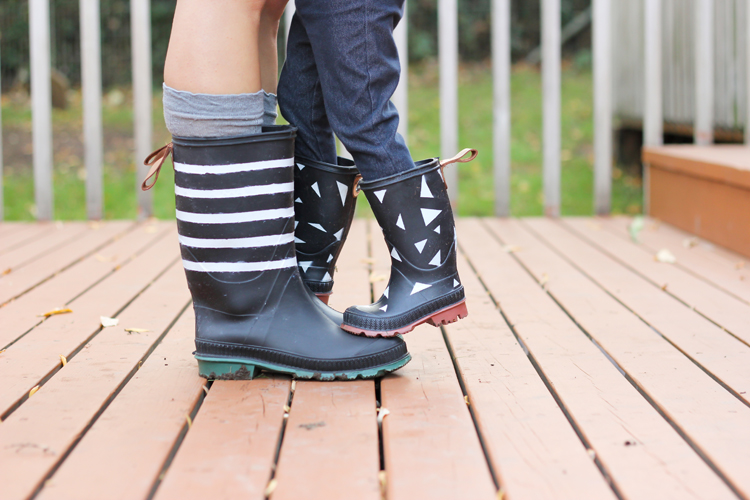 As a chronic DIY-er, I decided to pick up some plain black "chore" rain boots from Walmart (Target sells them too) and fancy them up a bit.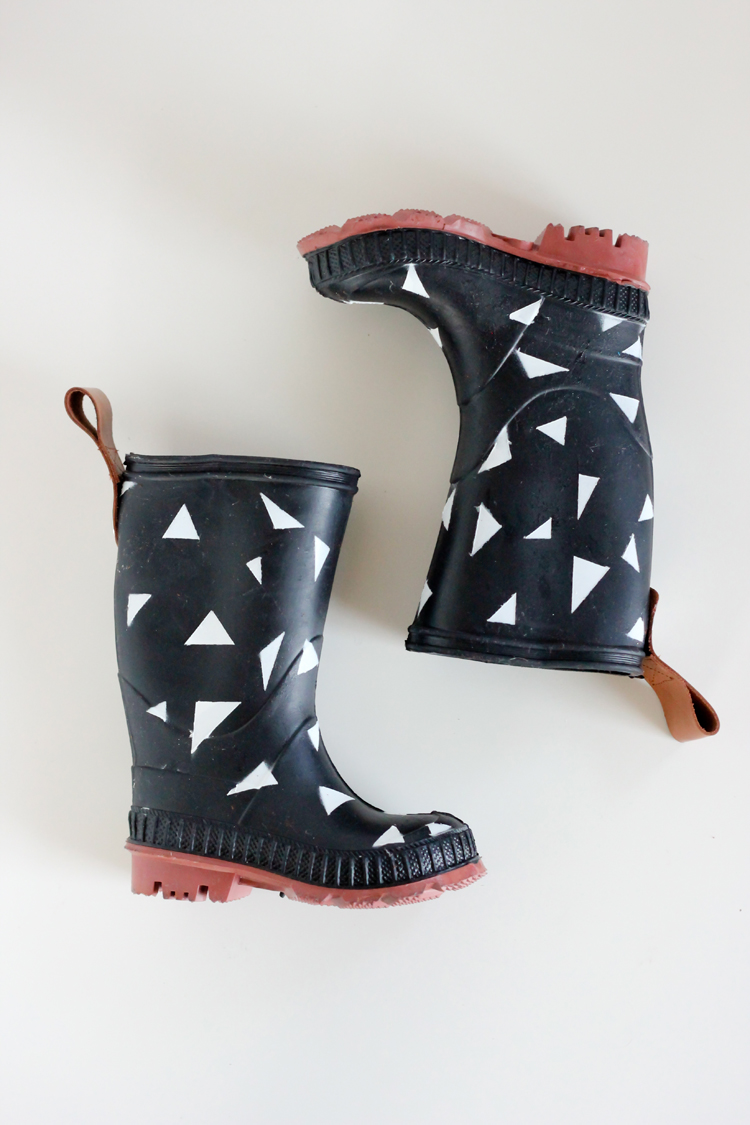 I read several tutorials online about spray painting rain boots and noticed that a lot of them complained that the spray paint tends to crack.
I had been experimenting with rubberized spray paint for another project (coming soon if it works out ;)) and wondered if it could work with the boots. It is normally used with cars, but can be used for crafting as well.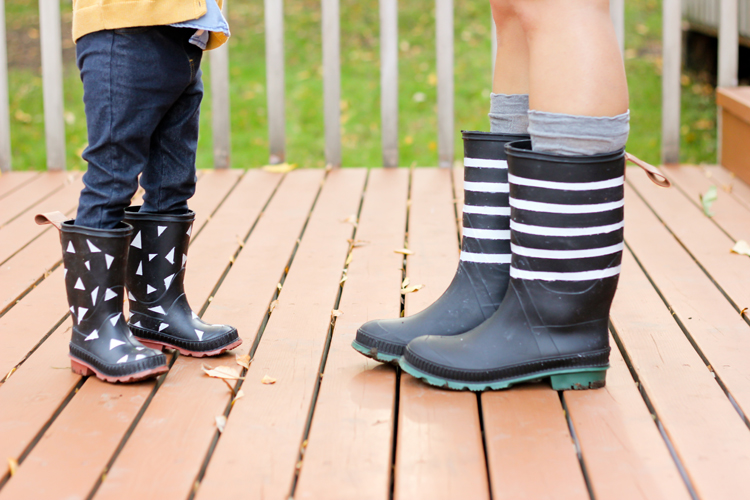 It turned out pretty well! It's flexible and moves and bends with the boot, so there is no cracking.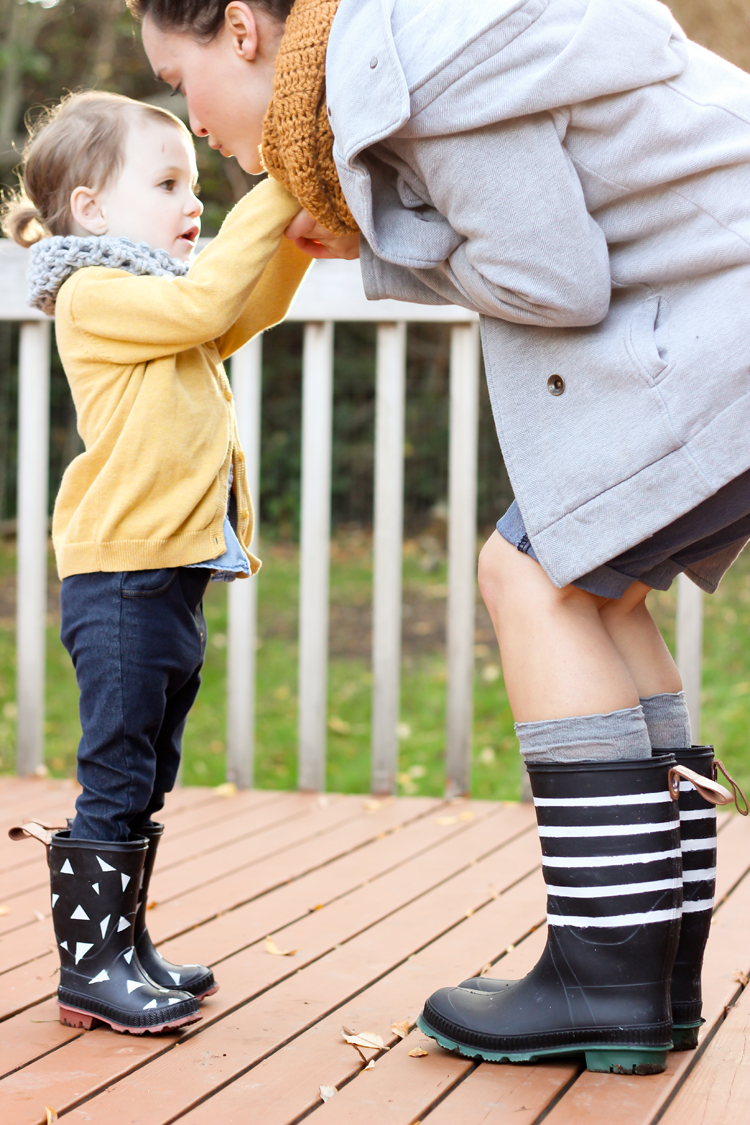 It is not fool proof though, and can be peeled off, if too much friction is applied. Still… I think it's a good alternative to traditional spray paint.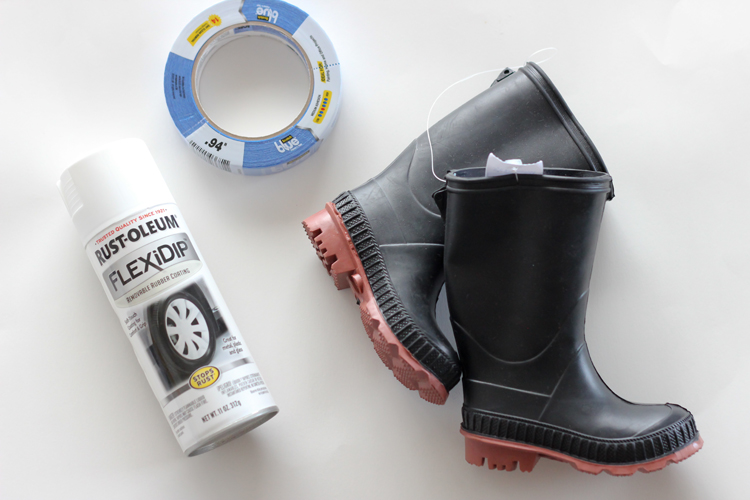 MATERIALS
Rubber boots Rubberized Spray Paint (I used
Rustoleum Flexi-dip
, but Plasti-dip also works) Painter's tape Craft scissors Optional if adding leather straps: scraps of leather, exacto knife,  extra large eyelet grommets, and grommet tools  
NOTES:
– This project works best, if the rubber boot has a gummy or sticky feel to it. My boots (also from Wal-Mart) had more of a smooth, matte finish and was much more difficult to work with than my daugther's kid chore boots. I had to use duct tape instead of painter's tape to get it to stick to the rubber. The duct tape left a sticky film on the boots, which I then had to remove with vegetable oil, and then soap and water. You can see in the picture, that there is still some tape residue that I sort of just gave up trying to get off. 😉 The tape residue removal process is a bit tedious.
TUTORIAL: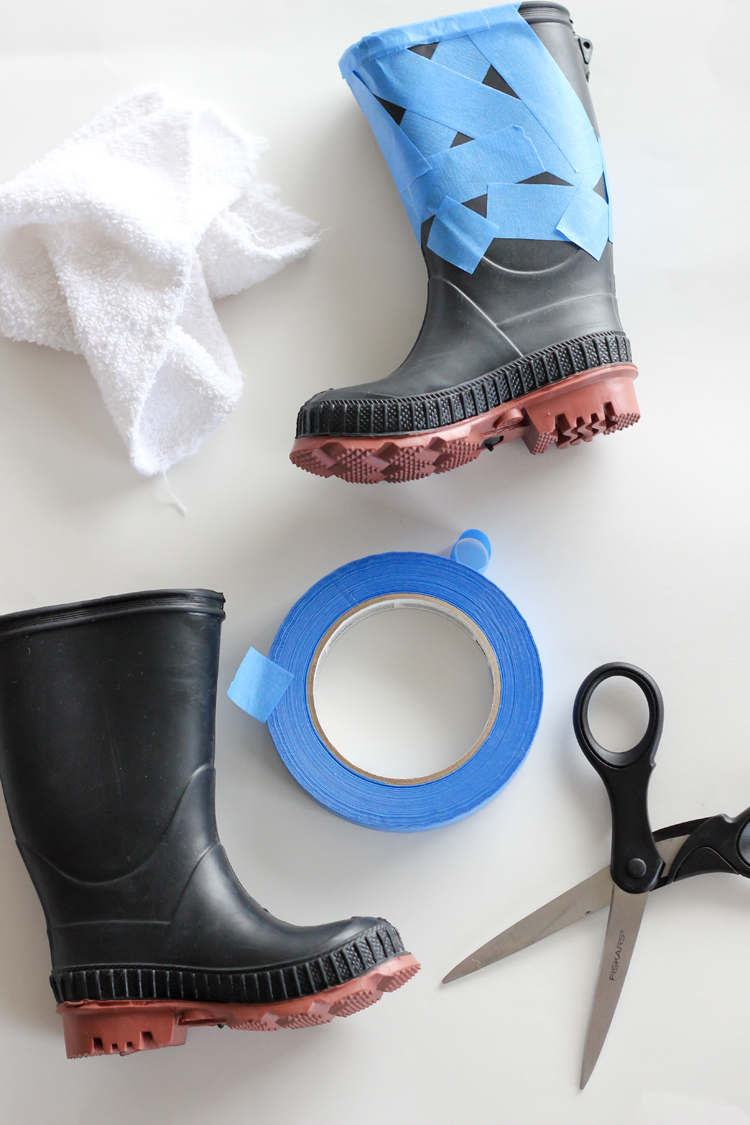 STEP ONE: Clean the boots and make sure they are completely dry before you begin.
STEP TWO: Tape off the desired design on the boots. Be sure to tape off the inside of the top of the boot and stuff newspaper inside as well, so the paint doesn't spread to the inside. You may also want to tape off the base of the sole.
If you are painting on a design, like my boots, be sure to cut the tape with craft scissors, so you can maintain clean edges throughout your design. This will gum up your scissors, but it's worth it.
Double check that all edges of the tape are pressed down evenly, to prevent paint from bleeding through.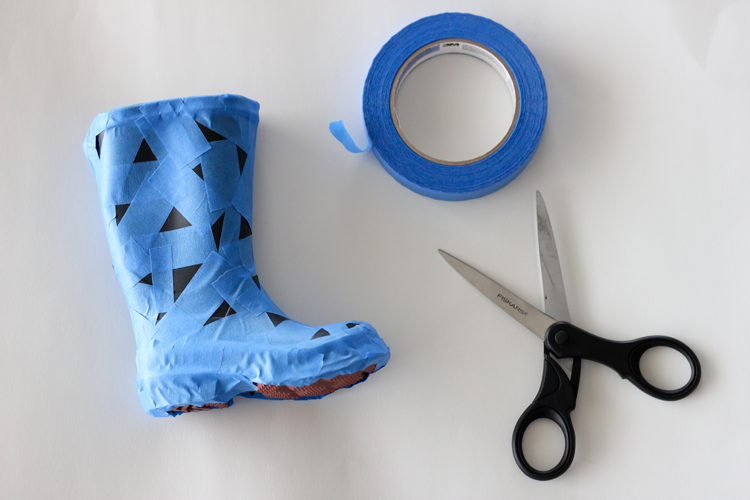 STEP THREE: Take your boots to a well ventilated area that has been prepped for painting. Spray your boots, with a lot of very light, thin coats of paint, according to the instructions on the can.
Contrary to the instructions, I do not however, recommend removing the tape while it is still wet. You are technically supposed to do that so that the rubber paint won't get pulled off after drying (it can do that if you peel too hastily). If you feel nimble enough, go ahead and remove the tape while it's wet. I however wasn't agile enough to pull the tape off without damaging the design. I waited until it was completely dry (at least 24 hours later) and then carefully removed the tape, taking great care to not peel the rubber paint off with it.
STEP FOUR: Clean the boot from tape residue. A little bit of vegetable oil is helpful in removing any stubborn bits of tape goo.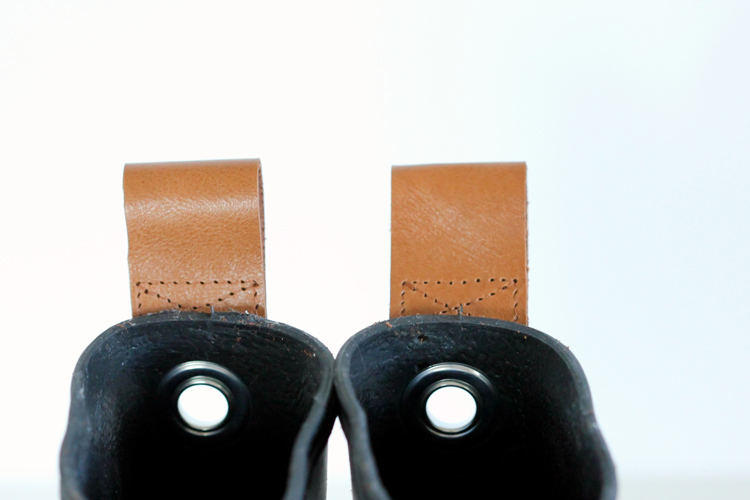 STEP FIVE: (OPTIONAL) Add a leather tab strap to the back of the boot.
a. Cut leather strips about 1 1/4 inch wide and 6-7 inches or so long. It's up to you how large you want your tab.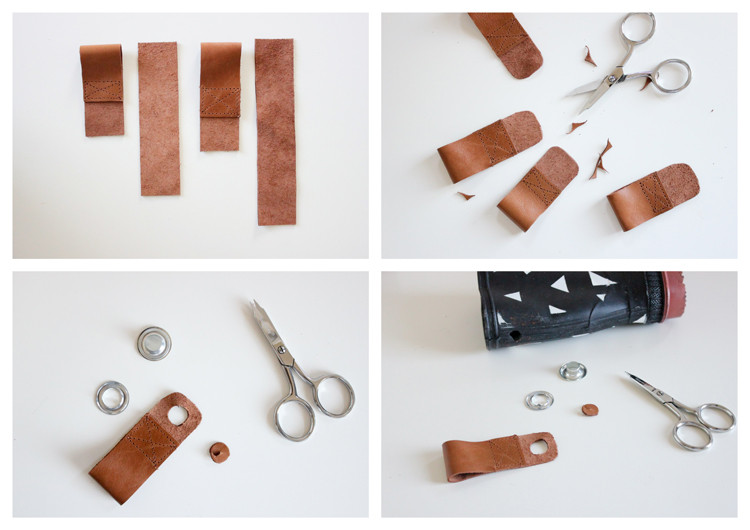 b. Fold the leather strip in half, leaving one side about 1 inch longer than the other.
c. Sew the strap folded in place, as pictured. A leather needle and a lengthened stitch is very helpful at this step.
Alternatively, you can use leather adhesive, if you choose not to sew it.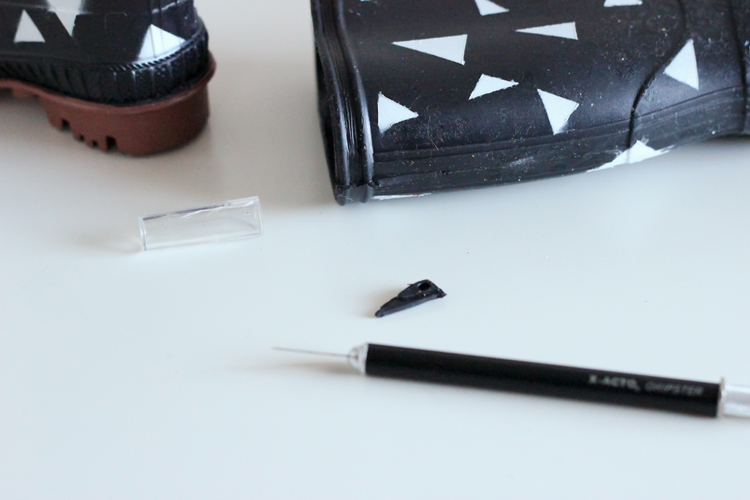 d. Using an exacto knife, trim any rubber details off the back of the boot, if there is some.
e. Cut a hole into the leather strap and the back of the boot, where you want the eyelet grommet and the strap to go.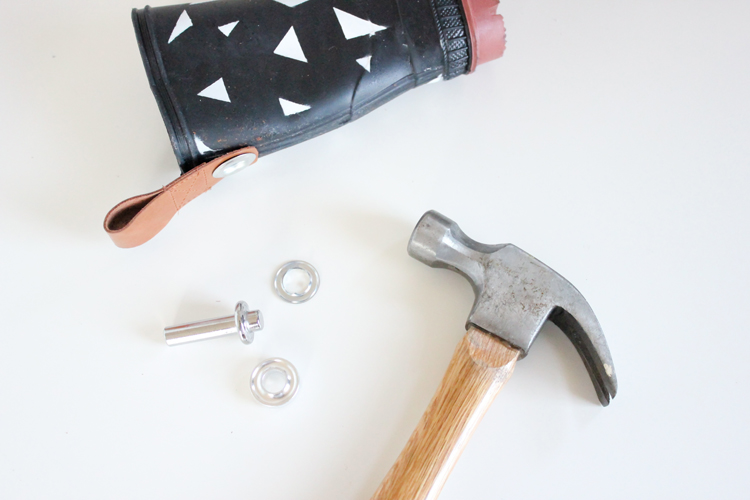 f. Install the leather strap and grommet, using the tools that come with the eyelets/grommets.
*If you can find a grommet with a longer shank, you can fold the leather strap over to the inside of the boot  instead of sewing the tab in place first. My grommet wasn't long enough and couldn't handle two layers of leather plus the thickness of the boot.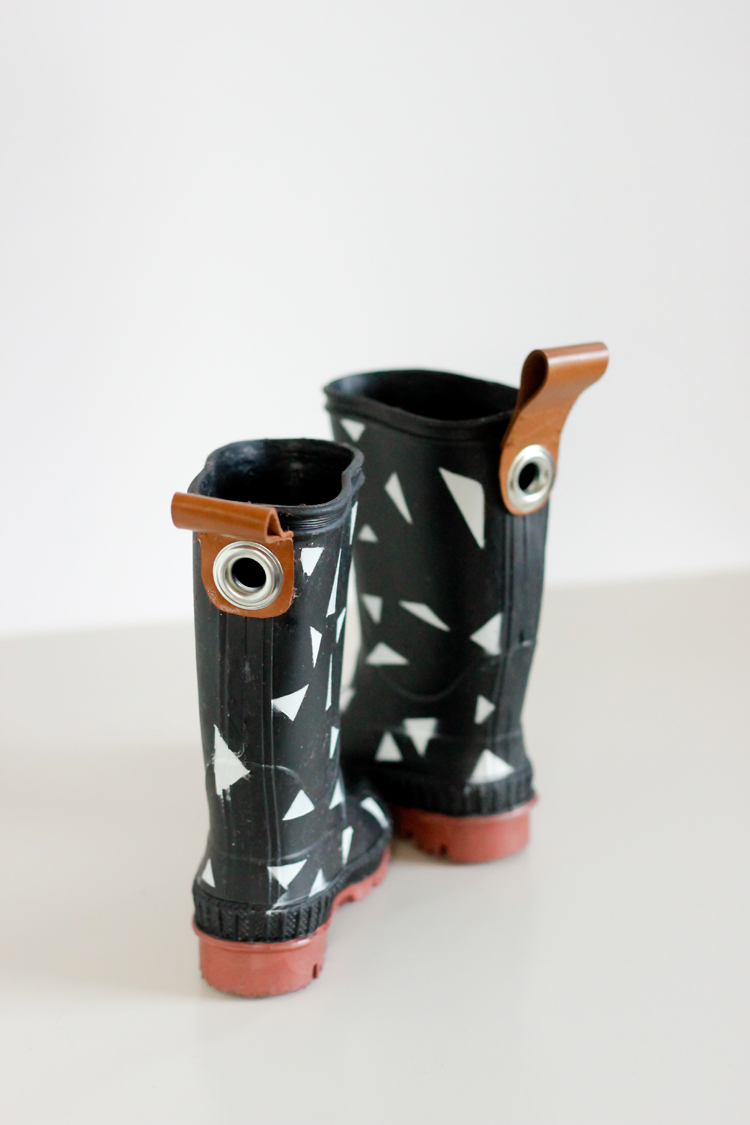 The straps stand up pretty well on Natalie's boots. On mine, they flop down, but I am still glad I have them, because they add a nice bit of interest and color to balance the design.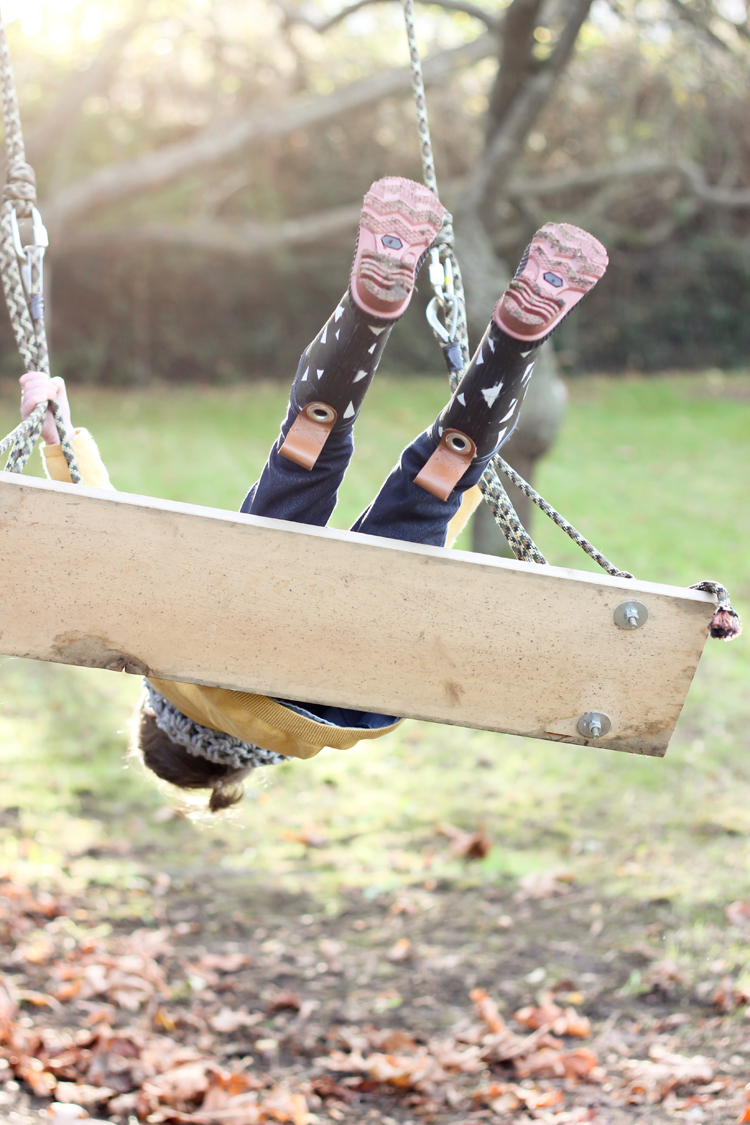 Natalie's a fan. :)…and I am too.
Of the boots and the girl. 🙂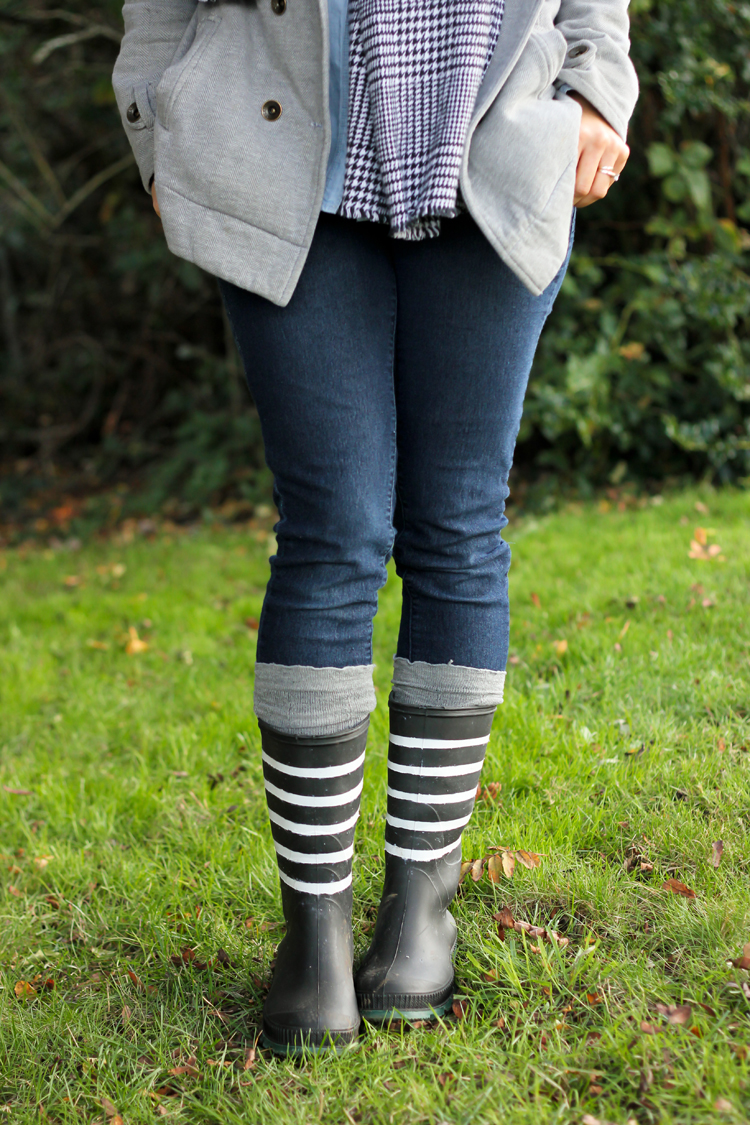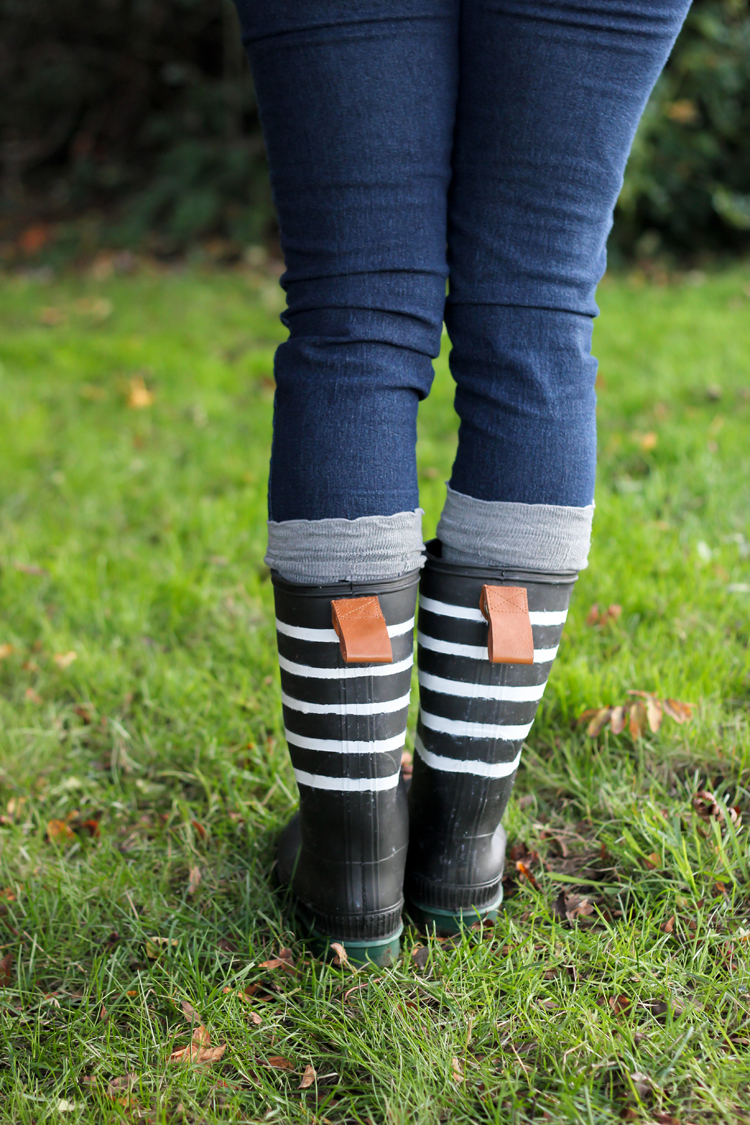 Sources: rubber chore boots – Walmart // Flexi-dip Rusteoluem spray paint – Home Depot // Extra large eyelet grommets – Jo-Ann (I got the eyelets that came with the tool and are the largest eyelets Jo-Ann carries)// scarves – Natalie's, mine and mine