I know, I know. I've been going mini paper house crazy.
I had been wanting to try one of those Christmas Putz Village wreaths that Martha Stewart wowed the craft world a couple years ago (Alison has a great one here), but the price tag on putting one of those together can make your tongue wag. The bulk of the cost is in the mini houses, so when it finally dawned on me to just shrink down my trusty Christmas advent house file (which I made into a larger Gingerbread house version too), I knew I had to give it a go.
I was going to copy the Martha Stewart wreath, because it's so gorgeous, why would I not?… but then I found this white wreath at Jo-Ann for $4 and decided to take a detour. That lead to metallics and glitter paper and the rest is history…
A couple things…photographing a white wreath plus metallic houses is way harder than I thought it would be. This looks way better in person, I promise. 😉 Plus, while I think the white wreath is a fun spin on the original, I'm still pining for the Martha version. The good news, is this takes hardly any paper, so it will be fun to try again next year with a new color scheme!
MATERIALS: 
cardstock paper
hot glue
fake snow fluff*
bottle brush trees (I used four small bags)
*I wasn't sure if I would need fake snow, thinking the white wreath would look snowy enough, but the houses really need something under them so they don't look like they're completely floating. Luckily, as a sewer I had some poly fill on hand to use. It worked fine, but it does look a little thin. Next time, I plan on looking for stuff intended to be fake snow.
STEP ONE: Cut houses.
PDF files (8.5 x 11 inch paper): mini-house-files-for-wreath
PNG files (8.5 x 11 inch paper):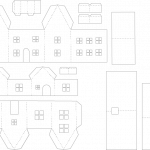 Mini Paper houses for wreath.studio3 (12 x 12 inch paper)
STEP TWO: Assemble houses. 
STEP THREE: Assemble wreath.
Place the houses, "snow," and trees as desired and hot glue them in place.
A couple bucks for the paper, maybe $6 for the trees if you get them on sale, and then the cost of the wreath. Not bad!
Happy Christmas crafting friends!