Gingerbread houses without the candy? What is this elf magic?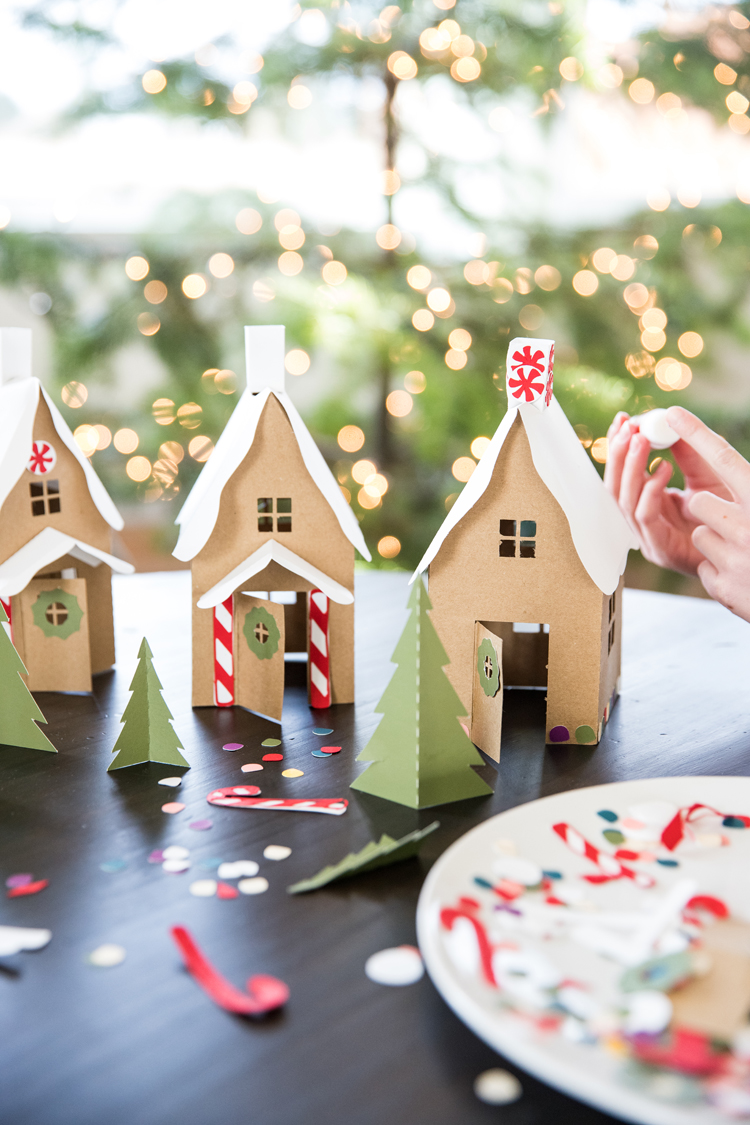 If you've been here awhile, you may remember the paper holiday houses I made a few years ago. They were meant to be like gingerbread houses but…not. This year, I decided to add paper candy elements and a white snowy roof.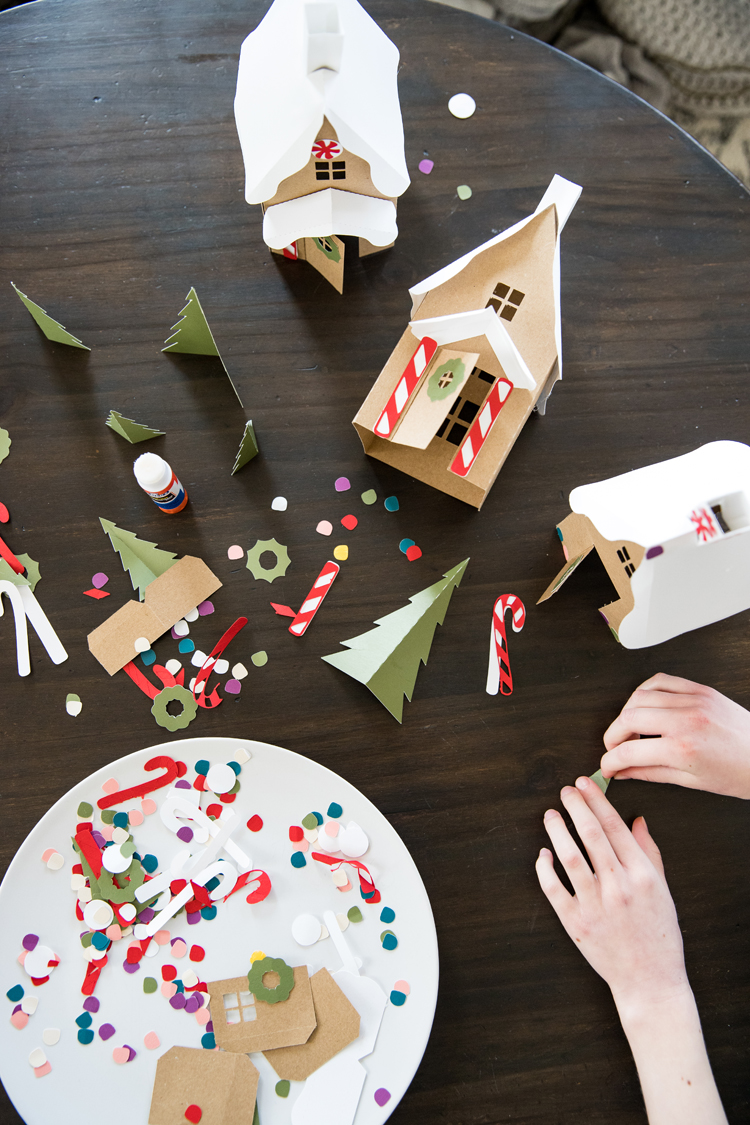 The house is a little smaller too, so it's easier to make a village of them if you want!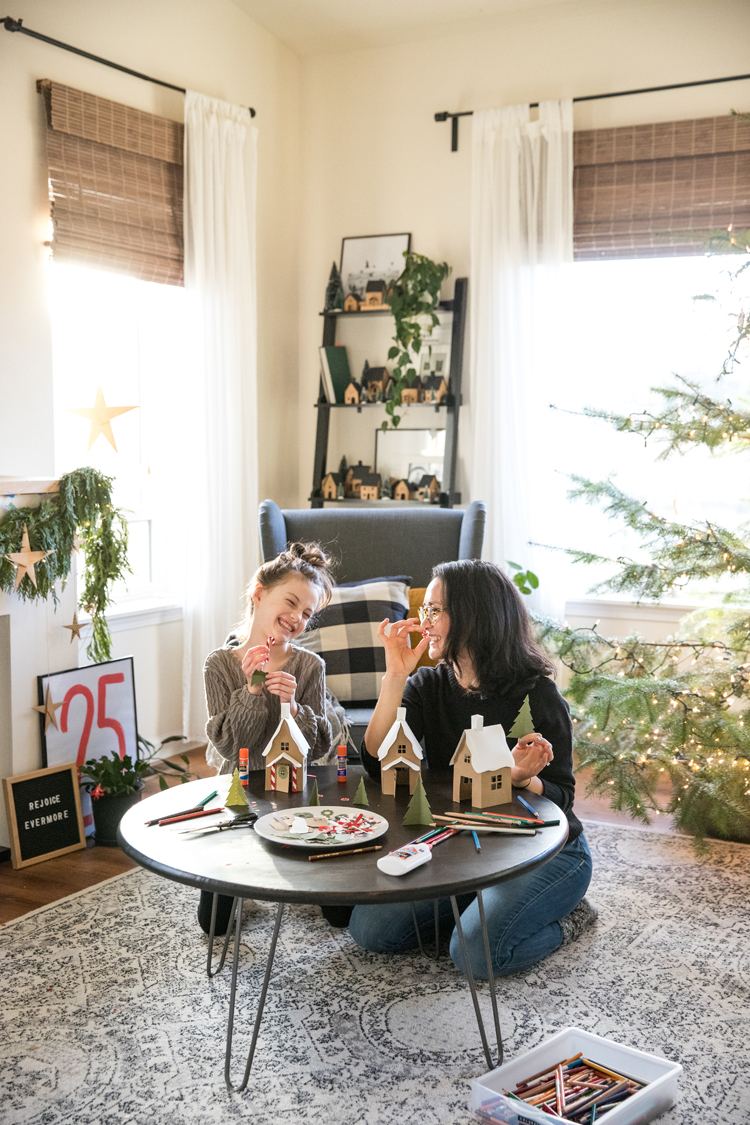 If you don't have a cutting machine, I also created printer friendly pdfs. They are like coloring sheets that you can turn into a house later. 3D coloring sheets…pretty cool!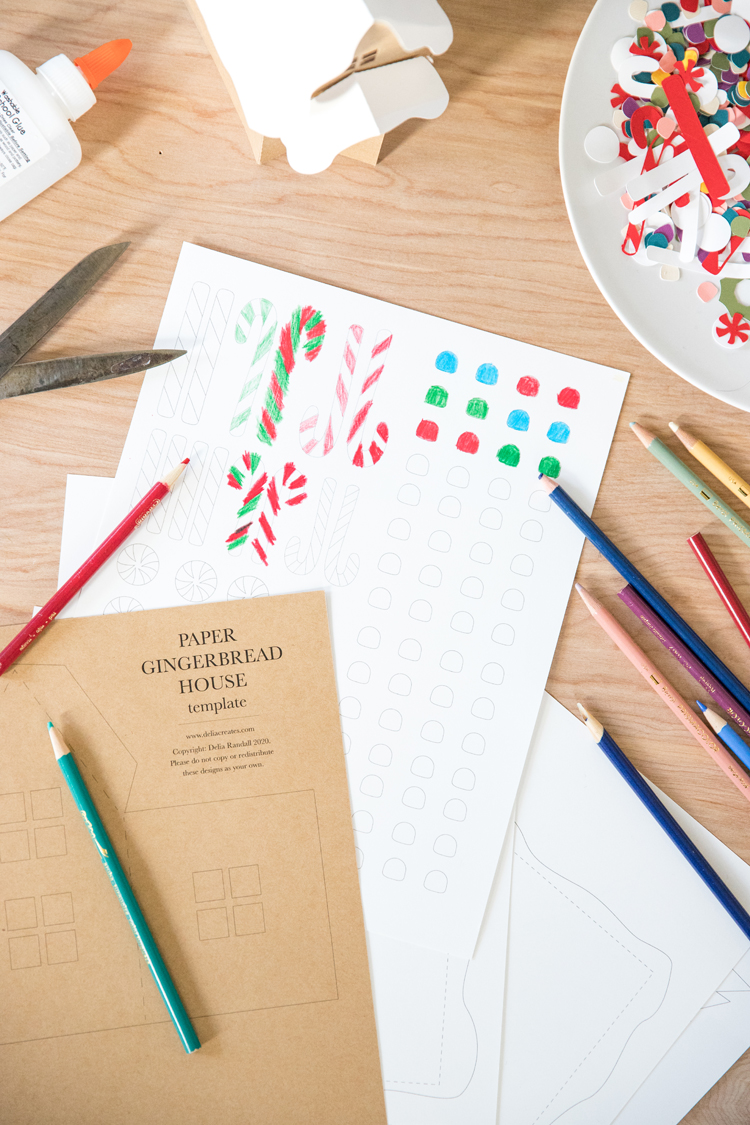 But there is a catch. It's A LOT of cutting of tiny things. You can use punches and get creative to make it easier, but…if you have a cutting machine, I highly recommend using the cut files. Or maybe you want it to be time to consuming so that the kids are occupied for longer. 😉 I've got you covered with both options below:
FREE DOWNLOADS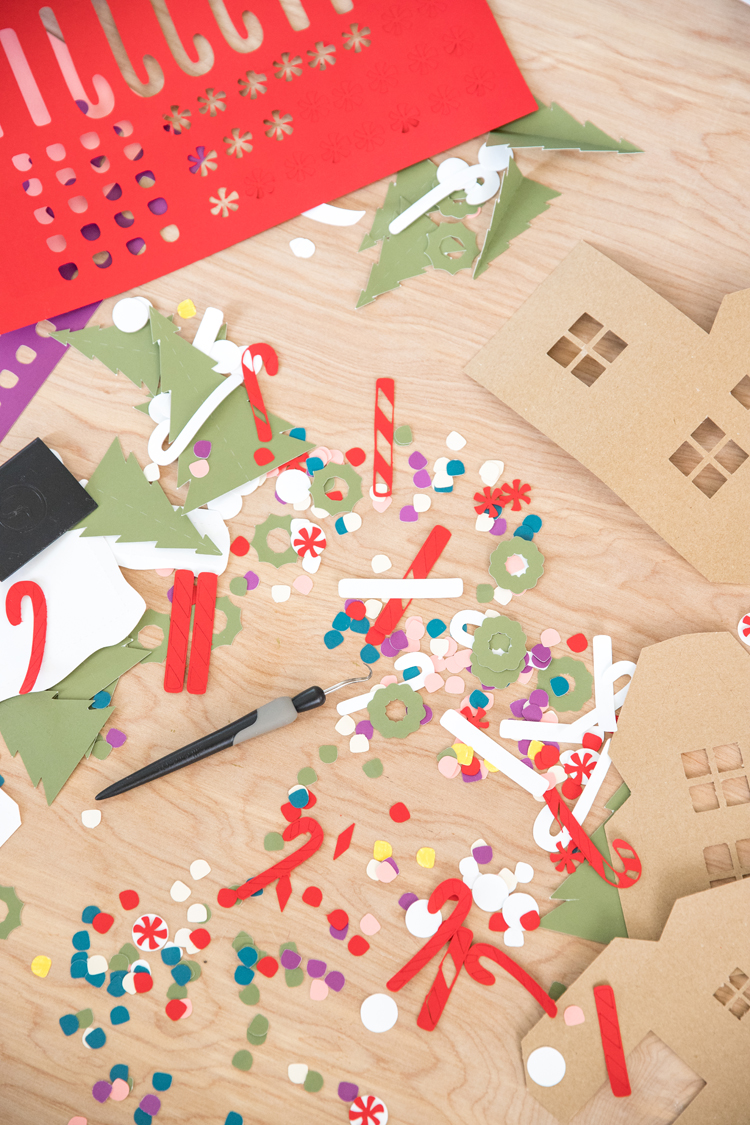 SVG CUT FILES
DXF CUT FILES

If you do not have an upgraded version of Silhouette software or you are using another cutting machine, the .svg files may not work for you. In my experience, .dxf files work better for the basic software that comes with your Silhouette cutting machine.
Note: All the files are able to keep their proper scale in this format, except for the plain roof. I'm not sure why. Just know, that if you decide on a plain roof, instead of a snowy roof, you will need to scale it down to fit the house.
There are separate files for each page, as well as one .dxf files that encompasses all the designs. The file that includes all the designs will need to be sized to fit the art board or to your preference.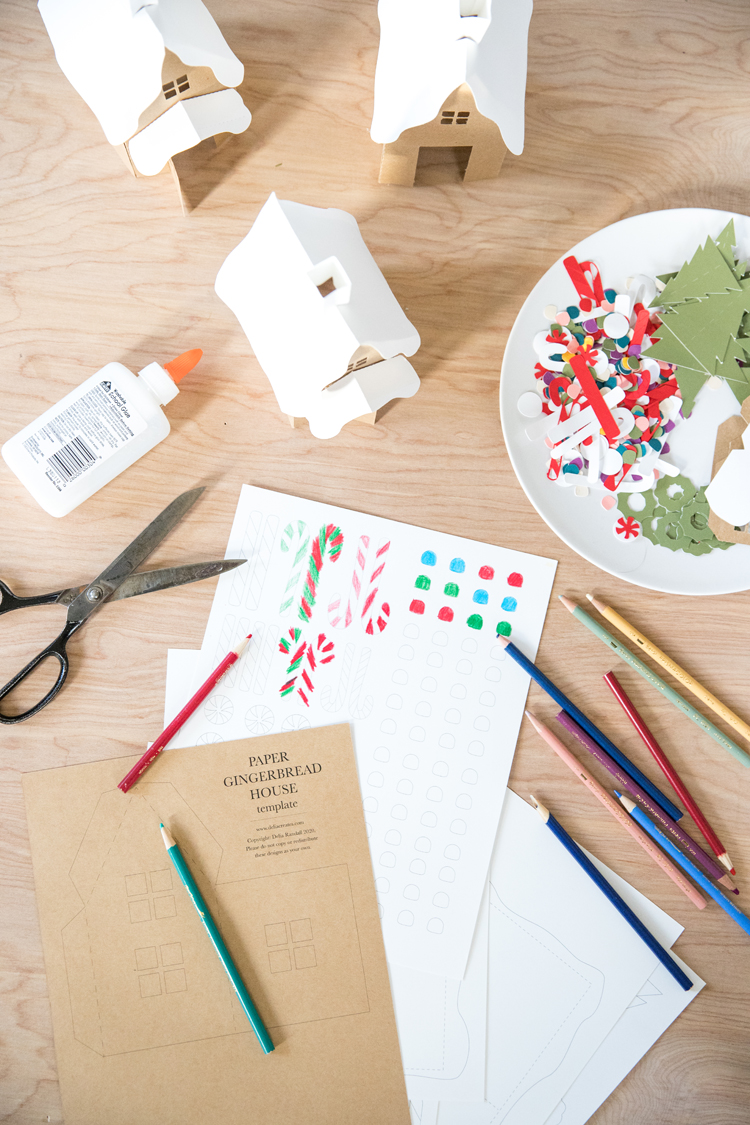 PDF FILES
Print on 8.5×11 inch card stock.
MATERIALS
cardstock (12×12 for cut files and 8.5×11 for PDF files)
scissors
hot glue (for house assembly only)
glue sticks and school glue (to add candy)
cutting machine if using cut files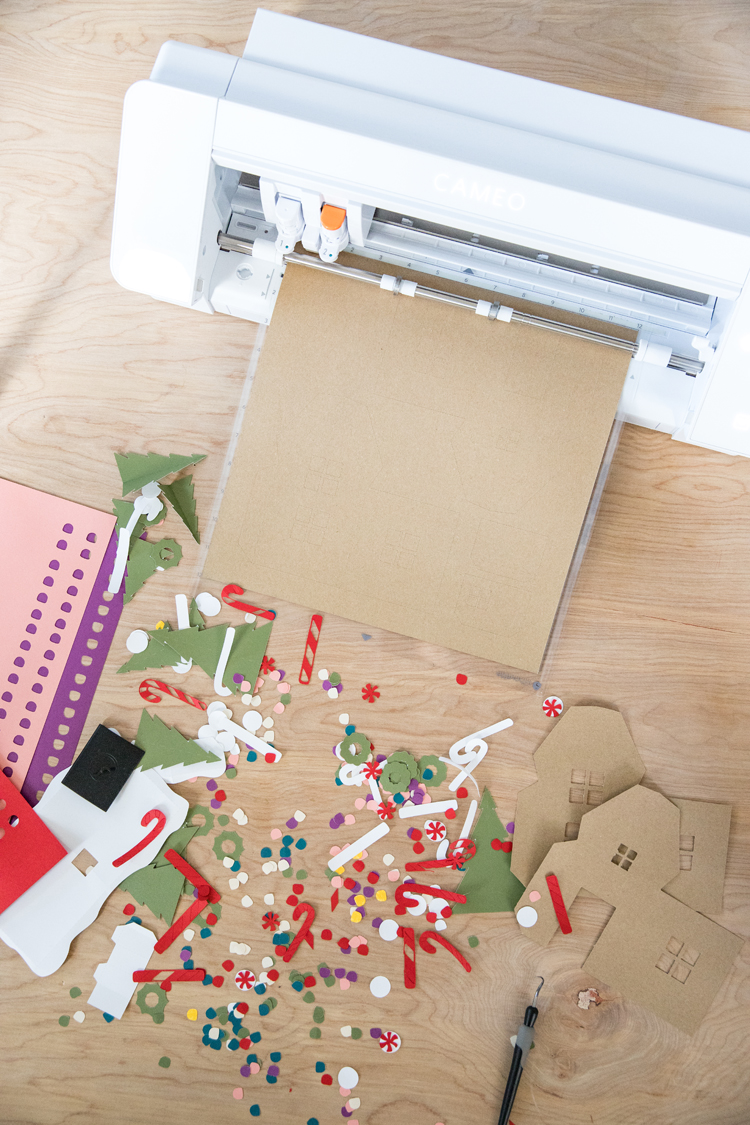 VIDEO TUTORIAL
Assembly is pretty straightforward, but the roof can get tricky, so here is a video that shows you how it's done. There also some tips below.
ASSEMBLY TIPS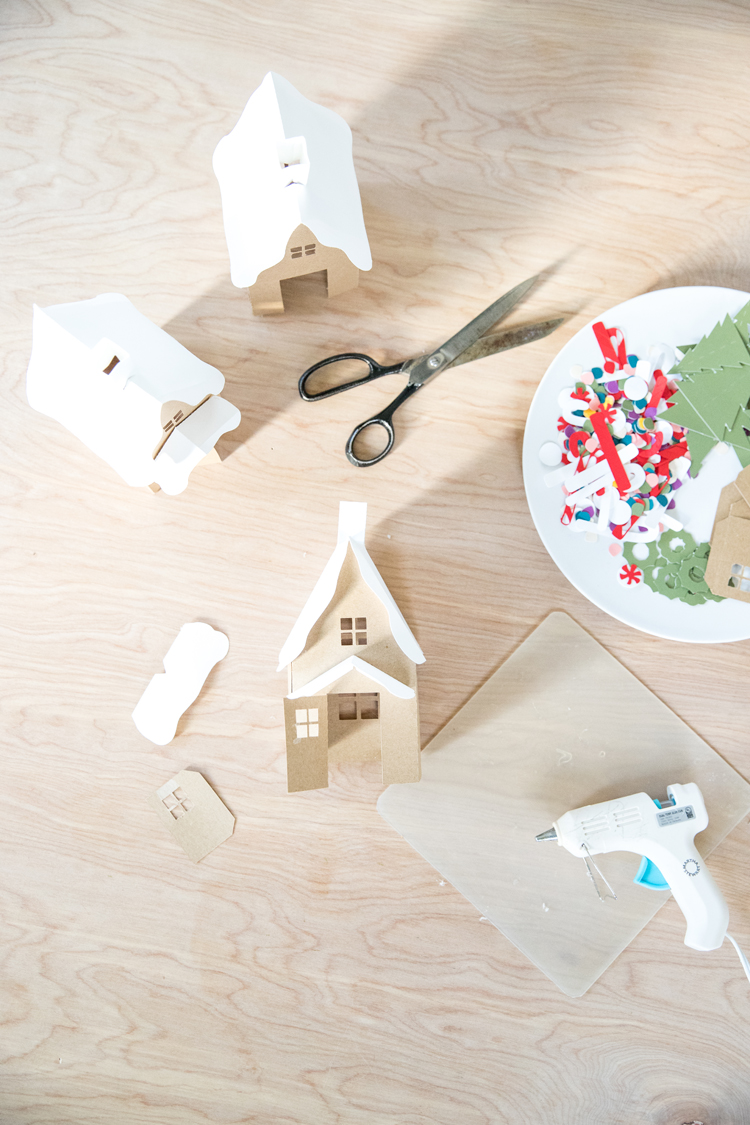 I recommend assembling the house and roof pieces with hot glue. The rest can be managed with school glue and glue sticks.
Chimney: This piece is a TIGHT fit as it's meant to be. You will have to sort of squish it to fit through the opening in the roof, then smooth it back out to a square once it's through. When you glue the flaps to the roof on the underside, be sure the roof is BENT as you glue it. Otherwise it will crumple the chimney when you glue it to the house.
Roof: Add glue to one flap at a time as you glue it to the house, then add a dot of glue on the sides of the roof line
Candy Canes: The cut files for the candy canes can get delicate. You may want to weed them before you pass them onto little hands.
Cut Files: I recommend moving the shapes around and duplicating them to create lots of candy options in different colors, especially the gum drops. The swirls are for the round pieces to create star mints and the candy canes come in two pieces. White under layer and red twists on top.
Trees: You can simply fold the trees to get them to stand up, or you can glue two trees together for a sturdier finish, like in THIS post.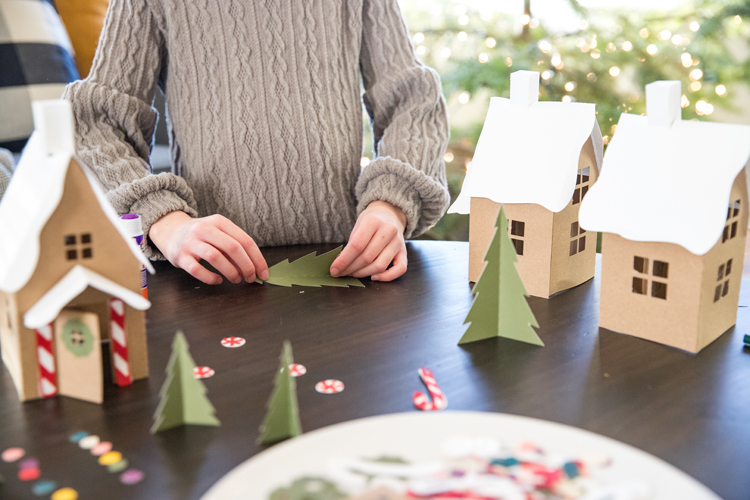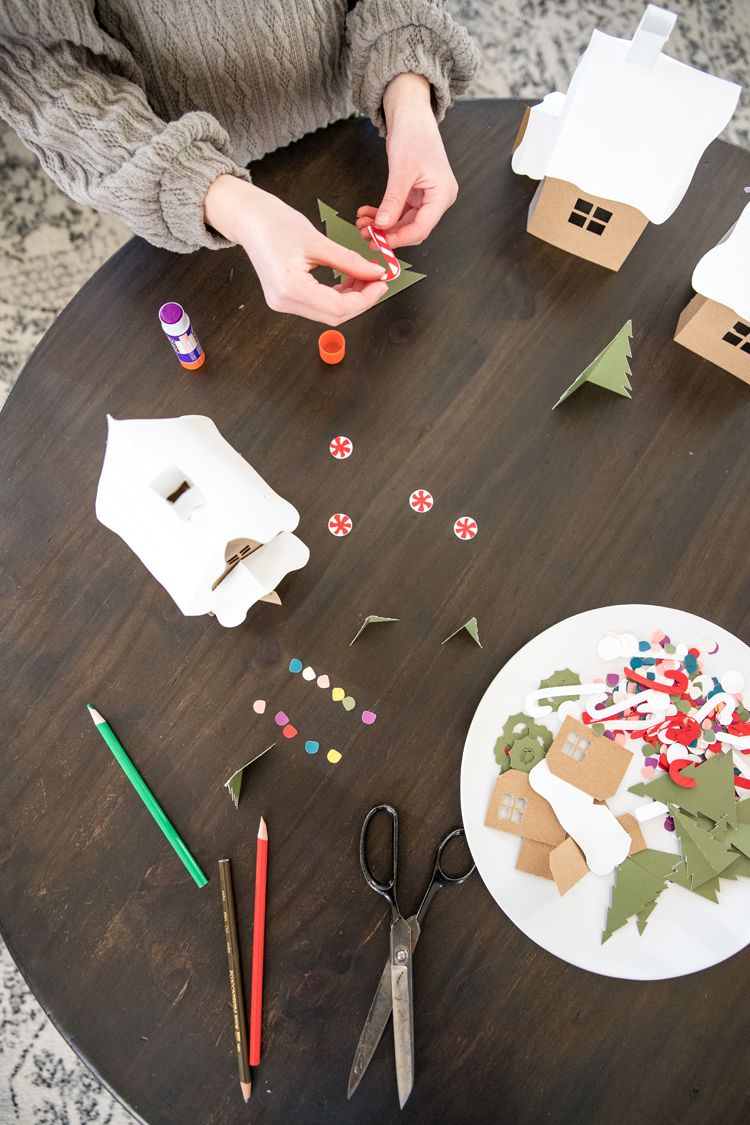 For more ideas and cut files check out my Holiday House post HERE. The houses are larger and there is an option for an icicle roof!