Last year's Halloween was all about Star Wars.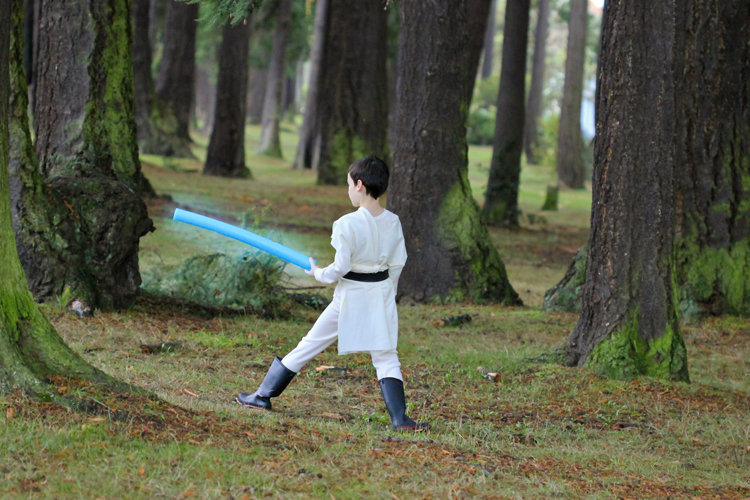 My boys were Obi-Wan and Anakin…duking it out on Endor. 😉 (I made their pool noodles glow with some photo editing).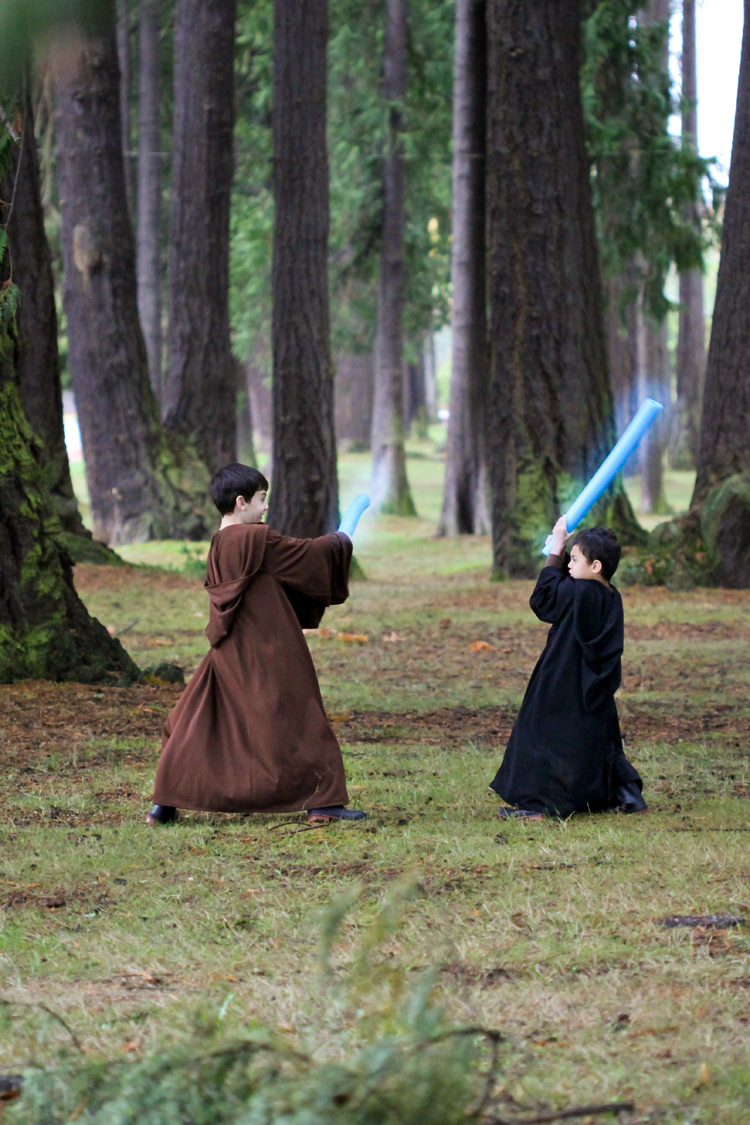 As usual, it was all last minute so I didn't share a tutorial!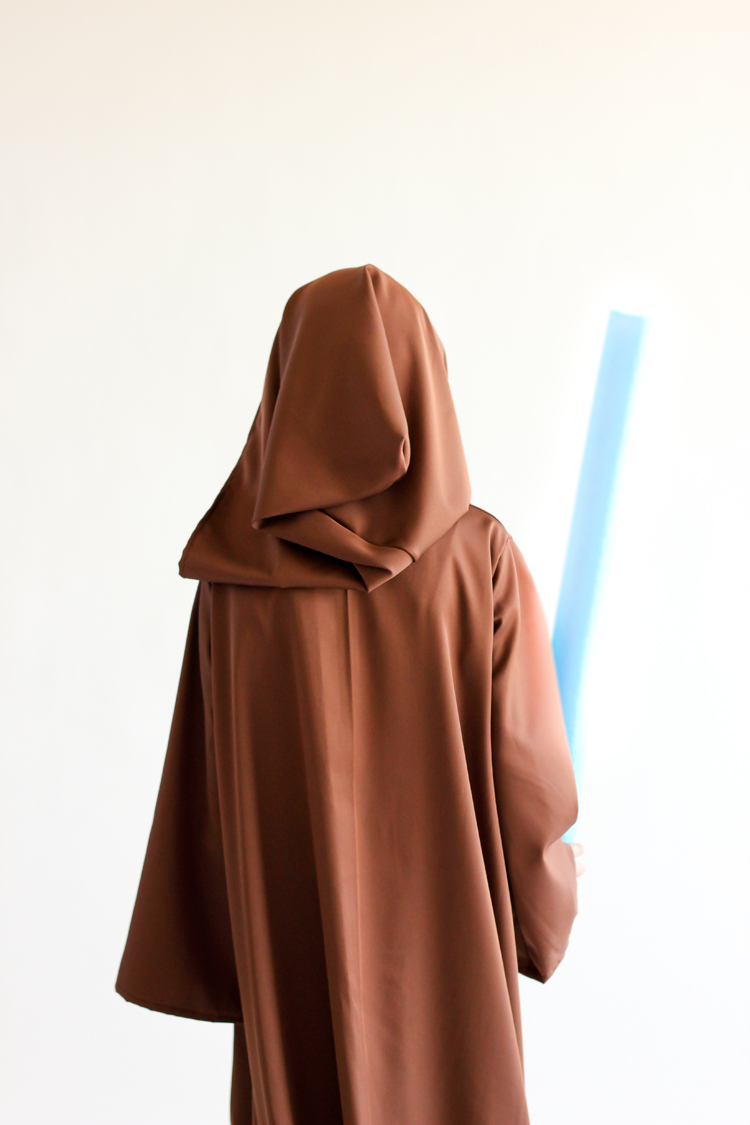 Since this year is shaping up to be the same way, I thought I'd throw it back to last year's costumes and remedy the no tutorial situation. To make things easier I've decided to put together two tutorials.
One is a no sew, knit or pleather vest (scroll down).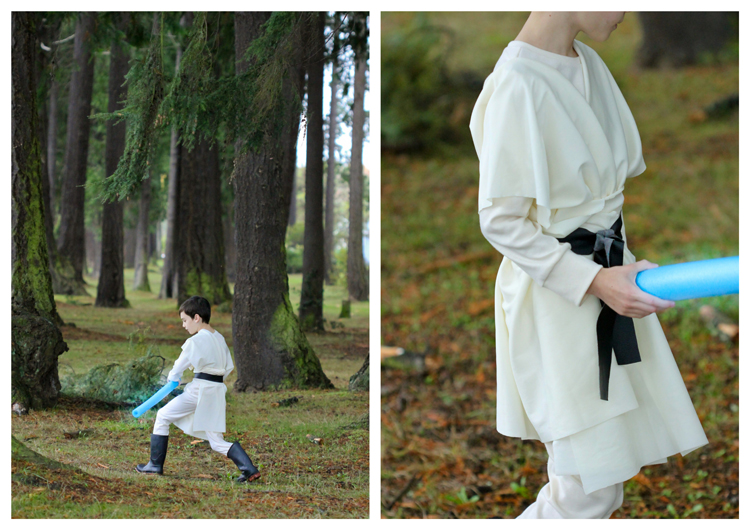 The other is an easy robe tutorial, using your child's favorite hooded jacket as a pattern…so, no purchased pattern needed! The full tutorial for that is at eHow. NOTE: It has come to my attention that eHow has discontinued this link. I will try to find the tutorial photos in my old drives and update this post with the robe tutorial within the next few months. Until then, I am sorry that the tutorial has disappeared!
Here is what the full robe looks like…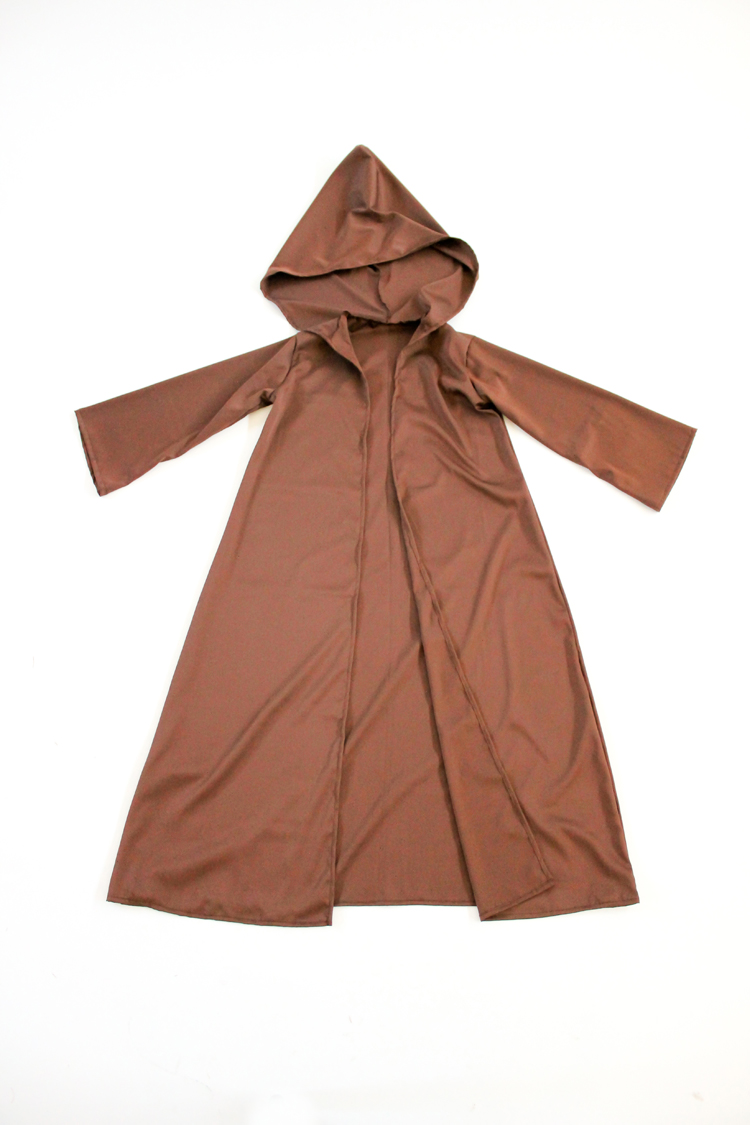 But let's start with the vest, shall we? It is by far the fastest, easiest part of the costume. Gotta love that!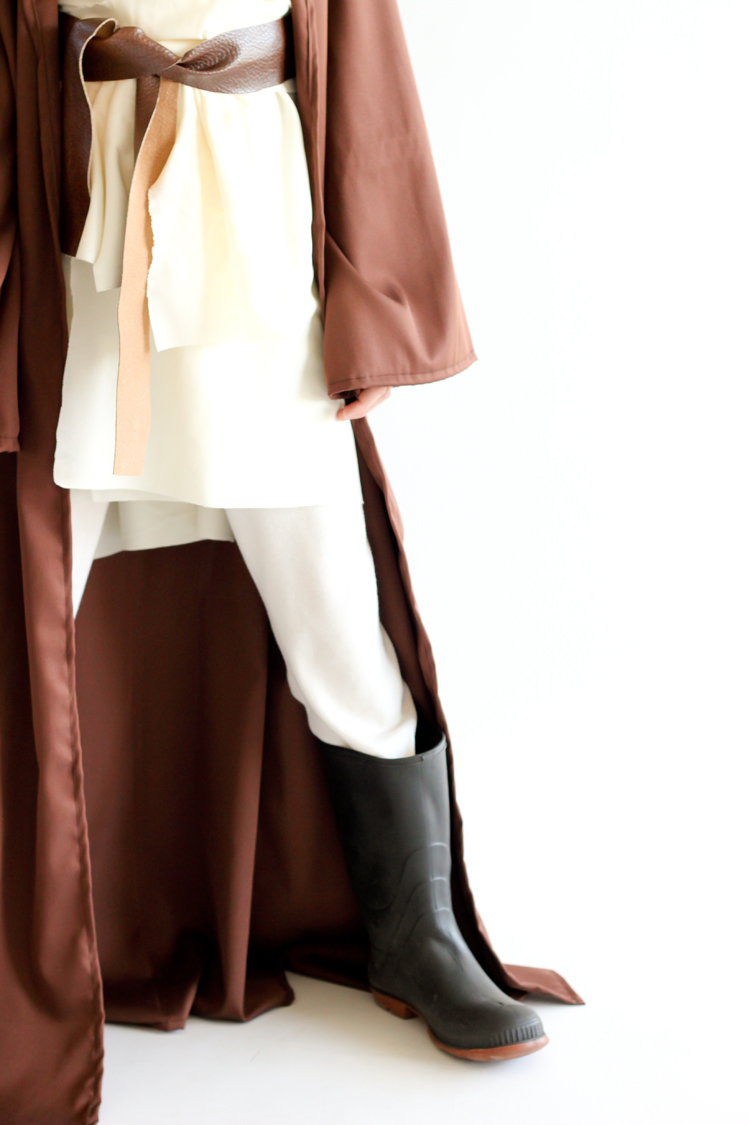 Materials: 
Inexpensive pleather or knit fabric 
Scissors
Note: You can find inexpensive costume quality pleathers in the red tag fabric section at Jo-Ann or in the costume fabric section. A great inexpensive costume knit fabric is called Jet Set knit, often found in the knit fabric section.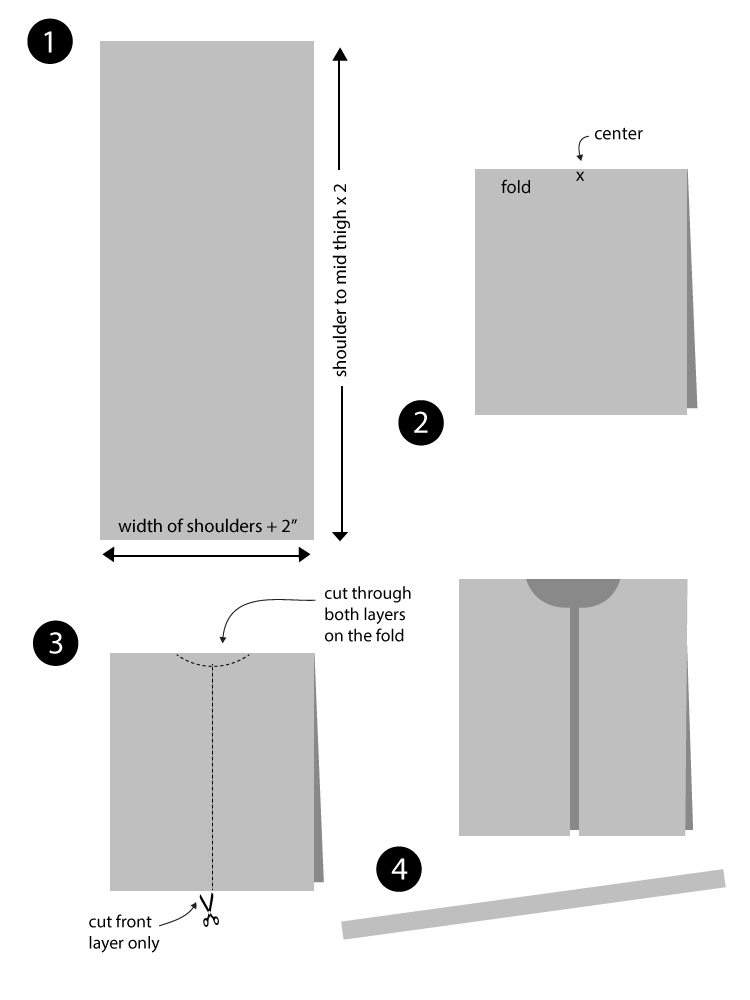 1. Cut your fabric into a rectangle shape, using your child's measurements. Use existing edges to keep everything straight and even. For the knit vest, I suggest adding few more inches to the width (shoulders) if you have enough fabric. It will drape and wrap better if you have a little more to work with.
2. Fold the rectangle in half, with short ends together, and mark the center of the rectangle.
3. Cut a line up the middle of the rectangle to the marked center, along the longest part of the garment. Cut a small oval like shape on the fold of the rectangle for the neck.
4. Cut a strip of fabric about 2-3 inches wide and as long as about twice your child's waist measurement. This is the belt.
5. You're pretty much done! No hemming is needed because knit and pleather don't fray. Place the vest on your child and tie it in place. Trim the belt as desired. You may have to fiddle with the placement a little bit to get it to look just right. The knit robe is a little easier to work with than the pleather. (Psst…You may notice that I used both a knit belt and a pleather belt together for my son's Obi-Wan costume).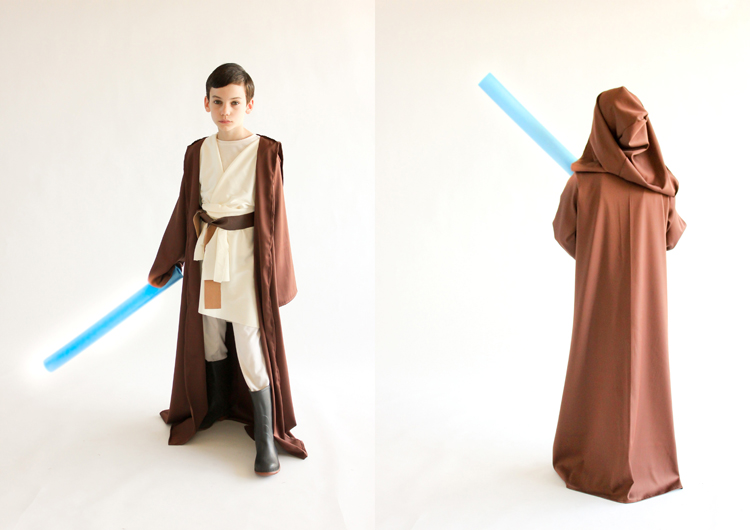 For the rest of the costume, I used neutral thermal style pajamas (which I sewed) and some black rain boots. Easy peasy!
That's all there is to it!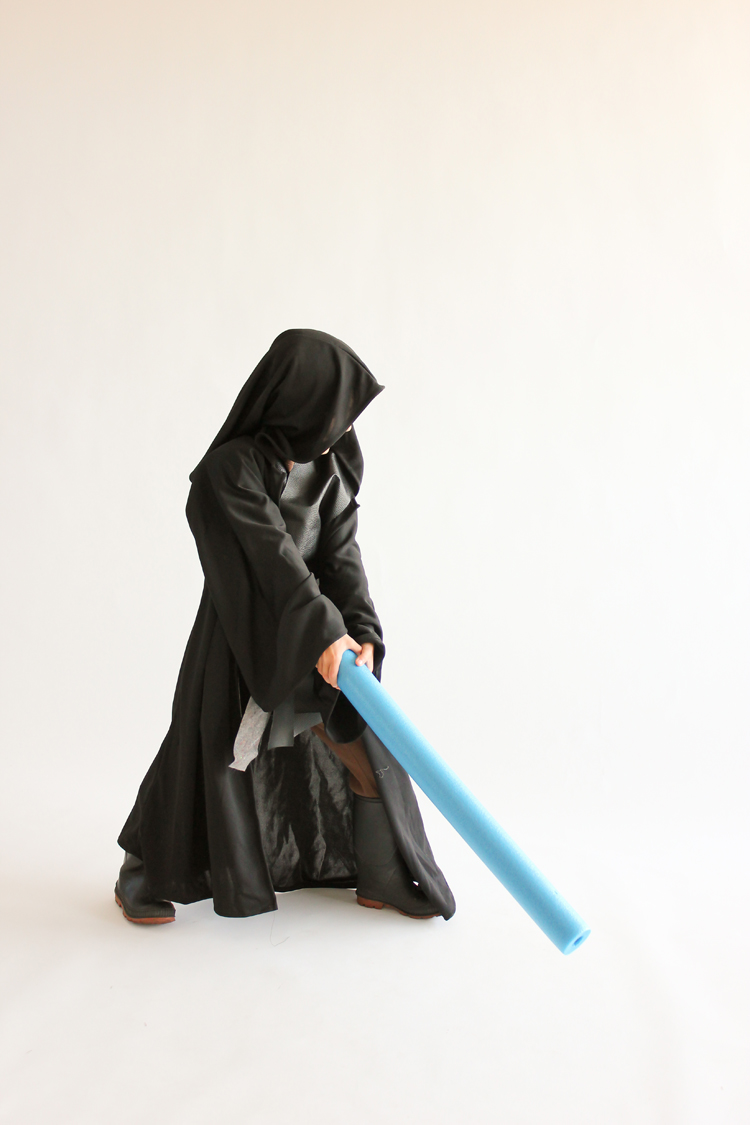 If you're ready to sew up a Jedi robe, head over to eHow. I'm sharing a detailed tutorial with lots of pictures!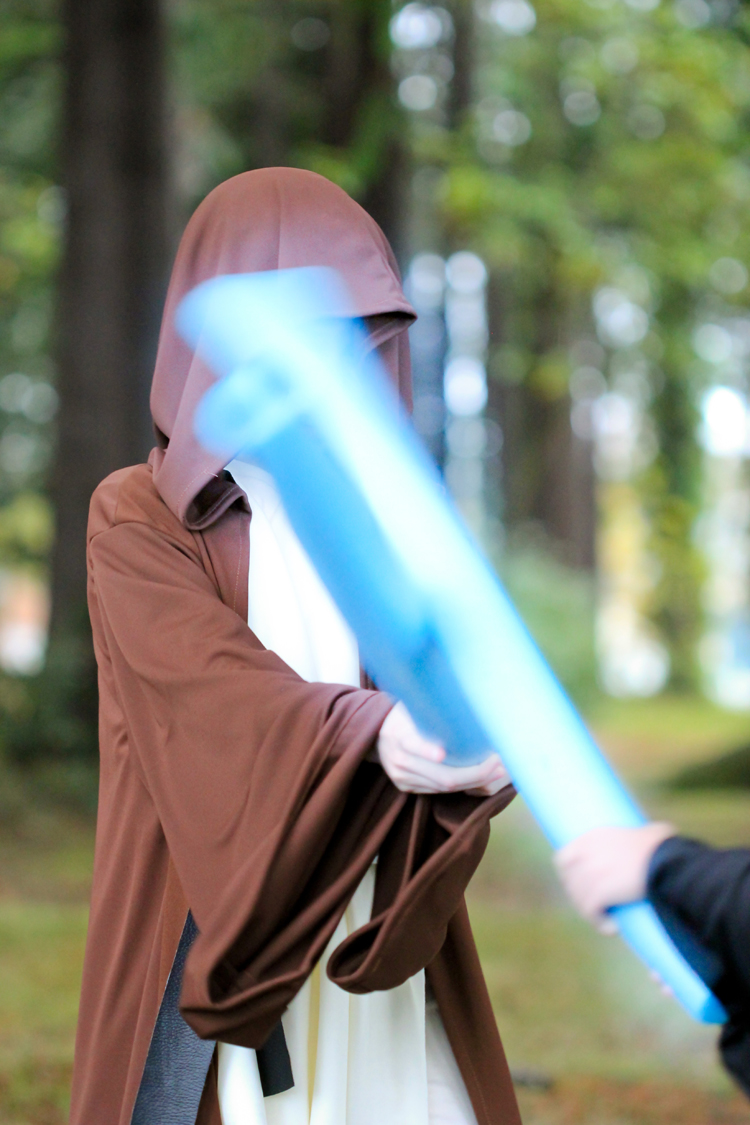 May the sewing force be with you. 😉