It is very rare for anyone in our family to absolutely decide on a costume before mid October.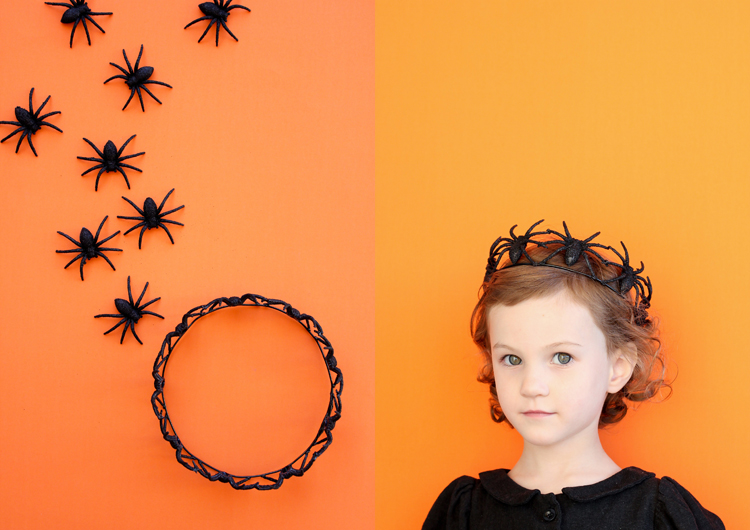 Not that the kids don't discuss it and (ahem) "decide" starting at the end of summer. It's kind of fun to see them waffle back and forth about it…until I am frantically scrounging and sewing at the last minute that is. 😉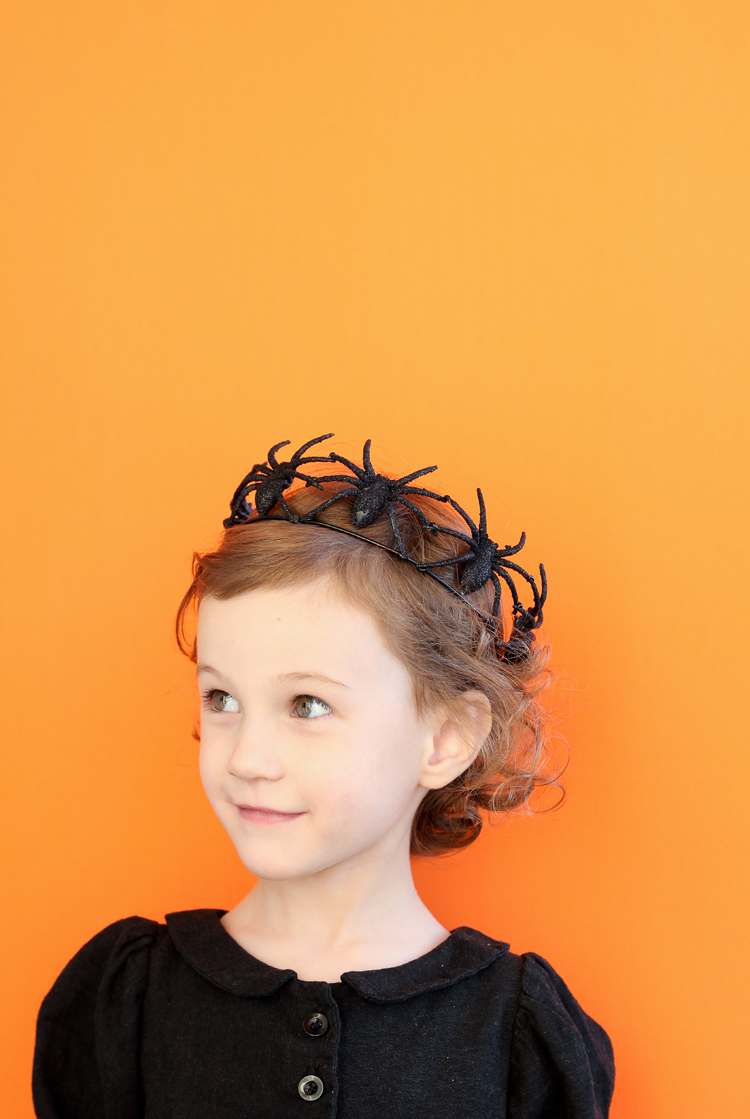 So, when I found out that the theme for this month's Michaels Makers project was Halloween costumes, I decided to make a flexible accessory that can go with different costumes ideas, or that can be worn just to be festive for the holiday.
A crown, fit for a (spider) queen.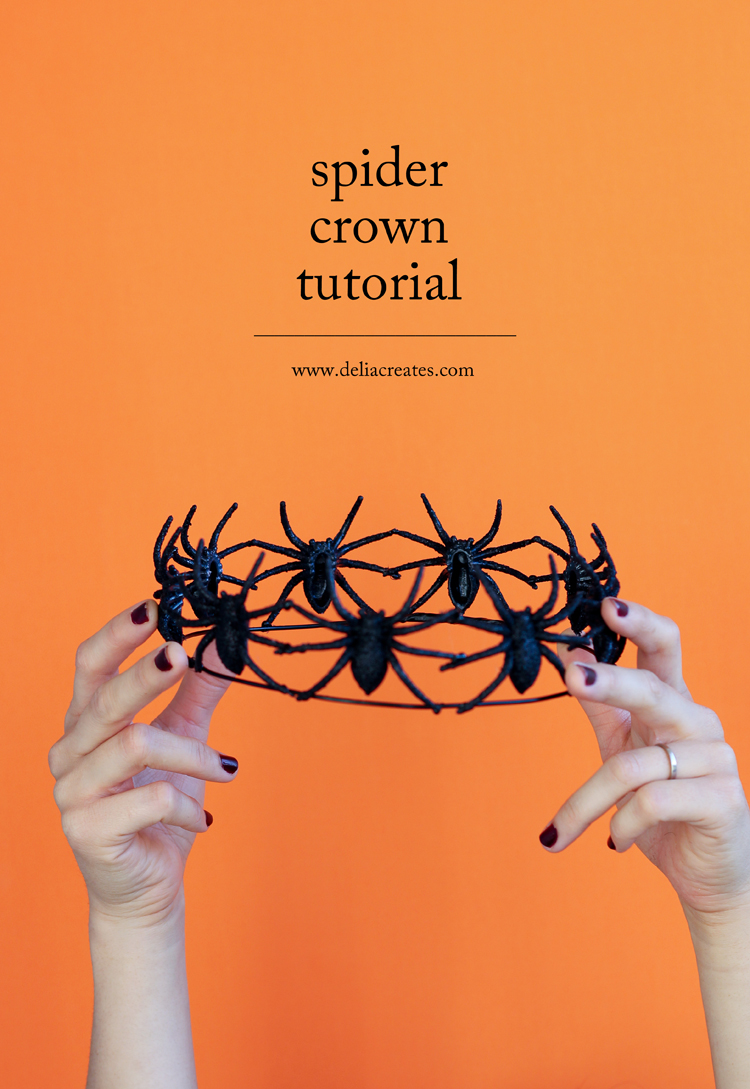 …Which I did not know was a real Marvel character and Minecraft mod until I googled it!
But that's not why I came up with it. When it comes to Halloween, I am kiiiind of spider obsessed. You can check out these other spider-rific Halloween DIY's from last year as proof: Spiderweb Fascinator, spider candy bowl, spiderweb doormat, spiderweb umbrella, pin the spider on the web game printable, spider bobby pins and necklace, spider party plates, spiderweb placemats, oh yes and this spider web cape, this spiderweb treat, and these magnetic spiders from several years ago are still a hit.
Kind of nuts! Right? Real spiders totally freak me out, but fake ones/spider inspired crafts are my jam!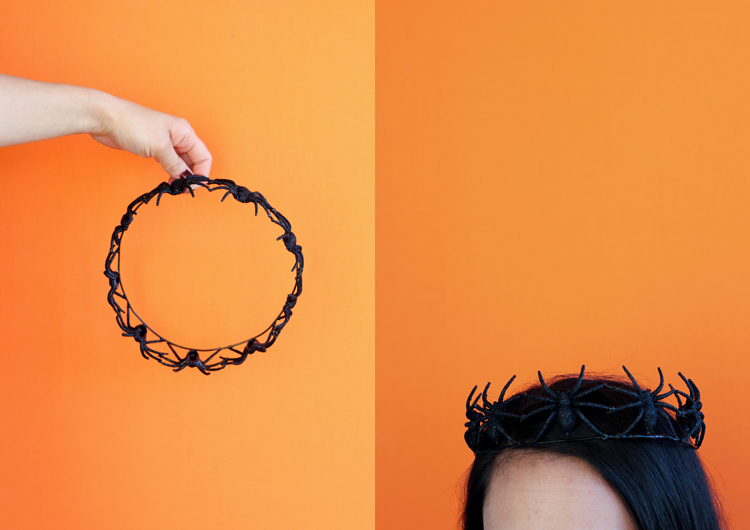 And this project is my crowning spider craft. 😉 (I can never resist a pun.)
What you need:
black 12 gauge wire (found in the floral section)
wire cutters
black tape (washi, electrical, duct, floral)
large plastic spiders  (found in Halloween aisle at Michaels, see picture for specific details)
black hot glue (I used the Martha Stewart brand high temperature hot glue which comes in black)
hot glue gun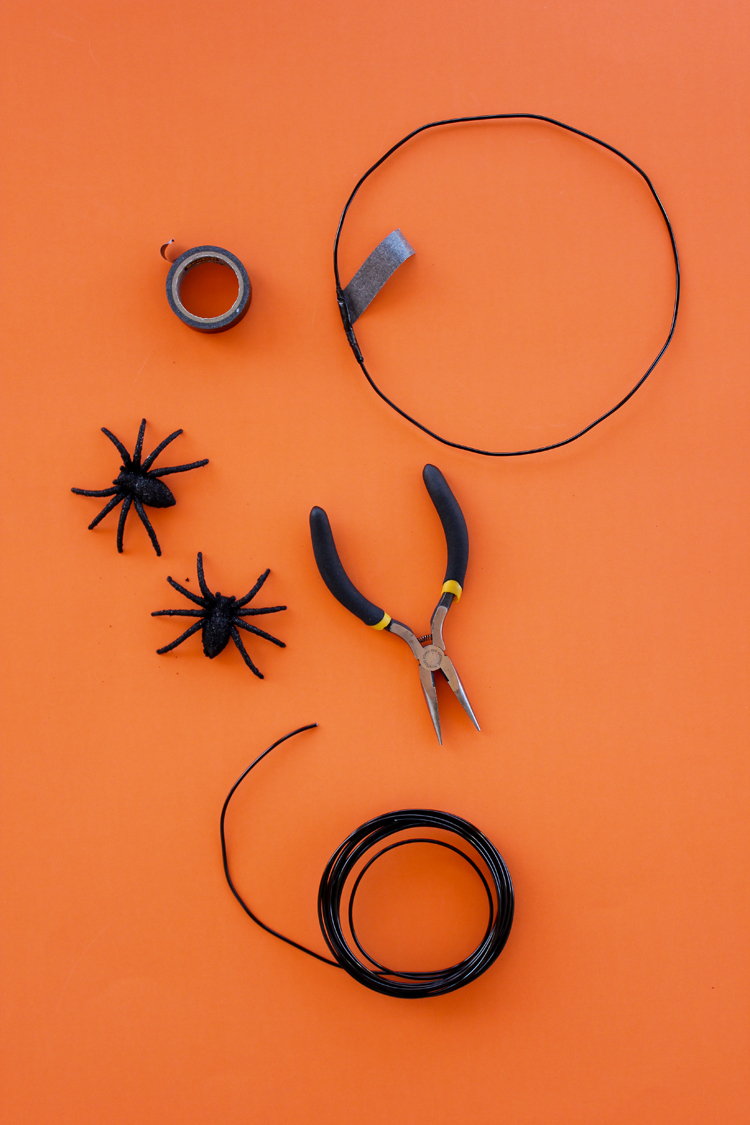 To make: 
1. Create a wire crown that rests comfortably on your head. Wrap the wire around your head to get an accurate measurement. Cut the wire a couple inches longer, so that the ends can overlap. Wrap tape around the overlapped ends to secure them in place.
2. Measure how many spiders you'll need to fit around the crown. I used nine for me and eight for my daughter, so two packs of six spiders should be enough for any size crown.
3. Glue the spiders to the wire first and then connect their legs together with glue to strengthen the crown.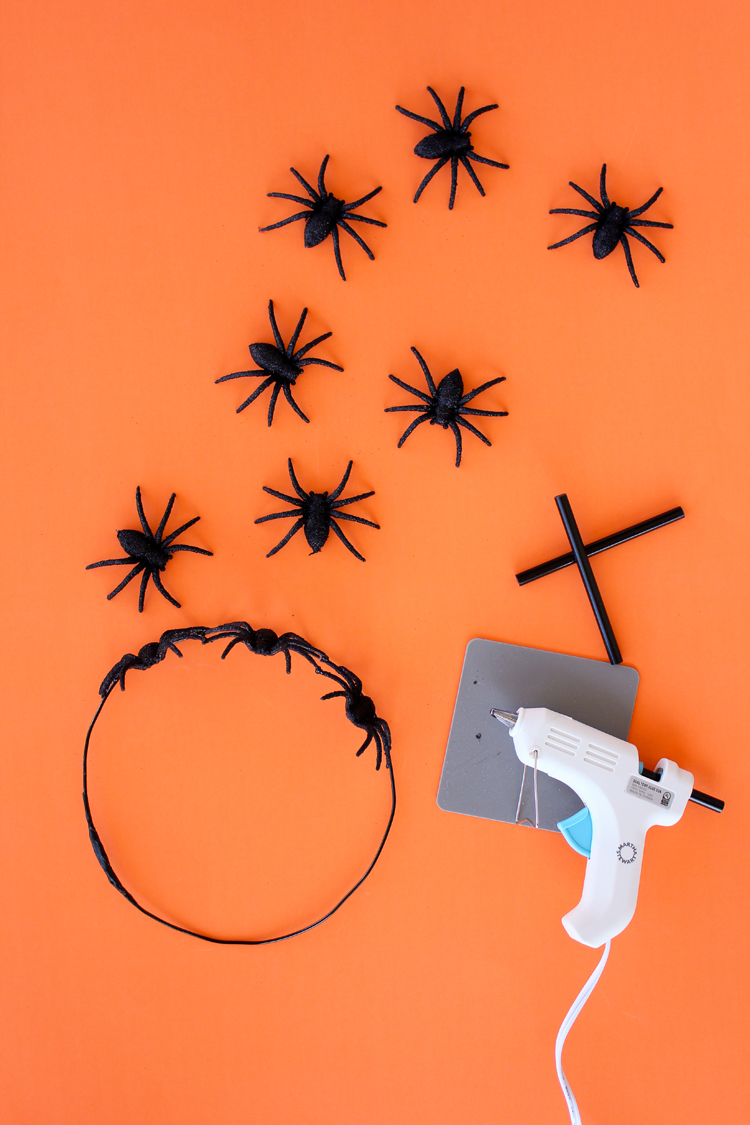 TIP: You can crowd the spiders or spread them out as needed to get the best fit. Just be sure to only spread them out enough so that their legs still touch, even if just barely. If you find you are running out of room on your wire as you get down to the last spider, remove the first few spiders you glued and incrementally overlap the legs a little more to get them to all fit.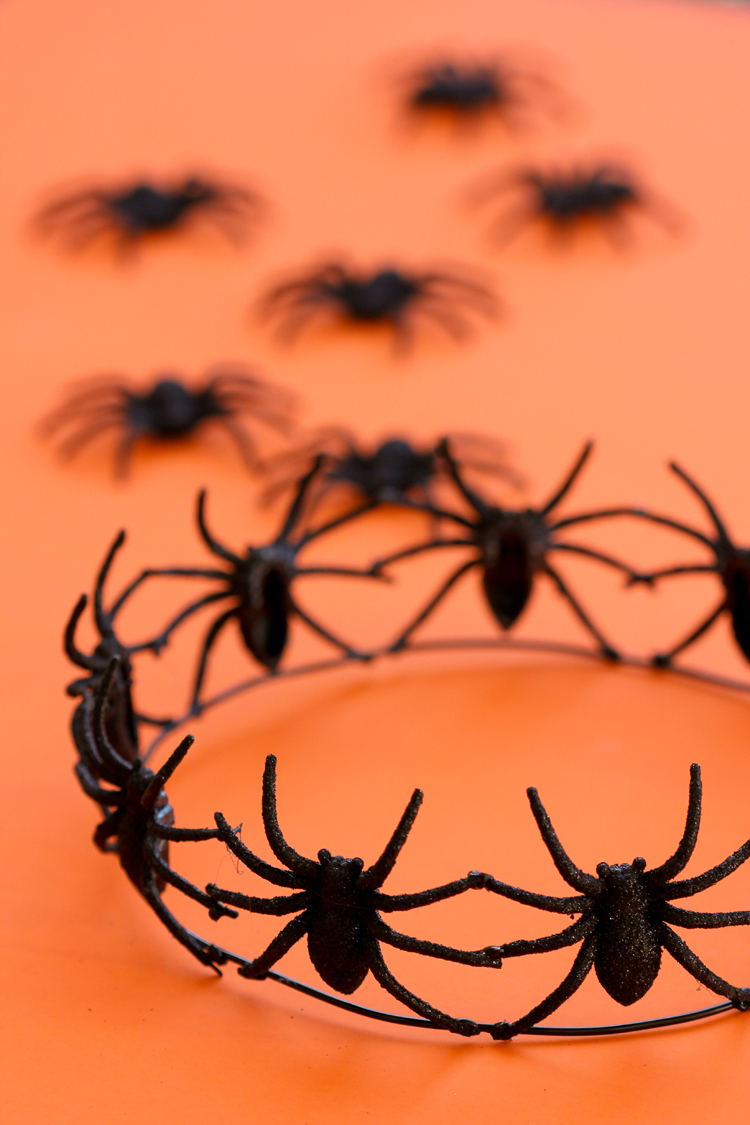 Don your crown and claim yourself arachnid royalty….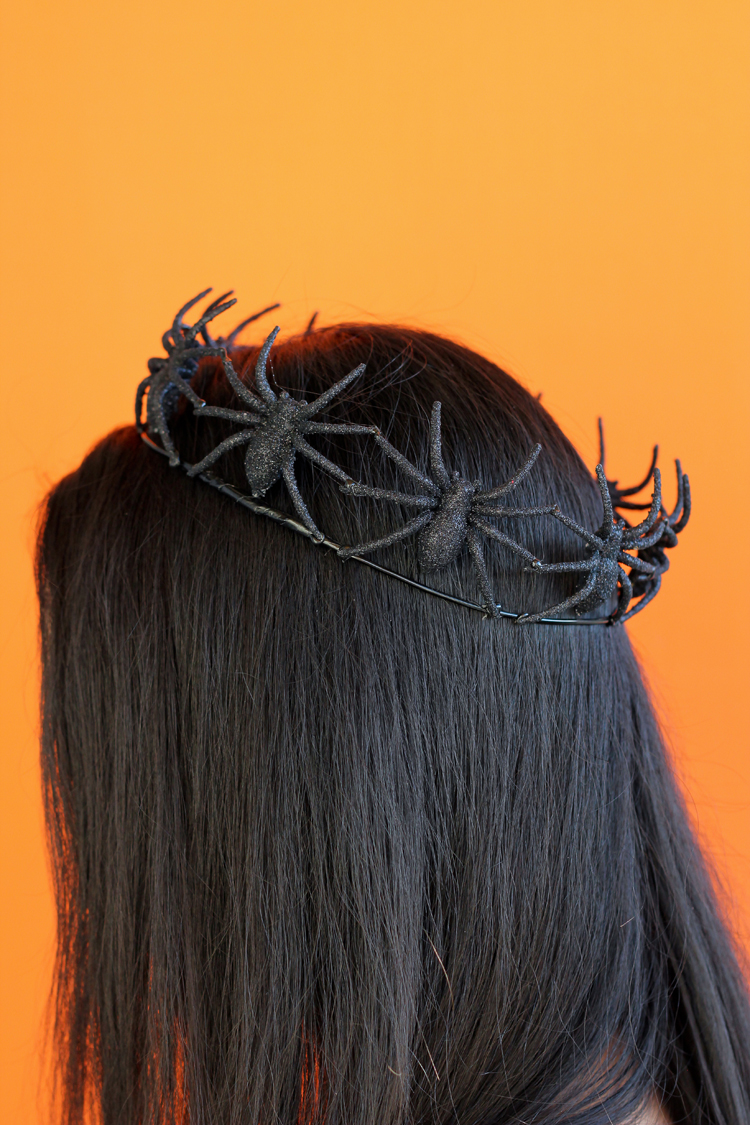 Or throw it on as a last minute, easy "costume" for work, for a party (great paired with a LBD), or for a quiet evening passing out candy.
Looking for more Halloween costume inspiration? Check out these projects from other Michaels Makers. They are to DIY for. 😉

Disclaimer: This post is sponsored, but all content and opinions are my own. Thank you to Michaels for sponsoring this craft tutorial. And a big thanks to YOU for supporting the brands that help keep this blog running!