Jump to recipe
Of all my kids, this girl is proving to be my best kitchen helper.
My first has to be begged to help, except when cookie batter beaters need to be licked…of course. 😉 My second is willing, but admittedly a little high maintenance and messy.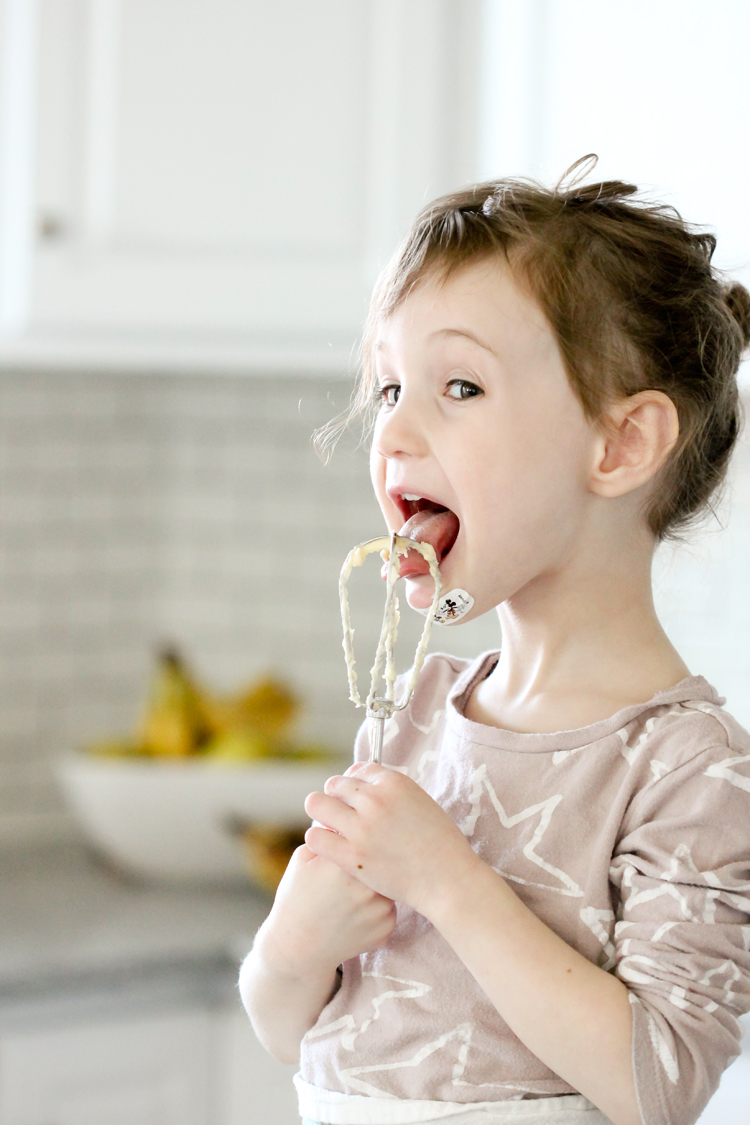 Nat, my third, also needs some close supervision, but for just barely turning four, she keeps surprising me with how true her "I can do it myself" claims have actually been.
Since discovering that she suffers from severe food allergies, we have been experimenting with substitutes to make our favorites recipes safe for her. Just before Christmas, we remixed the Snickerdoodle recipe from our beloved America's Test Kitchen Cookbook and have been making them over and over again since!
They are so good!
And they're a cinch to make too. Which somehow makes them taste better, at least to me.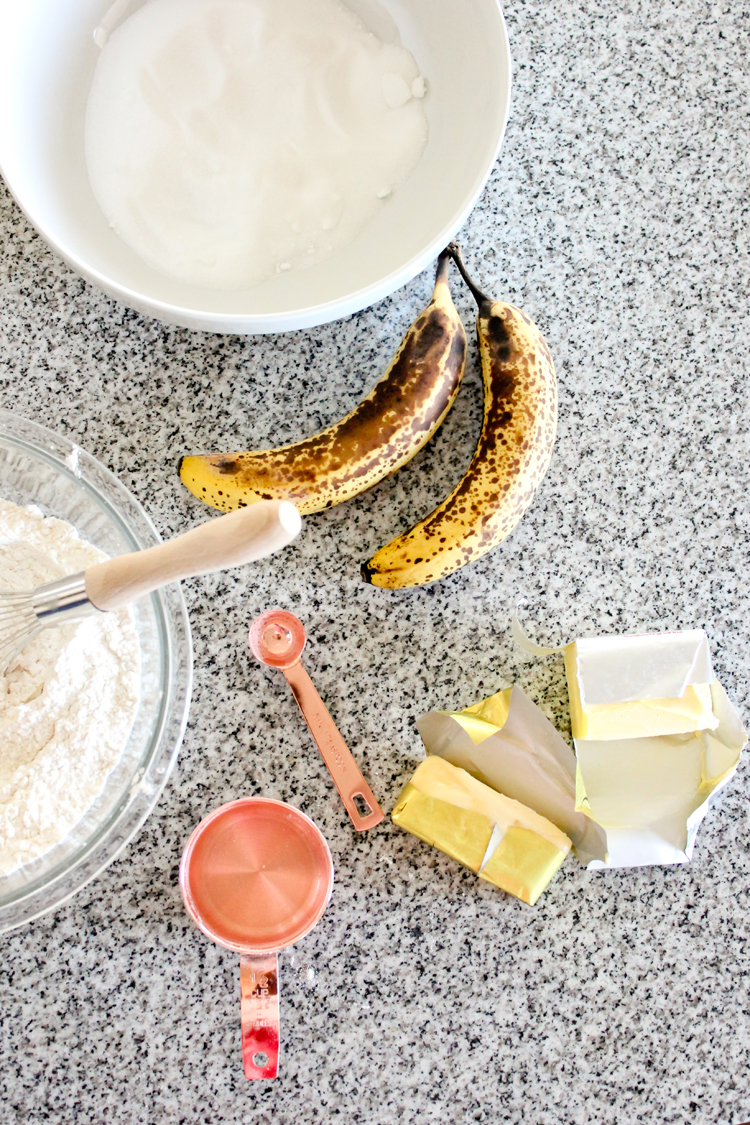 To replace the eggs, we add two ripe bananas. The riper the bananas…the stronger the banana flavor, and in my opinion…the better!
As an extra bonus, the bananas are really sweet, so you can reduce the amount of sugar in the recipe too! I've reduced it by 1/4 cup in the recipe below, but I've taken out as much as 1/2 cup before with pretty good results. Of course, it depends on how ripe and sugary your bananas are.
Baking with my girl…there is not much better than this! Plus, this age is totally my favorite. If I could freeze all my kids at age 4 or 5…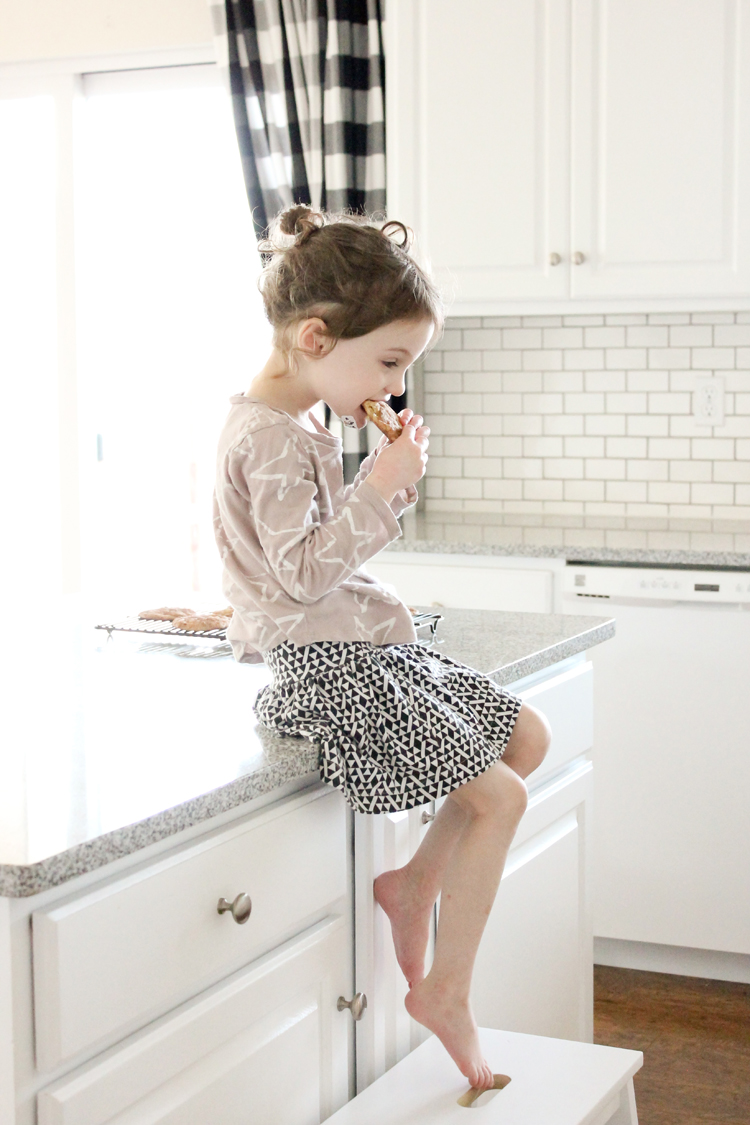 Vegan Banana Snickerdoodle Cookies

Notes
Depending on how sweet your bananas are, you may reduce the sugar by 1/4 cup, if you wish. You could probably substitute palm oil shortening for the vegetable oil shortening if you prefer.
This recipe is adapted from the America's Test Kitchen Family Cookbook.

Ingredients
1 1/2 cups sugar
1 TBSP ground cinnamon
2 1/2 cups all-purpose flour
2 tsp cream of tartar
1 tsp baking soda
1/2 tsp salt
1 stick (1/2 cup) Earth Balance Vegan Buttery Sticks
1/2 cup vegetable shortening
2 large, overripe bananas
Instructions
Combine 1/4 cup sugar and cinnamon in a shallow dish and set aside.
In a large bowl, whisk together flour, cream of tartar, baking soda, and salt. Set aside.
In another large bowl, beat vegan butter, shortening and remaining sugar together, on medium speed until light and fluffy. About 3-6 minutes.
Peel and beat in bananas until smooth.
Reduce mixer speed to low or hand mix in flour mixture to sugar mixture. Mix until just incorporated. Do not over mix.
Refrigerate dough until chilled. About 1-2 hours. (Don't skip this step. Chilling the dough first, improves the cookies' texture and shape, and makes it easier to form).
Preheat oven to 375 degrees.
Grabbing 1-2 TBSP of dough at a time, roll dough into round balls. Coat dough balls in sugar/cinnamon mixture and space on cookie sheets about 2 inches apart.
Bake cookies 10-12 minutes, one sheet at a time until the edges are set and just beginning to brown, but the centers are still soft.
Let the cookies cool on the baking sheet for 10 minutes, before transferring them to a wire rack to cool completely.
Other DIY projects featured in this post:
DIY Kitchen Renovation || Tea Towel Apron || Girl's Knit Skirt
___________________________________________________________________
For more allergy friendly recipes: GO HERE.
Want more cookie recipes? THIS sugar cookie recipe is my tried and true favorite!