Today's project is one of my favorites yet. It's a knit circle skirt with a dramatic twist…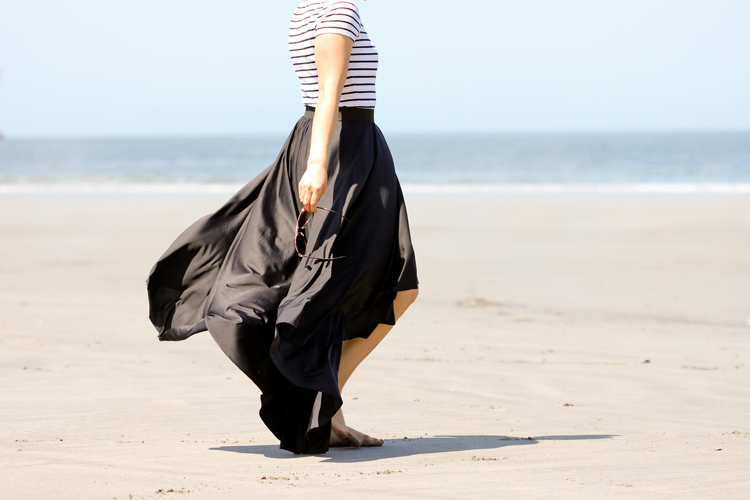 It's official name is a fishtail circle skirt.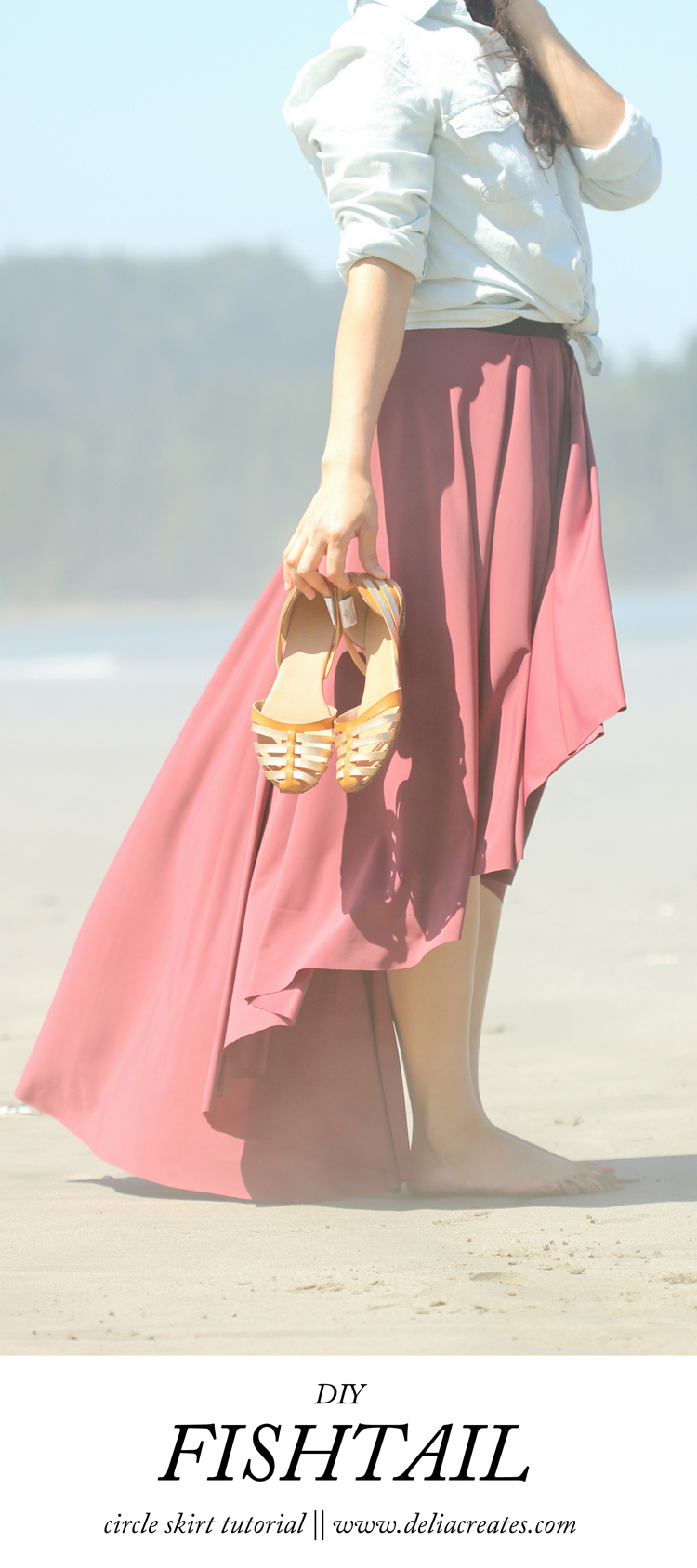 Isn't the fog in this pic cool? One of my favorite things about the beaches in the PNW is the warm summer fog.
Anyway, back to the skirt. 😉 I took notes from MADE and The Sewing Rabbit and created a tutorial for making a women's sized knit version. 
Knit as in…NO hemming! (insert happy dance) 🙂
There's not even a seam if you use the right fabric. I found THE perfect knit from Girl Charlee (see deets and links below). It's light weight with fantastic drape, and it comes 74″ wide. That means you can cut out the skirt in one seamless piece, for most sizes/heights.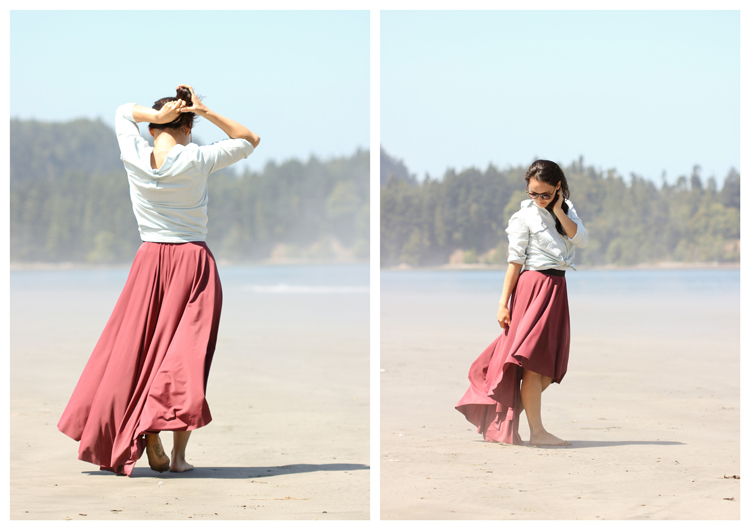 The fabric shown above is the Auburn Matte knit.
It is listed as a lining, but it's perfectly opaque and the perfect weight for a skirt like this.
It's also a lot lighter in color than the listing photo. I think it's more of a mauve/marsala color, which is on trend for 2015. I am usually not a huge fan of marsala, but the tone of this fabric is lovely. It's my favorite of the two skirts.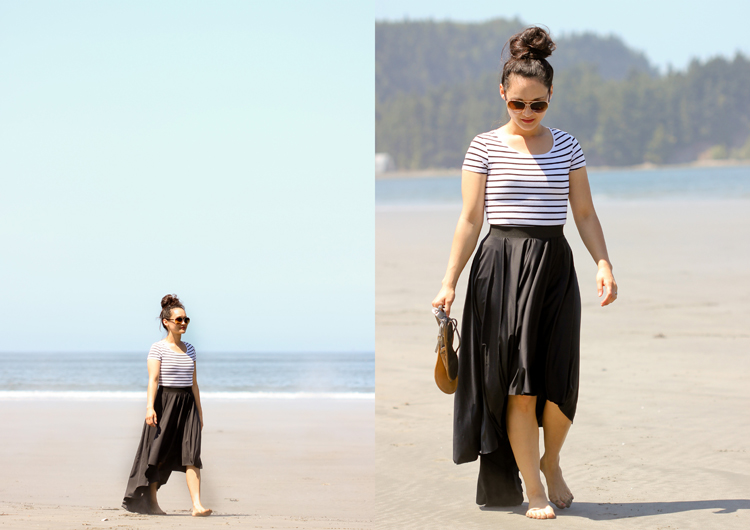 The black satin milliskin is shinier, and a little more slick, but works just as well. There is a shiny side and matte side, so you can choose which one shows. I chose the matte side, and I love how elegant it looks.
Just a warning though, the widths can vary for the black milliskin knits. If you are taller and are going to need the full 74 inches of width, then I recommend sticking with the colored milliskin knits, and double check the listed widths to be sure.
Okay…ready to make one?
Before we begin, we need to do some measuring and some math.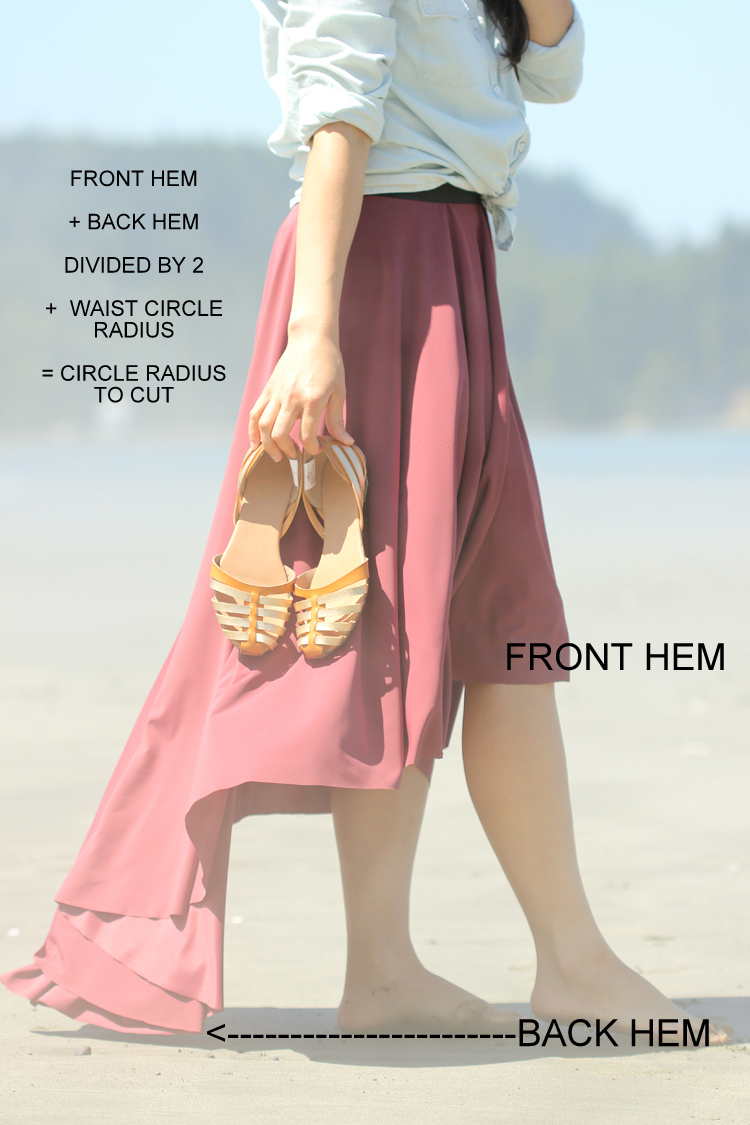 FIRST – Determine waist radius measurement. If you have never sewn an elastic waist circle skirt, then the very first thing you need to do is to hop over to Dana's (MADE) circle skirt tutorial and determine your elastic waist measurement and waist radius measurement. You'll revisit this tutorial for the last step when you attach the waist band too.
NEXT – Determine hem lengths. Measure from your waist to where you want the shortest part of the skirt to end. This is the "front hem" measurement. Do not add for hem allowance, because there will be no hem! Then measure from your waist to your heels or the floor. This is the "back hem" measurement.
TIP- Remember that this fabric is very stretchy. It will "grow" a little bit, when worn. Consider cutting your skirt 1 inch shorter than desired, if you are sure you want a very specific length. Only compensate for the front hem though. Having a little extra length in the back is fine, especially if you plan on wearing this skirt with heels.
DO YOUR MATH – Figure out how big you need to cut your circle. Add your front hem and back hem measurements, then divide by two. Next, add your waist radius. The final answer = the radius of the circle you need to cut from your fabric.
For example. I measured a 22 inch front hem, a 38 inch back hem, and had a 4.3 inch waist radius…which equals a 34.3 inch radius for my initial circle cut.
DETERMINE FABRIC REQUIREMENT – Figure out how much fabric is needed and gather materials. Double your "circle to cut radius" to determine how wide and long you need your fabric. In general, most sizes will need about 2 yards of 74″ wide fabric.
Now you're ready to gather your…
MATERIALS:
2+ yards of 74″ wide knit fabric (yardage as determined above; see my links and notes about 74″ wide fabric toward the top of the post)
2 inch wide elastic, cut to your waist measurement + 2 inches 
matching thread (match elastic color)
tailor's chalk or washable fabric marker
_________________________NOW, LET'S SEW!_________________________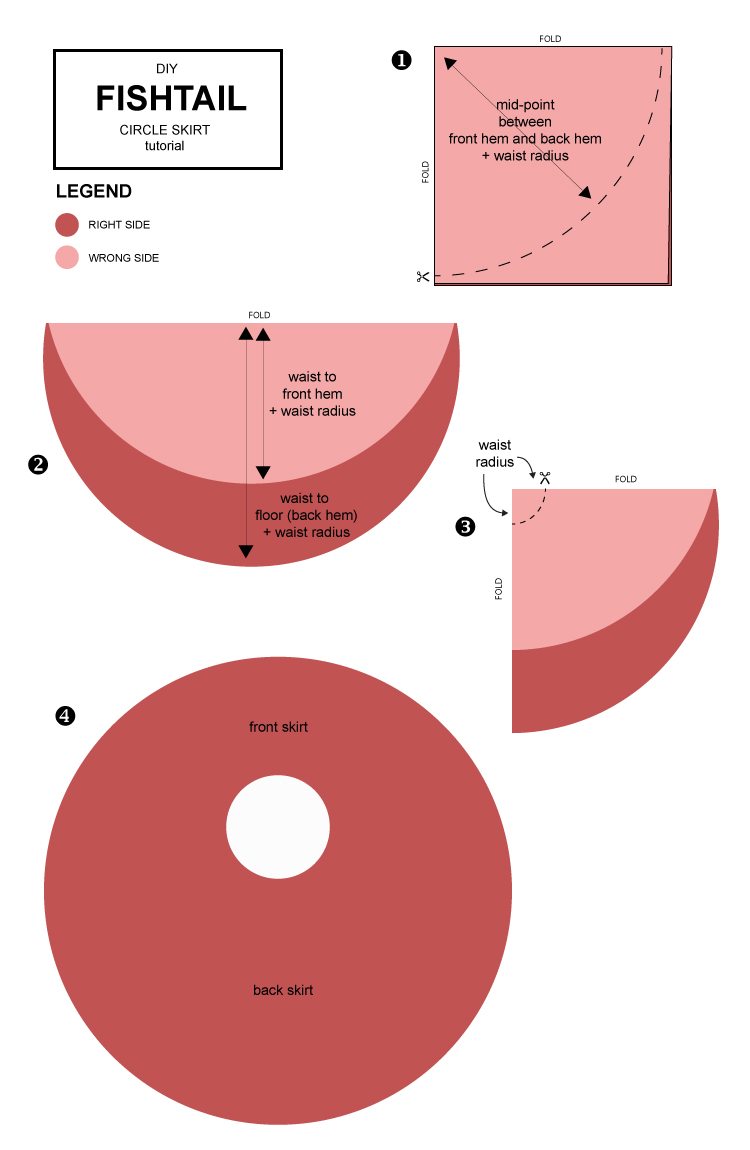 The illustrations are pretty self explanatory, but I have included some extra notes for each step that may be helpful:
1. Fold your fabric into fourths, wrong side up. Measure from the corner out using your measuring tape like a protractor, and create a quarter circle with tailor's chalk or a washable fabric marker. Be careful not to use something that is permanent or hard to wash out. You will not be hemming this skirt, so you won't be able to hide any stray permanent marks.
Cut along the marked line.
2. Open up your skirt to a folded semi-circle. Slide the top layer up until it's the length of the front hem plus the waist radius. It will likely be fussy to handle. Meticulous patience is key here. Get everything to lay nice and flat and even as best as you can. Because this skirt requires minimal sewing, cutting it just right is paramount…as in, it will pretty much make or break your skirt. I promise, if you take your time and get it right, it will be worth it.
3. As carefully as you can, fold your skirt in half again, so that it is sort of in fourths. You may want to pin or clip the fold in place, so it doesn't shift while you move the skirt. Draw out your waist radius, the same way you marked for your first circle. Cut out your waist opening.
4. When you open your skirt all the way up, this is what you should see.
5. (Not pictured) Attach your elastic waistband. You can sew them on the same way as Dana's circle skirts, with the elastic on top, or with the elastic to the back like I did with these pleather circle skirts. I made these skirts with the elastic to the back, but either way works just as well.
Be sure that you line up the elastic seam up with the back or longest part of your skirt.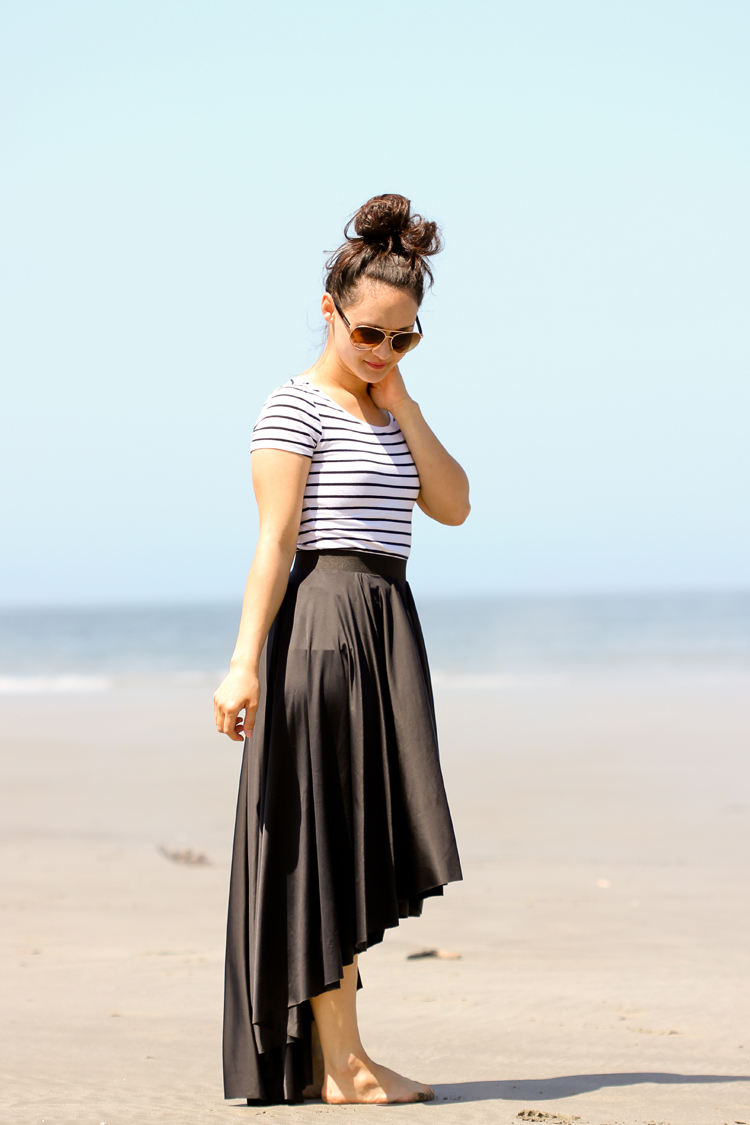 That's it! Easy, peasy to make…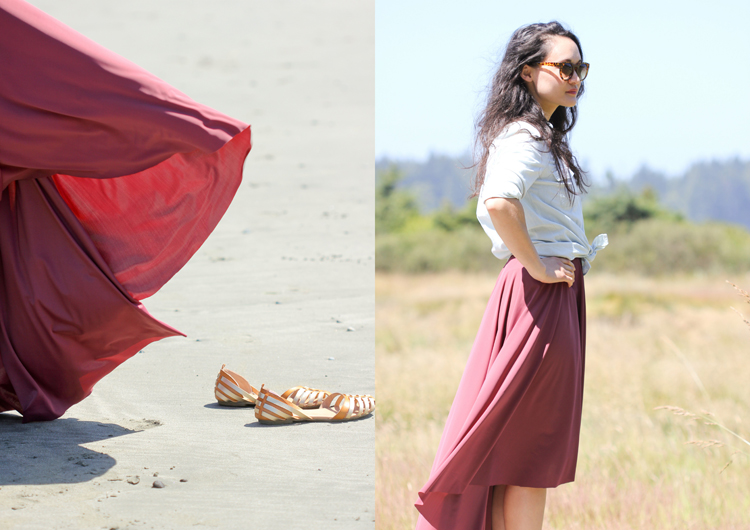 …and seriously fun to wear. I feel beautiful when I wear it. There are not many garments that can elicit those kinds of feelings so effortlessly.
ONE TIP, I learned after wearing these skirts for the photoshoot…wear a slip if you are going to tuck it in. The drapey fabric has a tendency cling to tucked in shirt lines. 😉
SKIRTING THE ISSUE
This tutorial was created for Skirting the Issue, a series put on by Simple Simon & Co. to benefit foster care girls. Every year, bloggers and sew-ers come together and sew stylish skirts for girls in the foster care system. For more information on how and where to donate and get involved, check out their 2015 announcement post.
Put your sewing super powers to use and help get these girls ready for back to school. You won't regret it! 🙂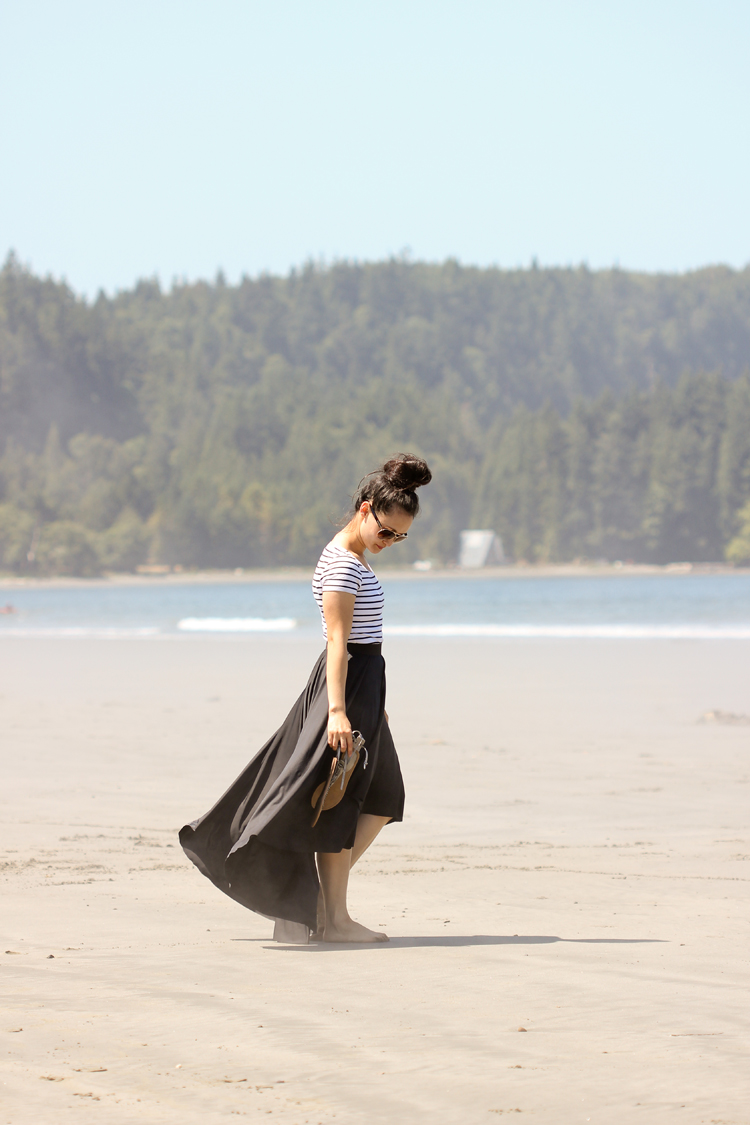 More about skirting the issue…
You can check out my Skirting the Issue post from last year, for a simple basic knit skirt tutorial/free pattern for girls of all ages. It's a great stash buster, as you can use whatever cuts you have in your stash to fit any size from newborn to juniors.
This year, I wanted to focus on the older foster girls because my guess is that they don't get as many options. Little skirts are just easier to sew! I created this skirt to be relatively inexpensive, easy to sew, and easy to wear. This skirt comes in at about $8.50 + shipping if you use the fabric I recommend, it has no hem, and just an easy elastic waist. Even if you sew it to your measurements, it's sure to fit sizes just above and below you, as it can be pulled up or down on the waist to accommodate varying heights. They are SO fast and easy, you can sew one for a foster care girl and one for you, in the matter of an afternoon nap.
I messed up the cutting on a couple of other attempts at formulating the tutorial for this skirt (I was serious when I said to be meticulous about the cutting! ha!…but don't worry, my tutorial takes out the guesswork), so I cut them down to regular circle skirts. I cannot wait to donate them with my second fishtail skirt. I hope the girl who receives it, loves it and feels beautiful wearing it too!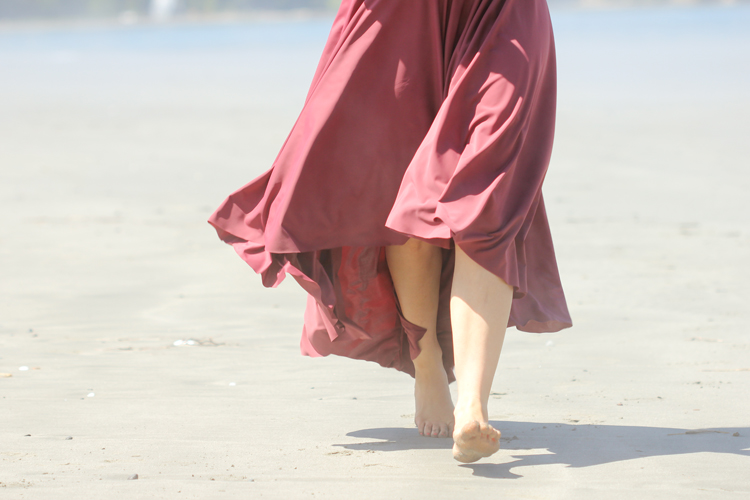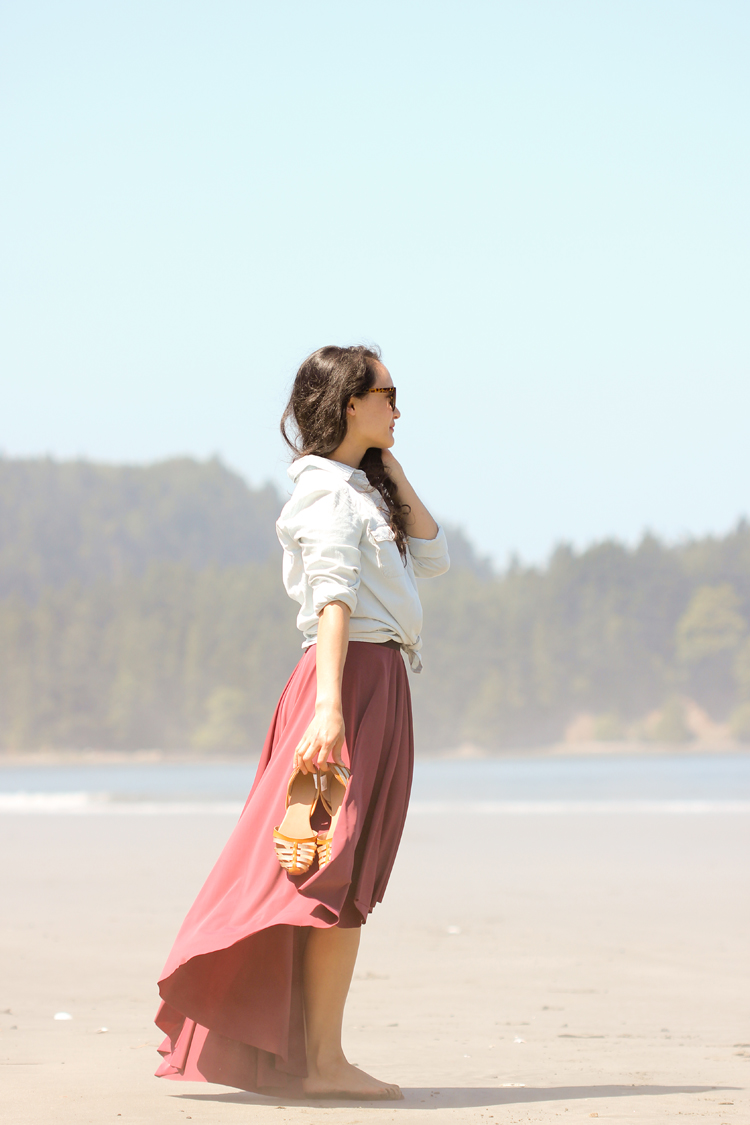 P.S. A big thank you to Girl Charlee for donating a portion of the fabric I used to make the skirts I'm donating!