Last year, I made us coordinating holiday dresses.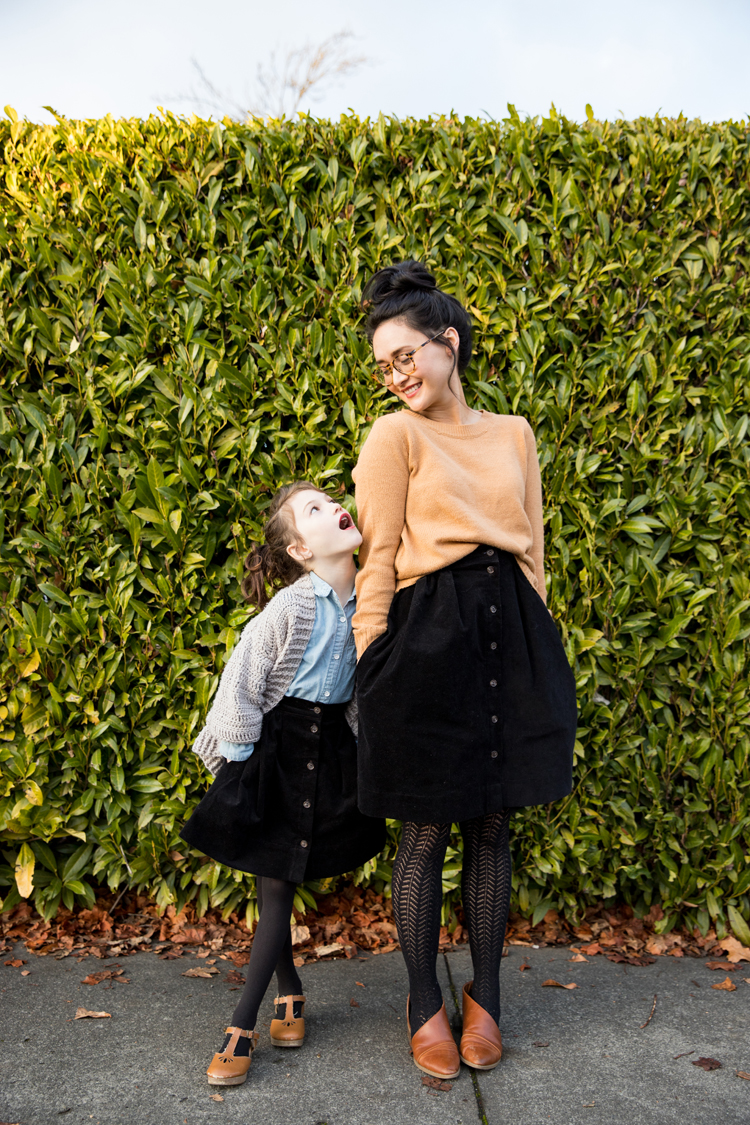 This year, I made matching us winter skirts. Dare I call this a tradition?
Hey…I'm all for it!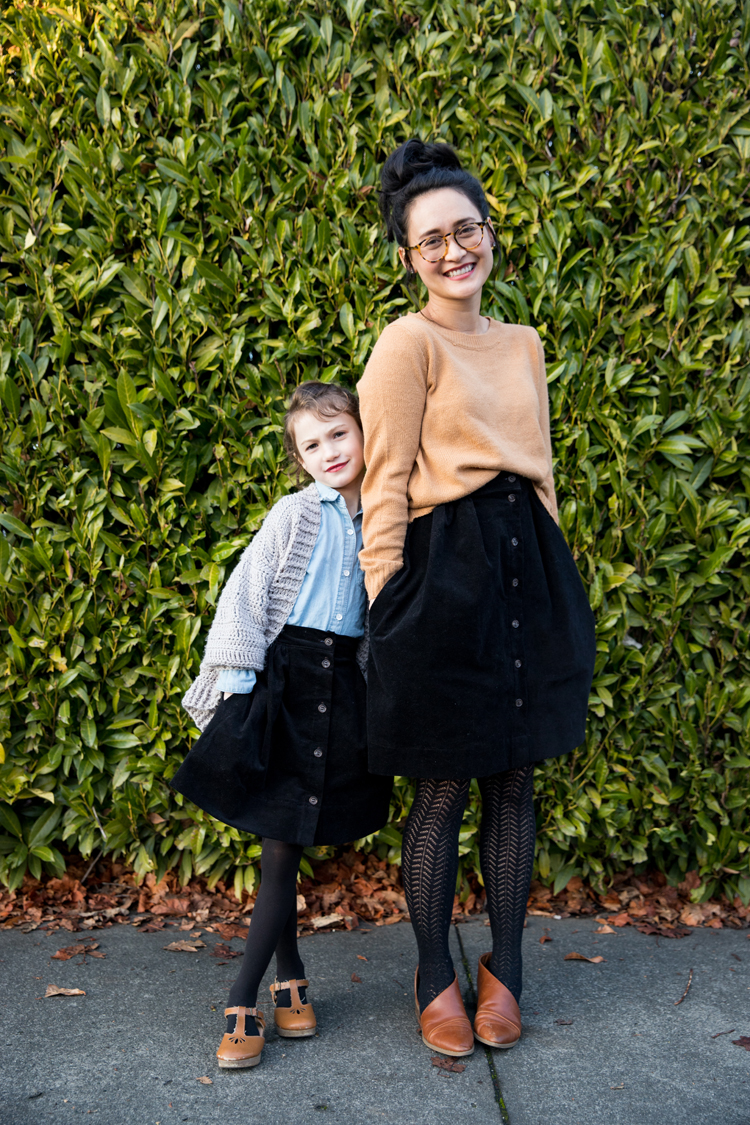 I don't know how long she'll be on board, but I'll ride this train for as long as I can. 😉
I decided to go less festive and more practical this year with black skirts that go with pretty much everything. Even though the corduroy makes them technically suitable for winter, they'll definitely see wear here almost year round.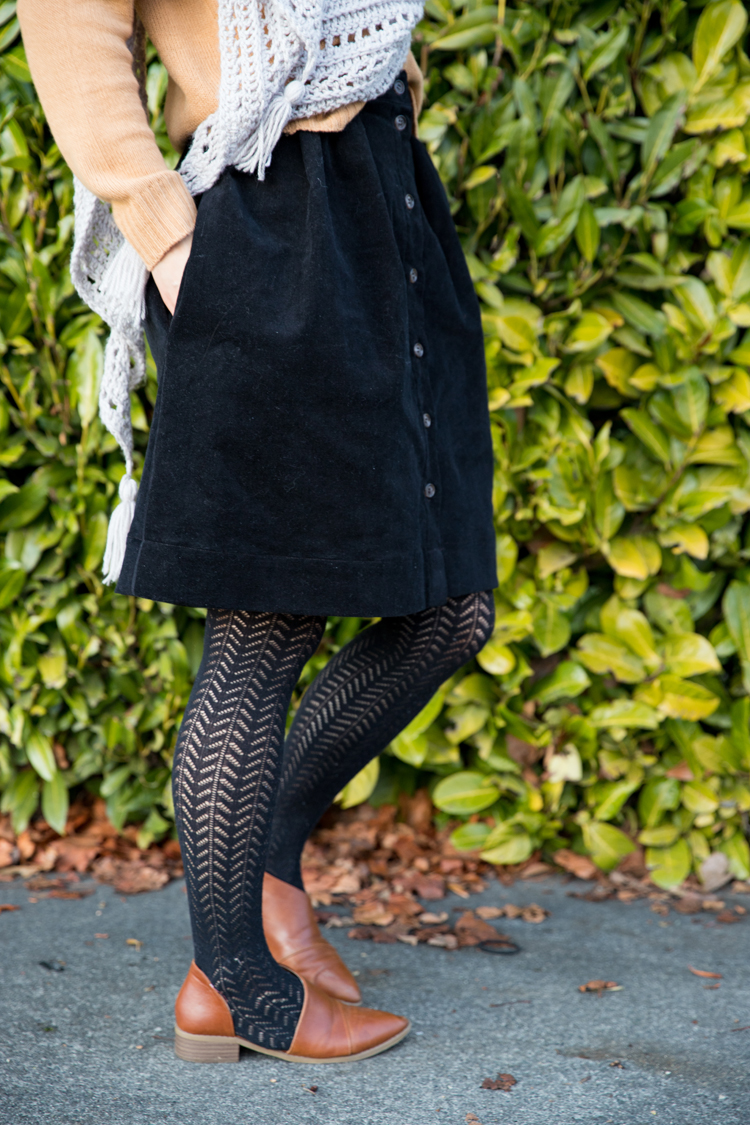 I originally bought about 1 1/2 yards of black, fine whale, corduroy from Jo-Ann with plans to make a skirt for just my daughter. While I was cutting the fabric late one night, I wondered if there was enough to make one for me too…fully expecting that I'd probably have to run out to Jo-Ann the next day or scrap the idea.
Low and behold, all the skirt pieces fit!
I had to use the selvages, use a different fabric for pocket linings, and thank my lucky stars Nat's still an itty bitty thing…but it almost felt like a holiday sewing miracle!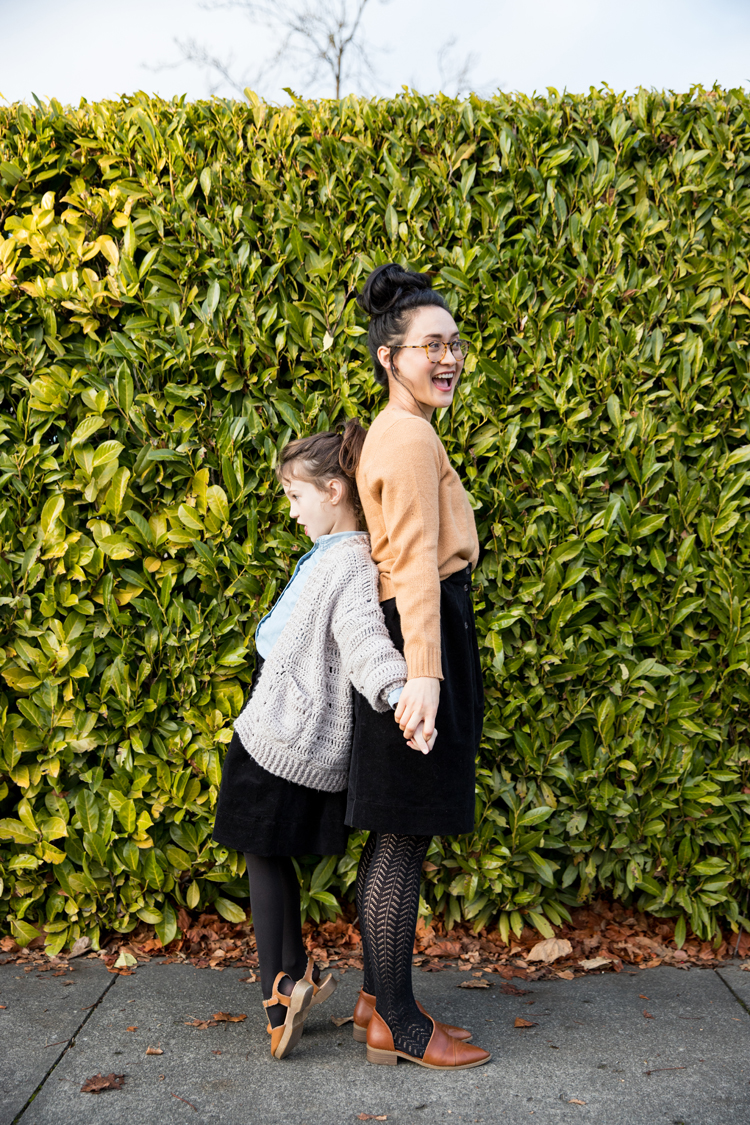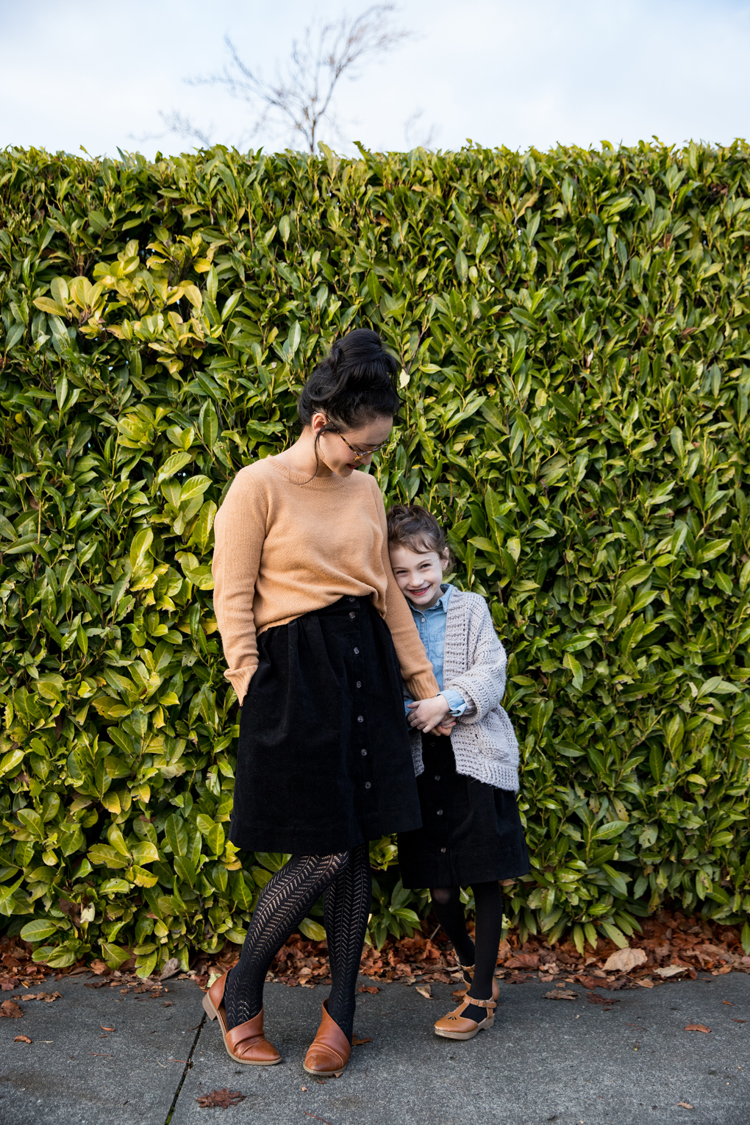 I made the Anywhere Skirt pattern by Made Everyday. It's a great, flexible pattern that teaches you how to make a gathered, button up skirt in any size….Perfect for matching mini and me outfits!
You can see past versions I've made here and here…also seen here.
Because the corduroy is really thick, I reduced the volume of the skirt from the fuller skirts I usually sew. I also narrowed the waistband width in half to 1.5 inches (finished width), because I prefer the slim waistband look.
Speaking of waistbands…with my last skirt, I opted to add elastic to the back to make it more feast eating friendly ;). I didn't this time and it's not as restrictive as I thought it would feel!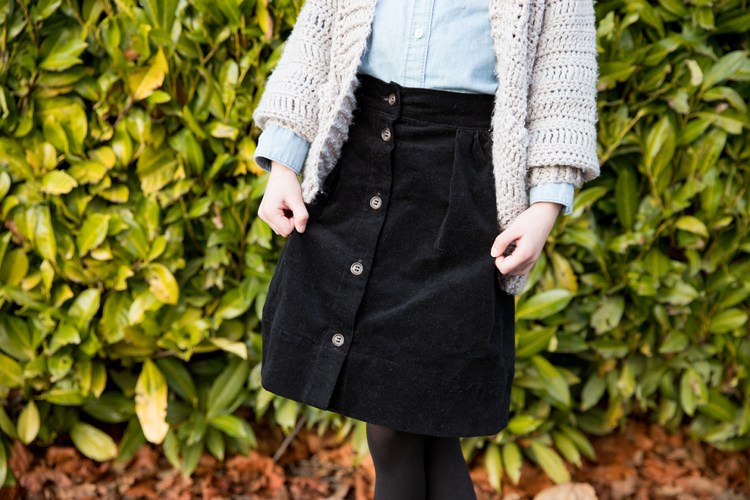 I did need to add some to Nat's though. I thought I had gotten Natalie's waistband measurement correct, but I must have measured her when she had a full belly, because it dropped to her hips when she tried it on! Ha! Having it be too big is always a much better problem than it being too small though.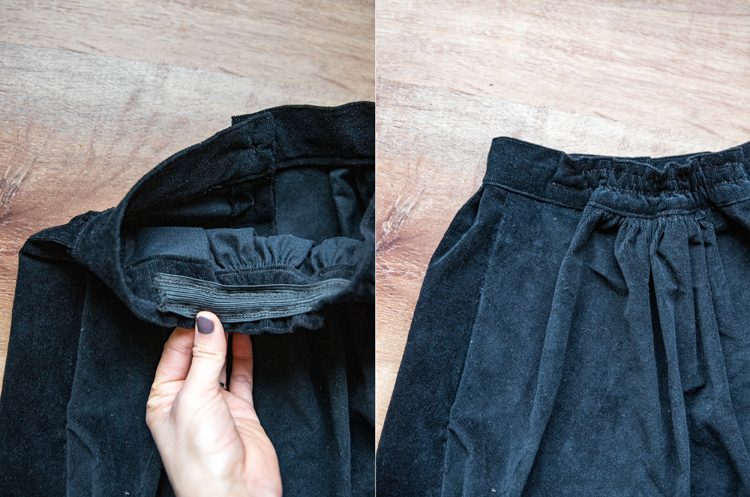 Easy Sizing Hack
I added a strip of elastic to the back, just zig zag stitched right into the waistband. It ended up not looking as crazy as I thought it would, and I like that I can easily pick it out when she grows and needs more room.
That might be awhile though, because it still is not as tight as it needs to be right now. (Did I measure wrong after all??) I kept trying to bring her waistband up like mine…ha!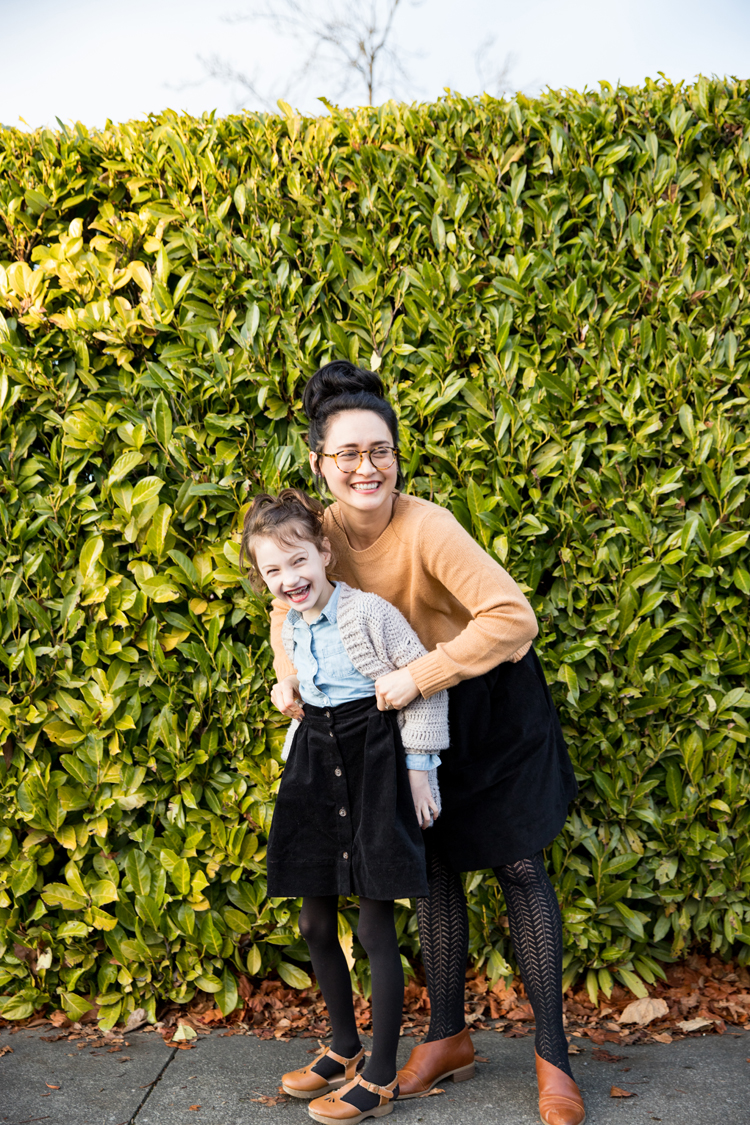 But it doesn't drop that far down as it initially did, and looks just as cute lower.