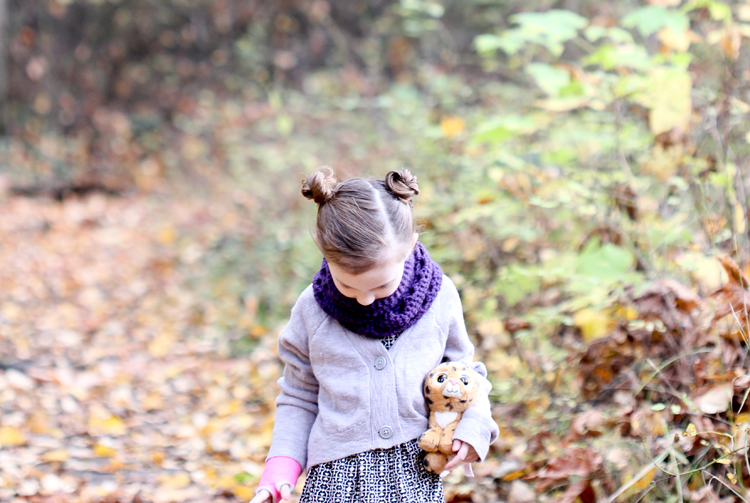 My daughter has been eyeing all my scarves and wanting them for herself, so I felt it was about time I make her some more of her own.
I made her a cowl last time, so I thought I would try an infinity scarf this time.
She requested PURPLE! this time, which was a bit a surprise but a nice change of pace, since she's been such pink all the things girl.
I love mini scarves because they are SO quick to work up and they only use about one skein of yarn.
This scarf is really simple, and uses only very basic stitches. It's a great beginner project or a quick, afternoon project if you're more proficient with a hook.
The name for this scarf, Three + One, comes from how it's worked up, three rows of sc and then a row of dc mesh. It's also a nod to my daughter's age. She's four so she's technically more preschooler than toddler, but she's also tiny for her age, so this scarf should still be about right for a toddler.
That said, I worked this up while she was sleeping and it ended up a little more snug than I prefer. I've made a few adjustments to the final pattern to give a slightly looser fit (than what you see pictured) so there's more room to grow. I have also included instructions for sizing up the scarf to older kid and adult sizes!
THREE + ONE TODDLER INFINITY SCARF PATTERN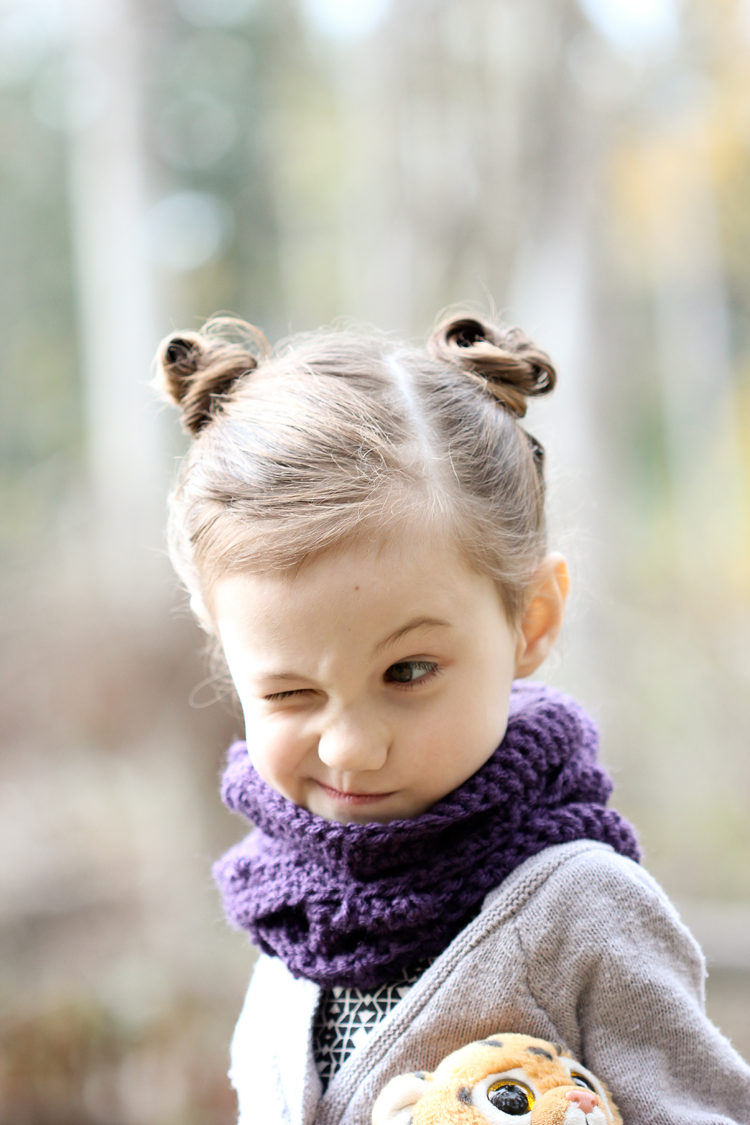 MATERIALS
approx. 170 yards of worsted weight yarn (4)* 
5.5 mm hook
yarn needle and scissors
*I used Lion Brand Vanna's Choice in purple. 
ABBREVIATIONS (American terms)
ch = chain
sc = single crochet
dc = double crochet
GAUGE 
4 x 4 inch square  = 11 sc x (3 rows sc + mesh dc row + 3 rows sc + mesh dc row + 3 rows sc + half of mesh dc row)
SIZING
The scarf is about 5 1/4 inches wide and 36 1/2 inches long when relaxed and not stretched. This is about right for an older baby or toddler, with some room to grow.
To enlarge the pattern, add increments of 3 chains. If making the scarf for an older child (7-10), I recommend adding another 4 – 8 rows in addition to length, for a more proportional look. For teens and adults, add 12 rows.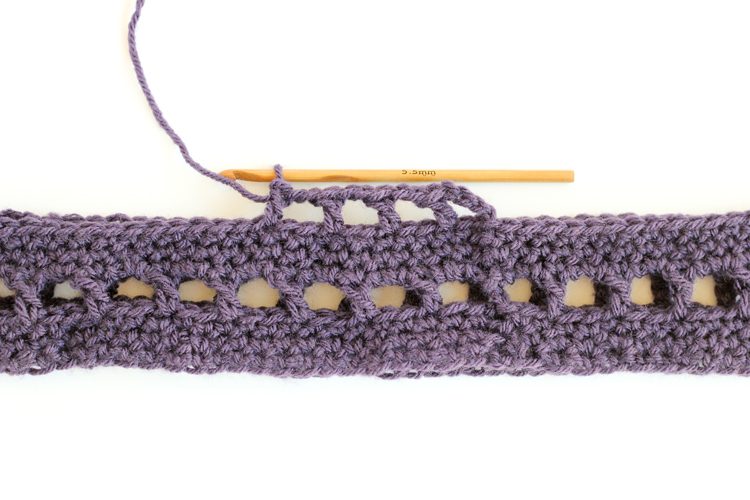 PATTERN
Ch 102. Slip stitch into first ch, making a loop.
Row 1: Ch 2, sc across row and slip stitch to the top of ch 2 to complete looped row. (102 including ch 2)
Rows 2-3: Repeat Row 1.
Row 4: Ch 4, skip two stitches and dc. * Ch 2, skip 2 stitches, dc. * Repeat from * to * 32 times. Ch 2, slip stitch into 2nd ch in ch 4 worked at the beginning of the row. (34 dc, including ch 4)
Row 5: Ch 2, 2 sc in space, *sc in dc, 2 sc in space.* Repeat from * to * all the way around loop row (102, including ch 2).
Row 6 -7: Repeat Row 1.
Row 8: Repeat Row 4.
Row 9: Repeat Row 5.
Row 10 – 11: Repeat Row 1.
Row 12: Repeat Row 4.
Row 13: Repeat Row 5.
Row 14-15: Repeat Row 1.
Tie of yarn, leaving a tail 8 inches long.
Weave in tails with a yarn needle.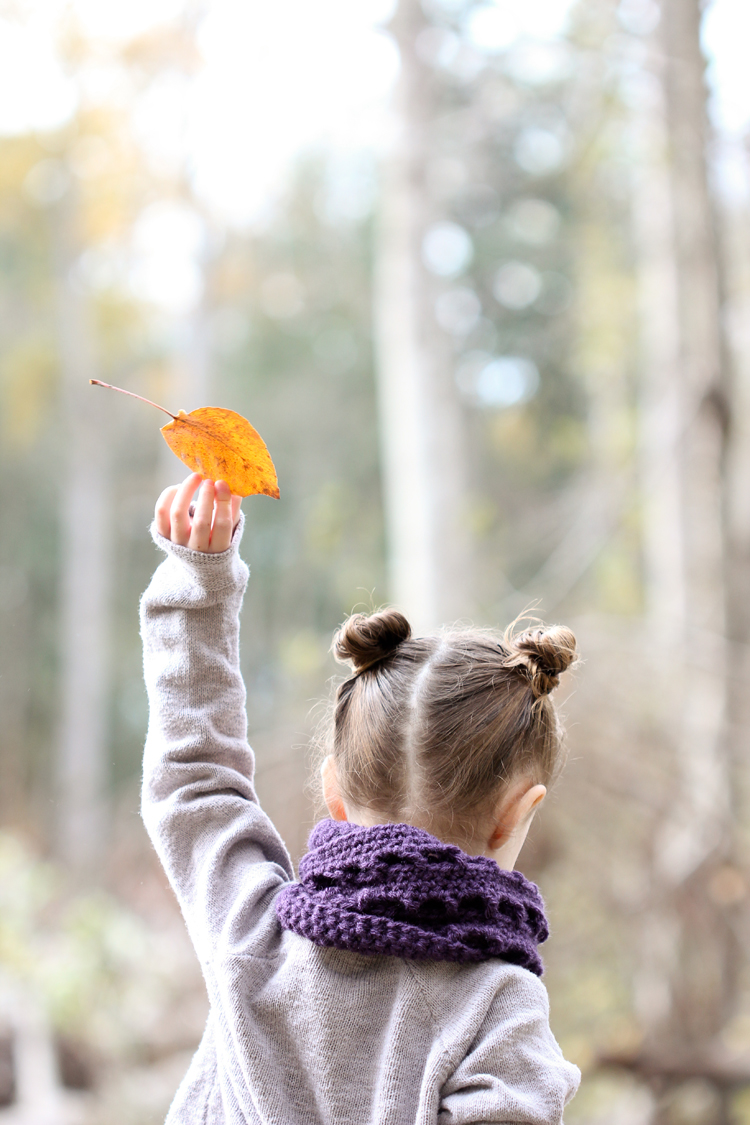 That's it!
Cozy up for the cold and get kicking! 🙂