I've been doing some baby sewing lately….for my new niece! I am NOT pregnant. Just have to make that clear. Ha! Sewing anything baby is risky rumor business, amirite?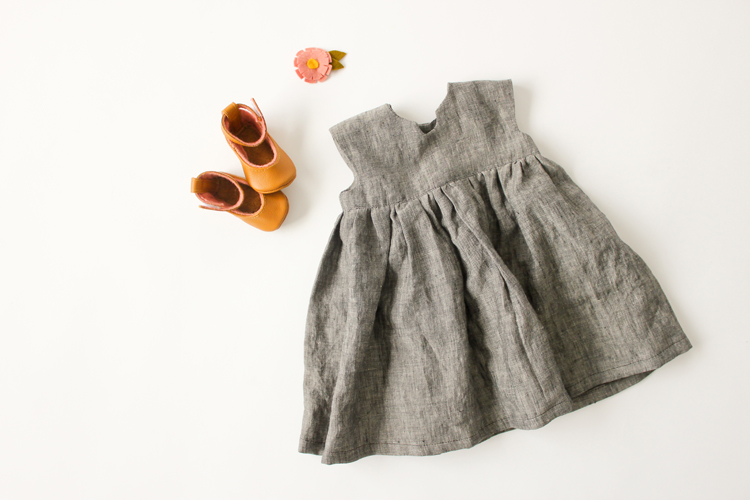 When I found out that my brother and his new wife are having a girl, I immediately started celebrating by doing some sewing. Even though we were in the middle of packing and moving and buying our first house…I was baby sewing. Totally normal response, right?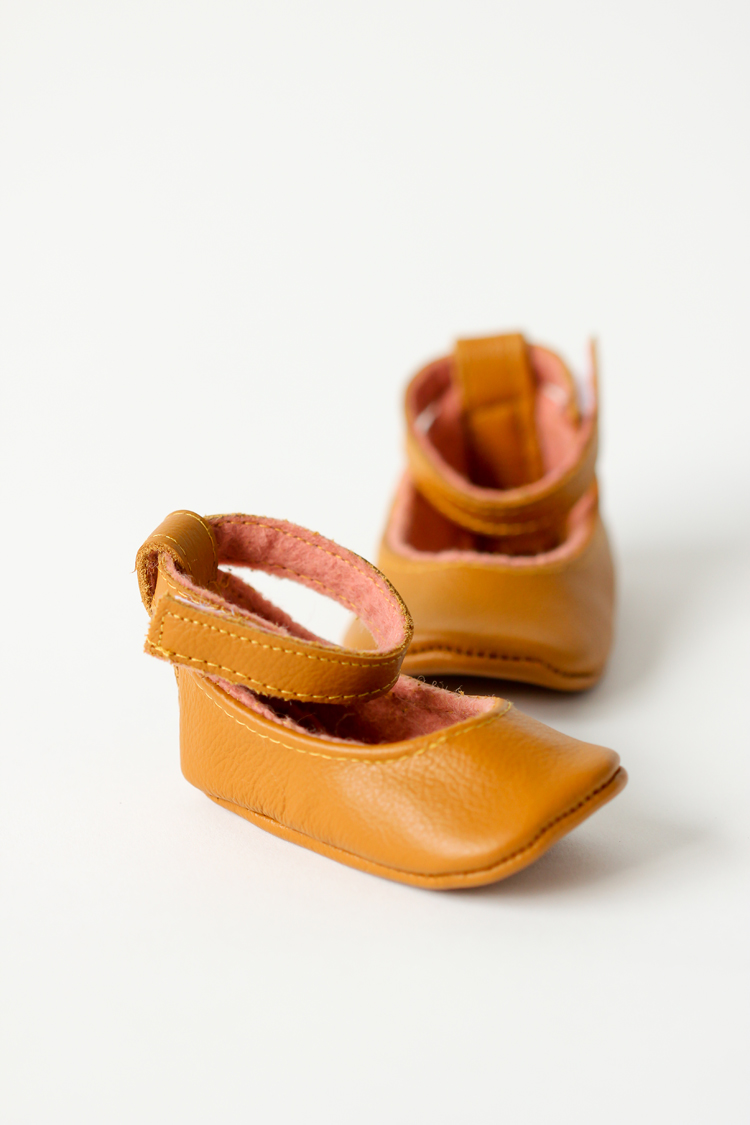 Maybe for a sewer. 😉 My fellow seamstresses…you feel me?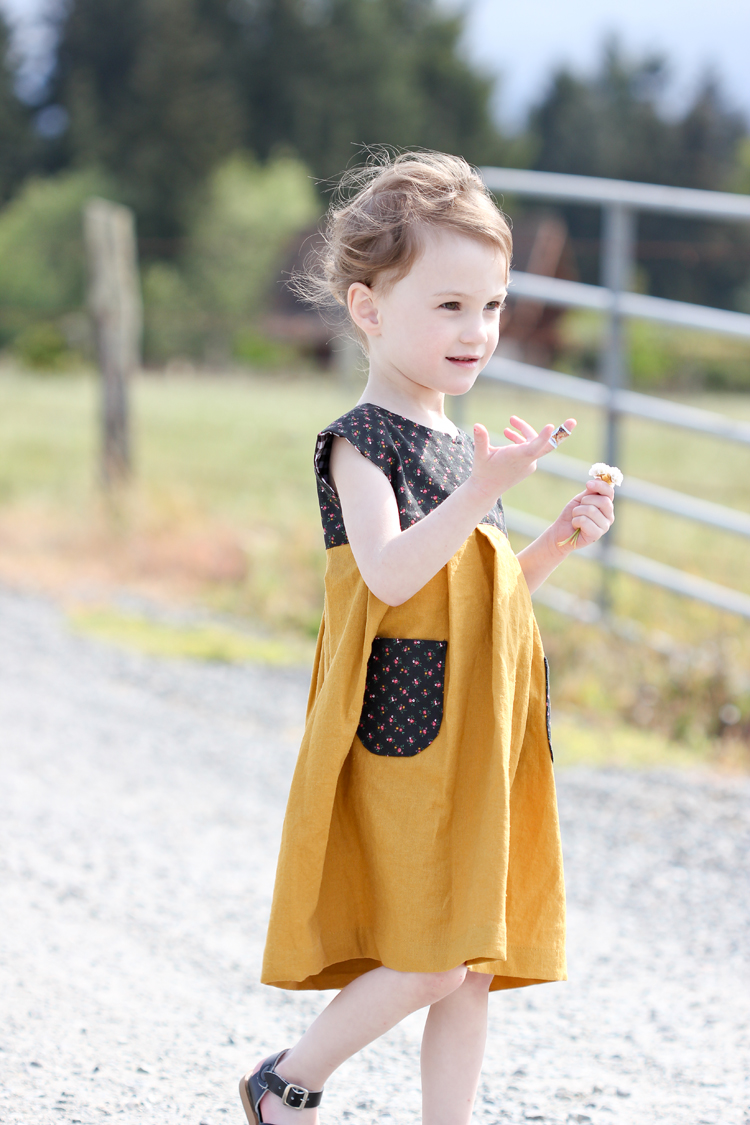 Natalie just recently had a growth spurt making pretty much all of her dresses into tops and tunics. I figured I would get in some sewing in for her as well and get a dress assembly line going.
And when you give a sewer a batch of dresses to sew…those dresses end up getting cut from the same cloth…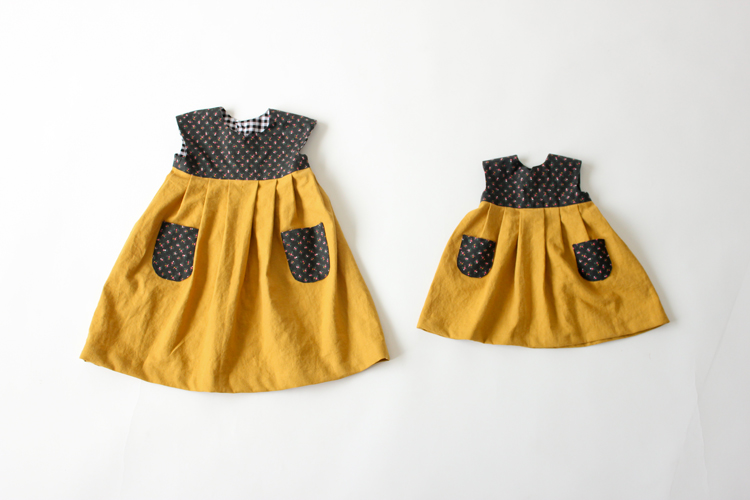 …and you get matching cousin dresses!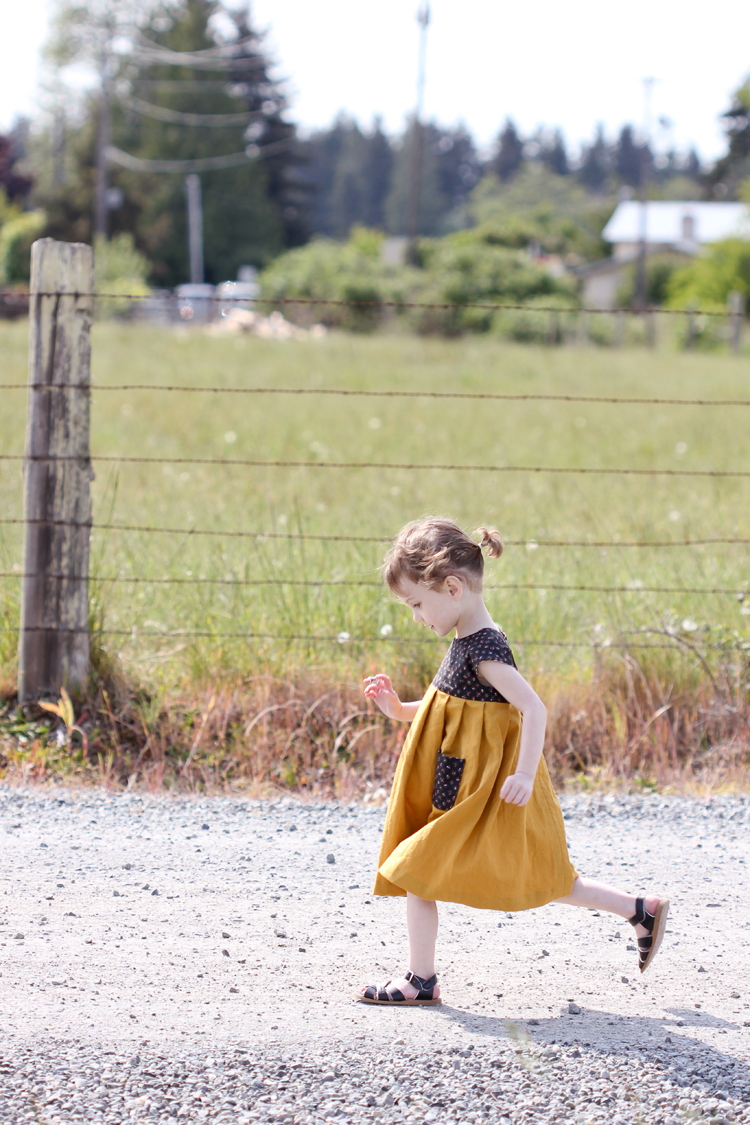 And little matching Natty Janes too! Of course.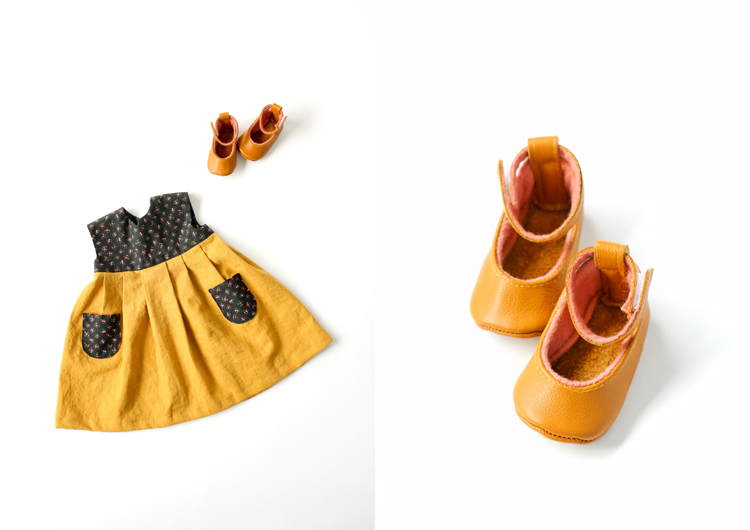 I actually remixed my Natty Janes pattern to make Nat's shoes. She wears a size 6/7 now, so I sized the pattern up and played around with new shapes. I'm thinking of a new pattern down the road? Possibly? I still have some kinks to work out with this design. You can see it's still a little rough around the edges.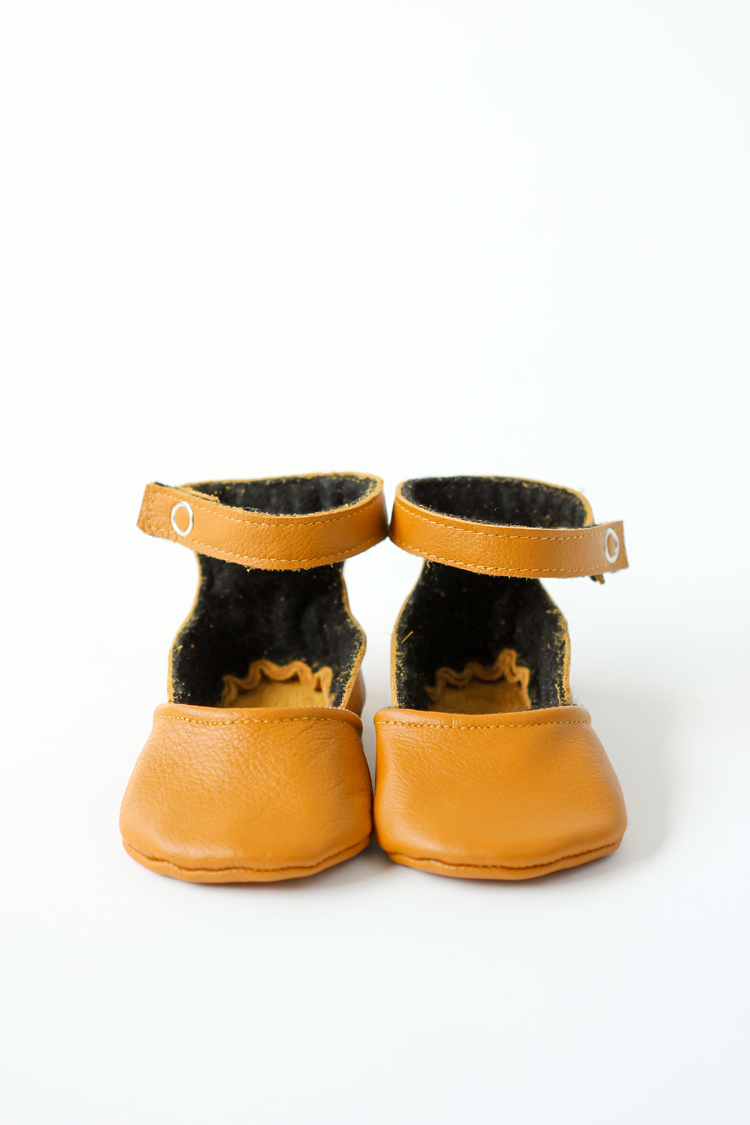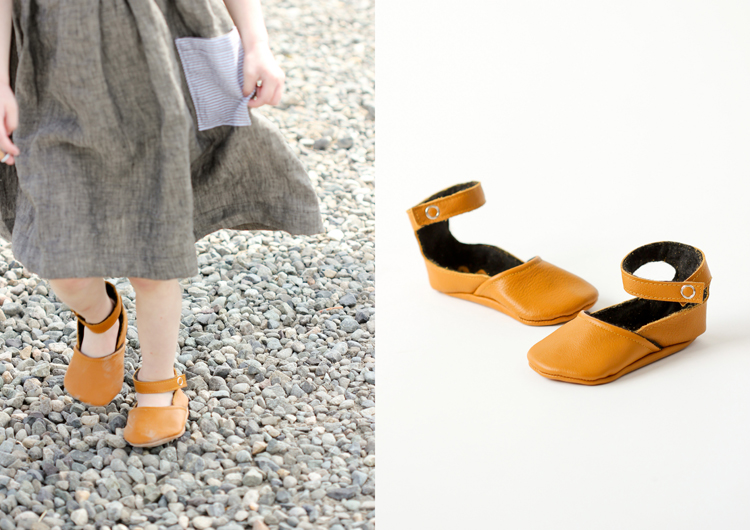 For the dresses, I used the Geranium Dress pattern by Made By Rae. I love love the built in cap sleeve bodice option with this dress, and it came in both the new baby's size and Nat's size. Perfect!
Nat hasn't grown much around the chest/wasit, but she keeps shooting up in height like crazy. So I sewed the 18-24 bodice and added a 3T+ length with a wide hem. Hopefully that will hold her over until Fall.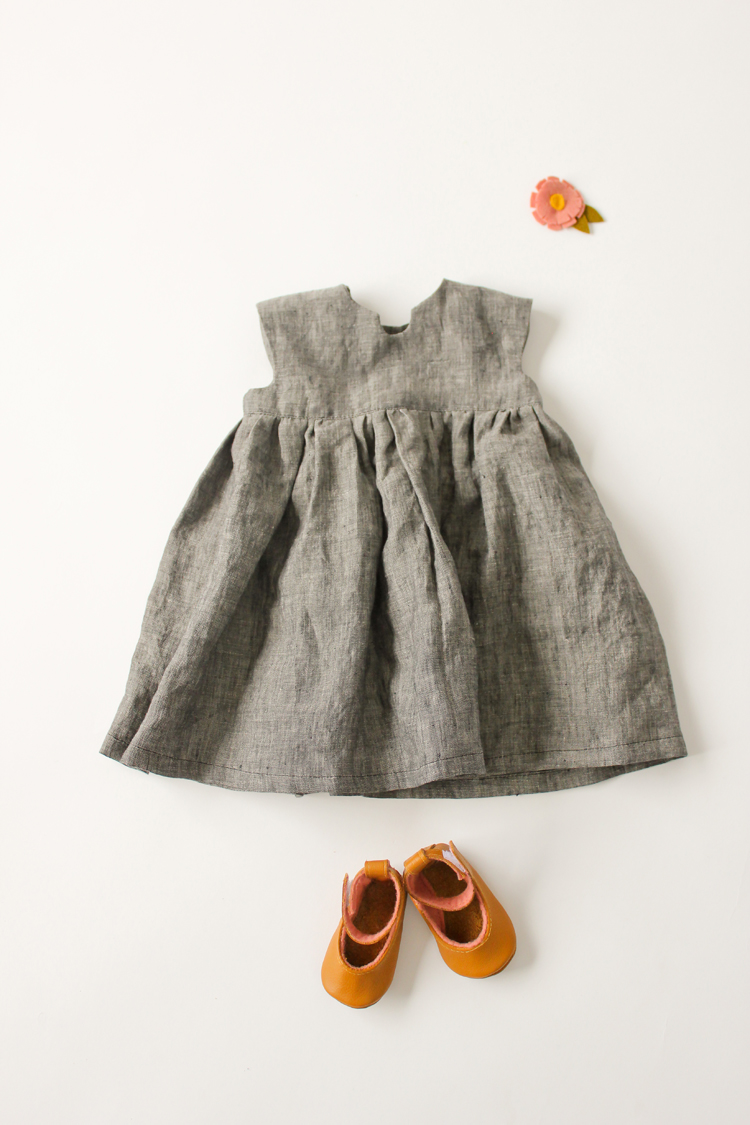 I love dresses with a modern vibe, so I made these in my over-used 😉 favorite mustard yellow linen look fabric from Jo-Ann and this cute black and pink floral I found in the fat quarter section. I use this yellow fabric a lot. I just can't help myself. It washes well, sews well, wears well, and the color is perfect.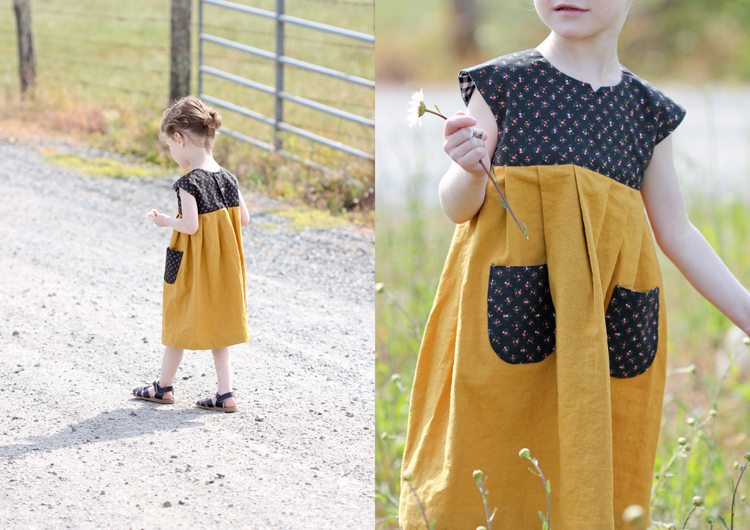 It also holds up well to a lot of play…and tromping in our yard of weeds. 🙂
Our new house has no landscaping at the moment, or as my husband jokes, "native landscaping." Ha. Fortunately, some of those weeds include these pretty wild daisies.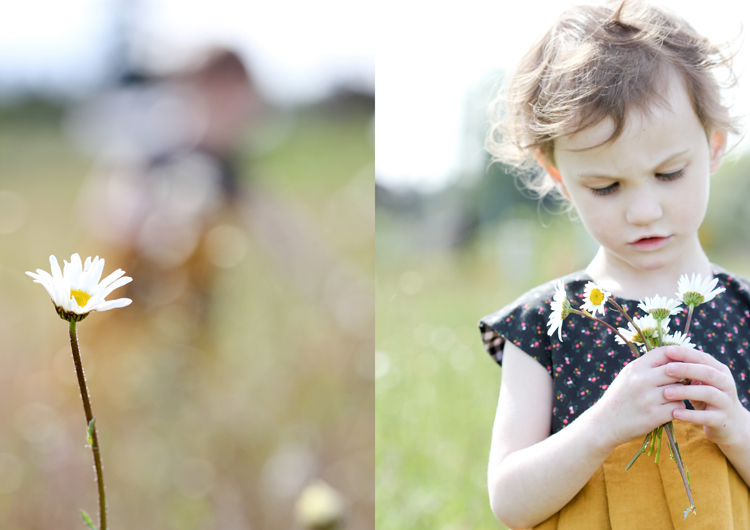 Nat's second dress is a little less matchy matchy with her cousin. It's made from the same gray slub linen, but it has a seer sucker bodice and single, rectangular pocket.
This slub linen (also from Jo-Ann) is a little lighter and frays more easily than the linen look. I recommend getting a little more than you think you'll need to make up for the extra pre-washing fraying. It's such a pretty gray though.
These dresses have me so excited for summer…
…and for my new niece to arrive! We can't wait!
Nat's the youngest grandchild on both sides right now, so it's been a while since we've had a new baby in the family. That sweet baby is already so incredibly loved, that's for sure. August can't come soon enough!