Seriously, what is cuter on little boys than bow ties!?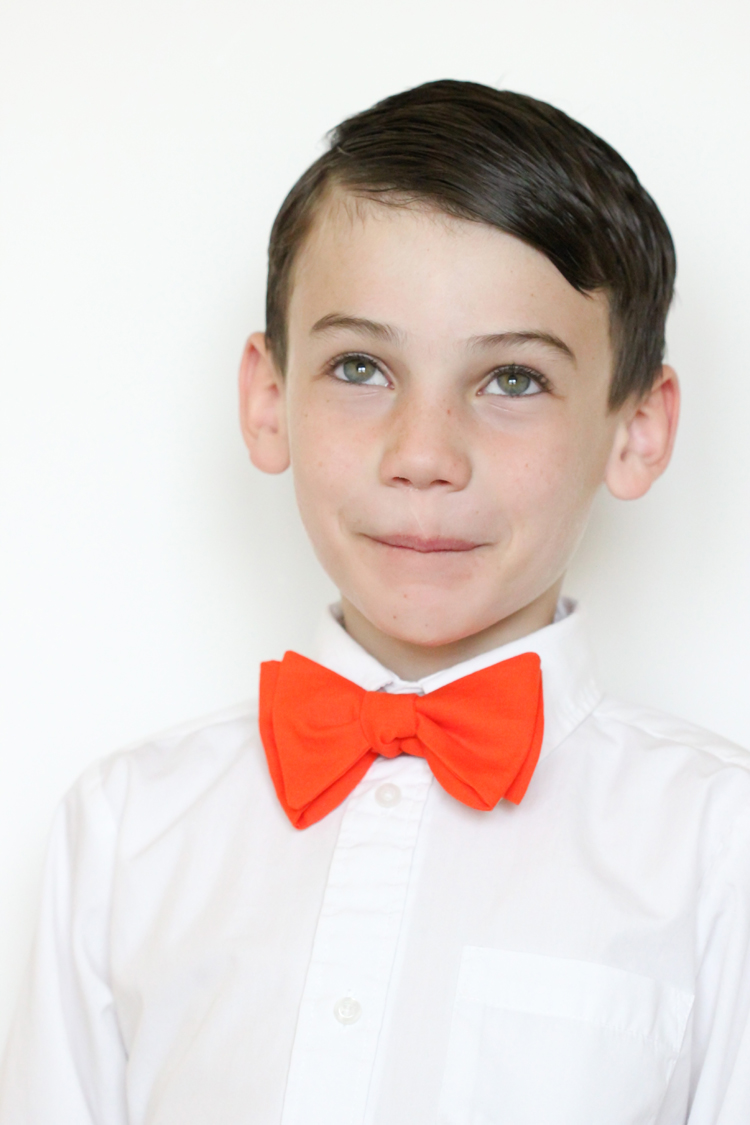 I am a little bit bow tie obsessed as you can see HERE, HERE, and HERE. They are simple to make and are a great beginner sewing project.
With only days until Easter, you can totally whip up one or a few by the weekend!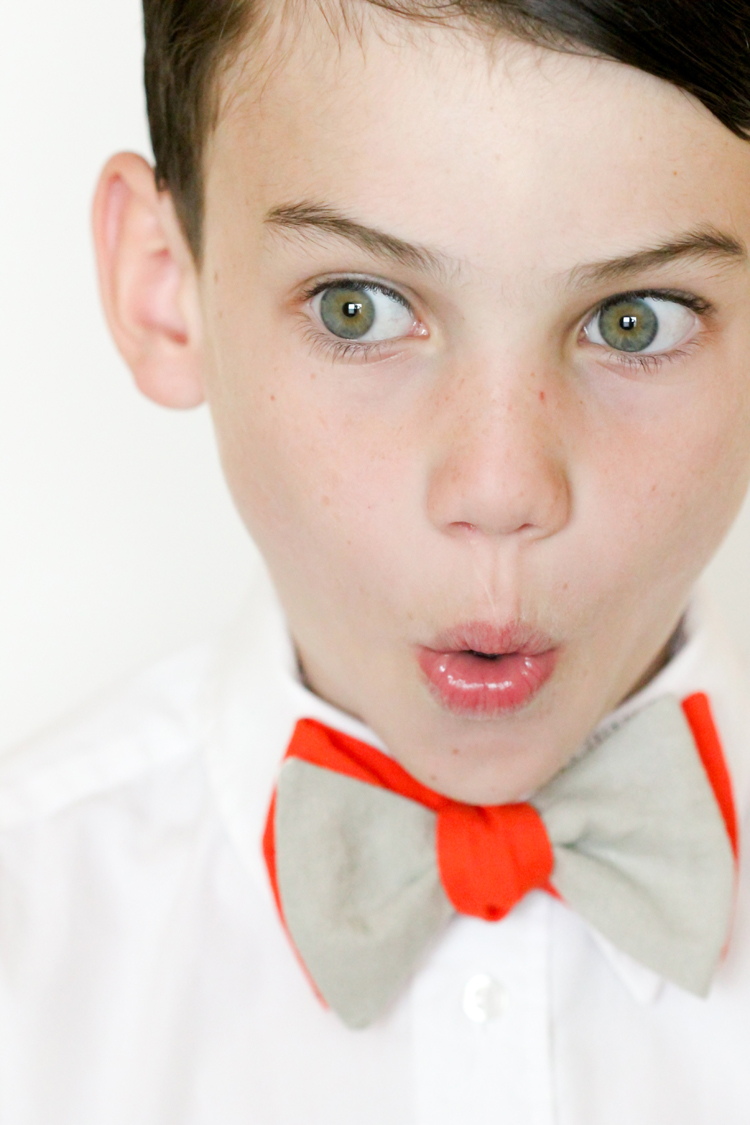 To add an extra element of design,  I thought I would shake things up a little bit this time and make these bow ties mix and match.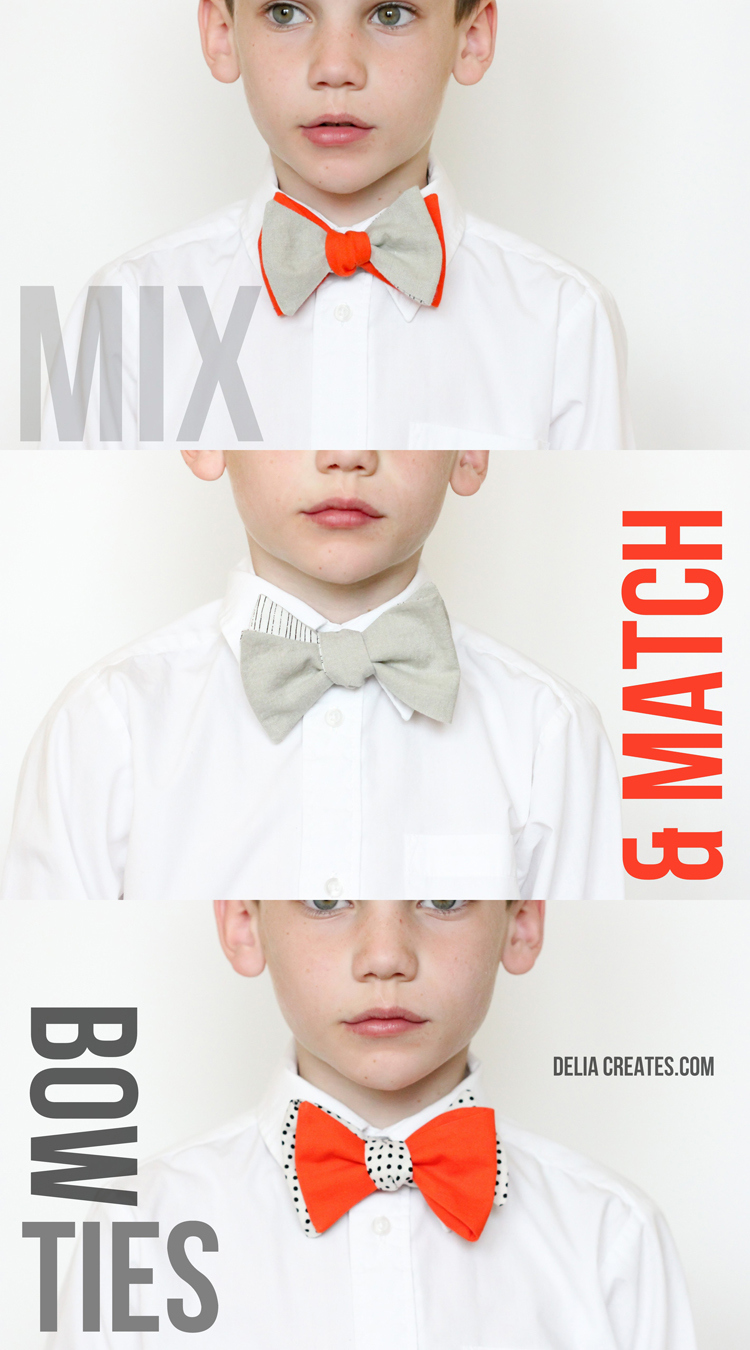 Fun right?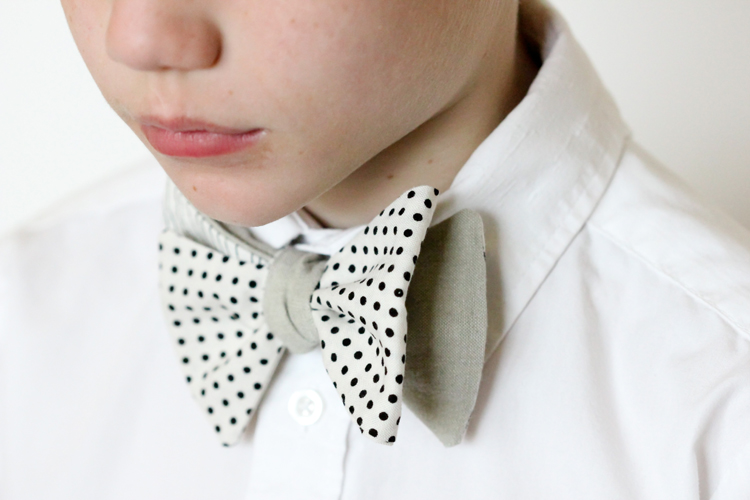 What makes these work, is that these are authentic bow ties that you tie together like the ones I posted about HERE, and they are two separate pieces so that you can mix and match them.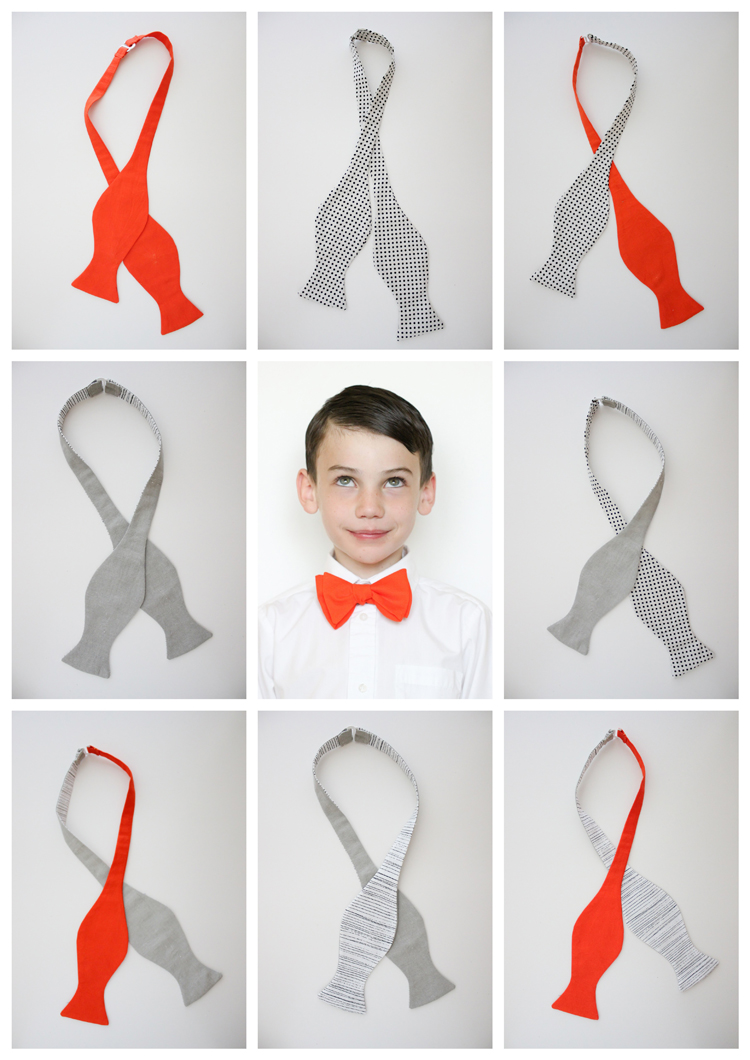 …or not.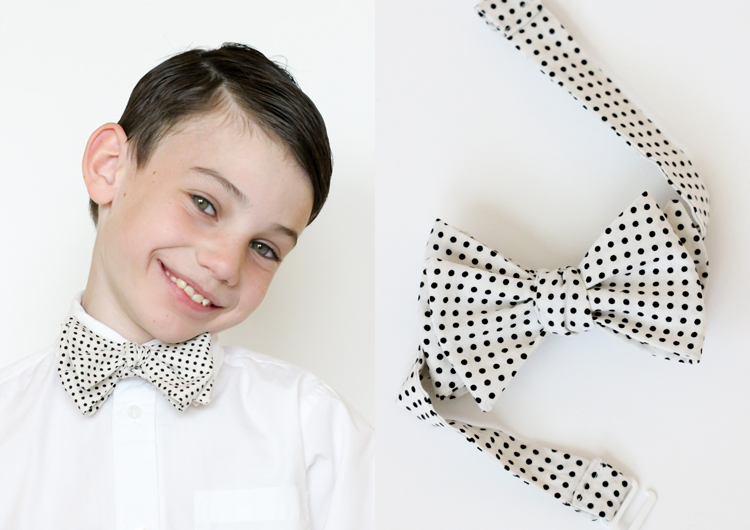 It's up to you!
The process is the same as the Lil' Mister Bow Ties. This time, I have just simplified the tutorial a bit and included a free pattern.
Let's get to it!
Materials
*fabric – large scraps or 1/4 yard is plenty, if cutting on the bias, you may need as much as 1/3 or 1/2 yard
matching thread strong safety pin swim suit hooks (can be found on the notions aisle with snaps and buckles, get the 3/4″ size hook, you will need 1 hook per bow tie, see picture above)  
*I used good quality woven cotton for all of my bow ties. I think this works fine for boys. Depending on the color and quality it may also work for men but I recommend a silk blend backed with a feather weight interfacing or  wool for men. You may also decide to add interfacing to the cotton fabric.
1. Print the free pattern and cut out it out. (My link function isn't work for some reason, so copy and paste this url into a new window: https://drive.google.com/file/d/0B28r79Y8rkSQblVCal9mSmcyQlk/edit?usp=sharing)
The pattern is offered through Google Drive. You may have to log into Google before you can access it. If you would rather I email you the file, contact me at delia.ran[email protected]. Please allow email service to take up to a week.
There is a sizing chart with approximately how many inches to add to the end of the bow tie pattern. The sizing chart goes up to size 10-12 or a 14- 14.5 inch neck circumference.
Please note: This is a mostly untested, free pattern. I tested the chart measurements on my two boys, so it is a pretty secure guess, but it has not been tested as thoroughly as a paid pattern. Neck sizes also vary between body types, so your child may not match up perfectly to the size chart by age. If you want to go off your own measurements you can follow the instructions I provide in my original bow tie post here. Just be sure to measure your child's neck, around the collar, with a dress shirt on. This measurement will be a little bit larger than their actual neck.
2. Cut your fabric. You need 4 pieces (two pairs).
A note about grain: Bow ties are traditionally cut on the bias. If you have enough fabric to do this, I recommend it. You will not have to worry about notching and snipping curves. When I make bow ties for my boys, I am usually using scraps, so I don't have enough to cut on the bias. My pictures and instructions in this tutorial reflect that. 
3. Pin and sew.With right sides facing, pin pairs of the bow tie pieces together. Sew with 1/4″ seam allowance.
4. Address the curves.If you did not cut your bow tie on the bias, then snip concave curves and notch convex curves.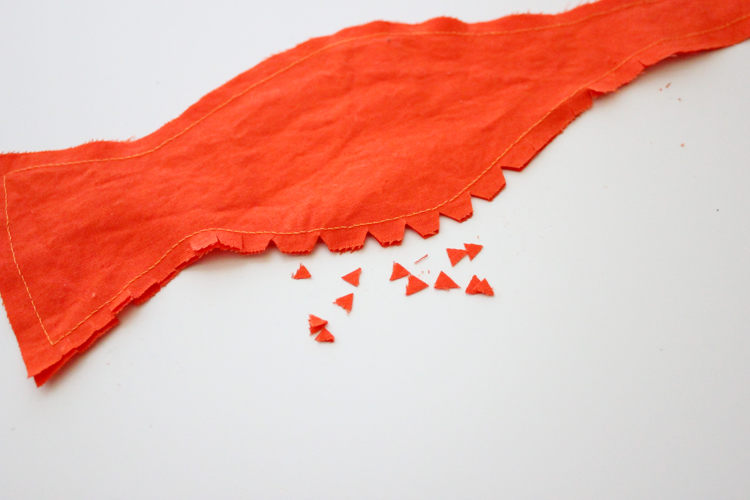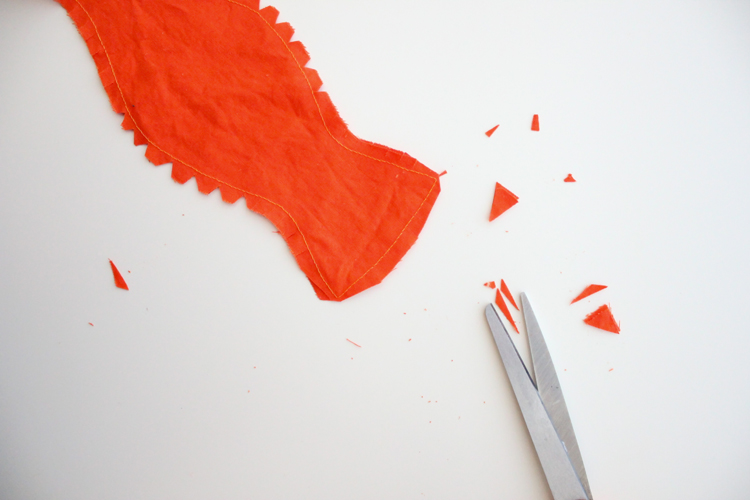 Don't forget to to snip off the corners as well (be careful not to snip through any stitching). I like to cut the corner off and then snip into the cut corner to further reduce bulk.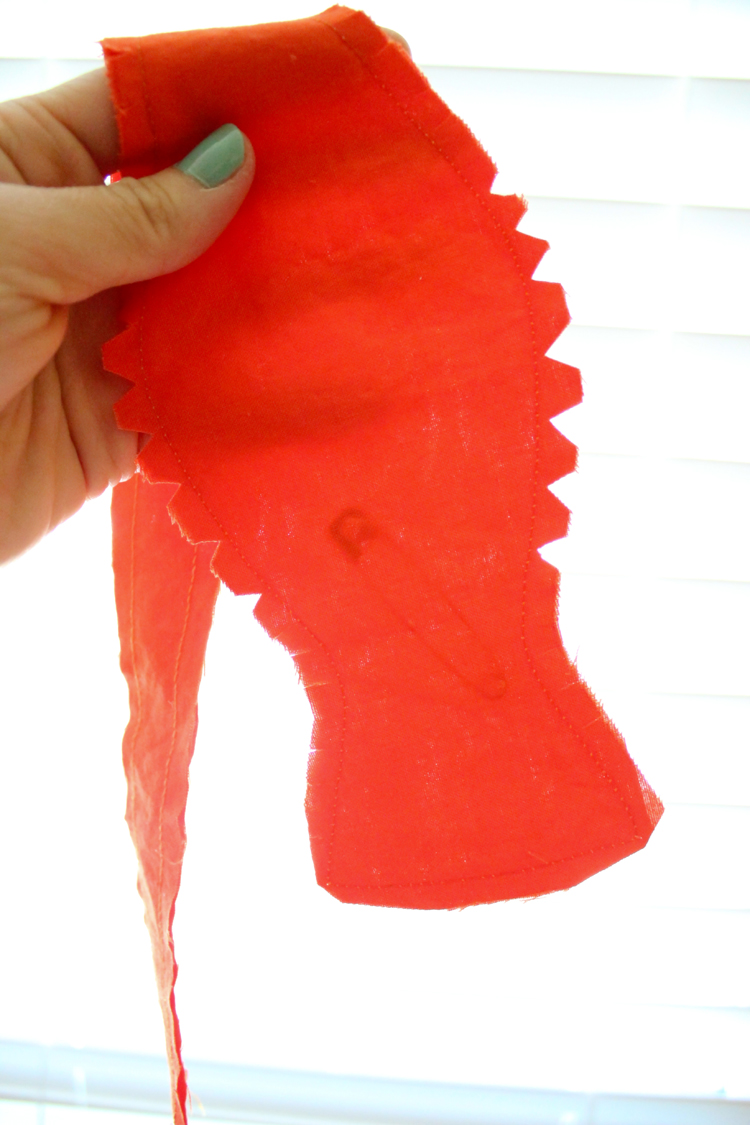 5. Slide a sturdy safety pin into the top and let it slide almost all the way to the bottom. Now, hook the safety pin into one layer of the bow tie. Close the pin from the outside so that it is pinned from the inside.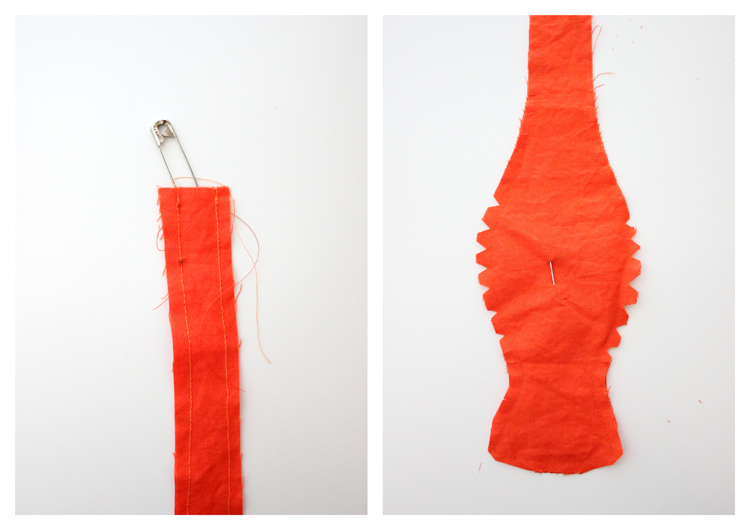 6. Turn it right side out. This is the trickiest part and takes a little time and patience. Shimmy the safety pin up through the neck of the bow tie piece and turn it right side out.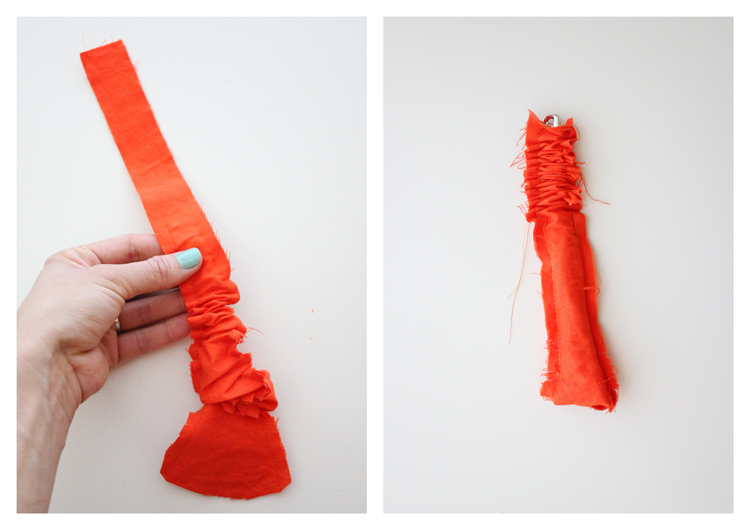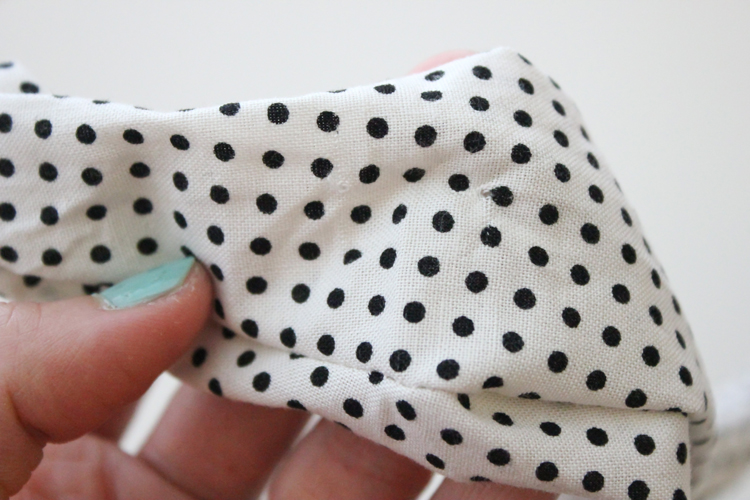 Speed is not your friend. If you are too hasty, you could create some large holes and some tearing where the safety pin is. Some small holes are unavoidable, but they can easily be pressed out with a steam iron.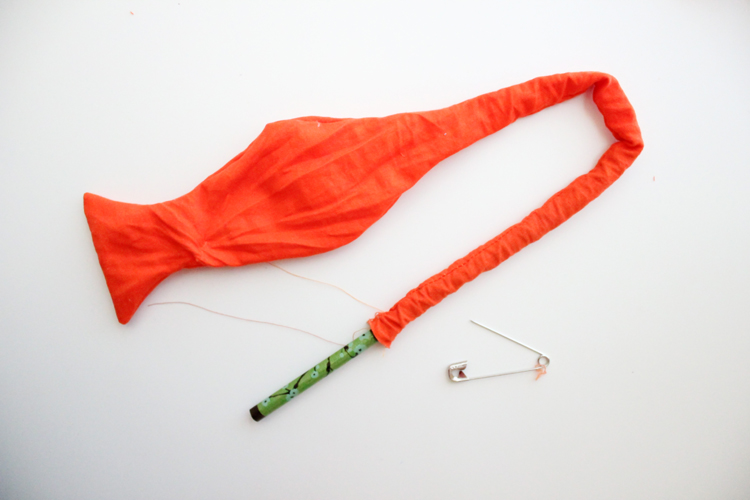 Your bow tie will look like a wrinkly deflated balloon at this point. Slide a chop stick or a dull, sharpened pencil down through the neck to fully turn the bow tie out. 
7. Repeat for the other side of the bow tie.
8. Iron. Press both bow tie pieces generously with an iron, preferably with the steam setting on as high as your fabric allows.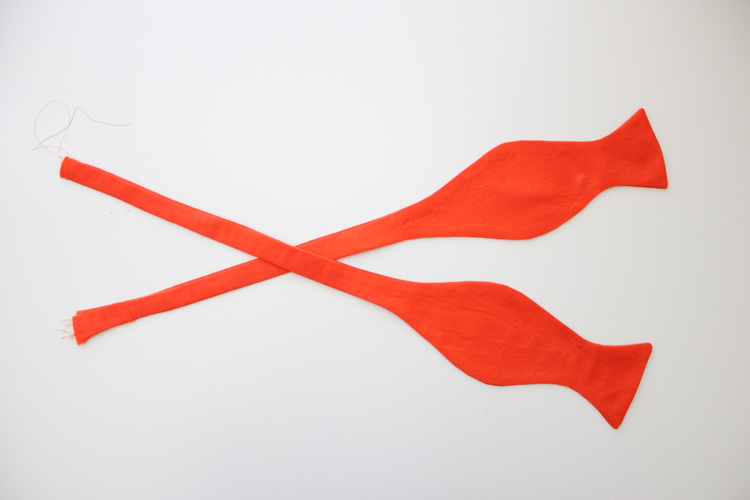 9. Sew your hook and loop.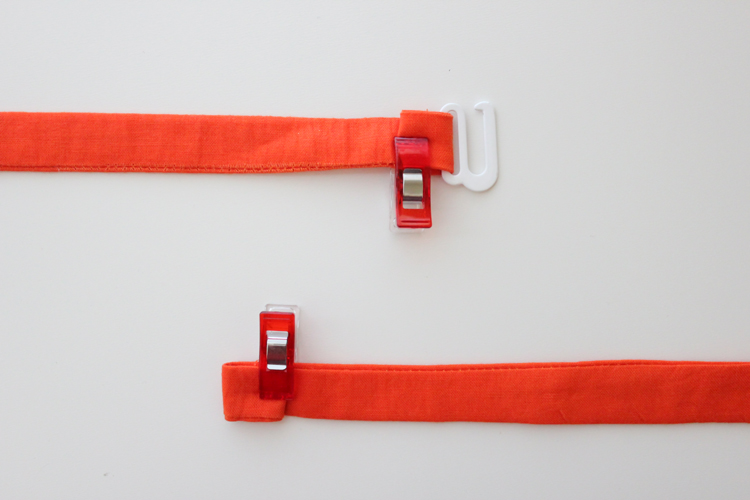 Slide one of the swim suit hooks onto the end of one of the bow tie pieces. Fold the raw edge over 1/4 inch and then again about 1/2-3/4″ inch. Clip or pin and place. 
Fold the other bow tie piece in like manner. Fold under 1/4″ and then again about  3/4″.
Sew folds in place with two lines of stitching.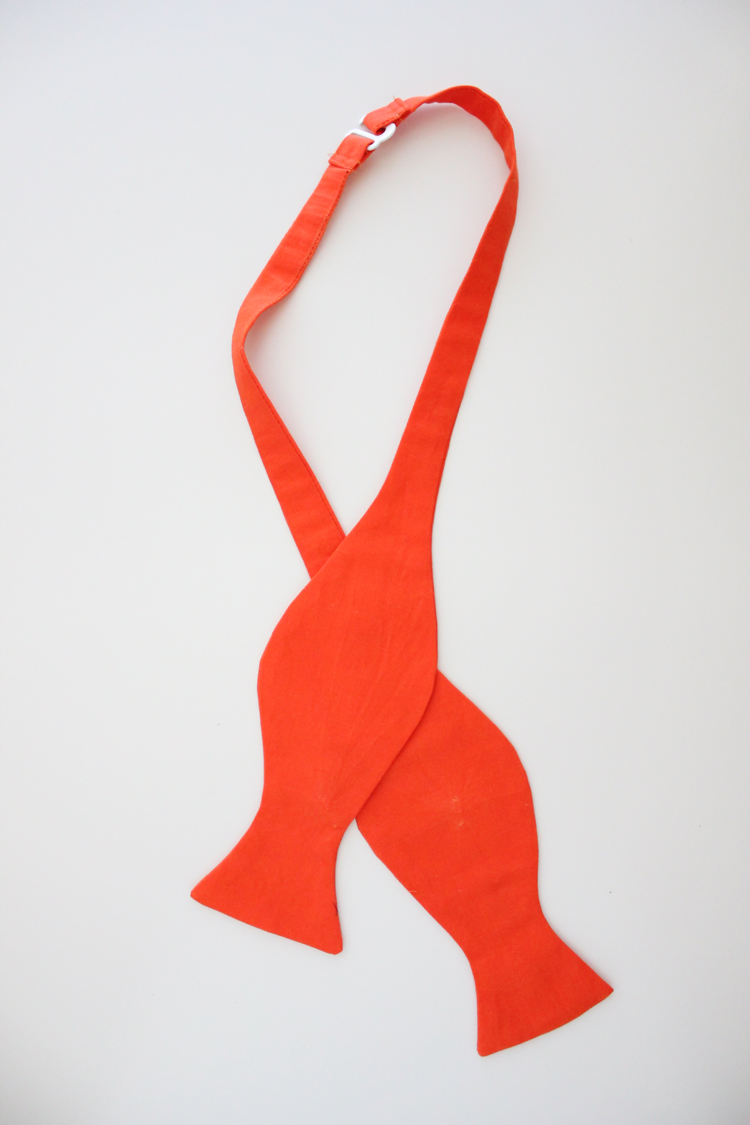 Tie on as is, or make more and mix and match bow tie pairs: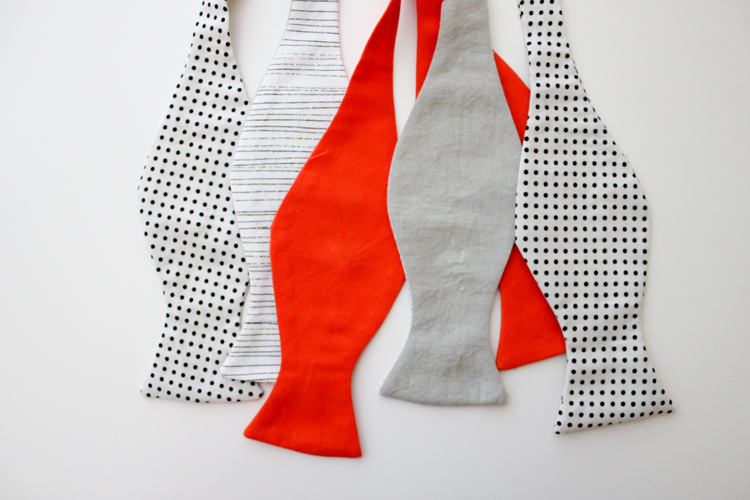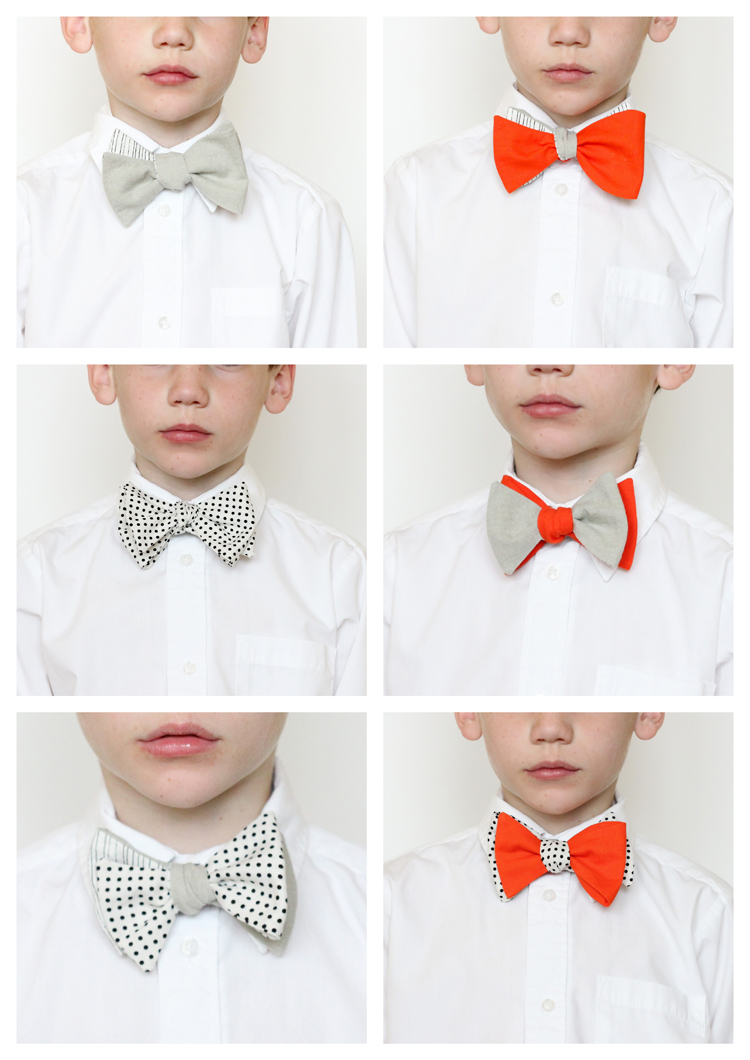 For even more mix and matching fun, sew your bow tie pieces with different colors on each side: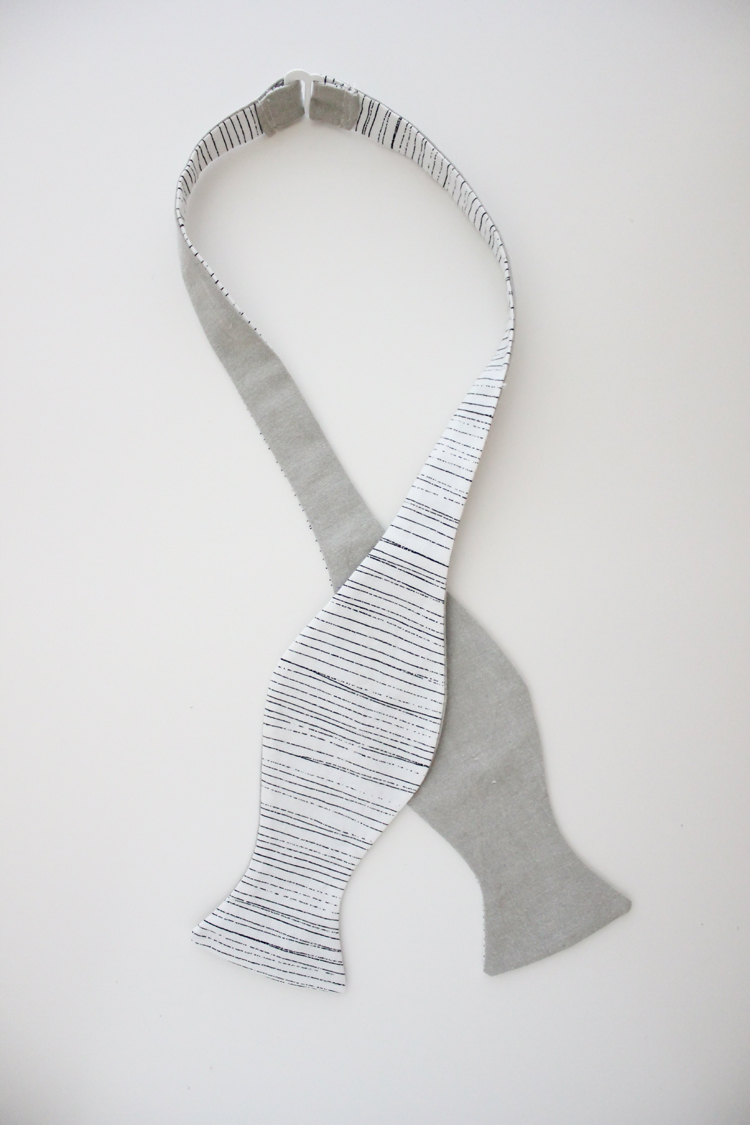 Then mix and match the two sided bow tie!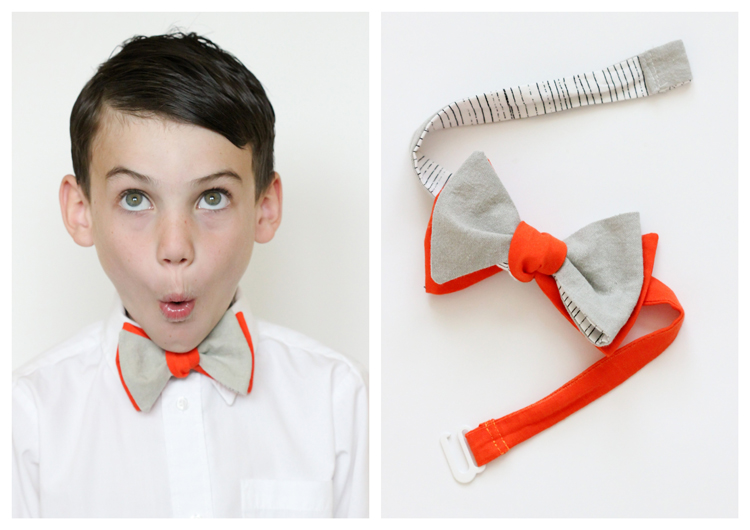 …so many possibilities!
Not sure how to tie a bow tie?
I've got you covered! Scroll to the middle of THIS post for instructions.
In those instructions I show you how to tie it onto a stuffed monkey which is actually really helpful for kids. Instead of trying to tie the bow tie onto a squirmy child, tie it to a stuffed animal or your leg (anything that is about the same circumference as your child's neck) first. That way it's all tied and ready to simply hook around your child's neck with no fuss.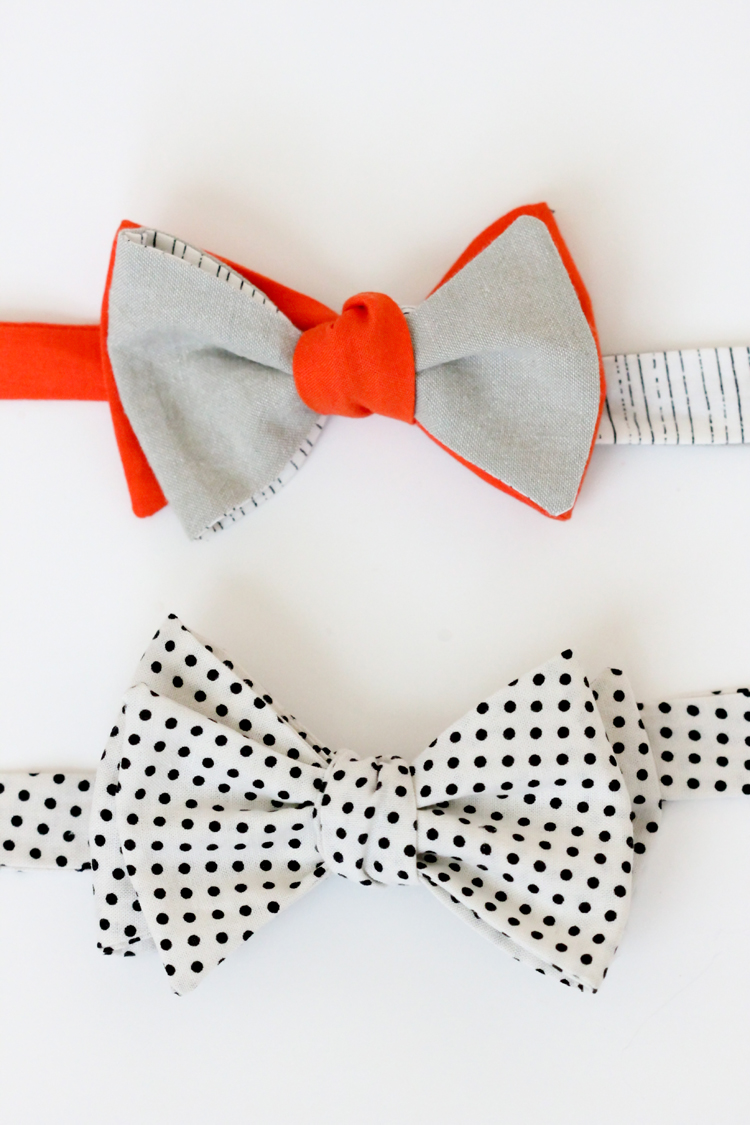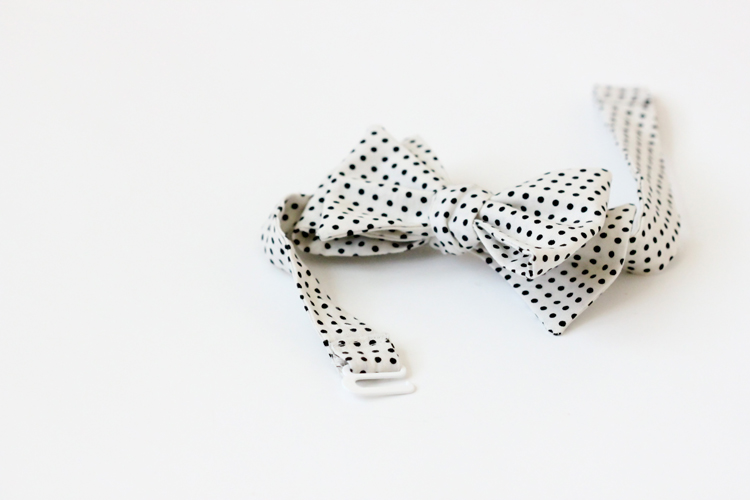 When tying on a mix and matched bow tie, remember that the shorter bow tie piece (in the beginning you pull one side down longer than the other) will be the prominent half. It is the piece that will show up in the front. The longer half ends up as the second, accent layer to the bow tie.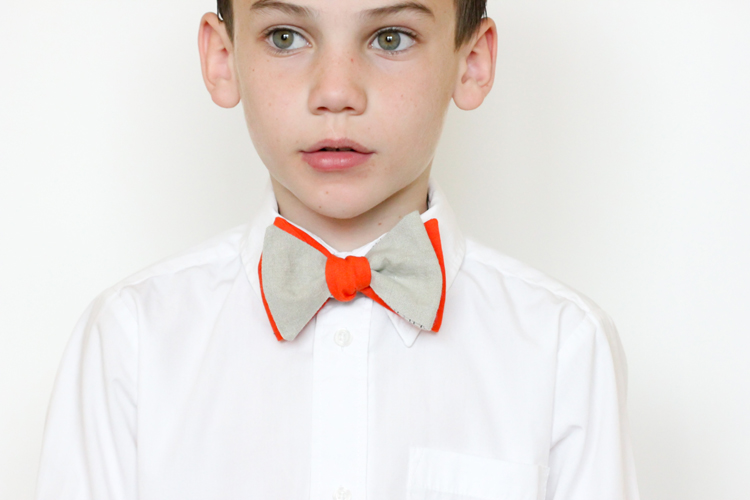 I found that putting a bolder color as the accent layer looks especially dapper.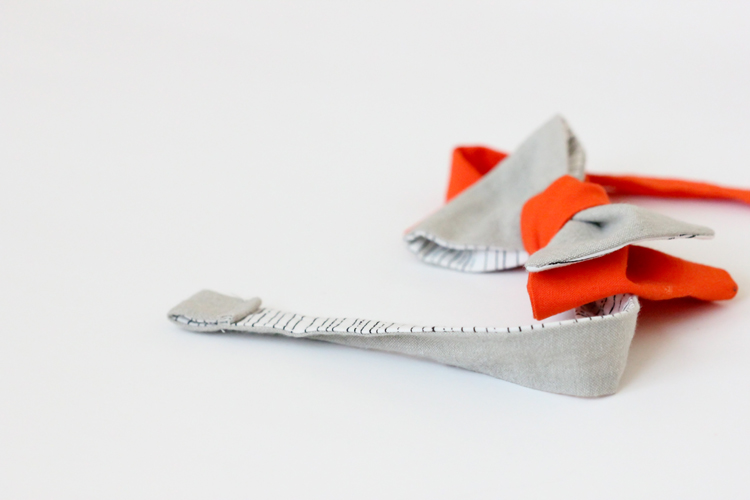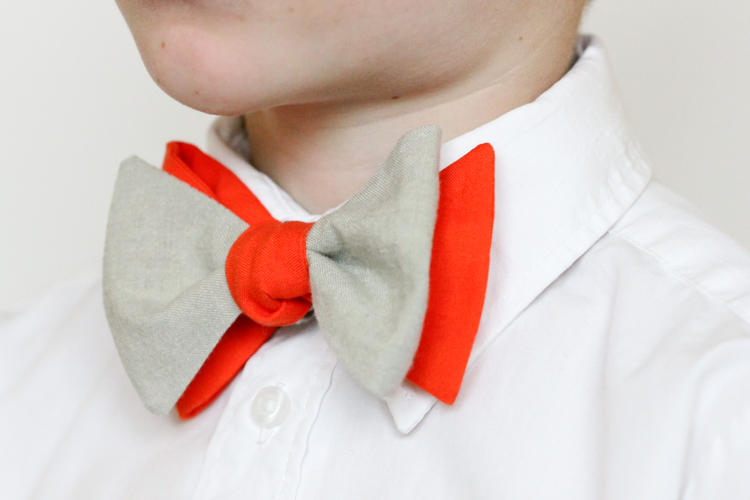 I love seeing in my boys in handmade duds! If I can convince my husband to wear a bow tie, I totally want to try a wool or silk version for him. Wouldn't a wool version be so yummy?
Fabric sources: Mango solid from Bella Solids Collection from Ribbon Retreat || Gray Chambray from LiMa Sews || B&W Polka Dot from Hobby Lobby || Crayon Stripe from Benartex from Quitology